Steel Building Tips, Construction Advice, Property Erection Analysis
Building Your Steel Building: Tips To Remember
14 August 2019
Erecting a steel building can eat very deep into your pockets, but it would be worth it for your business. Ask anybody; they'll advise you to hand the project over to companies that specialize in such constructions.
That decision may ease off your stress but can also expand your budget. But nobody said it couldn't be a DIY project, right? So, let's help to improve your project experience by sharing some important tips here for your perusal. It would be better to utilize some cost-cutting strategies and still achieve the best results.
 Pre-building tips consider
Buy standard lengths
One way to save cost on this project is to use the standard steel length instead of the specialty sizes. If you want to spend lesser, order the 20 by 20-foot instead of 10 by 20 ½ foot sections. This decision will save the cost of cutting to size, scrapping the extras and paying for remnants.
Avoid painted or primed steel.
If your steel building is not going to be used for an atrium, parking garage or chemical manufacturing plant, painted or primed steel is not necessary. These three sites expose the steel to elements that'll rust it. So if there are no grounds for rust, don't accept painted or primed steel
Utilize the BIM model and save more
Many big shots in the industry use building information modelling to get insights, strategies and tools that'll help them in their projects. The model is mainly for large projects, but if you can, use it on yours to plan your project, design it, construct the building and manage it well.
Use only certified fabricators
Here is another way of cutting cost on this project. Use certified fabricators so you can be sure of adherence to ASIC standards. By this, the steel will be free of problems since it is certified by the auditing third party before they arrive at your site.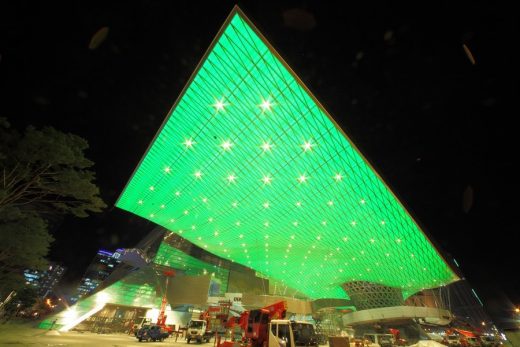 photo © Woochang Choi Korea
Building Tips To Remember
After taking care of the few pointers above, use the following tips to complete your project successfully.
Site Preparation
The first step is to get the foundation right before the structure. First, check the stability and suitability of the land for such a building. Try to achieve a concrete base that'll be both level and flat. Also, ensure that the area around the steel building is level too. This will ensure safety, prevent water leakage and add an aesthetical picture to it. So, try your best to get the foundation right. It must be solid and accurate, or your reason to do it yourself will be defeated as there may be some devastating consequences. But if you can't get this part right, hire a professional to do it.
Cross-check items
After the foundation, check the items and equipment available to be sure that they're adequate. Check the tools you have already and hire the ones that are missing. Be sure that you've equipped yourself with the necessary knowledge of building construction.  Hire the equipment that you don't have and get some friends to help with the heavy lifting. Don't forget to hire the welders who'll do their work on the steel. Sometimes, it's better to start constructing some parts and later lift it on the foundation to continue.
Start the Construction
The first place to start is mainframe, which is, of course, the figure where other parts will be attached and later construct the end-wall frames. You can attach the purlins and girts on the mainframe and end-wall frames to keep them strong. Frame the windows and doors and keep, then attach the exterior sheeting. After that, you can attach the windows, doors, venting & trim. After constructing the body and getting it right, attach the roof and wall sheeting. Just make sure that the screws are snug to prevent issues later.
If you want to keep bugs away from the place when the door is open, find screen doors Perth and add. It makes the steel building to look attractive.
Take care of the Interior
After erecting the steel building, it's time to equip the interior with little functional systems such as reflective insulation. Our reason for recommending is that it'll help to save energy in your house. Remember, steel buildings are usually hot during the summer but not hot during winter. With this insulation, you can say goodbye to excessive heat and excessive cold.
Conclusion
Many companies deliver steel framed buildings, but you can handle the project if you know what to do. It can take a lot of money to complete, but you may save more by following the tips we've shared in this article. However, if you discover that it is not easy to handle, by all means, hire professionals to save time and money.
Building Articles
Comments / photos for the Building Your Steel Building: Tips To Remember page welcome