Bitcoin Island, Luxury Development Embracing Cryptocurrency, Caribbean Building Design, Cliffside paradise
Bitcoin Island – Luxury Development Embracing Cryptocurrency
21 Apr 2021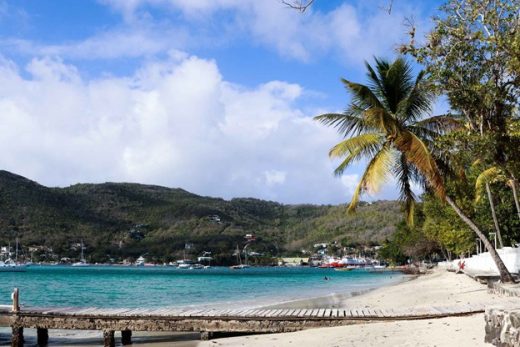 With its idyllic stretches of luxurious beaches, beautifully blue seas and relaxed island lifestyle, Bequia may be the perfect island getaway. Bequia is located in the Grenadines. It is the second largest island and is only 7 square miles, with a population of approximately 5,300 people. Interestingly, there currently no Covid-19 cases in Bequia.
Bitcoin Island Luxury Development
Bequia is the home of a luxury development 'One Bequia' that offers high tech smart villas. It may be surprising to learn that these villas can be purchased in cryptocurrency- and Bequia is fast becoming known as Bitcoin Island.
One Bequia is a unique, modern Caribbean development that is situated on a cliffside in paradise, engulfed in luscious forestry, providing a tropical rainforest aesthetic and privacy for residents whilst preserving nature's finest. It combines a high-end community that meets at the intersection of art, technology and design.
"The Caribbean is known for its laidback island atmosphere. It's not exactly the place you would expect a groundbreaking property development on global proportions to take place. I wanted to break out of this mould and surprise the world by pioneering a new way of project financing, such as. the use of alternative payment methods such as bitcoin" says Storm Gonsalves, the developer behind One Bequia.
The development will include 2 bedroom, 3 bedroom and 4/5 bedroom villas. An additional bedroom can be added to the four bedroom design at an additional cost. Each Villa has its own infinity pool (25′ x10′ for two bedrooms + larger for larger villas). They also have views of Bequia, the Atlantic Ocean and Caribbean Sea, Mustique and Baliceaux/Battowia. 2-Bedroom properties start at $950,000/ £700,000.
For investors, the estimated annual revenue of a 5-bedroom villa in the rental pool is $175,000, after fees, based on 40% occupancy which is the national occupancy average.
The lifestyle that One Bequia provides is a rare find among other Caribbean developments, with amenities that include a games room with a duckpin bowling alley, a top of the line spa and fitness centre offering incredible panoramic views of the Caribbean Sea and Atlantic Ocean, a contemporary clubhouse with world class restaurants, bars, boutiques and more.
As well as the impressive high spec of the properties,the most innovative technologies will be utilised to develop fully automated homes for residents, providing the ability to tap into high-tech functionality and luxury that wasn't possible in the past. Not only is this a step into the future, it is the ideal solution for homeowners who are looking for an effortless way to manage their homes. Additionally, each home has a designated property manager who looks after the property when the owner is away-and  the owners can check in on their home from anywhere in the world, at any time.
Most importantly, this development has fully accepted the use of bitcoin for purchasing villas and paying for all onsite expenses.
The attractive element of being available to buy these properties in Bitcoin, as well as all major currencies is a huge plus for buyers and investors of cryptocurrency.
Buy why bitcoin? Small island nations are finding it increasingly difficult to send and receive money because of "derisking" by large international banks. The process of derisking is when these large institutions remove their intermediary banking services from smaller island based community banks. This prevents the island based banks from transacting internationally. If this trend continues it means small island nations will be essentially cut off from international trade and commerce. For tourism based economies this would be devastating. This has pushed many Caribbean island nations to adopt blockchain and other cryptocurrencies a lot faster than other more developed nations. Bermuda, Bahamas, Barbados and now St. Vincent are leading the way in this regard.
For the 30+, tech savvy vacation villa hunters, crypto enthusiasts and investors looking for a property that is well-connected to other hidden gems of the Caribbean, Bequia may well be the island of the future
Comments on this Bitcoin island – Luxury development embracing cryptocurrency article are welcome.
Bitcoin
Cryptocurrency & Bitcoin Posts
How To Get Free Coins Playing Wizard Of Oz Slots?
BitPay accepts Bitcoin Cash in all invoices
How To Trade Bitcoins And Make Profits
Buildings
Architecture
Comments / photos for the Bitcoin island – Embracing Cryptocurrency page welcome