Trusted Frosted Glass For Commercial Buildings Advice, Smart Office Glazing Tips, Property Guide
Benefits Of Top Frosted Glass For Commercial Buildings
21 Jan 2020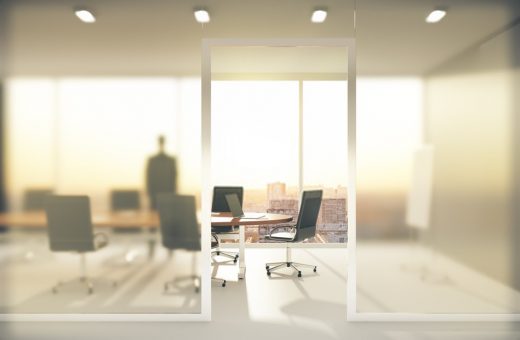 Top frosted glass in commercial buildings
In the business world today, more people are aware of the elegance that glass brings to their commercial space. If you have glass windows and the likes already, you may already have a good idea of these benefits.
However, while glass generally looks beautiful and stylish, it has a number of disadvantages. One such disadvantage is the lack of privacy. With frosted glass, you don't have to worry about this. You can see the frosted glass as an upgrade that allows you to enjoy the elegance of glass without its various disadvantages.
The good news is that you don't have to replace your glass doors and windows or buy curtains and blinds. Window frosting allows you to keep your glass doors, just that they are frosted glass doors now. In this article, we shall be taking a look at the top reasons why frosted glass is a great investment in your commercial building.
More Pleasing Aesthetics
The touch of style that frosted glass brings to your commercial building is unmatched by other materials. Due to its versatile quality, frosted glass can be designed uniquely to convey different feels. You can choose if you prefer the frosting film to have your company logo or any other pattern.
This decorative element helps make the office atmosphere livelier. By the way, you don't have to get stuck on a design forever. Even though frosted glass is very durable and can last for several years, frosting film can be removed and replaced with new designs.
Greater Privacy
This is one of the most important benefits of using having frosted glass doors and frosted glass windows in a commercial building. Beyond beauty, most businesses need some form of obscurity to allow employees to focus on work without distractions.
Apart from distraction, frosted glass helps prevent outsiders from peeping into confidential works. An occupant in a room that has frosted glass door can see outside, while those outsides, would find it hard to look in. This is a benefit that regular glass doesn't have.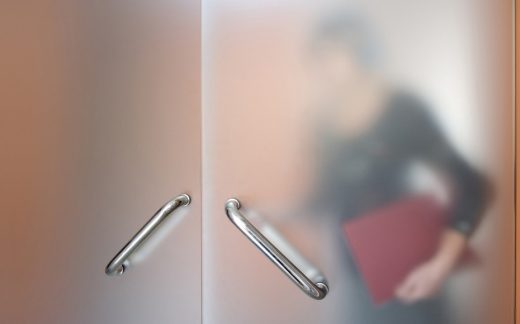 Better Security
Translucent glass by FGM enhances the security of your commercial building in three major ways. First, since the window frosting film has a sandblasted appearance, it prevents outsiders from looking in and seeing the office equipment inside. This alone can help reduce the risk of trespass.
Second, because of its strength, frosted glass is an extra layer of protection for your commercial building. It is hard to penetrate and can resist harsh weather.
The third way it provides better security is that, even though it is glass, the frosting makes it visible. This reduces the hazard of outsiders walking straight into it out of ignorance.
Easy Maintenance
Commercial buildings should be clean and sparkly at all times. It is a reflection of the overall brand. Fortunately, frosted glass doors and windows are so easy to clean. Since glass does not rust, you don't have to worry about rust or corrosion.
Its textured surface does not streak easily and is easy to clean. All you need to keep it clean is an occasional wipe with a cloth and some cleaner. Also, you can upgrade and remove the film at any time.
Brighter Atmosphere
Just like normal glass, frosted glass lets in plenty of light into your commercial building. However, unlike normal glass, the window frosting film keeps the heat and harshness at bay, filtering out harmful UV rays and keeping your office equipment and furniture protected. With natural light in your commercial building, your staff can stay awake and alert throughout the day.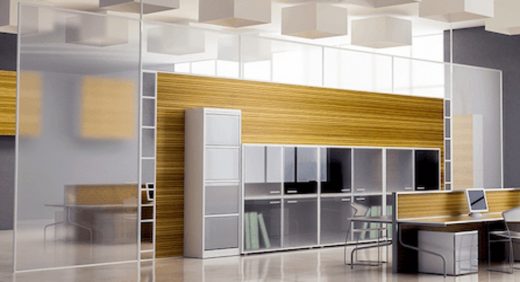 Cost-Effective
When we consider all the benefits frosted glass provides, no other alternative is as cost-effective as this one is. Since it helps keep heat out, you would spend less on air conditioning. Also, you can reduce your energy bill, as your dependence on artificial lights would significantly go down during the day. By the way, not only does this keep the heat off during the day, but it also blocks the coldness of winter.
Benefits Of Top Frosted Glass in Commercial Property
By all standards, frosted glass blows the alternatives out of the water. When you are looking for the right material that would provide privacy, security, and beauty to your commercial building, the best option is frosted glass. The investment is well worth it.
Comments on this guide to Benefits Of Top Frosted Glass For Commercial Buildings article are welcome.
Building Articles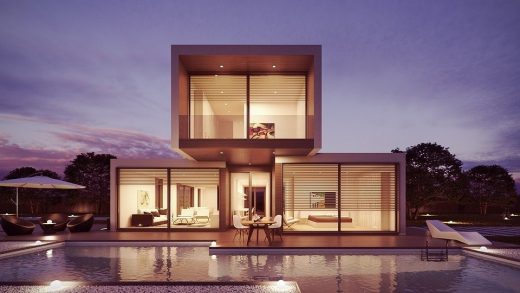 image courtesy of article provider
Comments / photos for the Benefits Of Top Frosted Glass For Commercial Buildings Advice page welcome