9 Pocket-Friendly Tips to Make Your Bedroom Look More Luxurious, Residential Property
9 Pocket-Friendly Tips to Make Your Bedroom Look More Luxurious
Residential Building Style Tips: House furniture Advice Article
23 July 2019
9 Pocket-Friendly Tips to Make Your Bedroom Look More Luxurious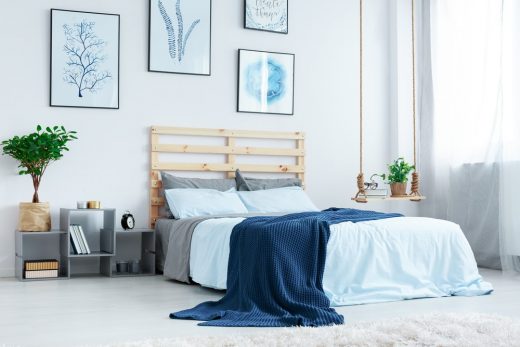 Make your bedroom more luxurious
There are several ways you can turn your plain old bedroom into an appealing, elegant and fancy place.
Make Your Bedroom More Luxurious Tips
Here are nine budget-friendly tips to help make your bedroom look more luxurious:
Focus on the bedroom furniture
Sometimes all you need is to change up the old furniture you have for better ones. Choose dark wood bed frames since they have better appeal, and a dresser or a velvet arm chair. The idea is to use very few furniture that can stand out on their own. Too much furniture cheapens the space.
Add pillows
Pillows are a great hack to spice up any room in your home, more especially a bedroom. The good thing about pillows is that they make a room look more functional, not to mention, add to the warmth, comfort and coziness thereof. Consider different sizes of pillows, as well as shapes and colors.
Keep it clean
You most definitely do not have to break the bank to keep your bedroom clean. Every piece of item that is in the wrong place only clutters and dirties your room. Before you even consider tips on how to clean mattress stains, start by tidying up the clutter and create more room to walk around and enjoy your space.
Add a plant
Inviting some green into your bedroom is not only a nice way to liven up the space, but can also transform it into a luxurious bedroom. You want to choose a plant that is low maintenance but can survive long enough. As it invites fresh air into your room, it is also a nice opportunity for you to use a beautiful vase to spice things up even more. While at it, determine a fragrant bouquet of cut flowers for your nightstand, or simply, a lush green plant in a ceramic or metal container.
Make a statement with a throw blanket
A warm throw blanket can make an ordinary bed elegant. Get one that is thick and luxurious and place it near the foot of your bed. Go for a blanket that is made from fuzzy wool, velour, silk, velvet, or even faux fur. Try to stick with a solid color, an animal print, or a subtle design.
Add a mirror
A mirror is an incredible way to transition a room, big or small, into a phenomenal space. Regardless of the kind of mirror you choose, whether you prop it up or hang it against the wall, a good mirror will make your bedroom feel bigger, brighter and more unique. It is a nice way to add chicness and elegance to your bedroom.
Raise the Curtains
If your bedroom is small, low curtains will only make it look boxier than it already is. Instead, fake a little more space by raising the curtains up high. This way, the curtains run all the way down to the floor, making your space look more expensive and bigger. Ensure the curtain rod is mounted just an inch or two below the ceiling line.
Lampshade
A Lampshade can change your story, only if you pick the right one. You can select interesting lampshades at bargain prices without going overboard with the budget. Focus on a little touch of luxe, look for a rich-hued shade, a shade with a pleasing pattern, or a shade with metallic accents, which will make your room look more expensive than it is.
Add a rag
With this tip, be sensitive to the space you have in your bedroom, along with the nature of the walls and floor. Ideally, a stylish rag would go with polished hardwood floors. Find a colour that complements everything else in the room.
Building Articles
Comments / photos for the 9 Pocket-Friendly Tips to Make Your Bedroom Look More Luxurious page welcome