6 Tips On How To Create A Modern Bedroom Look On A Budget, Property Guide, Real Estate Tips
6 Tips On How To Create A Modern Bedroom Look On A Budget
16 July 2020
Your bedroom is an important area of your home because it affects your ability to relax and maintain your overall wellness. It'll be very challenging for you to get some shuteye if your bedroom is too cramped, looks cluttered, and doesn't have the necessary furniture.
If your bedroom no longer provides comfort and relaxation, consider doing some makeover to the space. Contrary to popular belief, creating a modern bedroom look doesn't require hundreds or thousands of dollars. Often, you can achieve this goal by using items that are found at home.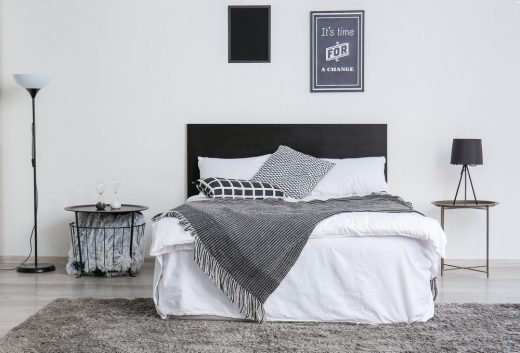 To help you out, here's how you can create a modern bedroom look on a budget:
6 Tips On How To Make Modern Bedroom Style
Change Your Throw Pillows And Beddings
Your pillows and beddings are two of the most important elements inside your bedroom. Since bedrooms are meant for relaxing and sleeping, it'll be challenging for you to do any of these if your throw pillows and beddings feel stiff.
If your throw pillows and beddings no longer provide the comfort you need, it's time for you to replace them. Old or damaged throw pillows and beddings can ruin your attempt at creating a modern look for your bedroom.
It's worth checking out Direct Flooring Online which offers a great range of floors and their professionals will advise you about which flooring will suit your room the best.
If your mattress no longer provides comfort to your body, you can choose to invest in new ones. According to BedAdvisor.com, the mattress is an essential part of your bedroom, which is why you should make sure that this suits your preferred firmness and the theme you want to achieve.
Switch It Up
As mentioned, you don't have to break the bank just to create a modern bedroom look. You can easily change or improve the ambiance of your bedroom by changing its layout. This is a simple trick that can create a huge impact.
You can start by changing the location of your furniture or omitting some that aren't necessary anymore. Removing duplicate or damaged items inside your bedroom will open up the space and make it more spacious. This is especially important if you own a small bedroom.
Maximize Mirrors
Another technique suited for small bedrooms involves the use of mirrors. Mirrors can make your bedroom look more spacious and inviting, especially when hung in areas that have access to natural light.
If you want to achieve a modern-looking bedroom using mirrors, opt to buy one that comes in brass framing or has a curved shape. These kinds of mirrors are functional, unique, and provide a high-end look to your bedroom!
Recolor Your Bedroom
Paint Your Walls with a different color is one of the easiest and cheapest ways to create a modern look for your bedroom. Colors can affect one's mood, so make sure that you pick the right color to achieve a modern look for your bedroom.
If you're clueless on your options, consider painting your bedroom walls in pale blue or light grey as these colors can give your space sophisticated richness, and make the area more relaxing. You can also use the same colors in repainting some old furniture in your bedroom, like a dresser or nightstand.
Don't Forget About Your Floor
For you to create a modern look for your bedroom, it's not enough that you just change things up on your eye level. You shouldn't forget about your floor because how this area looks and feels can affect the overall ambiance of your bedroom.
You can upgrade your bedroom's flooring by adding or changing a rug, adding floor cushions or duvet. These items come in a wide variety of shapes, sizes, and designs, so make sure to pick those that radiate a modern vibe. Aside from improving the appearance of your bedroom, feeling anything soft under your feet will surely make your bedroom cozier, too!
Upgrade Your Hardware
All of the hardware – regardless of size and use – present in your bedroom can affect the mood of the space. It'll be challenging for you to enjoy your bedroom if your cabinet knobs, dressers, and nightstand are too worn out. How can you even achieve a modern look if your hardware looks old and tired?
Make sure that all elements in your bedroom showcase a modern look by upgrading your hardware. If you have been using the same dressers or cabinets for years, change their built-in knobs into crystal or copper handles. These are inexpensive options that will surely make your bedroom look more modern!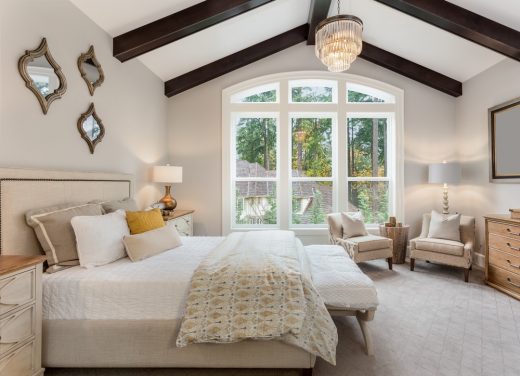 Prevent Clutter 
If you want to enjoy a modern bedroom for the longest time possible, exert time and effort to maintain the appearance of the space after you've followed the tips in this article. Your bedroom should never contain clutter to ensure that the space showcases a modern feel and look!
Comments on this 6 Tips On How To Create A Modern Bedroom Look On A Budget article are welcome.
Bedrooms
Bedrooms Posts
Essentials things for a perfect master bedroom
Touches of Glamour for your Bedroom
Make Your Bedroom More Comfortable
Vital rules of bedroom furniture placements
Residential Property Articles
Building Articles
Contemporary Property Articles – architectural selection below:
Shanghai Grand Opera House, China
Architects: Snøhetta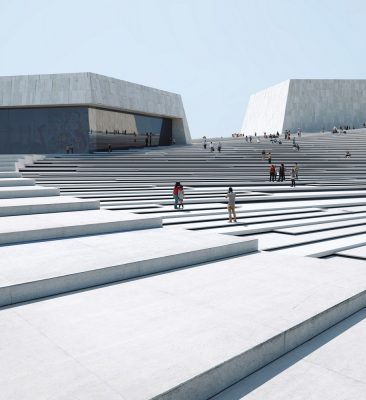 images © Mir and Snøhetta
Comments / photos for the 6 Tips On How To Create A Modern Bedroom Look On A Budget Guide page welcome