5 ways to maximize space for a small kitchen design guide, Home cooking space tips, Online property interior advice
5 Ways to Maximize Space for Your Small Kitchen Design
8 Feb 2021
Kitchens don't necessarily need huge amounts of space. In fact, some of the most innovative kitchen features have been specifically designed for smaller areas.
With a smart approach, the actual size of your kitchen shouldn't be a problem. You can still easily create an attractive and practical design that delivers all the features that a great kitchen should.
Here are some useful small kitchen design ideas to help you make the most of your limited space.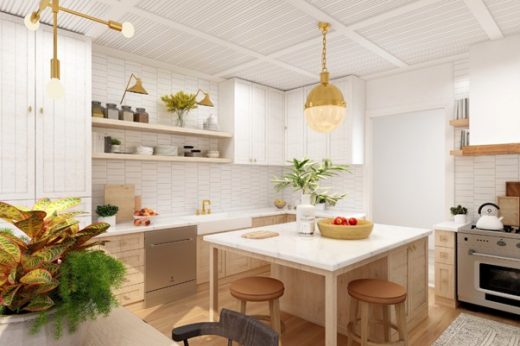 5 Ways to Maximize Space for a Small Kitchen Guide
Space Saving Storage
When working with limited space, you need to make use of every single inch of space. Finding the right kitchen storage solutions can really help here.
If you have any awkward corner spaces that you struggle to reach down into for pots and pans, opt for a pull out drawer. These clever features neatly fit all of your kitchen essentials in your cabinets and open up that otherwise forgotten small space. Also, you should keep your cookware to a minimal and get rid of all the pots and pans you don't use often. Keep only the ones you use regularly. If you're into Green Pan cookware, here's a review from HomeDesignX on why you should buy one of these sets.
This can also be applied to your pantry storage area. Installing a pull-out pantry drawer is a great solution to provide extra storage in small kitchens and make the most of every inch of space.
Splashback Feature
For aesthetically pleasing small kitchen designs that create the illusion of space, install a natural window splashback feature. These modern features are extremely eye-catching and flood your small kitchen with natural light – just two reasons why an interior designer would love them for a kitchen look.
An outdoor themed splashback will make your kitchen space feel much less cramped. A splashback is also incredibly low maintenance, adding to the reasons why it tops our list of hacks for small kitchen design.
A mirrored splashback is also something to consider. Topping the list of modern interior design trends, mirrored splashbacks are perfect for small fitted kitchens. They help to reflect light around an area which can open up the room and create a more airy feel.
European Inspired Laundry
In Europe, it's actually very common for a kitchen to contain a washing machine. Whether it's hidden behind a sliding cabinet door or on full display, a kitchen/laundry combo is a great space-saving hack.
If your room space is limited, simply remove the need for an individual laundry room. By opting for a small condo kitchen remodel like this, you'll give yourself more space to put towards your kitchen design. This will help with any tiny kitchen issues and give you more room to work with.
If you do decide to go for a European inspired small condo kitchen design, there are things to keep in mind. You'll need to have a hot water pipe connection available for your washing machine to hook up to. If you don't have this readily available or if your system is faulty, book in a hot water system repair service with your local plumber. They'll connect your washing machine so that your Euro laundry is all ready to go.
Smart Sink Space
You may overlook your sink space when it comes to researching condo kitchen design ideas, but you shouldn't. Your sink can actually provide useful space-saving features beyond just running hot water.
Most modern sinks come with wooden covers. This can double as a chopping board, meaning that your otherwise unused sink area can now also be used for food prep.
You can also use your sink space to hide unsightly dishes. Opt for a deep stainless steel sink. As sinks are already dirty spaces, a deeper sink can help to conceal dirty pots and dishes to prevent any sense of clutter.
Built-In Appliances
Don't waste valuable bench space with chunky appliances cramping your small kitchen style. Instead, choose to have your kitchen appliances built into your cabinet space.
Integrated appliances are the perfect option for a small kitchen design. They blend seamlessly into the cabinet wall space to make your kitchen feel visually larger.
A built-in oven and microwave are great examples of this. By blending these bulky appliances into one wall, you will immediately double your available bench space. This will mean more bench room available for food prep and general entertaining. It's the perfect space-saving solution!
Comments on this guide to 5 ways to maximize space for a small kitchen design article are welcome.
Kitchens
Kitchen Design Style Posts
Kitchen design ideas that are eco-friendly
Top ways to bring color into an all-white kitchen
Equip your Kitchen for a Professional Cook
Home Design
Residential Architecture Articles
Comments / photos for the 5 ways to maximize space for a small kitchen design advice page welcome