Home Renovation Advice, Increase Your Property Value, Building Construction Design
5 Home Renovation Tips for Added Property Value
Architecture Design Advice Article
2 May 2019
5 Home Renovation Tips That Will Increase Your Property Value
Increasing your home and property value is always desirable, especially if you are considering resale in the future. There are many ways to raise the property value of your home and much of that happens through renovations and updates. Why not visit the Home Remodeling & Renovation Guide.
From revamping your kitchen, finishing your basement, going green, sprucing up your lawn, and enlarging your home, there's no question that your home value will increase. Renovations take time and can be costly but they are a valuable investment for the future. Follow these 5 home renovation tips that will increase your property value.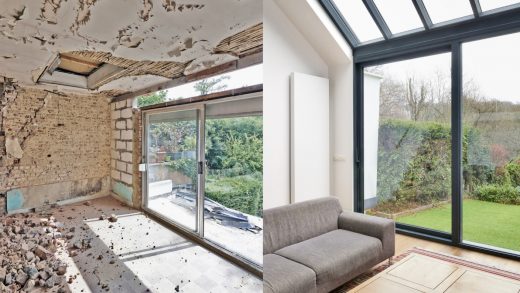 Renovating your home from the inside out will increase your property value and make your home attractive for buyers. If you want to discover more tips about how to increase your home's value, or to learn more about anything that will make your house a home, visit House Tipster. House Tipster is the go-to resource for all things "home". By visiting you can find more information and advice that will be useful for indoor and outdoor home projects.
1.Renovate Your Kitchen
The kitchen has long been considered the "heart of the home" and updating by making it look more luxurious and appealing is sure to increase your property value. There are several ways to update your kitchen and the first place to start is by renovating your countertops.
Replace old and out of style countertops with natural stone. Some excellent and durable choices are granite, marble, and quartz. These surfaces come in beautiful colors and variations go a long way in adding depth and richness to the kitchen space. The thicker the countertop, the more they will stand out.
It is more expensive as you increase thickness but it's worth it in raising the value of your home. Be careful when installing these surface and using them because although durable, they are porous and have to be maintained properly. Be sure to clean up spills and take special measures to seal your countertops properly and avoid having extremely hot surfaces come in contact with your countertop.
Another renovation tip to include in your kitchen update in order to increase your property value is to update your appliances. Outdated appliances are sure to turn away buyers and not add any significant value to your home. You may need to purchase all new appliances in materials that are up to date and trendy like stainless steel and matte-black.
Or, you can consider changing out parts of your old appliances. For example, you can purchase a new panel for your dishwasher and for your refrigerator doors. Whatever you do, make sure that you don't stick to the old-fashioned white appliances as they tend to make kitchens looks extremely dated.
Some other updates that you can do in your kitchen is to install a ventilation hood above your stove and to update your cabinetry. If you can't afford to buy all new cabinetry or a new hood, make sure that you maintain them properly so they stay clean and new-looking. For your cabinets, you can do a DIY repaint job and replace furnishings like handles and they will look as good as new.
Finish Your Basement
The basement is usually left for storage in most homes, and can become the room for piles of clutter. To increase your property value, renovating your basement will add a ton of value. By renovating your basement, you will add extra usable footage. The basement is so versatile in terms of what you can do in that space. It's an extra room that can be used as another bedroom, recreation or entertainment center, or playroom.
The options are endless for your basement renovation. By adding a bathroom, a small kitchen or mini-bar, you can expand the value of your property even more.
There are certain factors to keep in mind when renovating your basement such as keeping the area dry. The basement is typically prone to dampness which can host mold growth. Avoid these issues by properly insulating, purifying the air, and use a dehumidifier. Keep the area dry and clean.
3.Go Green
Going green and considering environmental-friendliness will positively impact your property value and it's achievable through various home renovations and updates. The number of homeowners and buyers going green has been steadily increasing over the years.
More people are now pushing efforts to take care of the environment even when it comes to our everyday lives inside our homes. By creating green updates in your home you can attract buyers and increase your property value.
One way in which you can go green is to install light dimmers throughout your home. This is energy efficient and can save homeowners money on bills. Look for light dimmers that have timers included or motion sensitive lights so no electricity is wasted.
Another way to go green in your home renovations is to use eco-friendly materials. Eco-friendly materials include bamboo, natural stone, ceramics, porcelain tile, fiberglass, and recycled materials. You can include many of these green updates in certain rooms in the home like the bathroom by installing green countertops such as bamboo or quartz.
These materials do not exude any VOC's (volatile organic compounds). Stay away from vinyl materials as they are not environmentally friendly and they look cheap.
Installing solar panels is another way to be go green. It's a costly investment but proves to be worth it in the end. Solar panels last well over 20 years, are extremely energy efficient, and save homeowners money on their utility bills.
Consider your Curb Appeal
Having a beautiful home on the inside can increase your property value, but making sure home looks updated on the outside can also give your property value a boost. To start, make sure that your siding isn't rusty, dirty, or falling apart. If needed, replace the siding on your home or give it a good cleaning with a power washer.
Another important aspect of your home's curb appeal is to include landscaping that makes your home stand out in a positive way. Include stone pathways, a garden-like area with seating or small fountain, a firepit, and include various plants, flowers, and trees that make your yard look like a paradise.
You can call a landscaping team to do it for you, or you can save some money and do it yourself. If you work on your lawn as a DIY, make sure that you account for proper lawn-edging and choose healthy topsoil. Adding a deck to your home is great tip to increase your property value and add interest your backyard. A deck adds more space, and more space for living and enjoying means an increase in value.
5.Enlarge Space and Natural Light
Making your home bigger and adding touches that make it seem bigger are the perfect way to raise your property value. Check to see if there are any walls that are not load-bearing that could be knocked down to create an open floor plan in your home. This creates more space in the home and allows you to see from one end of the house to the other depending on how your rooms are arranged on each level.
You can also enlarge a space by building vaulted ceilings or creating the illusion of higher ceilings by adding beams. Speaking of illusions, adding more windows and skylights makes any space appear larger by allowing natural light to flood in.
Natural lighting and color affect much of what a home looks and feels like inside. If rooms are painted with dark colors they will seem very small. If you choose light and neutral colors such as pastels or light gray tones, you can make a room seem bigger.
Home Renovation Tips articles welcome! Comments on the 5 Home Renovation Tips That Will Increase Your Property Value article welcome.
Building Articles
America Architecture News – latest building updates
Comments / photos for the 5 Home Renovation Tips page welcome