15 Questions To Ask Your Roofing Contractor Advice, Palm Beach County building roof tips, Florida homes
15 Questions To Ask Your Roofing Contractor Guide
30 Apr 2021
When you need a roofing contractor, a great place to start is on the phone. Roofing contractors can give you valuable information over the phone to quickly narrow your search so you can find the company that best fits your needs. Asking the important questions up front will help you find a trusted and reputable roofing contractor in your area.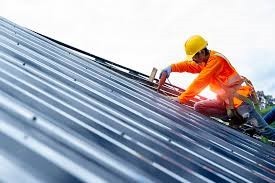 15 Questions To Ask Your Roofing Contractor List
When making calls here are 15 questions to ask:
What is your legal business name and address?
What level of roofing insurance do you have?
Can you do a roof layover?
How heavy is the roofing material?
What is the price per square foot?
Is it in my budget?
What roofing material looks best with the style of my home?
What colors are available?
What maintenance will there be?
How long will the roof last?
Is this the right choice for local weather conditions?
Will this roof be energy efficient?
Will this roof be fire resistant?
Will the roof be properly ventilated?
What is the roof's warranty?
What is your legal business name and address?
To establish who you are doing business with it's important to know the company's legal name and address. Red flags may go up if they are working out of a P.O. Box or if they are from another state. You will have an easier time checking out the business if you have their correct name and address.
What level of roofing insurance do you have?
Each state requires different levels of insurance based on the type of contractor. To learn what level of insurance is needed in your state, type in "[YOUR STATE] roofing insurance requirements," in your internet search bar, then choose a result from your state's official website. Choose a .gov website, not a .com or .net. There, you can see what insurance is required. Ask your roofing contractor candidates to email you a copy of their insurance liability policy and workers compensation insurance policy and verify that the insurance levels meet or exceed state minimums.
Can you do a roof layover?
A roof layover is just like it sounds; new roofing is laid over the old roof. It may be less expensive but be aware that roofing overlays just cover up problems and may made them worse. Covering an already leaky roof may encourage the growth of mold, mildew, moss, and lichen. As these spread under the new shingles both old and new shingles will break down faster. A complete tear-off reveals any defects in the roof deck and problems can be mended before the new roof is installed
How heavy is the roofing material?
Roofing material is heavy, and your roofing material choice may require additional structural support. This is a discussion worth having with your roofing contractor. The chart below shows the weight difference between a few common roofing choices. To see a more complete listing visit Roof Online.
Roof Material
Pounds per Square Foot
Pounds per Square

(100 Sq. Ft.)

Source

Asphalt Shingles

"3-Tab" or "Strip"

1.95 lbs.
195 lbs.
Certain Teed

Asphalt Shingles

"Architectural"

3.05 lbs.
305 lbs.
Certain Teed

Asphalt Shingles

"Luxury"

4.25 lbs.
425 lbs.
Certain Teed

Clay Tile

6 – 15 lbs.
600 – 1500 lbs.
Ludowici Roof Tiles

Slate Roofing

½ – Inch Slates

20 lbs.
2000 lbs.
Slate Roofs, National Slate Association, 1926
What is the price per square foot?
Many variables go into the price per square foot—current market price of roofing materials, number of square (approximate roof size), age of roof, pitch of roof, number of layers on existing roof, known issues, condition of shingles, and many more. Asking this question and discussing the variables will help you determine if the contractor has been complete in their assessment of the scope of the job.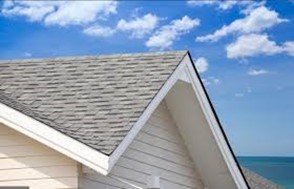 Protect yourself from a contractor who uses low-grade materials or unethical business practices to win jobs in the short term based on price alone. You want a profitable contractor who will still be in business should you ever need to make a claim against the warranty. Read how the Race to the Bottom principle effects the property services industry.
Is it in my budget?
New roofs are expensive. On average, a new roof for a 2,500 square foot home will cost between $8,500 and $14,000. As a homeowner you may wish to start saving two to three years in advance to cover the cost of a new roof.
What roofing material looks best with the style of my home?
When you imagine a Spanish or Mediterranean-style home, thoughts of a red clay tile roof automatically come to mind. Certain home styles lend themselves to certain roofing materials. Your roof says a lot about the style of your home, and a good contractor can help you stay true to your home's style.   Whether it is a Tudor-style with a steeply pitched roofline, a colonial with a boxy symmetrical shape, a contemporary-style with a flat roof, or a ranch with a gable roof, there is a roofing material that's right for you.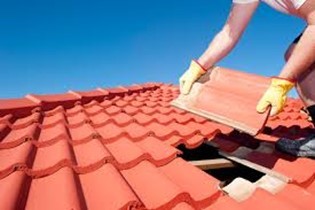 What colors are available?
Most residential roofing companies offer a wide variety of colors in many different product lines. Shingles, one of the most common choices, come in a huge range of colors. Many roofing companies offer photo galleries to display their range of color choices on their website, and some will even bring samples of actual products to you so that you can see your options and compare them to your existing home color at your location.
What maintenance will there be?
Different types of roofs require different maintenance and upkeep, and that varies greatly from tile to stone to traditional shingle. Consider your ability, wiliness, and budget for upkeep carefully when choosing a new roof. You can read more about roof maintenance here.
How long will the roof last?
Various roofing materials last different lengths of time. Slate, tile, and copper roofs can last more than 50 years. Metal roofing can last 30 to 50 years. Wood shake roofs can last 30 years, while fiber-cement shingles last about 25 years, and asphalt shingle/composition roofs last about 20 years.
Is this the right choice for my weather conditions?
High temperatures – Clay or cement tiles won't warp or crack with rising and falling temperatures.
Lots of snow – Lightweight asphalt shingles help the roof deck to support the weight of the roof and the snow. Metal is a great option since the smooth texture will allow the snow to slide right off.
Humid climate – Tile, metal, and slate resist mold, rot, algae, and moss that come from lots of moisture.
Will this roof be energy efficient?
Ask your contractor about ENERGY STAR certified roof products that can reduce your energy bills. These shingles reflect the sun's rays and reduce the heat transferred to your home's interior, so your air conditioner doesn't have to work as hard.
Will this roof be fire resistant?
Be sure to ask this question if you live in a wildfire danger area. Roof material fire ratings are Class A, B, C, or unrated, with Class A providing the best protection. Your roofing professional can assist you in choosing the level of fire protection you need.
Will the roof be properly ventilated?
Intake and exhaust vents on new roofs allow for proper attic ventilation. As the ventilation helps moderate temperatures in the attic, it may also help moderate the rest of your home. Excess heat in the attic also can cause condensation issues in the insulation. Proper roof ventilation can promote energy efficiency, protect the life of roofing materials, and be compliant with local building codes.
What is the roof's warranty?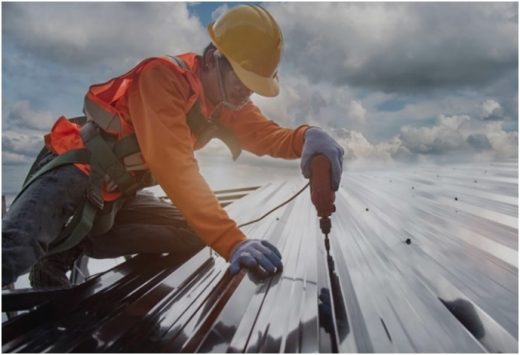 There are two types of warranties offered for consumer protection: roofing material warranties and contractor workmanship warranties. Here is what to expect from each:
Roofing material warranty
All leading manufacturers offer roofing materials that come with a standard warranty. But to get the enhanced warranty from a manufacturer it requires you to purchase all your roof components from one specific manufacturer to form a complete roof system. Once your roof is installed you must register your roof with the manufacturer to get the enhanced warranty.
A standard warranty on dimensional shingles will last 30 years and is prorated after 10 years. You will be paid less for problems as years go by. With a registered enhanced warranty, coverage lasts for 50 years and will never be prorated. Even if only one component of your roof fails, the warranty allows for the whole roofing system to be replaced. So it's worth it to invest in a registered, enhanced warranty and follow through with all requirements.
Contractor workmanship warranty
Any reputable contractor should offer a workmanship warranty to protect you against improper installation with a length of coverage that varies from 2 to 25 years. Some even offer lifetime warranties as long as the roof materials hold up. The length of a contractor's workmanship warranty tells you a lot about them, their skills, and their commitment to customers.
When you're ready to call a roofing contactor and start asking questions, check out the list of qualified roofing contractors at The Prime Buyer's Report.
Comments on this guide to 15 Questions To Ask Your Roofing Contractor article are welcome.
Building Roofing
Home Roofing Posts
3 tips to find a great roofing contractor
3 tips to prepare for your roof replacement
Home Articles
Residential Architecture
Planet Smart City, Aquiraz, near Fortaleza, Ceará, Brazil
Design: Studio Kyze Arquitetura e Design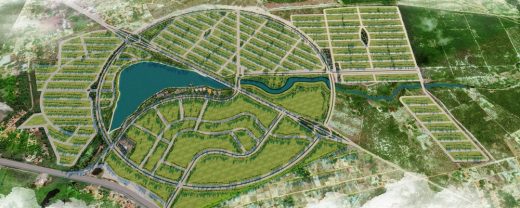 image courtesy of architects
Planet Smart City Aquiraz, Brasil
Northshore Pavilion, Queensland, Australia
Design: Anna O'Gorman Architect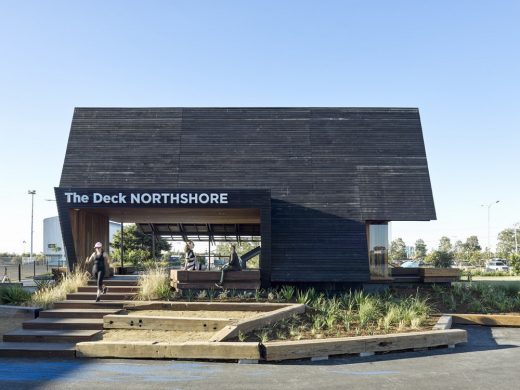 Northshore Pavilion
photo : Christopher Frederick Jones
Northshore Pavilion, Queensland
Comments / photos for the 15 Questions To Ask Your Roofing Contractor advice page welcome