Wang Shu Architect, Lu Wenyu, Hangzhou Architects, Buildings, Chinese Design Studio
Wang Shu, Hangzhou, China : Amateur Architecture Studio
Amateur Architecture Studio Hangzhou – Chinese Architects Studio
27 Feb 2012
Wang Shu News
Pritzker Architecture Prize Winner in 2012
WANG SHU NAMED 2012 PRITZKER PRIZE WINNER
Wang Shu, a 48 year old architect whose architectural practice is based in Hangzhou, The People's Republic of China, will be the recipient of the 2012 Pritzker Architecture Prize.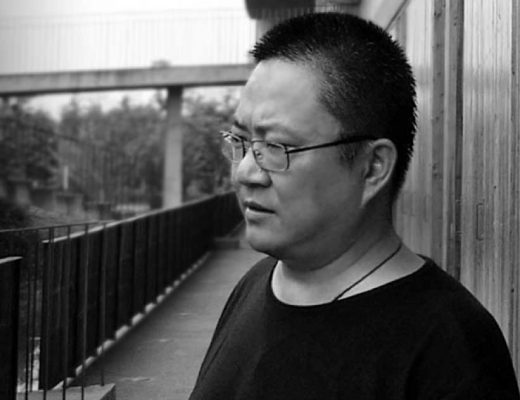 photo © 2012 The Hyatt Foundation
Jury Chair Lord Palumbo, stated, "Wang Shu's oeuvre, seen in depth by the jurors during a visit to China, left no doubt that we were witnessing the work of a master; and a unanimous decision to award him the Pritzker Prize for 2012 is one that we feel places him at the same high level of distinction as the other Chinese architect to receive the award, I M Pei."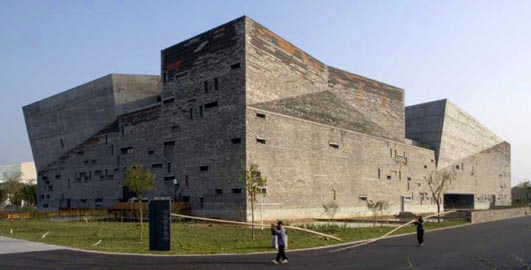 photo by Lv Hengzhong, Courtesy of Amateur Architecture Studio
Pritzker Prize jury chairman, The Lord Palumbo, spoke from his home in the United Kingdom, quoting from the jury citation that focuses on the reasons for this year's choice: "The question of the proper relation of present to past is particularly timely, for the recent process of urbanization in China invites debate as to whether architecture should be anchored in tradition or should look only toward the future. As with any great architecture, Wang Shu´s work is able to transcend that debate, producing an architecture that is timeless, deeply rooted in its context and yet universal."
Ceramic House, Jinhua, China
2003-06





photos by Lv Hengzhong, Courtesy of Amateur Architecture Studio
Wang earned his first degree in architecture at the Nanjing Institute of Technology, Department of Architecture in 1985. Three years later, he received his Masters Degree at the same institute. When he first graduated from school, he went to work for the Zhejiang Academy of Fine Arts in Hangzhou doing research on the environment and architecture in relation to the renovation of old buildings. Nearly a year later, he was at work on his first architectural project – the design of a 3600 square meter Youth Center for the small town of Haining (near Hangzhou). It was completed in 1990.
Decay of a Dome Exhibit, 12th Venice Biennale of Architecture, Venice, Italy
2010
Test in Hangzhou (left) ; Installation in Venice (right)




photos by Lu Wenyu, Courtesy of Amateur Architecture Studio
For nearly all of the next ten years, he worked with craftsmen to gain experience at actual building and have no responsibility for design. In 1997, Wang Shu and his wife, Lu Wenyu, founded their professional practice in Hangzhou, naming it "Amateur Architecture Studio." He explains the name, "For myself, being an artisan or a craftsman, is an amateur or almost the same thing." His interpretation of the word is relatively close to one of the unabridged dictionary's definitions: "a person who engages in a study, sport or other activity for pleasure rather than for financial benefit or professional reasons". In Wang Shu's interpretation, the word "pleasure" might well be replaced by "love of the work".
Five Scattered Houses, Ningbo, China
2003-06





photos by Lang Shuilong, Courtesy of Amateur Architecture Studio
By the year 2000, he had completed his first major project, the Library of Wenzheng College at Suzhou University. In keeping with his philosophy of paying scrupulous attention to the environment, and with careful consideration of traditions of Suzhou gardening which suggests that buildings located between water and mountains should not be prominent, he designed the library with nearly half of the building underground. Also, four additional buildings are much smaller than the main body. In 2004, the library received the Architecture Art Award of China.
Ningbo Contemporary Art Museum, Ningbo, China
2001-05




photo by Lv Hengzhong ; Lu Wenyu, both Courtesy of Amateur Architecture Studio
His other major projects completed, all in China, include in 2005, the Ningbo Contemporary Art Museum and five scattered houses in Ningbo which received acknowledgment from the Holcim Awards for Sustainable Construction in the Asia Pacific. In that same city, he completed the Ningbo History Museum in 2008. In his native city of Hangzhou, he did the first phase of the Xingshan Campus of the China Academy of Art in 2004, and then completed phase two of the same campus in 2007.
Ningbo History Museum, Ningbo, China
2003-08










photos by Lv Hengzhong, Courtesy of Amateur Architecture Studio
True to his methods of the economy of materials, he salvaged over two million tiles from demolished traditional houses to cover the roofs of the campus buildings. That same year in Hangzhou, he built the Vertical Courtyard Apartments, consisting of six 26-storey towers, which was nominated in 2008 for the German based International High-Rise Award. Also finished in 2009 in Hangzhou, was the Exhibition Hall of the Imperial Street of Southern Song Dynasty. In 2006, he completed the Ceramic House in Jinhua.
Ningbo Tengtou Pavilion, Shanghai Expo 2010, Shanghai, China
2010





photos by Fu Xing ; Lu Wenyu, Courtesy of Amateur Architecture Studio
Other international recognition includes the French Gold Medal from the Academy of Architecture in 2011. The year before, both he and his wife, Lu Wenyu, were awarded the German Schelling Architecture Prize.
Vertical Courtyard Apartments, Hangzhou, China
2002-07




photos by Lu Wenyu, Courtesy of Amateur Architecture Studio
Since 2000, Wang Shu has been the head of the Architecture Department of the China Academy of Art in Hangzhou, the institution where he did research on the environment and architecture when he first graduated from school. Last year, he became the first Chinese architect to hold the position of "Kenzo Tange Visiting Professor" at Harvard Graduate School of Design in Cambridge, Massachusetts.
He is also a frequent visiting lecturer at many universities around the world, including in the United States: UCLA, Harvard, University of Texas, University of Pennsylvania, He has participated in a number of major international exhibitions in Venice, Hong Kong, Brussels, Berlin and Paris.
Xiangshan Campus, China Academy of Art, Phase I, Hangzhou, China
2002-04





photos by Lu Wenyu, Courtesy of Amateur Architecture Studio
Xiangshan Campus, China Academy of Art, Phase II, Hangzhou, China
2004-07








photos by Lv Hengzhong, Courtesy of Amateur Architecture Studio
Upon learning that he was being honored, Wang Shu had this reaction: "This is really a big surprise. I am tremendously honored to receive the Pritzker Architecture Prize. I suddenly realized that I've done many things over the last decade. It proves that earnest hard work and persistence lead to positive outcomes."
Library of Wenzheng College, Suzhou, China
1999-2000





photos by Lu Wenyu, Courtesy of Amateur Architecture Studio
More buildings by Wang Shu + Lu Wenyu – Amateur Architecture Studio online soon
Pritzker Prize : Pritzker Architecture Prize winner 2012
Tiled Garden, 10th Venice Biennale of Architecture, Venice, Italy
2010





photos by Lu Wenyu, Courtesy of Amateur Architecture Studio
Location: Hangzhou, China
Amateur Architecture Studio Practice Information
Architects office based in Hangzhou, China
Architect Wang Shu:



Zhu Chenzhou
Chinese Architect – contact details
Buildings / photos for the Wang Shu Architects – Amateur Architecture Studio Hangzhou page welcome
Website: n/a