Ushida Findlay Architects, Building Photos, British Design News, Projects, UK Office
Ushida Findlay Architects : Architecture
Kathryn Findlay + Eisaku Ushida : Contemporary British / Japanese Architecture Practice
post updated 10 Mar 2021
Ushida Findlay Architects News
23 Jun 2016
York Art Gallery Building, northern England, UK
Date built: 2016
Design: Ushida Findlay with Simpson Brown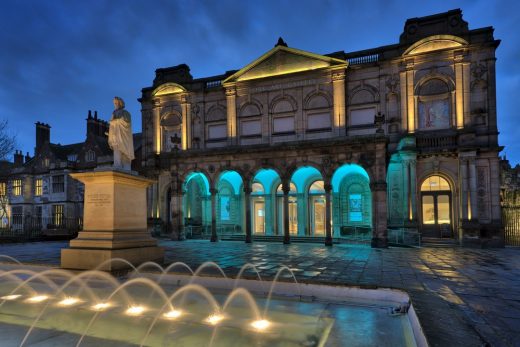 photo courtesy RIBA
York Art Gallery – A RIBA National Award Winner 2016
On the ground floor, the expanded suite of three exhibition galleries will enable York Art Gallery to host large, nationally important exhibitions. The development will also include: better visitor facilities including new cafe, shop, toilets and lift; improved learning spaces; a much improved storage for the collections.
Ushida Findlay is an active architecture studio based in North London, UK. The former practice went into voluntary liquidation in June 2004 – see lower down this page for details.
Featured Buildings by Ushida Findlay, alphabetical:
Homes for the Future, Glasgow Green, Glasgow, Scotland, UK
Date built: 1999



Ushida Findlay: Homes for the Future
Featured project: Homes for the Future
'The Hill' – proposal, Potters Field, southeast London
Date built: 2007-
Design: Fieldwork



image from University of Dundee PR 081007
Public building focusing on sensory experiences adj. Tower Bridge, for Simon Elliot
Ushida Findlay Partnership
Kathryn Findlay, 1953-
Eisaku Ushida 1954-
The Tokyo-based Ushida Findlay Partnership was set up in 1987 by the
Japanese architect Eisaku Ushida and the Scottish architect Kathryn
Findlay. Ushida and Findlay are former associates of Japanese architect
Arata Isozaki (1976-82).
Ushida Findlay (also known by some as Ushida & Findlay Architects) work is characterised by plasticity: one of their most noted works is the fluid, organic project entitled Truss Wall House. However, the fluidity and boldness of the Japanese projects does not seem to have been expressed in their Homes for the Future housing.


photo of Homes for the Future in Glasgow
This housing project is orthogonal save the semicircular balconies. The Ushida & Findlay building is reminiscent of CZWG's Cascades, Isle of Dogs in basic massing and is probably designed to harmonise with the adjacent building heights onto Glasgow Green and then softly step down to the internal postage stamp of greenery, out of some kind of respect.
Ushida Findlay were however also working on a Maggies Centre in Wishaw (now carried on by Reiach and Hall Architects, Edinburgh) and Granton Strand, Edinburgh so we will await with relish whether they can show more integrity with their oriental legacy.
1986 Creation of Ushida Findlay Partnership in Tokyo
Ushida Findlay – Teaching Positions
Eisaku Ushida
1999 Professor – UCLA, Los Angeles, USA
1976 Tokyo University, Japan – Diploma
Kathryn Findlay
1999 Professor – UCLA, Los Angeles, USA
1998 Professor – Tokyo University, Japan
1979 Architectural Association, London – Diploma
Ushida Findlay – Key Projects
2004 Maggies Centre, Wishaw, UK
2004 Granton Strand, Edinburgh, UK
1999 Homes for the Future, Glasgow, UK
1999 Hopton Street loft residential interior, Thames, London, UK
1998 Billiard Hall & House, Nagoya, Japan
1998 Kumamoto Artpolis Park Management Office, Kumamoto, Japan
1997 Polyphony House, Osaka, Japan
1997 Financial Times Millennium (Inhabitable) Bridge Competition, London, UK
1995 Housing Prototype 1, Osaka, Japan
1994 Soft and Hairy House, Ibaraki Prefecture, Tsukuba-city, Ibaraki, Japan
1994 Kaizankyo company villa, Wakayama Prefecture, Japan
1994 Spiral Wall House, Kobe, Hyogo Prefecture, Japan
1994 House for the Third Millennium, London, UK
1993 Chiaroscuro House, Tokyo, Japan
1993 Truss Wall House, Machida-city, Tokyo, Japan
1991 Vertical Horizon, Tokyo, Japan
1990 Yokohama Sportsman Club, Kanagawa Prefecture, Japan
1989 Echo Chamber, Tokyo, Japan
1989 Park Museum City, Japan
More projects online soon
Location: Carlow House, Carlow St, London, NW1 7LH, UK
Architect Practice Information
Architecture Practice Background
Kathryn Findlay – education work and key designs
Ushida Findlay went into voluntary liquidation in June 2004. Ushida Findlay were working on three projects in Doha, Qatar which had experienced delays and cash-flow problems. Twenty three architects were working for the architectural practice based in London.
Kathryn Findlay, was the daughter of an Angus sheep farmer but went on to great things, invited to the Venice Biennale, and Professor of Architecture at Tokyo Unversity.
Findlay graduated from the London AA in 1979. Recently Kathryn made her name with a starfish-plan design for a country house in England – Grafton New Hall. The architects studio gained this project by winning the Royal Institute of British Architects' competition in 2002 for a proposed English country house. The developer of Grafton New Hall intends to use the starfish design with a new architect.
Kathryn Findlay became an honorary architecture professor at Dundee University in 1999. Kathryn received an architecture scholarship from the Japanese Ministry of Education for postgraduate research at Tokyo University.
Apart from Wishaw and Granton, the architecture practice were working on projects in Doha – a Museum and two grand houses, one for Qatar's Minister of Culture.
As well as the problems in Quatar, the architects firm's £4m arts centre was halted by Bury St Edmunds Borough Council in April 2004. The architecture office had won another Royal Institute of British Architects' competition converting the Corn Exchange in Bury St Edmunds, Suffolk. The architectural practice also lost the Plymouth University Competition in 2004 to design their Faculty of Arts & Humanitites building. An English project Stade Maritime Landmark project – visitor centre and restaurant – in Hastings, West Sussex was won in 2002 but Kathryn Findlay was dropped in 2003.
Kathryn Findlay interviews in AJ Sep 04 & BD w/e 27.08.04
Scottish Architect
Kathryn Findlay is the Scots-born half of architects Ushida Findlay. Over the last 13 years Kathryn, along with her partner Eisaku Ushida, has been responsible for designing some of the "most appealing visions to emerge in some decades" as well as also enjoying a spell as the first women Assistant Professor of Architecture at the University of Tokyo. Kathryn Findlay has an intuitive intelligence for what she calls 'poetic space' for the possibilities inherent in translating the idea of landscape into buildings and interiors. Kathryn will explore the journey of discovery from concept to completion in Japan, the UK and around the world.
Penny McGuire in AR1257 describes Ushida Findlay buildings as all being "products of a quicksilver originality", drawing on "dream-like, poetic impulses to unsettle and delight"; they have a "habit of borrowing ordinary materials and using them in ways that challenge perception of them".
Scottish Tour : best Scottish buildings
Scottish housing by this the architecture practice: Granton Strand, Edinburgh, Scotland, UK
Kathryn Findlay was teaching at Dundee University School of Architecture, Scotland, since 2004/2005
Comments / photos for the Ushida Findlay Architects page welcome