Terry Farrell, Architect, Buildings, Photo, England, TFP Design Office, Studio News, Images
Terry Farrell, Architects : Architecture
Contemporary British Architectural Practice: Projects by this UK Design Office
Sir Terry Farrell News
1 Dec 2020
Pantechnicon, Belgravia, London, England, UK
Architects: Farrells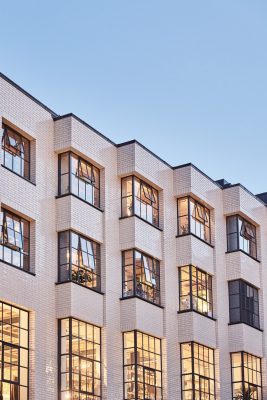 photograph from architects office
Pantechnicon in Belgravia
Farrells' sensitive and contemporary restoration at Belgravia's 'Pantechnicon' now plays host to a brand-new concept store and dining experience, breathing new life into the former warehouse.
19 Nov 2020
Sir Terry Farrell autobiography news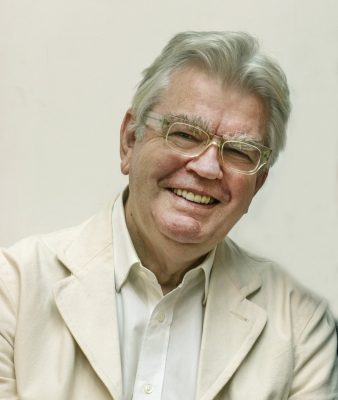 photo courtesy of architects
Sir Terry Farrell autobiography
The autobiography of award-winning architect Sir Terry Farrell launches RIBA's Lives in Architecture series. Sir Terry Farrell one of Britain's most influential architects of the twenty-first century, offers a full, personal account of his life in architecture in his brand new, self-titled autobiography.
20 Nov 2017
Sir Terry Farrell to received honorary degree from University of Kent
Architect Sir Terry Farrell CBE is due to receive an honorary degree from the University of Kent on 24 November.
Sir Terry will receive his honorary Doctor of Letters degree, in recognition of his exceptional contribution to architecture, during the University's student degree ceremony at Canterbury Cathedral.
25 Jul 2017
Sir Terry Farrell Awarded Urban Planning's Top Honour
Sir Terry Farrell CBE has been awarded the Royal Town Planning Institute's Gold Medal in recognition of his outstanding achievements as one of the world's most influential architects, planners and urban designers. The Gold Medal is open to all classes of membership internationally and has only been awarded 14 times in the RTPI's history.
Past recipients of the prize have included such luminaries as Sir Patrick Abercrombie, Lewis Mumford, Sir Colin Buchanan CBE and Sir Peter Hall. The Gold Medal will be presented to Sir Terry at a ceremony in the autumn. This award is in recognition of Sir Terry's outstanding contribution towards developing thinking in urban design, his championing of urban planning and contribution to policy shaping at a national level, and his outstanding impact on place making through his professional career as an architect planner and urban designer.
Stephen Wilkinson, RTPI President, said: "Sir Terry has a deep passion and understanding for places and people and has successfully demonstrated that in his work throughout his career. He is one of the few top practitioners who has truly embraced architecture, urban design and planning in a holistic vision and so vitally helped to advance integrated thinking among these disciplines.
"Through his belief in place and people he has been instrumental in creating a culture where communities become more involved in the quality of their neighbourhoods. "The RTPI Gold Medal is the Institute's greatest accolade. I am delighted that we are recognising his enormous contribution to place-making and the planning profession, and the way he has transformed some of our cities and made them better places."
Sir Terry has said: "I am very honoured by the recognition that this awards represents, particularly as it reflects the growing awareness that planning is a highly creative and proactive endeavour that has the potential to transform places and communities. My work these last 50 or so years has been heavily involved in creating a kinder, less doctrinaire world than that of the previous era of high modernism. It has been about layering, learning from the past and regenerating with communities' involvement from the bottom up.
"The 21st century is the century of global city making, which must be more sophisticated, joined up, sustainable and human centred going forward. Creative planning must lead future city making." Over the course of his career Sir Terry has been responsible for post-industrial regeneration projects throughout the UK, including Newcastle Quayside, Brindley Place in Birmingham, Edinburgh Exchange district, Greenwich Peninsula and Paddington Basin.
In 2008 he was appointed Design and Planning leader for the Thames Gateway, Europe's largest regeneration project. Current projects include Earls Court, Royal Albert Dock and proposals for low cost, lifting bridges in East London. His work on pedestrianising the public realm includes the Royal Parks Review, which led to a number of interventions at Park Lane and Hyde Park Corner, and separate studies for the Marylebone Euston Road and Bloomsbury which were initiated voluntarily. Sir Terry has contributed to key strategic issues and policy making at a national level. Most notably he led, at the request of Government, the recent Farrell Review of Architecture and the Built Environment.
The Review, described by the Culture Minister as "the most thorough and wide-ranging exercise that has taken place in this sector for generations", took a holistic view of the built environment. It made various recommendations which help to embed planning into place making including turning design review panels into "PLACE" review panels, and planning applications over a certain size to include an analysis of operational and embedded carbon over a building's lifetime.
Many of its recommendations are being carried through into the planning, design and development world by The Place Alliance and a growing number of community focused "Urban Rooms" proposed in the Review. He has additionally been involved in planning work and large scale urban design and architecture work internationally, particularly in China, India, Australia and Singapore where he recently won the competition to design and plan one of Asia's largest high speed rail stations. West Kowloon is used as an international exemplar for transport oriented development with high-density, mixed-use development above a multi-modal transport hub.
He has advised many city leaders in a voluntary capacity such as Edinburgh, Leeds, Hull, Newcastle, Manchester and various Kent and Essex towns and villages. He has been the London Mayor's Design Advisor, and advised the Department for Transport on high-speed rail, whilst currently working with various London boroughs on strategic planning. Sir Terry was named CBE in 1996 and made a Knight Bachelor in 2001. The medal was last awarded in 2016 to Professor Michael Batty, Emeritus Bartlett Professor of Planning at University College London.
10 Nov 2016
Sir Terry Farrell Building Listing
Comyn Ching Listing
Parts of Terry Farrell's Comyn Ching Triangle in Covent Garden have been listed by Historic England following a campaign begun by this London architecture practice and supported by some of the biggest names in architecture, reports Building Design today.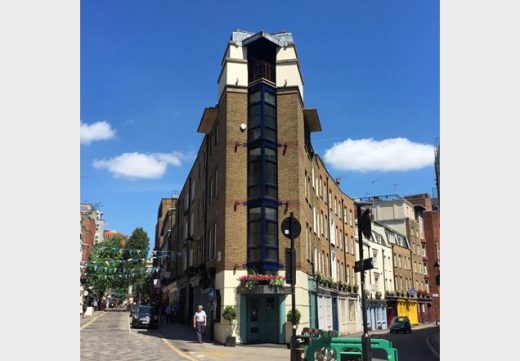 photograph © Adam Nathaniel Furman
Charles Holland, Deyan Sudjic, Jonathan Glancey, Rowan Moore, David Knight and Charles Jencks were among those who lent their support.
The scheme, a blending of new structures, public space and the restoration of 17th-, 18th- and 19th-century buildings in Seven Dials, was praised by Historic England as "post-modernism at its purest".
Comyn Ching Listing – article in BD
28 Apr 2016
Comyn Ching Listing Bid
Jencks and Knight argue that this humble Terry Farrell project should be viewed alongside Neues Museum and Venturi Scott Brown's work, reports BD today.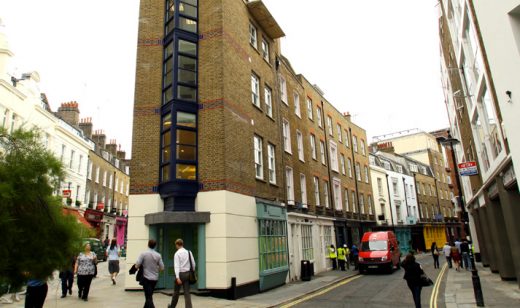 Back in February BD reported that Architect Terry Farrell pleaded to Historic England comes as Camden approves Morrow & Lorraine's alterations.
Farrell has submitted a listing bid to save his Comyn Ching Triangle development in Covent Garden.
His application to Historic England was backed by the Twentieth Century Society which described the 1980s project as an "important and influential example of post-modern urban development".
The news comes as Camden council approved Morrow & Lorraine's application for a series of alterations to the Post-modern project that Sir Terry said would "drain (Comyn Ching) of much of its effect".
Adam Nathaniel Furman, an architectural researcher in Farrell's office who has worked on the case, said protection was a matter of urgency since work had already begun.
Comyn Ching Triangle was developed at a time when Seven Dials was run down and threatened with wholesale redevelopment.
The architect restored the facades of the Georgian buildings edging the triangular site, added contemporary corner buildings and hollowed out a central courtyard.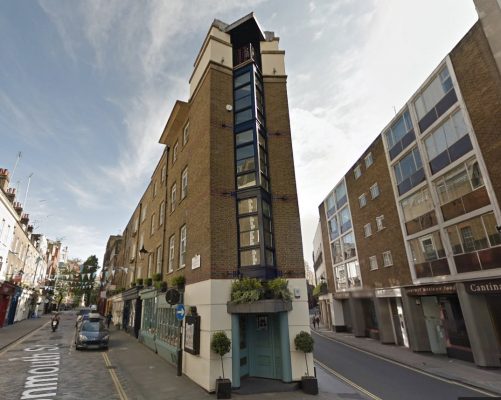 Comyn Ching by Architect Terry Farrell
12 Jan 2016
Sir Terry Farrell Criticises Paddington Skyscraper
Criticism by Sir Terry Farrell of Paddington Skyscraper Design by Renzo Piano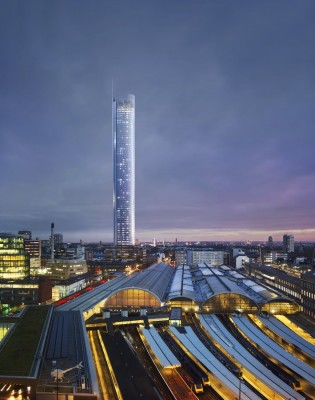 image from architects
Sir Terry, whose offices and home are close to the mainline station, described the 72-storey skyscraper building scheme from Italian architect Renzo Piano and property firm Sellar as "opportunistic" and "piecemeal".
6 Dec 2012
Terry Farrell News
Emporis Skyscraper Award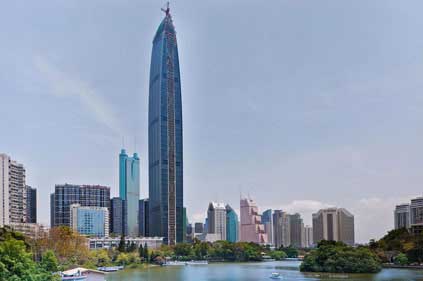 photo from architects office
Emporis Skyscraper Award
#4 KK100 (China)
Points: 16
Height: 1,449.48 ft
Floors: 100
Location: Shenzhen
11 Mar 2011
TFP Farrells – Studio News
TFP Farrells : Eugene Dreyer – Hong Kong Office.
Latest Designs by TFP Farrells
7 Feb 2011
Kingkey Finance Tower, Shenzhen, China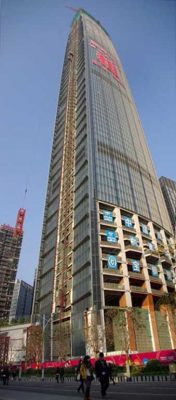 photo from architects office
Kingkey Finance Tower.
TFP Farrells will celebrate the "Topping Out" of the Kingkey 100 on Saturday, April 23rd. Farrells was commissioned to design the 441.8-meter tower building after winning an international design competition. Located in the city's prime district of Luohu, the Tower will be Shenzhen's tallest tower as well as one of the world's tallest mixed-use buildings.
25 Jan 2011
Z15 Tower – tallest building in Beijing, China
Design: TFP Farrells, BIAD, ARUP and MVA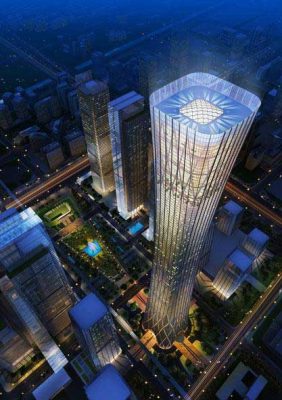 picture from architect
Z15 Tower
Peninsula Place, Greenwich, London, UK
Date built: 2009



image from architect practice
Peninsula Place
Appointment by Boris Johnson
Sir Terry has been appointed by London Mayor Boris Johnson to lead on design issues on the Mayor's new Outer London Commission
Beijing South Railway Station, China
Date built: 2008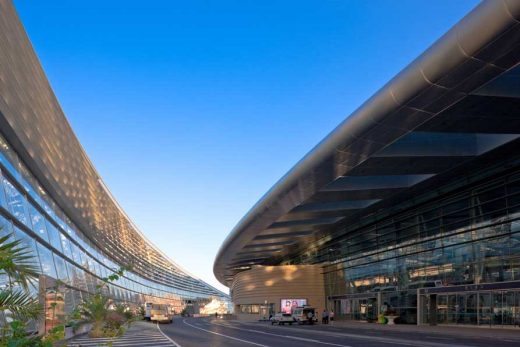 photograph © Arup / Zhou Ruogu Architecture Photography
Beijing Railway Station
The Point, Paddington Basin, London, England



photo © Nick Weall
The Point Paddington Basin
Edinburgh Underground Cinema Proposal, Scotland, UK
2008-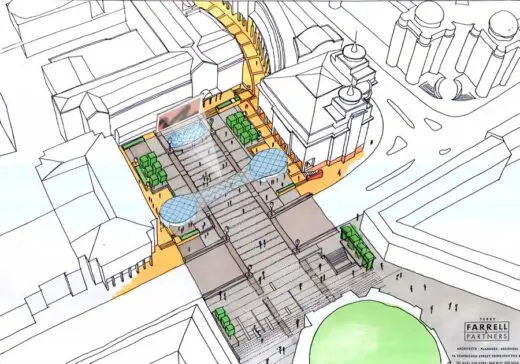 image from architects
Terry Farrell Scottish project – this underground design has not been realised. It is located in an area masterplanned by this design studio, west of the city, the financial district off Lothian Road.
Biota! Aquarium, Silvertown, Newham, east London, UK
2007-



picture from Farrells
Silvertown Aquarium Building
Swiss Cottage Masterplan, northwest London, England
Date built: 2006
Design: Farrells with SA&P Architects



photo © Nick Weall
Swiss Cottage Masterplan
Terry Farrell Buildings
Key Terry Farrell Building Designs, alphabetical:
Alban Gate, London Wall, London
Date built: 1992



photograph © Adrian Welch
London Wall office building – gentle PoMo offices architecture
Charing Cross Station, London, southeast England
–



building photograph © Adrian Welch
Charing Cross Station – strong, bukly PostModern building on the River Thames.
Dean Gallery, Edinburgh, Scotland
Date built: 1999



photograph © Adrian Welch
Dean Gallery Building
The building houses the Scottish Gallery of Modern Art's Dada and Surrealism collections plus many works by Edinburgh-born artist Sir Eduardo Paolozzi. This Edinburgh gallery is located just to the East of the Scottish National Gallery of Modern Art (SNGMA) building. The interiors are painted in vivid colours.
Edinburgh Conference Centre, Scotland
Date built: 1995



photo © Adrian Welch
EICC Edinburgh
Life Building, Newcastle, northeast England
–



building photo © Adrian Welch
Life Building Newcastle
Ocean Point, Leith Docks, Edinburgh, Scotland
–



image © Adrian Welch
Edinburgh office building
The Peak Tower, Hong Kong
1995



photo © Andrew McRae
The Peak Hong Kong
Scottish National Gallery of Modern Art masterplan Edinburgh, Scotland
2001-02



Landform image © Adrian Welch
Scottish National Gallery of Modern Art building + Charles Jencks Earthworks
Sheraton Hotel Health Club, Scotland
2000



image © Adrian Welch
Sheraton Hotel Edinburgh
SIS Building – former MI6 Building, south London, southeast England
1995


photo © Nick Weall
MI6 Building
More architectural projects by Terry Farrell online soon
Location: 7 Hatton Street, London, NW8 8PL, England, UK
Architects Practice Information
the architect



photo from architects office
Terry Farrell : Edinburgh Design Tsar



EICC – Terry Farrell building : image © Adrian Welch
Sir Terry began his role as Edinburgh's 'design champion' on 3 Feb 2004 by calling for a rethink of the city's streetscape


EICC – Terry Farrell Building: photo © AW
Terry Farrell Architects : further info
London Architect – architectural practices in the UK capital
London Architects practices
A key Masterplan by this architecture practices is The Exchange Edinburgh, Scotland. It proved quite controversial in that the spaces are fairly windswept and the standard of the buildings isn't excellent, with a range of mostly commercial design offices being responsible.
Terry Farrell Books
Terry Farrell: Urban Design (Architectural Monographs)
Ken Powell (Introduction)
Ten Years, Ten Cities: The Work of Terry Farrell & Partners 1991-2001
Hugh Intro Pearman, Hugh Pearman (Introduction)
Terry Farrell in Scotland
by Terry Farrell
Architecture Studios – list of major architects offices globally
Buildings / photos for the Terry Farrell – British Architecture Practice page welcome
Website: www.farrells.com