re-act now Architects Romania, Bucharest Architecture Practice, Building Projects, Design
Re-Act Now Architects
Contemporary Romanian Architecture Studio – Design Firm News + Info
20 Sep 2019
Buildings by Re-Act Now, Architects
Latest Buildings by re-act now Bucharest Architects, Romania:
CRAZY Beach – Constanta, Romania
Area: 500 sqm
Year of completion: 2018
Photos: Andrei Margulescu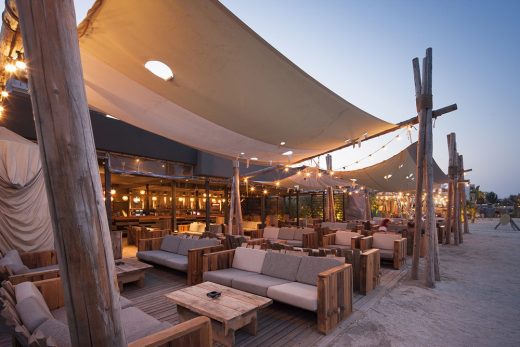 A "successful" socializing space has the responsibility to transform the infinite possibilities of the encounter into reality by transposing oneself into a new space and time, other than those we are used to. But what if the space is "here" and the time is "now"?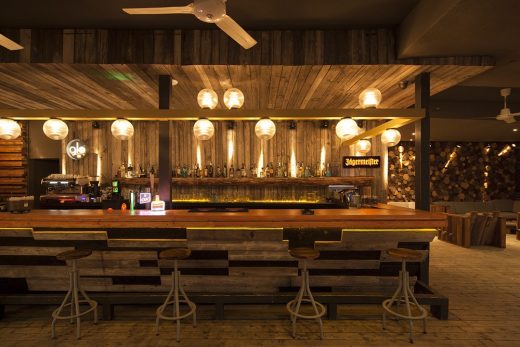 The design starts by facilitating a dialogue between the space and the context, a socializing that makes itself possible.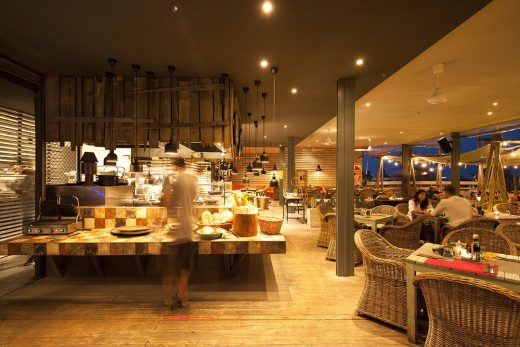 The nomadic space thus created becomes an extension of the exterior, in a spontaneity out of clear definitions.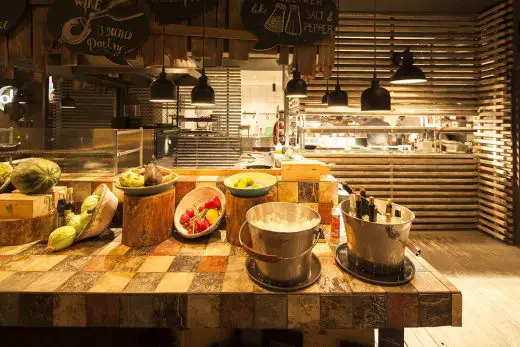 The encounter place becomes the interlocutor itself who attracts the users into a dialogue about the natural emphasized by textures and raw materials.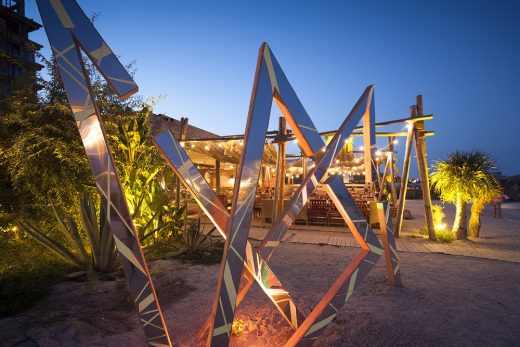 A world opened to primary feelings and cultural detox.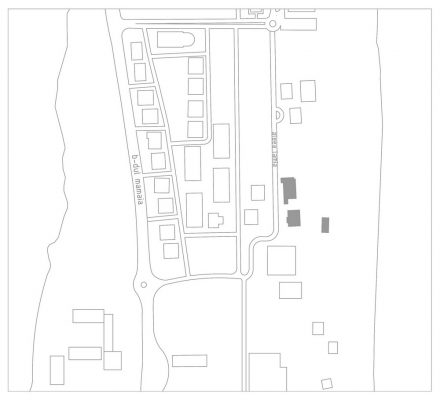 B4 – Bucharest, Romania
Area: 400 sqm
Year of completion: 2019
Photos: Raluca Ciobanu – re-act now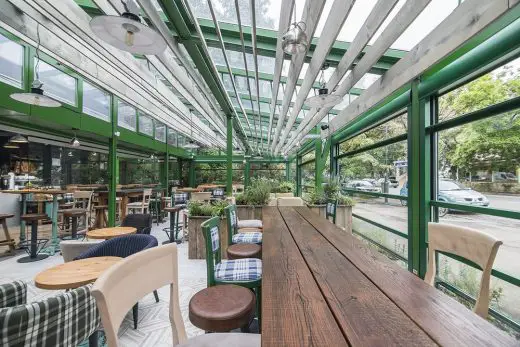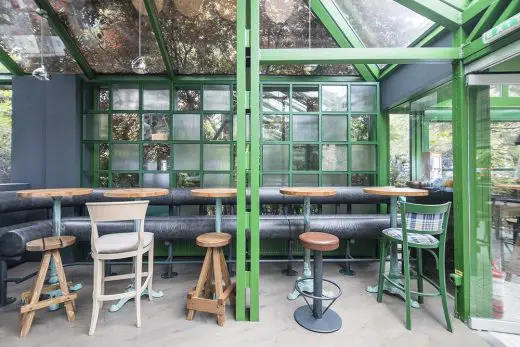 The store or the usual market as the daily venue in town is for everyone the symbol of exchanging news, fragrances, flavors, emotions… it's the place to get a real cultural pulse or a vitaminizing sensorial experience.
B4 is the place where like at the market we are assaulted by a multitude of objects, colors and materials vibrated by the light of the moment that open our senses towards a possible revealing feel.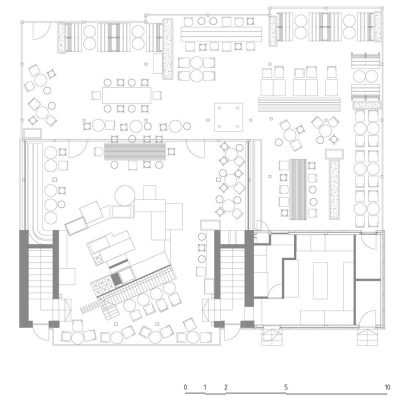 The visual, auditory, olfactory and gustatory emotions display here one by one into a "garden" of experiences, touching the "explorers" within us in the context of the new Bucharest urban landscape…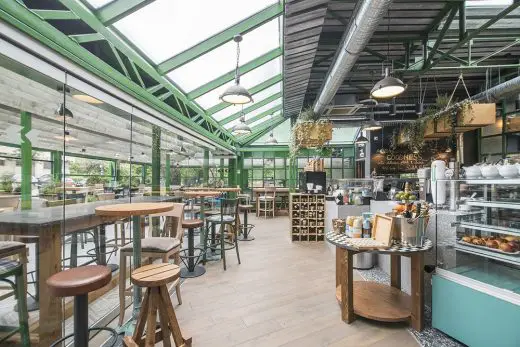 Entourage 3 Renewal, Bucharest, Romania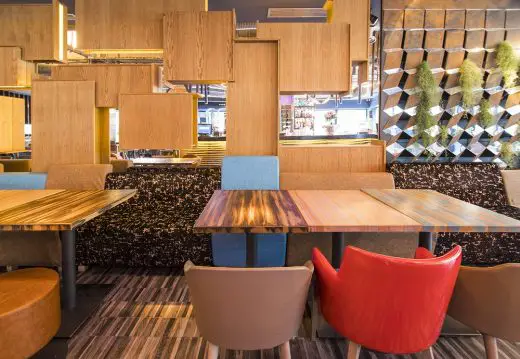 Area: 250 sqm
Year of completion: 2018
Photos: Raluca Ciobanu – re-act now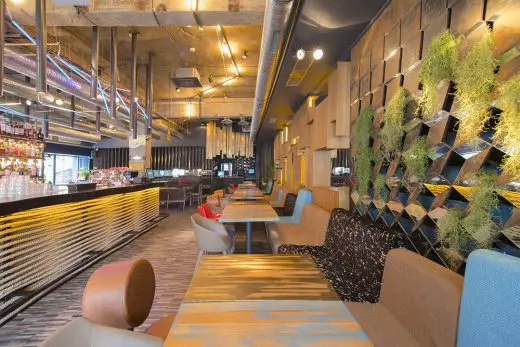 We are continuously under the pressure of innovation and this agent makes the future possible.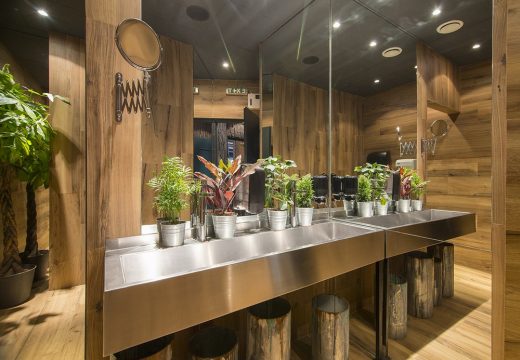 We stand by definition amongst limits not always defined, which form, de-form and re-form the context.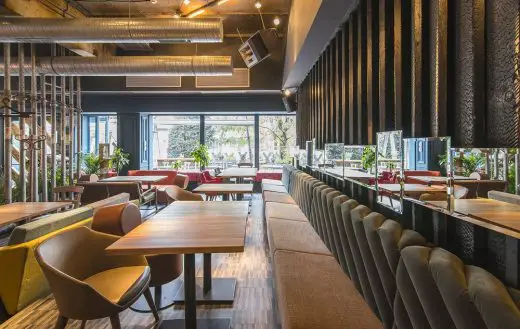 The limit between private space and shared space. The limit between thought and honest dialogue.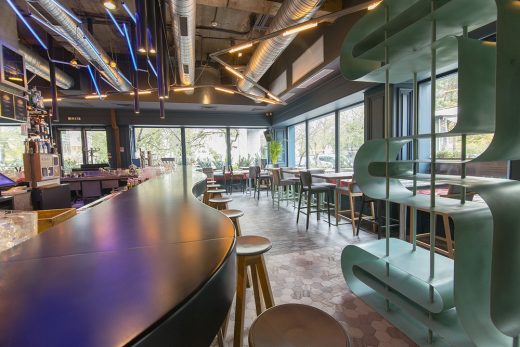 The limit between the already tested real and the yet unexplored question.
Thus, the entourage becomes a place of the possible, of a continuous renewal, in which the textures evolve together with the user, getting unsuspected features in an active situation that opens to new challenges.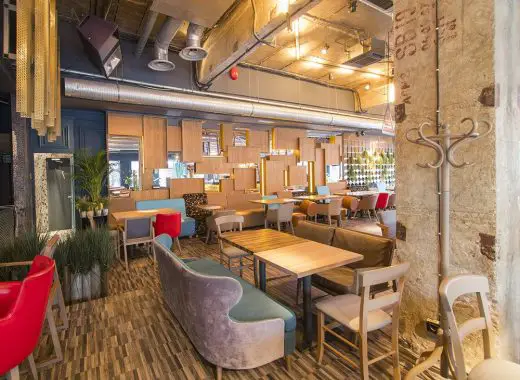 To be continued…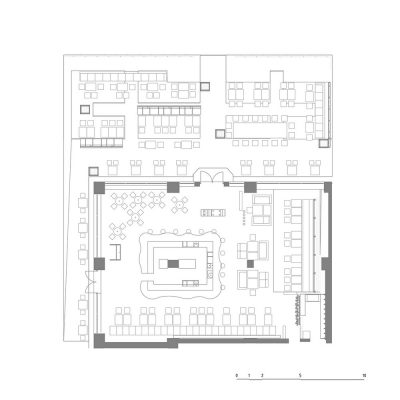 Glo – Bucharest, Romania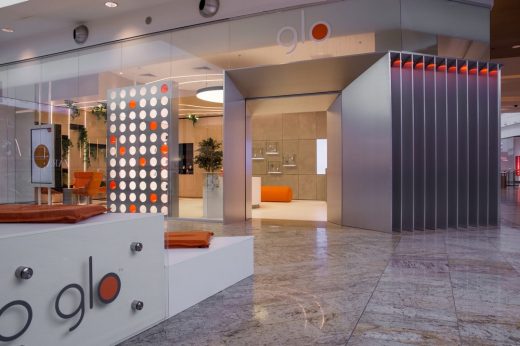 Area: 90 sqm
Client: BAT
Year of completion: 2018
Photos: Gabriela Enache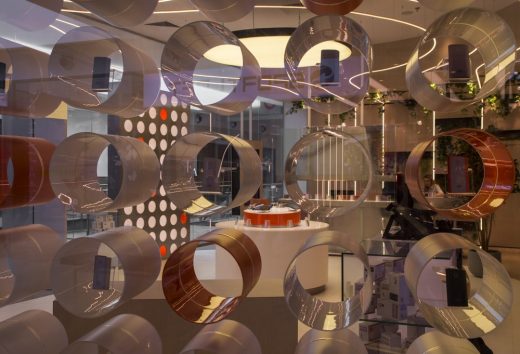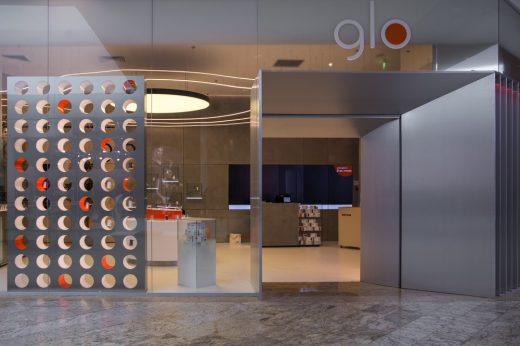 A new brand that is given a first dedicated space in Bucharest, Romania.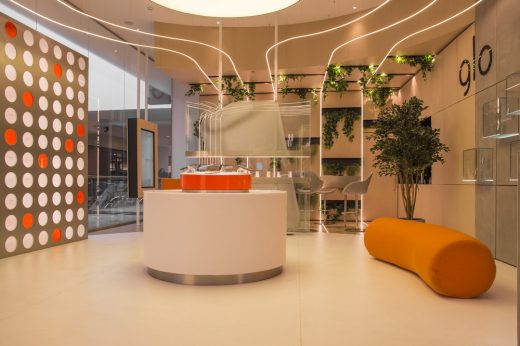 It is the introduction of a gadget meant to represent an icon for a generation who wishes to reinvent itself and live healthier.
Technology and socialization were two determinant coordinates of the theme we received.
Iasi next – Iasi, Romania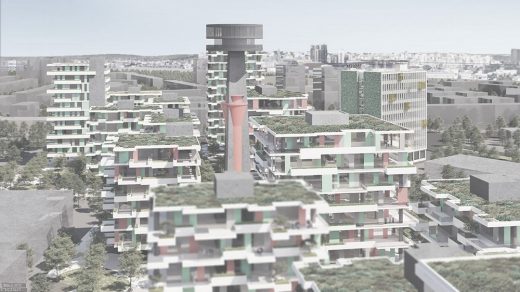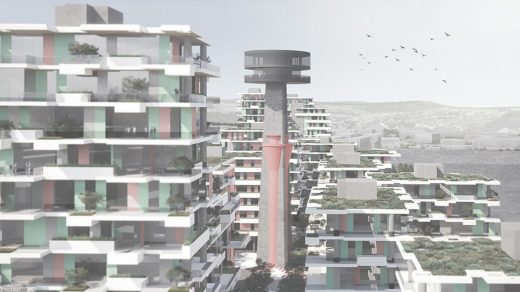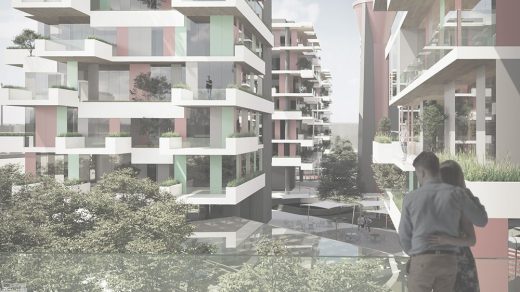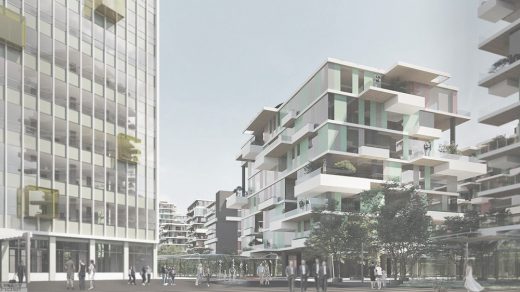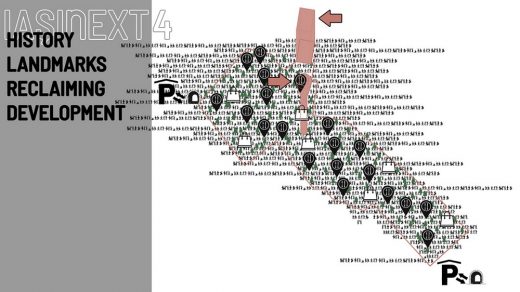 Invited competition
Area: 130.000 sqm
Year of proposal: 2019
Urban design, mixed-use ( office, retail, residential)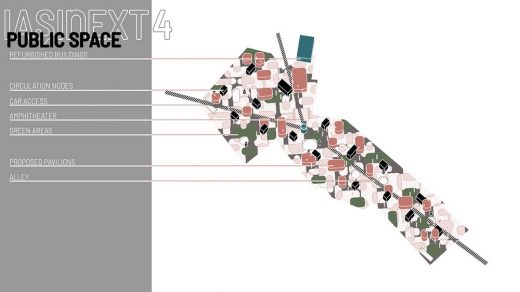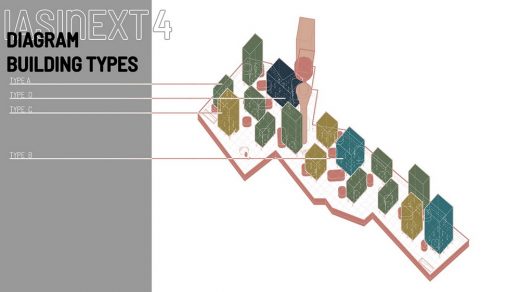 Revival of the Iasitex former textile factory area in Iasi as a masterplan proposal for a residential-commerce-offices buildings assembly meant to bring the neighborhood back to town.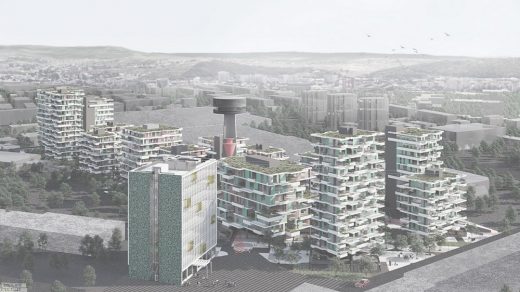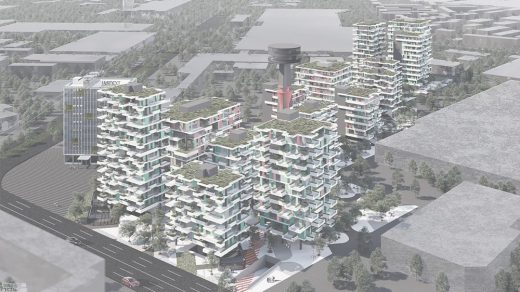 Marina Tomis – Constanta, Romania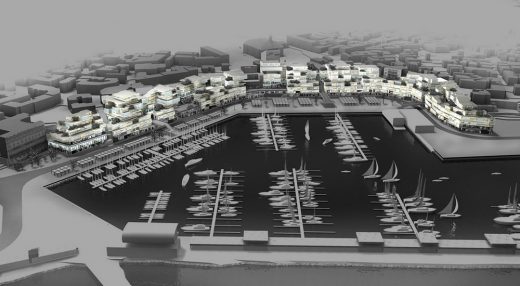 Year of proposal: 2019
Urban design, mixed-use (office, residential, retail)

A new development intervention on a marina bay should be memorable.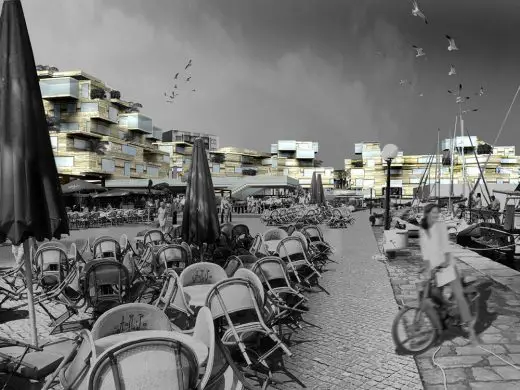 A rock cliff is always a spectacular memento in itself.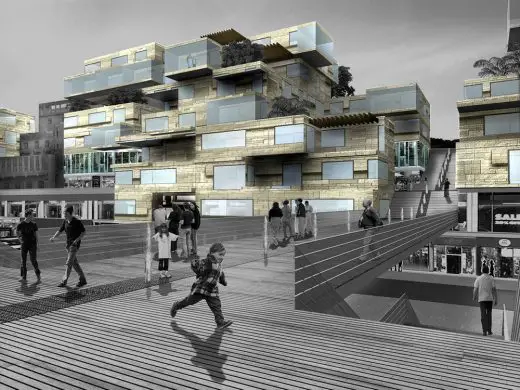 Why should we not take the nature moment of Dobrogea's cliffs in Constanta's region and put it in real life?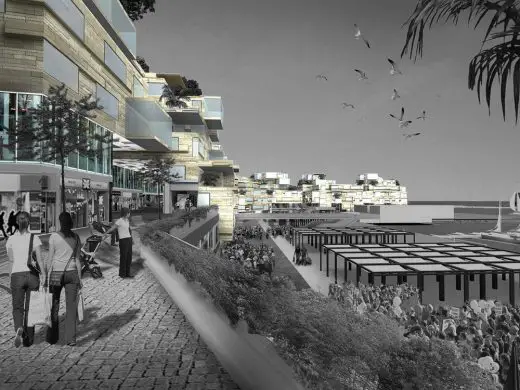 Why shall we not have also a double promenade along Tomis Marina – uplifted – where we could have a second retail experience and other kind of views towards the marina and Black Sea?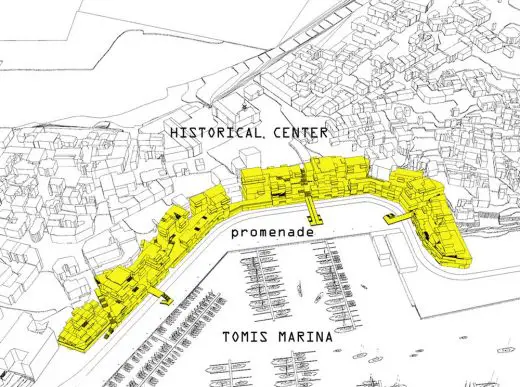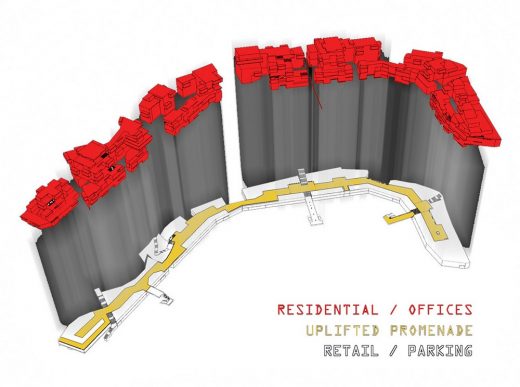 Previously on e-architect:
re-act now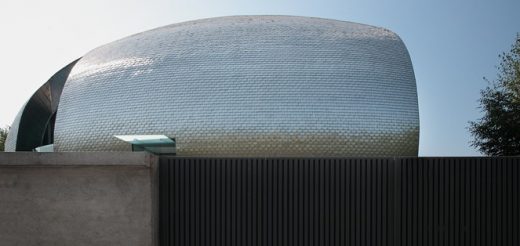 photo courtesy of architects
Re-Act Now
CRAZY_Undr Club, Constanta, Romania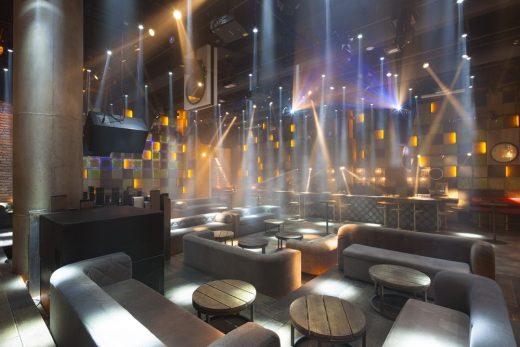 photo : Andrei Margulescu
CRAZY_Undr Club
Funky Resto – Bar in Bucharest, 33A Dorobanti, Bucharest, Romania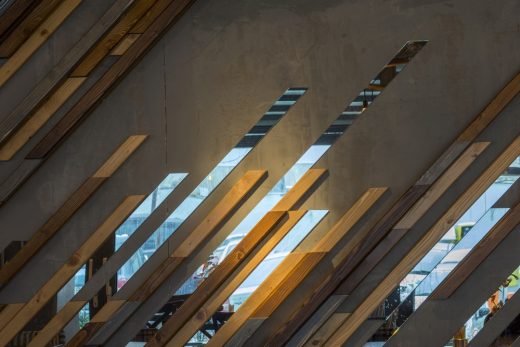 photo : Gabriela Enache
Funky Resto – Bar in Bucharest
More architecture projects by Re-Act Now Architects online soon
Address: Calea Griviței 8-10, București 010731, Romania
Phone: +40 744 429 228
Romania Architecture
Romania Architecture Designs – chronological list
Pension Atra Doftana, Valea Doftanei
Design: TECON Architects


photo : Cosmin Dragomir
Hotel Atra Doftana
Bucharest Apartments, Str. Dogarilor, Bucharest
Design: ADN Birou de Arhitectură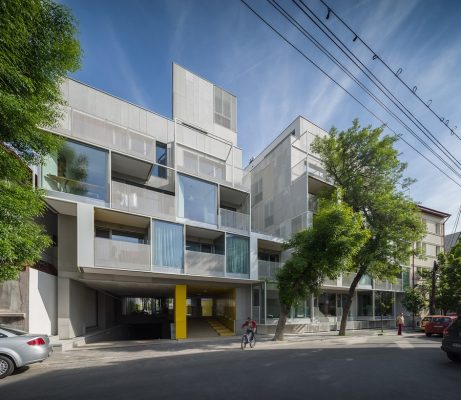 photo : Cosmin Dragomir
Bucharest Apartments
Buildings in countries adjacent to Romania
Garage Conversion, Bucharest
Design: arhiDOT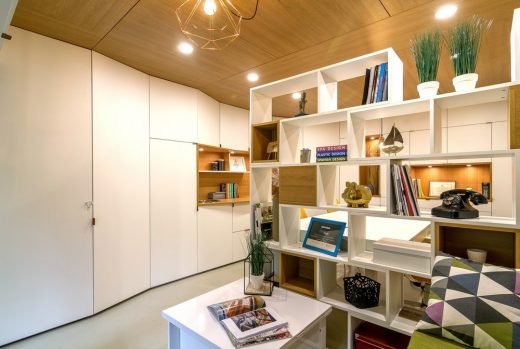 photograph : Arthur Tintu
Garage Conversion in Bucharest
Avincis Winery, Dragasani, south west Romania
Design: BBM Grup S.R.L.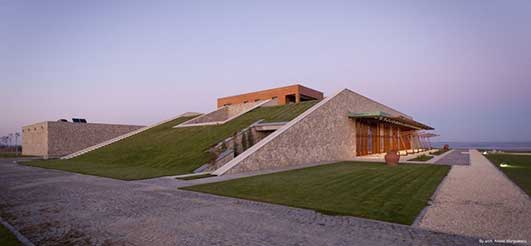 photo : Andrei Margulescu
Avincis Winery Building
Comments / photos for the re-act now Architects page welcome
Website: re-act now Architects