Hoàng Thúc Hào Architect Office, Buildings, Vietnam Design Studio, Architecture Practice
Hoàng Thúc Hào Architects
Contemporary Vietnamese Architectural Practice – Design Studio in Southeast Asia
14 Nov 2016
Hoàng Thúc Hào Architect News
Hoàng Thúc Hào wins SIA-Getz Architecture Prize for Emergent Architecture in Asia
Vietnamese Architect Named Laureate of SIA-Getz Architecture Prize 2016
Mr Hoang Thuc Hao is Vietnam's first laureate for the Prize.
An International Jury Panel comprising renowned architects from Asia and Australia, has selected an award-winning architect from Vietnam – Mr Hoang Thuc Hao (1+1>2 International Architecture J.S.C) as the Laureate for the SIA-Getz Architecture Prize for Emergent Architecture in Asia 2016.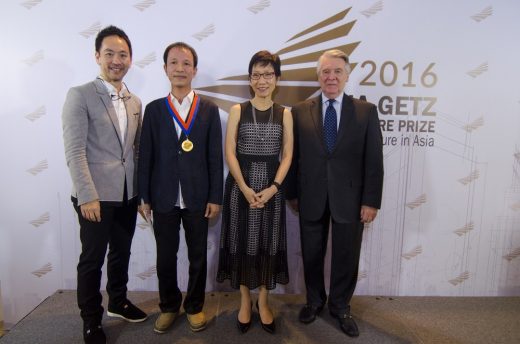 Hoàng Thúc Hào Buildings
Architecture by Hoàng Thúc Hào
Suoi Re community house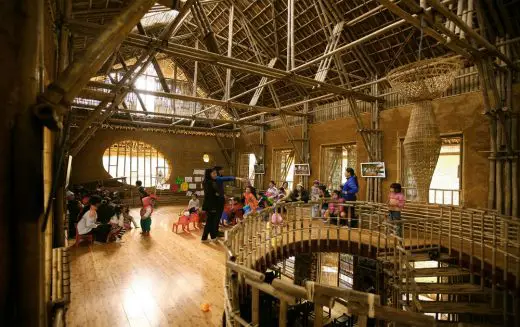 All year round most villagers go to the towns and cities to earn for their living. The rest stay home and continue to grow rice very hard. The struggle for a better life makes them exhausted. They don't have any time to care about education, cultural and spiritual developments of their own as well as their children's.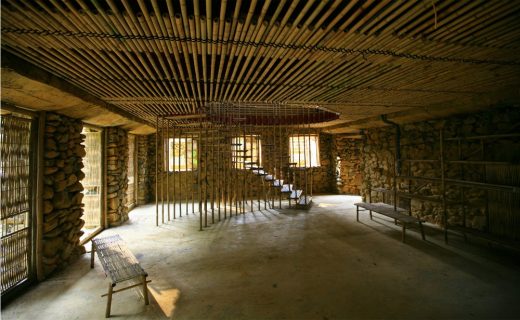 Besides, the increase gap between urban and rural areas due to the urbanization and the economic development has made the social relationship increasingly loose and be in danger of disintegration. In the remote villages, the spaces for communal activities, kindergartens, health care stations, post offices, libraries seem to be luxuries. If there is any of those, it is very temporary, formalistic and identity.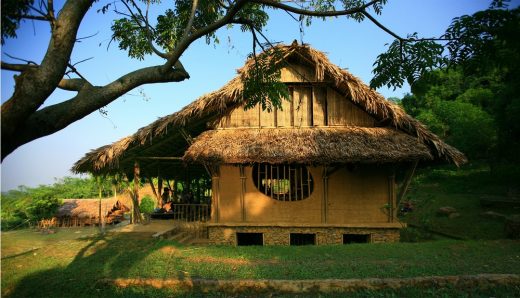 Our multi-functional community house was created in this context. It has good Feng Shui, leans on mountains, avoids storms, flash floods and faces towards the valley.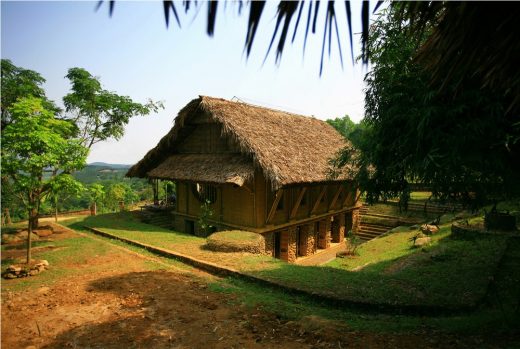 The overall spatial structure is organized in chain. Front space is the open courtyard, where holds the outdoor activities. The main living space lies in the middle part, consisting of two floors. Upstairs is a kindergarten combining with library, meeting areas …The function interlock flexibly. Wide veranda with lawns act as a green cushion with high visibility. Ground floor is designed to fit the concave slopes, utilizing geothermal. It can avoid east northern monsoon (which is very dry and cold in the winter) and collect east-southern monsoon ̣(that makes the house warm in winter and cool in summer).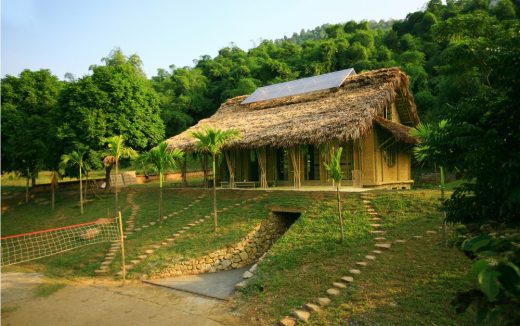 Space leads to the mountain and bamboo forest. On the ground floor, villagers gather, doing the sidelines. Especially, young children and the elderly may be staying here during the very cold or hot times of the years…
Suoi Re Multi-Functional Community House
Ta Phin community house
The project site is at Unit 1, Xa Seng village, Ta Phin commune, 17km far from center of Sapa town, a popular tourism attraction in the north of Vietnam. The project is a multi-functional community house, which will contribute to the local economic growth, enhance tourism development and maximize the local potentials.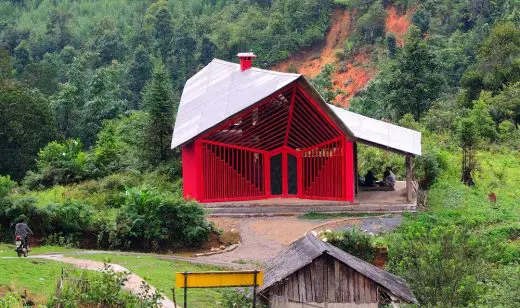 The project is also developed toward sustainable development for the local community by preserving natural resources and environment, as well as enhancing the local cultural diversity and traditional handicrafts. The action program will include training strategies for local people in sustainable agriculture, tourism, and project management.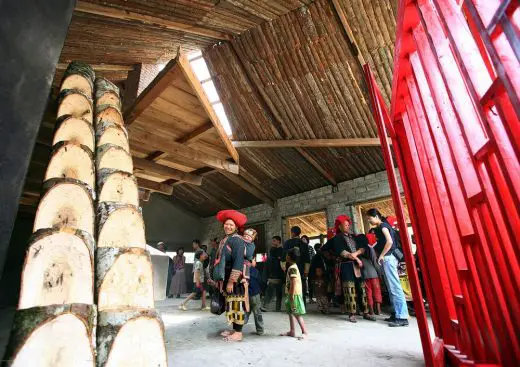 The community house will be incorporated with an herb garden, and will include a working space, an exhibition room for local handicraft product, a small library, a communication center, as well as a studio for training program. All the above activities have been supported and advised by not only the local people but also the authorities and other community associations.
Earth Village
Earth Village Nam Dam (Nậm Đăm) is a minority village in Quan Ba District, Ha Giang – Vietnam's northernmost province. Locating on top of the mountain and covering with pristine forests and picturesque terrace fields, this area is known for its rich cultural characters: traditional costume, festivals, brocade, cuisines, herbal bath, and buildings in rammed earth.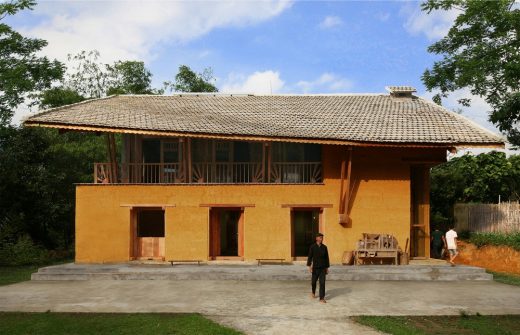 Nevertheless, Nam Dam is isolated by mountains, lack of connection with other areas and sufficient infrastructure, resulting in locals' poor living standard and difficult children's accessibility to education. There is only one crop harvest throughout the year due to the limited agricultural land and harsh weather.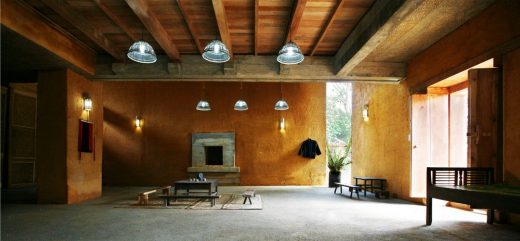 Cam Thanh Community House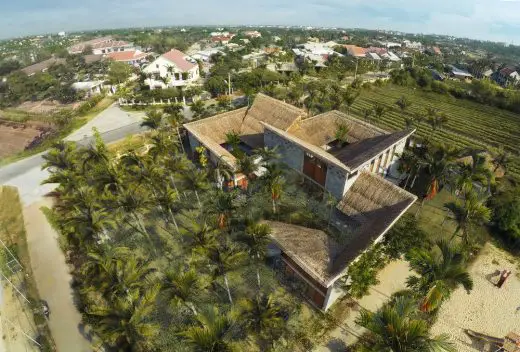 Located in the southeast of Hoi An – a tourism destination in the middle of Vietnam with ancient quarter and breathtaking seashore, Cam Thanh is known for its mangrove forests, crisscrossed waterways, coconut forests and small looming villages. Despite having such great potentials due to naturally diverse ecology and local handicraft business, Cam Thanh remains a poor area with low living standard. The lack of connection between Cam Thanh and the old quarter – the centre attracting both domestic and foreign tourists has made it difficult to promote tourism and foster the local economy.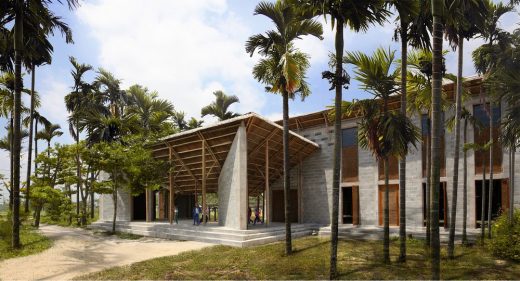 Cam Thanh is also affected by climate change's consequences: heat-wave, typhoons and rising sea level. These have raised the need for a physical platform acting as a community hub to provide linkage between the local and different social, scientific and economic groups which are interested in strengthening the connection with Cam Thanh, creating more tourist opportunities and contributing to the sustainable development of the commune.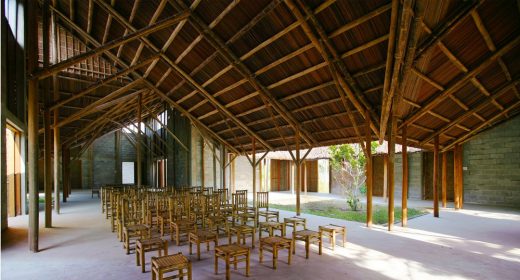 The Cam Thanh Community Centre was designed to fulfill this requirement. The centre, locating in the commune's core, includes 3 buildings providing a continuous zoning flow. By using flexible partitions, the space can be modified to adapt different requirements: meetings, exhibitions, events, combining with library, training courses and cafeteria.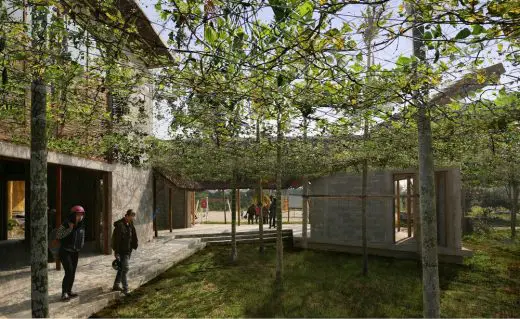 The open courts resemble the Hoi An's ancient quarter houses, using convection ventilation. The complex also has playground, organic vegetables farm, areca garden and sport field. Cam Thanh Community House is expected to become a sharing place, an experimental organic agriculture hub and an ideal rest stop for tourists in the future.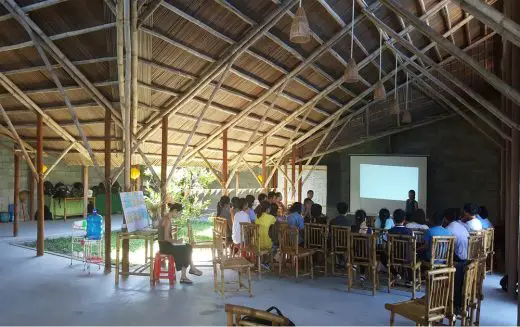 National Happiness Center, Bhutan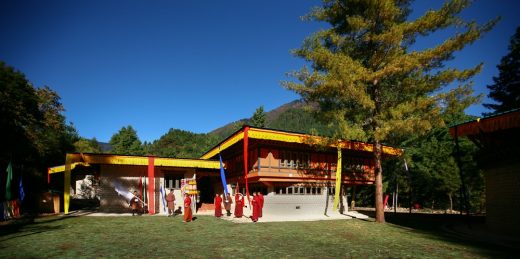 In 2008, Bhutan has been the first country in the world applying the GNH rate (Groross National Happiness) instead of GDP. To celebrate this, The Bhutan Royal and Government have decided to build a center for happiness, where everyone can visit and share their experiences and philosophy about happiness living through meditation, and learn how to be happy and independent from materials.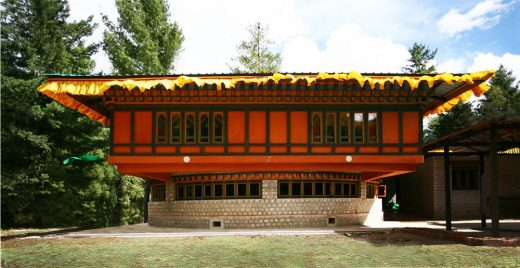 Two in the four main GNH rates are environment protection and preserving culture and identity. Therefore the Bhutan Government has required the GHN center to be environmental friendly and representing local contemporary and traditional cultural identity through design.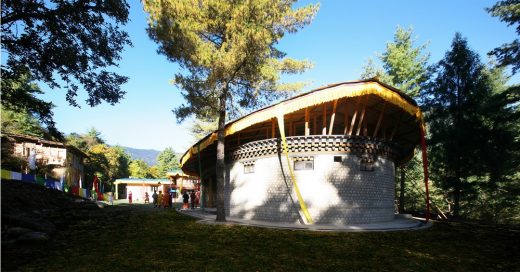 The project includes a 100 seat convention house, a meditation hall for 250 people, administration, kitchen and dining room, and 5 accommodation houses. The cluster locates on the high mountain close to the river of Bumthang, northeast Bhutan.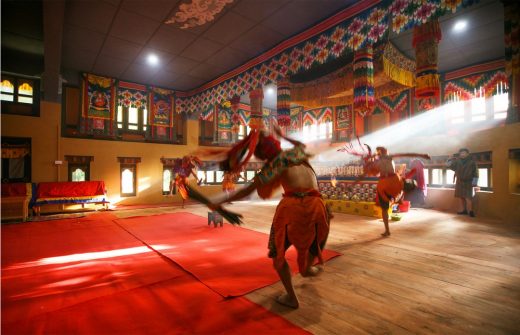 Jungle Flower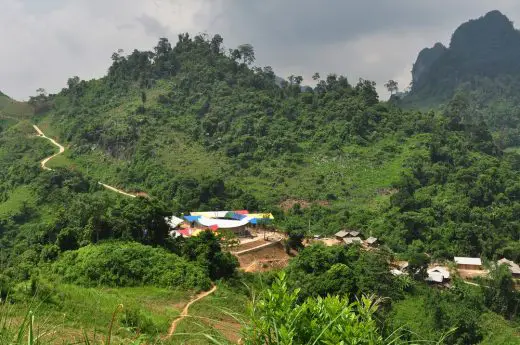 The Lung Luong elementary school building by architect Hoàng Thúc Hào is located on a rugged peak of a mountain. Before, a school project was sponsored by the "Poor Students Fund" but the building was only in temporary condition with torn canvas preventing cold draught in the winter. The foundation of the classes was made from soil, the wall out of pallets, the roof covered by fibro cement and gables were surrounded by bamboo wattle.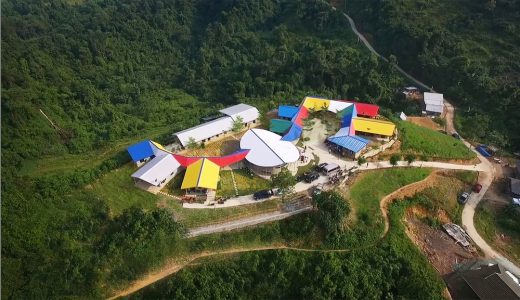 Especially when there was heavy rain and draught, it became piercingly cold.Now, after two years of construction under the guidance of Hoang Thuc Hao Architect, Lung Luong elementary school newly appears like a fresh jungle flower in lively colors and with modern design language.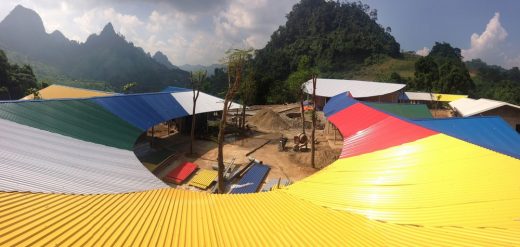 The building has a strong visual effect: every angle brings different feelings and inspire children in lesson time.
The goal of this project is to create a school with conveniences striving against the harsh nature. The design ensures standards of lighting, ventilation as well as sound insulation. The school has enough classrooms, multi- purpose rooms, medical room, library, kitchen, toilet and dormitory.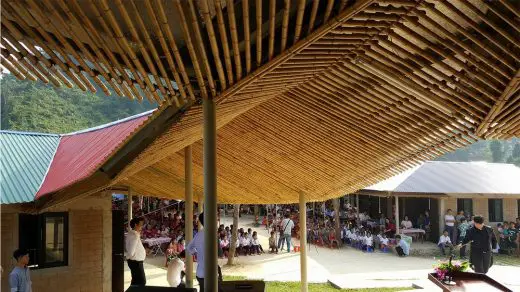 Architect Hoàng Thúc Hào, the sixth recipient of the prestigious Award, will be presented with his Prize Medallion by Ms Grace Fu, Minister for Culture, Community & Youth, at an Award Presentation Ceremony at The Star Performing Arts Centre this evening (11th November 2016).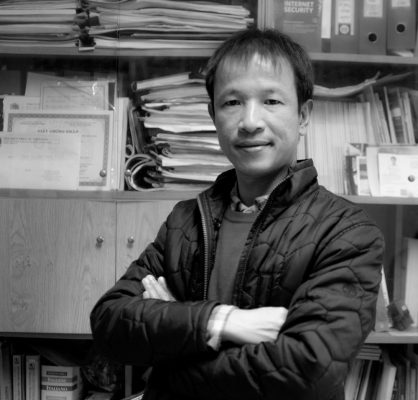 More design projects by Hoàng Thúc Hào Architect online soon
Location:26 Le Ngoc Han Street, Pham Đinh Ho, Ha Noi, Vietnam
Hoang Thuc Hao Architects Practice Information
Hoang Thuc Hao Architects have a design studio in Vietnam, Southeast Asia.
Hoàng Thúc Hào talks about his architectural philosophy:
"The real challenge for architects lies in the disadvantage communities.
During my practice, at the very beginning stage, I have realized the lack of attention to disadvantage communities in many aspects. With the rapid urbanization and haste development, many neglected areas have been either over-exploited, or being left isolated, poor, lack of communication and education.
Globalization has brought the world together, however it has also brought the disadvantaged groups away from the majority. I came to realize that architecture itself cannot resolve the issue. The disadvantaged group needs more than good design. They need supports in finance, knowledges, activities, and need to be recognized as well as participating in making decisions.Therefore, my approach is to aggregate different resources: architects, NGOs, social groups, local communities, university and institutions, to help build projects together for disadvantage communities.
It was challenging because it took a lot of time and efforts convincing the local people to believe in the project, then they would participate in and operate it themselves; as well as other people and organizations to believe in the good wills and the practicality of the project so that they would help supporting and funding for it.
In more than ten years, besides working on urban projects, my office and I have completed more than thirty other community projects. It is not a very long period, but it was not easy, either. I have always believed that the disadvantaged groups possess great cultural values that yet have not been paid enough attention to.
In my design, modern technologies combine with local construction method and material to bring a contemporary look for vernacular architecture. And, on top of all, it needs to be self-sustained, livable, as at the end it will be used by the locals. Practicing in community architecture has helped me reveal the beauty of local values; and give me the happiness of the ability to connect people and support them.
It also shows me the unlimited ability of architecture to raise happiness, for the architects, for the users, and for the building itself. This is the core value of our firm and myself: architecture is not merely buildings and space. It is happiness."
4 Floor, 26 Le Ngoc Han Street
Pham Đinh Ho, Hai Ba Trung Dis.
Ha Noi, Viet Nam
Email: hoangthuchao(at)gmail.com
Tel: 04 3 9764253
Website: Building
Reunification Palace, Ho Chi Minh City
Architect – Ngô Viet Thu



photo © Tom Ravenscroft
Reunification Palace Vietnam
Lac Trung Software City office building, Ho Chi Minh City
Tony Owen NDM Architects



picture from architect
Vietnam office building
Singapore Architecture Designs
Comments / photos for the Hoàng Thúc Hào Architect page welcome
Website: hoangthuchao.com