dosmasunoarquitectos, Architects Spain, Madrid Building, Spanish Design Studio, Housing
dosmasunoarquitectos Madrid
Contemporary Spanish Architecture Practice: Design Studio in Spain, southwest Europe
post updated 21 Apr 2021
dosmasuno arquitectos News
dosmasuno arquitectos – Major Design
29 Apr 2012
Casa Syntes Pinto, Madrid, Spain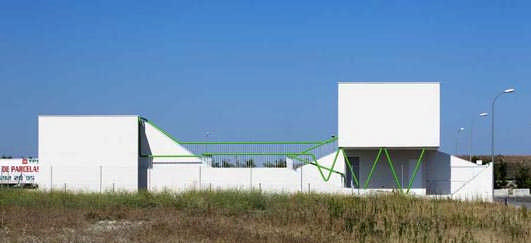 photograph : Miguel de Guzmán
Casa Syntes Pinto
This residential project by dosmasuno arquitectos had to face two preliminary constraints: a surrounding area burdened by the aesthetic and cultural tradition of the Spanish row-house concept and, on the other hand, the plot's exposure to solar radiation during the hottest months of the year.
Thus, dosmasuno arquitectos decided to search for a hideaway to this appalling landscape, offering a secluded space which features a range of atmospheres that emphasize life within the house – notwithstanding its surroundings – and, besides, for a strategy by means of which the desired climatic confort could be achieved in a passive and flexible way. These decisions resulted in an array of diversely qualified spaces that enable different life trends depending on the varying seasons' climate.
dosmasunoarquitectos – Latest Design
67 Dwellings in Colmenar Viejo, Madrid, Spain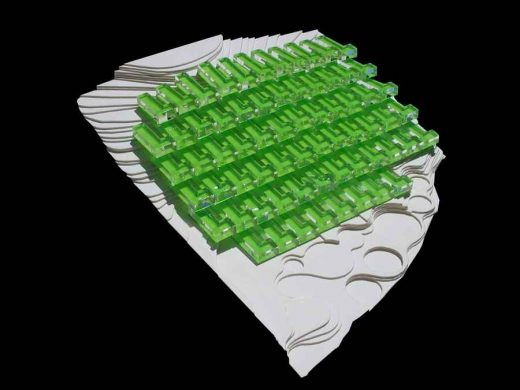 picture from dosmasuno arquitectos
67 Dwellings in Colmenar Viejo – 29 Apr 2012
Flying across the Madrilenian mountains, dosmasuno arquitectos chose a hill to land on. Its slope enabled a visual relationship to be established with the surroundings, the mountains and Madrid's metropolitan area on the horizon.
The local topographic and geologic conditions are preserved and used as the main leit-motivs of the intervention. Its rocky, naturally-pitched substratum suggested hovering on top of it instead of altering its original features.
dosmasunoarquitectos – Key Projects
Featured Buildings, alphabetical:
Biblioteca y Museo de la Universidad de Alcalá, Spain
–


picture from dosmasuno arquitectos
Biblioteca y Museo de la Universidad de Alcalá : Alcala University Library & Museum building
– images added 29 Apr 2012
dosmasuno arquitectos considered that the project for the new Central Library of Alcalá de Henares University should not be strictly limited to a refurbishment task, in which a new program and furniture are to supersede the original ones. dosmasuno arquitectos thought it should be understood as an insertion into an existing party-wall, acquiring its shape, absorbing light and fresh air, and opening towards the sky as the only possible way out. This implies the creation of a new space within an existing heritage building which features its own identity, and which is as well respectfully introduced into a formerly built context.
Carabanchel Madrid – housing, Spain
Dates built: 2004-07



picture from dosmasuno arquitectos
Carabanchel Madrid building
A pesar de las pautas dibujadas sobre los planos, los lugares necesitan expresar su propio ser, surgir naturalmente, construirse a sí mismos. Y concretamente este lugar, alineado frente a la pausa verde, frente a la concatenación de espacios públicos que unen el antiguo Carabanchel con su bosque, a través del ensanche, por delante del solar sobre el que construimos.
Vallecas housing, Madrid, central Spain
Dates built: 2007



picture from dosmasuno arquitectos
Vallecas housing Madrid building
La ciudad representa un punto de concentración de relaciones en el territorio, sin embargo dentro de ella aparecen reductos de privacidad extrema que tienen su máximo exponente en la vivienda unifamiliar. Se propone un sistema de transición de privacidad entre la ciudad más pública, y el jardín más privado en el que tengan cabida otra serie de espacios intermedios.
More projects by dosmasunoarquitectos online soon
Location: Madrid, central Spain, southwestern Europe
Madrid Architect Practice Information
Spanish architect studio basd in Madrid.
dosmasuno arquitectos is led by Ignacio Borrego, Néstor Montenegro y Lina Toro
Madrid Architect : dosmasunoarquitectos contact details
Website: http://dosmasunoarquitectos.blogspot.com/
Spanish Architecture
Comments / photos for the dosmasunoarquitectos Madrid Design Studio, central Spain, page welcome