Dierendonckblancke Architects Ghent, Belgian Design Office, Belgium Building Photos, Projects News
Dierendonckblancke architecten
Contemporary Architecture Practice, Belgium, Europe
post updated Apr 11, 2021
Dierendonckblancke Architects – Key Projects
Featured Buildings by Dierendonckblancke architecten, alphabetical:
Avelgem Community Centre, near Gent, Belgium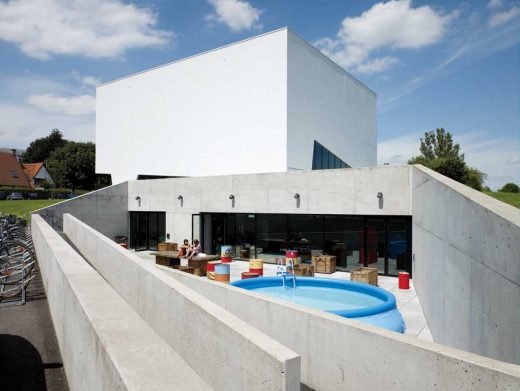 image from Dierendonckblancke architecten
Avelgem Community Centre
The project is situated in a small village. The site is on the border of a protected natural reserve on one side and near the village centre and community church on the other side. Our aim was to construct a compact building. By stacking the functions and using the existing slope of the site we could do this. In this way the footprint of the building was reduced and space was preserved for open air activities. This also means less foundation on a unstable underground.
Oostduinkerke Swimming Pool, Oostduinkerke, Belgium



image from Dierendonckblancke architecten
Oostduinkerke Swimming Pool
The swimming pool is conceptualised as an oblique surface, forming a bridge between the dike and the beach. The space under the surface accommodates the pool and secondary functions like changing rooms, lockers, first aid and lavatory. Two large incisions position the open air pools. The position of the surface protects the pool from sand and wind. A third incision accessible from the dike creates a platform. Under this stage, a first aid post and public toilets are accessible from the beach.
More architecture projects by Dierendonckblancke Architects online soon
Location: Ghent, Belgium, western Europe
Belgian Architects Practice Information
Architects studio based in Ghent, Belgium
DIERENDONCKblancke ARCHITECTen
The Dierendonckblancke architecten office was founded in 1999 by Alexander Dierendonck and Isabelle Blancke. It's situated in the centre of Ghent, Belgium. Current employees are Marie Decoene, Lore Verheyleweghen, Pieter Mouton and Delphine Van Aerde.
ALEXANDER DIERENDONCK
Belgium, Nieuwpoort 23 03 1971
TRAINING
Architect, Hoger Architectuurinstituut St.-Lucas Ghent, Master Degree 1994
PROFESSIONAL EXPERIENCE 1994-99
Office Dominique Perrault, assistant
OMA, assistant
Aurelio Galfetti, assistant
Office Christian Hauvette, project architect
LabFac Finn Geipel – Nicolas Michelin, project architect
Yann Padlewski and Atelier 9, project architect
Office BMC, project architect
Office Manuelle Gautrand
ISABELLE BLANCKE
Belgium, Veurne 01 07 1973
TRAINING
Architect, Hoger Architectuurinstituut St.-Lucas Ghent, Master Degree 1996, high distinction
laureate 1996
PROFESSIONAL EXPERIENCE 1996-2006
Office Christian De Porzamparc, assistant
Office Robain-Guiesse, assistant
Office Patrice Mottini, assistant
Office Dominique Perrault, assistant
Stéphane Beel architecten bvba, project architect
TV Stéphane Beel – Xaveer Degeyter, project architect
REALISATIONS AND PROJECTS
– Extension and renovation of a farm house, Veurne, 1998
– Renovation and refurbishment of a terraced house, Koksijde, 1999
– Extension and renovation of a barn into a glasshouse for a florist, Middelkerke, 2000
– Renovation and refurbishment of an apartment, Oostduinkerke, 2001
– Renovation of a shed into a hobby room, Adegem, 2001-2002
– Extension and renovation of a single family house, Diksmuide, 2001-2003
– Apartment Building: 42 apartments, Middelkerke, 2002
– Apartment Building: 24 apartments, 115 underground parking places, Middelkerke 2000-2004 ( in cooperation with J. Taillieu )
– Apartment Building: 24 apartments, 115 underground parking places, Middelkerke 2000-2004 ( in cooperation with J. Taillieu )
– Single family house, Koksijde, 2002-2004
– Office Building in Maldegem, 2002-2004 (in cooperation with J.Desmyter, T. De Sonville)
– Renovation and extension of a Restaurtant, Ichtegem, 2002-2004
– Renovation of Abbey Farmhouse, Koksijde, 2004-2005
– Renovation and extension of a butcher's shop, Koksijde, 2004-2005
– Cultural Centre in Avelgem, 2003-2007 ( in cooperation with S. Onraet, T. Callebaut, J. Desmyter)
– Apartment Building: 16 apartments, 72 underground parking places, Middelkerke 2004-2007
– Apartment Building + Office of tourism, Oostduinkerke, 2002-2007 ( in cooperation with F. Godderis)
– Apartment Building: 52 apartments, 55 underground parking places, Middelkerke 2005-2008
– Renovation single family house, Gent, 2006-2008
– Apartment Building: 21 apartments, 30 underground parking places, Middelkerke 2007-2010
– Terraced house, Gent, 2007-2009
– Single family house, Koksijde, 2007-2009
– Terraced house, Gent, 2008-2009
– Apartment Building: 10 apartments, Westende 2008-2010
– Renovation and extension DEXIA bank office Gent, 2008-2010
– Renovation and extension DEXIA bank office Harelbeke, 2008-2010
– Invited architect, Olympia Project, Almère, the Netherlands, under supervision of MVRDV, 2009
Website: dierendonckblancke.eu
Belgian Architecture
Website: Building
Comments / photos for the Dierendonckblancke architecten Belgian Architecture Studio page welcome