Devereux Architects London, English Design Office, UK Architectural Studio
Devereux Architects, UK : Practice information
British Architecture Practice News and Information
14 Dec 2011
Devereux News
Devereux Architects has received planning permission Research Centre
Devereux Architects has received planning permission for a state-of-the-art Research Innovation Learning and Development Centre (RILD) at the Royal Devon and Exeter (RD&E) Wonford Hospital site. The £19 million development, procured under the P21+ framework, is in partnership with the RD&E NHS Foundation Trust, Peninsula College of Medicine and Dentistry and the University of Exeter and is the sixth P21+ project Devereux Architects has won this year.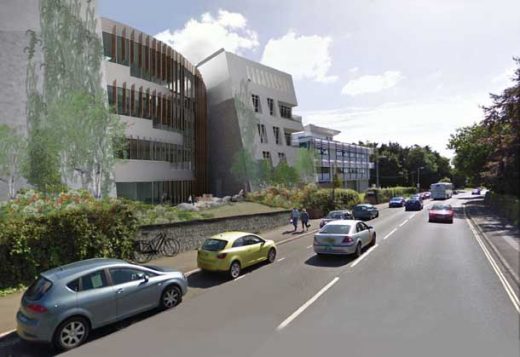 image from Devereux Architects
The new RILD centre, which is being built by Principal Supply Chain Partner Interserve, will include a medical research facility, part-funded by the Wellcome Trust and Wolfson Foundation, and two floors of laboratories which will focus on research into the treatment of conditions such as diabetes and obesity. Facilities will also include a redeveloped postgraduate education department, a clinical research and training facility, a faculty of health and social work provision with e-learning suites, a suite of seminar and conference facilities and a ground floor café.
The building will provide 7,250 m2 of new space over four floors and will feature innovative sloping masonry facades, recessed terraces with dramatic views over Exeter and a two storey link to the existing Peninsula building. The design concept revolves around a central 'hub' space between the two functional wings which spatially links all the different activities. Users will be encouraged to interact in formal and informal meeting spaces on each level; visual or physical links across the space will enable real connectivity and integration whilst maintaining critical security, privacy and hygiene control. The design will replace out-dated low profile facilities with a high density landmark building situated on the Barrack Road edge of the hospital site.
Jonathan Harford, Project Director, commented: "The building is particularly interesting as it brings together three elements under one roof: education, research and healthcare. The open plan setting will create a contemporary and stimulating environment for students, staff and visitors".
The building will benefit from a number of sustainable features including photovoltaic panels on the roof which will provide a 10 per cent renewable energy source on site, vertical external timber louvre fins for solar shading, air source heat pump technology and a heat recovery system from the laboratories. The development is expected to achieve a BREEAM 'Excellent' rating and is due for completion in October 2013.
Research Centre at Wonford Hospital – Professional Team
Client: Royal Devon and Exeter NHS Foundation Trust
Architect: Devereux Architects
Principal Supply Chain Partner: Interserve
Engineers: Clarke Bond
Quantity Surveyors: Capita
M&E Engineers: Arup
Devereux : main page with news + key projects
14 Jun 2011
Devereux – Strategic Alliance
Devereux Architects form strategic alliance with Middle East practice
Devereux Architects is delighted to announce a new strategic alliance to boost their presence in the Middle East, with Emirates-based practice TNQ Architects. The alliance is designed to integrate the international expertise of the practices and service the growing markets in the Gulf Cooperation Council (GCC) region for healthcare, research and education from offices in Abu Dhabi, Dubai, Sharjah and Riyadh.
The alliance will address all levels of healthcare but will pay particular attention to women's health and the need to establish a high quality primary care system. Masterplanning existing hospitals to make the facilities more functionally and commercially efficient and sustainable is also a key area the team will focus on.
Devereux Architects has been active in the GCC region since 2004 working on over US$3.5bn worth of projects, most notably producing a number of large masterplans and designing the recently completed Al Ain Cromwell Women and Children hospital in Abu Dhabi. Devereux Architects has successfully sought like-minded strategic alliance partners based in the GCC, with whom they can integrate their approach and strengthen their presence in the region.
Devereux Architects believe the GCC region deserves the best healthcare the world has to offer and that it is vital social infrastructure remains key to its future growth. The alliance aim to collaborate with both local and international consultants across all disciplines, to deliver a high quality integrated team approach to meet the needs of their clients.
Nic Allen and Rosemary Jenssen from Devereux Architects, who together combine over 50 years of experience in the healthcare sector, designing and delivering projects in various countries across the world, will guide the team. Both Nic and Rosemary also have extensive knowledge of a number of international healthcare models, tailoring and adapting these to meet the needs of the countries across the GCC. Mark Carter will also bring specialist knowledge in mental healthcare design to the partnership.
Devereux Architects and TNQ Architects will be hosting a reception at the Dubai International Convention & Exhibition Centre on 14 June 2011 to celebrate the founding of the alliance. This will coincide with a presentation at the Hospital Build Middle East Conference by Rosemary Jenssen, Director and Head of Healthcare at Devereux Architects, on 15 June.
18 May 2011
Devereux Awards News
DEVEREUX ARCHITECTS TRIUMPH WITH TWO AWARDS FROM CONSTRUCTING EXCELLENCE IN THE NORTH EAST
Devereux Architects has won two awards at this year's Constructing Excellence in the Northeast awards for the categories of 'Integration and Collaborative Working' and 'Innovation'. The annual awards ceremony honours excellence in the construction industry in the Northeast of England, with winners selected across 12 categories. Devereux Architect's project, Retrofit for the Future, was the winning nominee for the 'Innovation' category. The sustainable project forms part of the £16m Retrofit for the Future scheme which is being funded by the Government's Technology Strategy Board. Steve Baker, Director, Devereux Architects comments:
"The aim of the project was to refurbish existing homes to achieve an 80% reduction in carbon emissions and energy use. In view of the Government's legal objective to reduce carbon emissions by 80% by 2050 it is clear that the significance of the project has captured the eye of the judges. By undertaking measures with the lowest lifecycle cost we, in conjunction with Gentoo Group, have been able to incorporate innovative technologies and concepts without radically increasing the lifecycle cost beyond that of the existing building. We are very proud to be associated with this ground breaking scheme."
The second category, 'Integration and Collaborative Working', which Devereux Architects won, was for Billingham Forum in Stockton-on-Tees. The notable project comprises a large scale refurbishment of a 1960s leisure centre into state-of-the-art community sports and leisure facilities including a theatre.
Devereux Architects Project Director, Andy Gregory said: "We are absolutely delighted to have received the Constructing Excellence in the Northeast award for 'Integration and Collaborative Working'. This award has recognised the importance of how an integrated team with real collaboration and team work has enabled The Forum, a complex and challenging project, to be delivered on programme and within budget. The whole team – Devereux Architects, Morgan Sindall, Stockton Borough Council, WYG and BGP- worked long and hard to achieve an integration of workforce and team ethos that delivered a successful and inspiring project. A great achievement for all involved."
Devereux – Practice News 2010
2 Aug 2010
New promotions at Devereux Architects
Nic Allen has been promoted to Chief Executive of Devereux Architects. He will oversee the business development of Devereux Architects internationally. The practice has an expanding portfolio of projects around the world, including in India, Europe, Africa, Caribbean and the Middle East.
Darius Umrigar has been promoted to the role of Managing Director for Devereux Architects' southern, midlands and north-western regions.
Devereux – Practice News 2009
25 Nov 2009
Devereux Architects set to expand with opening of Manchester office
Bucking the downward trend in the design and construction sector, Devereux Architects is signalling confidence in its future by opening an office in Manchester and looking to recruit a number of staff. The new office will help to increase its presence and national coverage, taking advantage of education, healthcare, leisure and hospitality opportunities in and around the Manchester and Northwest region. Caroline Richards, who has been with the practice for over six years, has returned to the area to head up the new office.
Recent projects that Richards and Devereux Architects have been involved in include:
The Wohl Neuroscience Centre, King's College, London, UK
Brunel University, Students Union Central Services Building, Uxbridge, UK
Monkseaton Community High School, Tyneside, UK
Addenbrooke's Hospital Masterplan, Cambridge, UK
Cheshire and Merseyside Orthopaedic IST Centre, Runcorn, UK
Richards said: "The Manchester and Northwest region has a large amount of education and healthcare projects in the pipeline. We've been putting in the groundwork over the past year to expand our network and now we're ready to open an office here. Also it means we reinforce our national coverage to service our existing frameworks."
27 Apr 2009
Devereux Architects invests for growth
Devereux Architects, member of engineering services company the PM Group, today announced that it has merged with Dewjo'c Architects, a leading architectural practice specialising in the education and biopharma sectors, to create one of the largest architectural practices in the UK with more than 150 staff, and 250 across Europe. The Dewjo'c merger represents the commitment of Devereux Architects and PM Group to major investment and growth in the UK and expansion of the Devereux Architects brand internationally.
Devereux Architects is already one of the top 50 architectural practices in the UK and the expanded practice is expected to join the top 20 following the merger today. The synergy between the two practices, for example in the Building Schools for the Future programme, and their geographical spread across the UK and internationally, will allow the newly merged Devereux Architects to expand its business, particularly in the healthcare, education and biopharma sectors.
Nic Allen, MD of Devereux Architects, said: "Overnight Devereux Architects has become one of the UK's top architectural practices. It is a very exciting opportunity for us and Dewjo'c's expertise will be an excellent addition to our core business. We intend to grow Devereux Architects further and to capture significantly larger projects in the UK and internationally."
Barts Hospital, London:



image from Devereux Architects
Devereux Architect's outstanding track record is reflected through landmark projects, including work on the Barts and Royal London Hospitals PFI (with HOK), King's Clinical Neuroscience Institute, ICI Corporate Headquarters, Brunel University, University College London Hospitals, London School of Hygiene and Tropical Medicine, 'Altitude 25' the high rise residential scheme in Croydon and Bexhill High School, which is a ' One School Pathfinder ' project within the Building Schools for the Future programme designed to deliver a transformational curriculum.
Dewjo'c has a very strong reputation in the Northeast of England with a client list including GlaxoSmithKline, London Underground, Royal Mail, Newcastle University, Arriva, Durham University and McAleer & Rushe, for whom planning permission has recently been secured for a new riverside hotel in Newcastle.
Peter Walker, MD of Dewjo'c Architects commented: "This is a very exciting time as the merger with Devereux will significantly enhance our offerings in our specialist sectors of healthcare, education and biopharma. These enhanced capabilities mean we can provide even greater services to our existing and expanding client base."
King's Clinical Neuroscience Institute, London:



image from Devereux Architects
Devereux Architects is the architectural practice of the PM Group, the international provider of professional services in engineering and architectural design, project management and technical consultancy, Devereux Architects is based in London with offices in Plymouth and Rugby, Ireland and Poland. Dewjo'c Architects has offices in Newcastle, Teesside and London and 60 staff.
The newly expanded Devereux Architects will significantly enhance PM Group's expertise in delivering large scale and complex projects to public and private sector clients in the UK and internationally.
Pat McGrath, CEO of PM Group, said, "The acquisition and merger of these two major award-winning UK architectural practices is a significant move for the PM Group in developing a multi-skilled, multi-office and integrated architecture and engineering capability. This will give us greater opportunities to expand the business in the UK and across the world, enabling us to win more architect-led projects going forward."
More projects by Devereux Architects online soon
Location: 200 Upper Richmond Rd, London, SW15 2SH, UK
London Architects Practice Information
This British architectural practice appears to have been subsumed into Ryder Architecture.
Devereux Architects is ranked in the 2008 AJ100 as one of the biggest architecture practices in Britain. Devereux Architects has expanded through its merger with the PM Group and works across a number of sectors with major projects in healthcare, education, housing, offices, hotels, manufacturing, transport and biopharmaceutical.
Operating from offices in the UK, Ireland and Poland the practice objectives are to provide clients with a value added, professional, proactive service. Internationally the practice works in Europe, the Middle East and in the Caribbean.
Devereux Architects is an award-winning international architectural practice providing a wide range of architectural and urban design services across a diversity of sectors, notably healthcare and education. The 250 strong practice has offices in London, Newcastle, Plymouth, Rugby, Teeside – and now Manchester – as well as Ireland and Poland, with associated offices in Moscow, Singapore and the USA.
Website: https://www.ryderarchitecture.com/
English Architecture
Lee Valley Ice Centre
Design: FaulknerBrowns, architects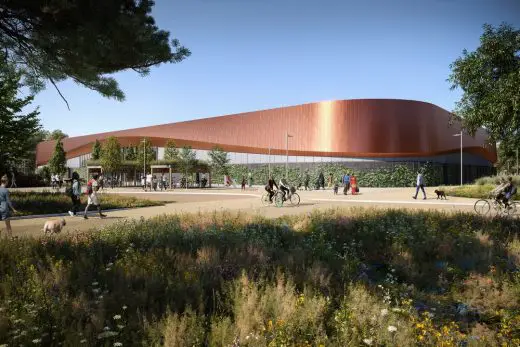 image from architect
Lee Valley Ice Centre
Comments / photos for the Devereux Architects UK page welcome