Denton Corker Marshall Melbourne, Australian Architecture Office
Denton Corker Marshall Architects : Practice Information
Australian Architect Studio – International Design Office
8 Nov 2013
Denton Corker Marshall Exhibition in China
Architectural Exhibition in China
OCT Art & Design Gallery presents Denton Corker Marshall Exhibition in China
8 November 2013 – Denton Corker Marshall together with OCT Art & Design Gallery and Exhibition Curator Professor Zhi Wenjun, have collaborated to produce an architectural exhibition as part of the 2013 Bi-City Biennale of Urbanism / Architecture in Shenzhen, China.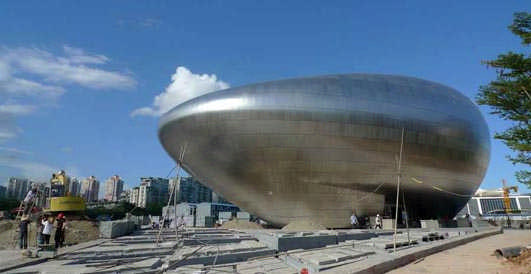 photo : Studio Pei-Zhu
The official opening of the exhibition titled 'Works – Small Buildings | Large Buildings | Non-Architecture', took place at a ceremony on Saturday 19 October to a select group of guests, following a presentation by John Denton on the topic of Urban Design and Architecture over the last 40 years. The new Denton Corker Marshall monograph published in China, titled 'Works – Denton Corker Marshall' was also launched at the opening ceremony.
The exhibition is made up of three components. Small Buildings features nine small but powerful buildings including, seven residential projects in Victoria, the new Australian Pavilion in Venice's Giardini della Biennale and the Stonehenge Visitor Centre due for completion in early 2014. Large Buildings features the multi award-winning Manchester Civil Justice Centre in the United Kingdom, and the Faculty of Engineering and Information Technology at the University of Technology Sydney, currently in construction. The Non-Architecture component of the exhibition showcases architectural concepts and artistic exploration through projects such as Webb Bridge, Jinsha Bridge and Melbourne Gateway.
Hand-drawn sketches, photographs, models and video footage help to tell the story of Denton Corker Marshall's design process and illustrates the richness of the practice's work.
'Works – Small Buildings | Large Buildings | Non-Architecture' is open until Sunday 24 November 2013 at OCT Art & Design Gallery in Shenzhen, China. For more information please visit http://www.oct-and.com
Oct Design Museum Shenzhen



photo : Studio Pei-Zhu
Professor Zhi Wenjun is President of Tongji University Press, Professor of the College of Architecture and Urban Planning at Tongji University and the Editor-in-Chief of Time + Architecture Journal.
OCT Art & Design Gallery showcases works from local and international designers. Officially opened in 2008, the gallery is located at Overseas Chinese Town, the centre of art and culture, adjacent to the renowned He Xiangning Art Museum.
28 Jun 2011
Denton Corker Marshall Award News 2011
Architectural honours, 30 years apart
Denton Corker Marshall is celebrating the critical acclaim of two projects, 30 years apart, with success at the 2011 Victorian Architecture Awards.
The firm's contemporary redevelopment of a former semi-industrial building into a house that functions simultaneously as art gallery and residence, and a mid-1980s office project in central Melbourne, were honoured with architecture awards.
Gallery House in inner-Melbourne received an Award for Residential Architecture – Alterations and Additions. The jury, chaired by Grant Amon, praised the "exemplary project":
"Denton Corker Marshall has assembled a highly detailed and refined response in this renovation of a 19th century bakehouse … As a container of art and residence it does more than exist as either, becoming an architecture of unpretentious substance, grace and refined design."
Residential work from the practice is exceptional – one bespoke house every four years or so, according to director John Denton, with two Robin Boyd Awards for Australia's most outstanding residential architecture among the firm's significant collection of prizes and awards.
One Collins Street, Melbourne:



picture : John Gollings
One Collins Street, designed by Denton Corker Marshall in association with Robert Peck YFHK, was completed in 1985. It received the Enduring Architecture Award.
Four historic buildings were retained as part of the 18-storey office tower development. Prominently located in Melbourne's historic Old Treasury precinct, the development blends two architectural eras into a unified whole.
The Awards Taskforce commended One Collins Street as "an outstanding building of its time and its enduring contribution to the city form and the streetscape of this sensitive precinct."
The awards were presented by the Australian Institute of Architects (Victoria) on June 24.
The projects will compete against state award winners from around the county at the National Architecture Awards in November.
22 + 25 Mar 2011
Denton Corker Marshall – Building News 2011
An exercise in invisibility : New Natural Home book
A 'barely there' house by architects Denton Corker Marshall features in a book on thoughtfully designed sustainable houses, selected from around the world.
Completed in 1992, the house on Victoria's Phillip Island is one in a series of formal experiments by the practice to produce simple clear statements devoid of conventional domestic connotations. It remains an exceptional example of residential architecture in Australia:
More information on Denton Corker Marshall Architects online soon
Location: Melbourne, Victoria, Australia
Denton Corker Marshall Architects Practice Information
Main architect office in Melbourne
Denton Corker Marshall architects studios also in London + Manchester (UK) and Jakarta (Indonesia)
About Denton Corker Marshall
Founded in 1972, Denton Corker Marshall produces innovative and memorable architecture and urban design. An interest in experimenting with materiality and the way architecture is made contributes to the distinctive architectural language for which the practice is critically acclaimed. Operating worldwide from offices in Melbourne, London and Jakarta, the practice is a significant contributor to the global architectural scene.
DCM Partners: John Denton, Bill Corker, Barrie Marshall
Denton Corker Marshall proposed buildings
Grollo Tower – Melbourne, Australia
560m high
Design Competitions
National Museum of China, Beijing, China
Scottish Parliament Building, Edinburgh, Scotland, UK
Stonehenge Visitor Centre, south England – so far unbuilt
Australian Architect Offices – Architect Listings
Australian Architecture



photo courtesy of Kraig Carlstrom
Comments / photos for the Denton Corker Marshall Architects page welcome
Website: https://dentoncorkermarshall.co.uk/