Austin Smith Lord, ASL Architecture, Photos, Office, Designs, Images, Design Practice News
Austin-Smith:Lord Architects
Buildings by ASL Architects, UK – Architecture Information + Images
2 Aug 2017
Austin-Smith:Lord Architects News
Austin-Smith:Lord News – latest additions to this page, arranged chronologically:
Penicuik Regeneration Consultation, Midlothian, Scotland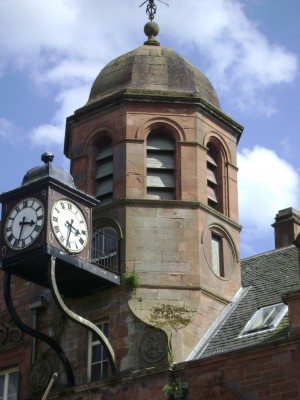 photo courtesy of architects
Penicuik Regeneration Consultation
Consultants Douglas Wheeler Associates and architects Austin-Smith:Lord appointed by Midlothian Council to work with the people of Penicuik to draw up proposals for the heritage regeneration of the town:
23 Jun 2017
Royal College of Surgeons Building, 21 Hills Place, Edinburgh, Scotland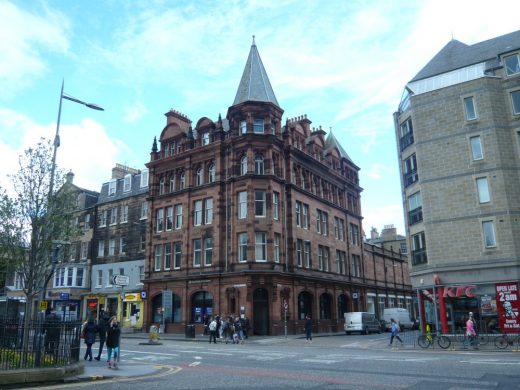 photo courtesy of architects
21 Hill Place Edinburgh
Architects Austin-Smith:Lord were appointed by The Royal College of Surgeons of Edinburgh to refurbish the four upper storeys of their category B listed property at 21 Hill Place in Edinburgh. Prominently positioned on the corner of Nicolson Street, facing Nicolson Square, 21 Hill Place is one of the key buildings on this major thoroughfare.
18 Apr 2017
Austin-Smith:Lord to design new Autism Facility
18th April 2017 – Architect practice Austin-Smith:Lord has been appointed to design a new facility in Swansea for autistic children and their families.
Orbis Group, which is one of the UK's leading providers of services for people living with autism, has recently purchased Dan-y-Coed House in West Cross from Swansea Council and intends to transform it into a state-of-the-art facility providing education and care for up to 30 children and young people in a school and residential home.
The building was previously run by Swansea Council as an educational, conference and activity facility.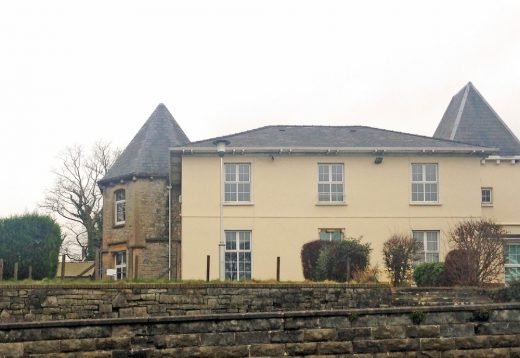 The purchase of Dan-y-Coed House marks Orbis Group's most ambitious project to date, with the property set to bring in an estimated 100 new jobs to the area.
Work has begun on the refurbishment and the service will open in 2018.
Victoria Slater of Austin-Smith:Lord says:
"There are many considerations in designing for children with Autistic Spectrum Condition to provide a sensory environment which does not overload and distress children with ASC. We are working with the team at Orbis to develop a set of design guidelines and we are also researching current best practice standards based on recent research.
"The aim of this project is to deliver a high quality building and landscape that will allow both pupils and residents to thrive without impeding or disrupting their education and everyday life."
Mike Currier, CEO of Orbis Group adds:
"At Orbis Group we work diligently to ensure that every child under our care has access to a socially valued and fulfilling life, irrespective of the complexity of their condition, and we are proud to be able to provide our service users with truly outstanding facilities that meet their needs.
"In order for our expert staff to provide the highest level of specialist education, care, and clinical support, it's crucial to create an environment that caters to the complex requirements associated with autism. We are confident that the team at Austin-Smith:Lord will support us in transforming Dan-y-Coed House into a top-quality school and residential service for children and young people with autism."
Perth City Hall Building Revamp
18th April 2017 – ASL is one of five architects firms competing for the right to redesign Perth City Hall with the building's re-opening scheduled for 2021.
Each has a grand vision for redeveloping the building into a cultural attraction capable of bringing visitors to the city from around the world. Shortlisted architects, alphabetical order:
– Austin Smith Lord
– Hoskins Architects
– LDN
– Mecanoo
– Richard Murphy Architects
Perth City Hall Building Renewal
21 Mar 2017
University of Liverpool School of Management Building, Northwest England, UK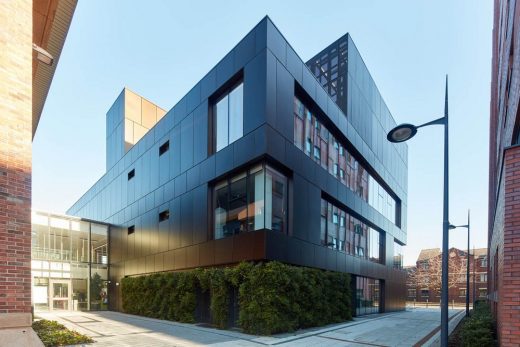 image courtesy of architects
University of Liverpool School of Management Extension
The new extension, which is a highly sustainable, BREEAM Very Good building, is set back from the street, behind a formal landscaped zone, consistent with the character of the campus.
1 Mar 2017
University of Gloucestershire Business School, England, UK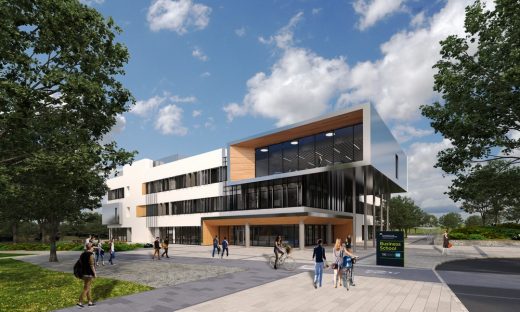 image courtesy of architects
University of Gloucestershire Business School
Planning permission has been granted for a landmark new Business School and Growth Hub building at the University of Gloucestershire's Oxstalls campus. Designed by the Austin-Smith:Lord, the building reflects the success of the existing Business School and the projected expansion of students enrolling in forthcoming years.
24 Feb 2017
Lower Lodge Gatehouse Bristol Building, Southwest England, UK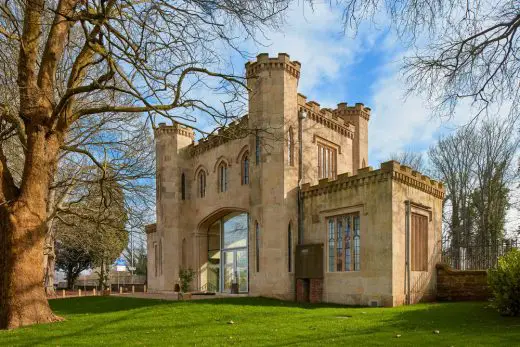 image from architects
Lower Lodge Gatehouse Bristol Building
A two year project to bring the handsome Grade II listed Lower Lodge Gatehouse, which was originally the main entrance to Bristol's Ashton Court Estate, back to its former glory has completed.
26 Oct 2016
Austin-Smith:Lord appointed to design National College for Nuclear, Cannington Centre, Bridgwater & Taunton College, Somerset, England, UK
25th October 2016 – Architect practice Austin-Smith:Lord has been appointed to design two new buildings for the award-winning Bridgwater & Taunton College in Somerset, as part of the College's strategy to deliver world class facilities and curricula to address the need for higher level skills regionally, nationally and internationally.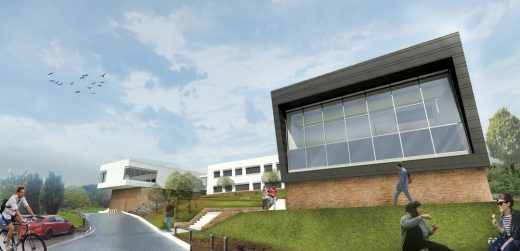 One of the new buildings will form the southern hub of the Government's flagship National College for Nuclear (NCfN), which was announced earlier this year and is funded by the Department for Business, Energy and Industrial Strategy, with additional finance coming from the Heart of the Southwest LEP.
Due to open in November 2017, the NCfN building will revolutionise the way in which higher level professional and technical training for the nuclear sector is delivered, utilising innovative technology and virtual reality simulators to replicate a nuclear working environment, whether in nuclear new build/operation/decommissioning, defence or medicine.
Austin-Smith:Lord has also designed the College's Advanced Engineering Centre (currently under construction), which is based at its Bridgwater Centre and planned for completion in the summer of 2017. The number of engineering students at the College has seen a five-fold increase in the past five years, and it is now widely recognised as a centre of excellence for the sector, with clients that include EDF Energy, Rolls-Royce and the Ministry of Defence.
Both facilities will be set up with industry-standard equipment and resources to replicate, as far as possible, a 'live' working environment. By enabling learners to see and understand workplace safety, cultures and behaviours alongside job-specific skills, the College is able to deliver work-ready graduates who are fully inducted in the requirements of a licensed site and fully understand the expectations of the world of work.
Lead architect, Rob Firman of Austin-Smith:Lord commented:
"This has been an exciting and innovative project. The NCfN is destined to play a critical part in the Government's workforce strategy for nuclear, and as such does not conform to traditional educational designs, which have changed little for centuries. With wi-fi throughout, and advanced simulator technology, this College will completely transform the way in which professional and technical training is delivered."
Austin-Smith:Lord's appointment follows the recent completion of the College's Performing Arts Centre, Agriculture Innovation Centre and Biosecurity Centre, all of which were designed by the firm.
20 May 2016
UWE Bower Ashton Campus Redevelopment, Bristol, England, UK
Design: Austin-Smith:Lord Architects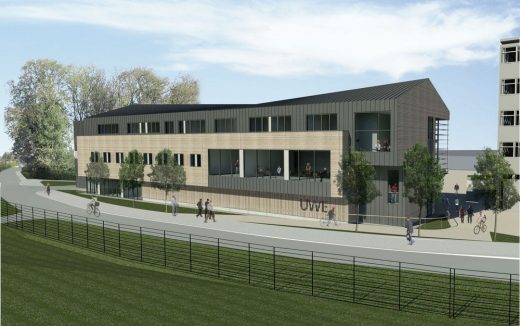 image from architect
UWE Bower Ashton Campus, Bristol
Competitive tender to deliver architectural, interior design, landscape design and engineering services to the University of the West of England in Bristol as it begins a major redevelopment of its Bower Ashton Campus.
3 + 2 May 2016
Glasgow City Centre District Regeneration Frameworks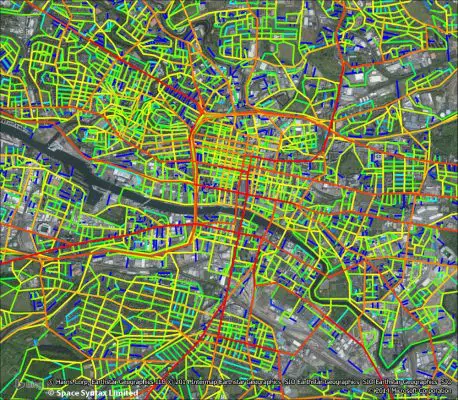 Glasgow City Council appoint a team led by MVRDV and Austin-Smith:Lord, supported by Space Syntax and a multidisciplinary team.
The project will focus on the areas comprising Broomielaw, Blythswood, St Enoch and Central as part of the city's ambitious City Centre Strategy.
Graham Ross, Partner at Austin-Smith:Lord said, "our team is thrilled to have been appointed for this very significant project. The vitality of Glasgow city centre is of strategic national importance. There are opportunities to make small scale interventions to enhance the city for all. There are also areas that require significant transformation to address longstanding issues. We look forward to collaborating with Glaswegians, the Council and stakeholders to shape an exciting future for these Districts."
District Regeneration Frameworks Glasgow
12 Apr 2016
Helensburgh Town Centre Public Realm Scoops Sixth National Short-Listing as Scottish Design Awards Finalists
Helensburgh's revitalised town centre public realm, which was designed by Austin-Smith:Lord, has been recognised by another national award – a short-listing in the forthcoming Scottish Design Awards which will be announced on Wednesday 25th May.
Helensburgh Town Centre Public Realm
Liverpool Central Library Building, England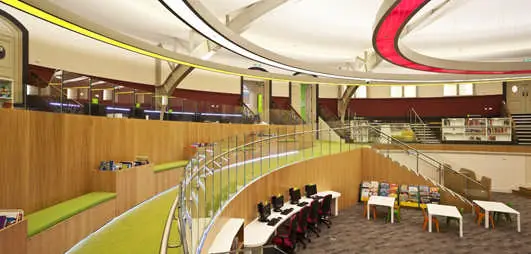 photo © Keith Hunter
Liverpool Central Library Building – 21 Jun 2013
The Liverpool Central Library and Archive Project is a unique and prestigious scheme within the heart of Liverpool's World Heritage Site. The project provides an 8,000sqm library and specialist archive and restores 4,000sqm of Grade II listed historic buildings on William Brown Street.
Azzurro Ltd was appointed sole FF&E supplier by Shepherd Construction and worked with and advised the architects, Austin Smith Lord, on product.
McNeil Street Housing, Glasgow, Scotland
Design: Austin-Smith:Lord Architects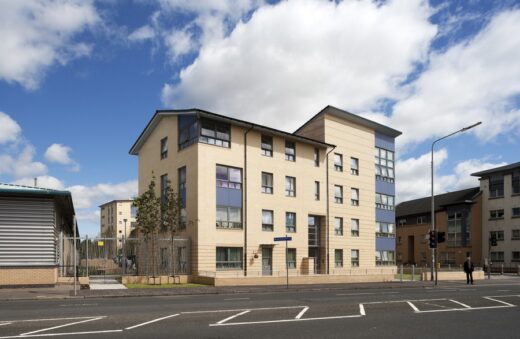 photos © Keith Hunter
Austin-Smith:Lord Architects : McNeil Street Housing – 26 Nov 2012
New Gorbals Housing Association commissioned A-S:L in 2008 to design 49 'very sustainable homes', setting the challenge of developing an approach to energy efficient housing, that was transferable, and that the Housing Association could apply to future projects. Designs for the derelict brownfield site were developed in close consultation with the client and their tenant-led design committees and sought to reduce energy consumption and provide adaptable housing.
Austin-Smith Lord – News
ASL is headquartered in Wales. It has offices now in Cardiff, Glasgow and London.
10 Oct 2012 – the Glasgow studio of Austin-Smith:Lord are to host Studio 2080, an emerging 'community interest company' formed by four final year architecture students at University of Strathclyde.
8 Mar 2012 – Austin-Smith:Lord decided to close its London office almost four months after filing for insolvency.
Nov 2011 – Reports suggest Austin-Smith:Lord have been given a reprieve by creditors. Recently ASL received a payment of £2.4 m from its main debtor, the Abu Dhabi Authority for Culture & Heritage.
The architecture practice has been running for 61 years but has recently had to let around 70 employees go. ASL had entered into a company voluntary arrangement (CVA).
Austin-Smith Lord – Building News 2011
UWIC School of Management, Cardiff, south Wales
2010



photo © Morley von Sternberg
UWIC School of Management
RIBA Award winner, 19 May 2011
On a long narrow site within a conservation area and adjacent to Llandaff Cathedral, the client required a signature building of high architectural quality, targeting a BREEAM Excellent rating.
The building is organised as two distinct elements flanking a large atrium space.
Hereford Buttermarket Competition, England
2011
Austin-Smith:Lord win



image from RIBA
Hereford Buttermarket Competition
Austin-Smith Lord – Building News 2010
Girvan Hospital, Ayrshire, southwest Scotland, UK



image © Keith Hunter
Girvan Community Hospital – Jul 2010
Viewfield Housing, Ayrshire, southwest Scotland, UK



picture © Keith Hunter
Viewfield Housing – Jul 2010
Roseisle distillery, Speyside, Northeast Scotland, UK



image © Keith Hunter
Roseisle distillery – Mar 2010
People's History Museum, Manchester, England



photo © Ian Lawson
People's History Museum – Mar 2010
Migdale Hospital, Scotland



image from architects
Migdale Hospital approval – Nov 2009
Austin-Smith:Lord Buildings
Bluecoats Arts Centre, Liverpool, UK
2007
BIQ Architecten with Austin-Smith:Lord & Donald Insall Associates



photo © Adrian Welch
The Bluecoat Liverpool
Clyde Gate Park Opens, West Dunbartonshire, Scotland
2009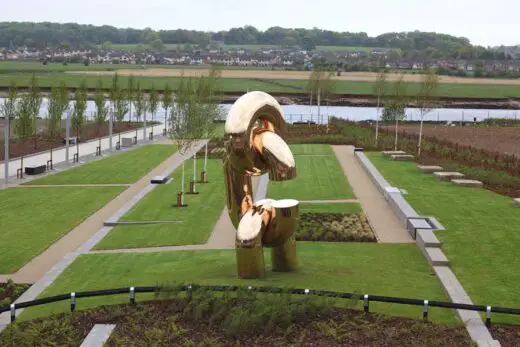 photo : Graeme Duncan
Clyde Gate Riverside Park for Clydebank Re-built
Community Hospital, Girvan, Scotland
2007-09
Foundation for Art & Creative Technology – FACT, Liverpool, England
2003
Located at the RopeWalks, £10m
Homes for the Future, Glasgow Green, Glasgow, Scotland
–



images from Wren Rutherford Austin Smith Lord Architects
Austin Smith Lord Houses : Homes for the Future
The John Rylands Library, Manchester, England
2007
Austin Smith: Lord / Lloyd Elans Pritchard



building photo © AJW
Austin-Smith:Lord : English building
Kaetsu Educational and Cultural Centre Building, Cambridge, England
–



building photo © AW
Austin Smith Lord Building
Leeds City Museum & Resource Centre, England
–
The National Museum of Information Technology, Bangkok, Thailand
2007
Peoples History Museum, Manchester, UK
2007
Paradise Street Development Area, Liverpool, UK
2007
Riverfront Arts Centre, Newport, Wales
2004
The Taylor house, Prestwick, Scotland
2008
Taylor house Prestwick
Austin-Smith:Lord – Projects
Glasgow Bridge Competition Entry, Scotland
Studio Bednarski with Austin Smith Lord Architects
Austin Smith Lord Bridge
Dundee University Buildings, Scotland
University of Dundee Library Extension won by Austin-Smith:Lord
May 2005
Liverpool University Sports Facility, England
More Austin-Smith Lord projects online soon
Location:1 Dunleavy Drive, Cardiff, South Glamorgan, CF11 0SN '
Austin Smith Lord Architects Practice Information
Austin-Smith:Lord LLP – various offices based around the UK
Austin Smith Lord Architects : Welsh Architecture Office
Austin-Smith:Lord has delivered the highest degree of creative and practical thought in architecture since 1949.
Founded by two visionary architects, Mike and Inette Austin-Smith, today the UK-wide creative collective has a partnership board of five and 50+ staff operating out of studios in Bristol, Cardiff, Liverpool, London and Glasgow.
Austin-Smith:Lord's national pool of talented architects and designers offer expertise within a wide range of sectors: industry & infrastructure, transport, urban regeneration, civic, commercial, arts & culture, education, healthcare, residential, conservation, interior design, landscape & urban design.
Since 1949, Austin-Smith:Lord has delivered over 5000 projects, including many buildings of national importance such as Manchester Airport Railway Terminal, Liverpool Central Library, National Film & Photography Museum, Shrewsbury Theatre and Roseisle Distillery.
The architecture practice has also been recognised with over 150 awards and commendations for outstanding architectural and environmental design including RIBA, Civic Trust, Welsh and Scottish Design Awards.
London Architecture : news + key projects



photo © Adrian Welch
Comments / photos for the Austin Smith Lord Architects page welcome
Austin-Smith Lord buildings – page
Website: www.austinsmithlord.com