Alvar Aalto Buildings Finland, Finnish Architect Projects, Architecture Design, Office
Alvar Aalto Buildings : Architecture
20th Century Finnish Architecture Practice
post updated 21 January 2023
Alvar Aalto : main page with news + building images
Venice Biennale Finnish Pavilion design by architect Alvar Aalto: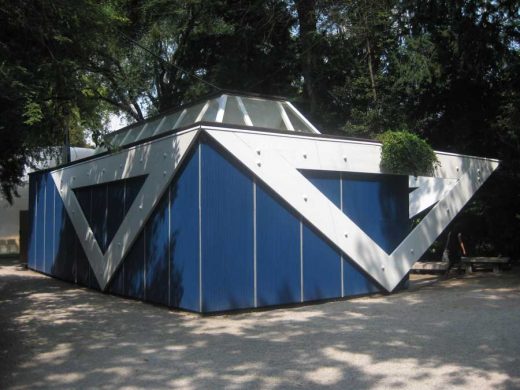 photograph © AJ Welch
Alvar Aalto Buildings – Details
FINLAND
Alajärvi Buildings
Youth Society Building, Sairaalatie
1919
Alajärvi Hospital, Sairaalatie
1924-28
Villa Väinölä, Väinöntie
1926
Alajärvi Health Centre, Alvar Aallon tie 2
1966-70
Alajärvi Town Hall, Alvar Aallon tie 1
1966-69
Alajärvi Parish Centre, Alvar Aallon tie 3
1966-70
Helsinki Buildings
Aalto House, Riihitie 20, Munkkiniemi, 00330 Helsinki
1935-36
Guided tours: [email protected]
Tram 4 from Helsinki, last stop at Munkkiniemi
Studio Aalto, Tiilimäki 20, 00330 Helsinki
1954-55, 1962-63
Reservation recommended: [email protected]
Tram 4 from Helsinki, get off at 'Tiilimäki'
Savoy Restaurant – Interior, Eteläesplanadi 14
1937
Finnish Engineering Society Building, Ratakatu 9
1948-52
National Pensions Institute, Nordenskiöldinkatu 12
1948-57
Daily Tours
Rautatalo Office Building, Keskuskatu 3
1951-55
House of Culture, Sturenkatu 4
1952-58
Enzo Gutzeit Headquarters, Kanavaranta 1, central Helsinki
1959-62
Union Bank of Finland, Fabianinkatu 31
1960-65
Academic Bookshop, Pohjoisesplanadi 39
1961-69
Finlandia Hall, Mannerheimintie 13
1962/1967-75
Finlandia Hall – www.finlandiatalo.fi
Location: a few minutes northwest from Helsinki centre
Entrance fee – guided tour: [email protected]
Electric Power Company Administrative Building, Kampinkuja 2
1965-76
Jyväskylä Buildings
Nuora House, Taulumäentie 1
1923-24
Workers' Club, Väinönkatu 7
1924-25
Visits by appointment – Admission fee
Enquiries: Workers' Association in Jyväskylä
Key very early Aalto building, not Modern but ideas emerging
Aira Apartment Building, Tapionkatu 2
1924-26
Block of flats for railway workers
Defence Corps Building, Kilpisenkatu 8
1926-29
Säynätsalo Town Hall, Parviaisentie 9, Säynätsalo
1949-52
Location: 15 km from Jyväskylä
Opening Times vary
Enquiries: Säynätsalo Town Hall – www.jyvaskyla.fi/saynatsalo
Buses 16 & 16M from Kauppatori, Jyväskylä Market Place to Säynätsalo every
1/2 hour
Säynätsalo Town Hall located in centre of Säynätsalo island
Two single guest rooms 'Alvari' and 'Elissa' available
Enquiries Säynätsalo Town Hall: [email protected]
Jyväskylä University – various buildings, Seminaarinkatu 15
[email protected]
Jyväskylä University – www.jyu.fi/tdk/museo/guidel
Teachers' Training School
1952-54
Students' Hall of Residence
1952-54
Main Building
1954-56
Aalto-Alvari Swimming Pool, Pitkäkatu 1
1954-56; 1964; several alterations
Physical Education Building, Keskussairaalantie 2
1971
Muuratsalo Experimental House, Säynätsalo
1952-54
Location: 20 km from Jyväskylä
Summer house of Aalto
open Jun 2 – Sep 15
Visiting allowed only with the guide
Admission fee
Enquiries: Alvar Aalto Museum
[email protected]
Museum of Central Finland, Alvar Aallon katu 7
1956-61; 1991
[email protected]
Admission fee
Permanent exhibitions present history and culture of Jyväskylä area
Viitatorni, Viitaniementie 16
1960-61
Jyväskylä Administrative & Cultural Centre
1964 –
Jyväskylä – former Central Police Station, Kilpisenkatu 1
1970
Jyväskylä City Theatre, Vapaudenkatu 36
1964-82
Ticket office: [email protected]
Jyväskylä Office Building, Hannikaisenkatu 17
1975-78
Open Mon-Fri 8-16.00
Alvar Aalto Museum, Alvar Aallon katu 7
1971-73
[email protected]
Admission fee
Muurame Church, Muurame
1926-29
Location: 20 km from Jyväskylä
Open Jun 2 – Aug 15 other times by arrangement
Enquiries: Parish of Muurame
Turku Buildings
Southwestern Finland Agricultural Co-operative Building, Humalistonkatu 7
1927-28
Standard Apartment Building, Läntinen Pitkäkatu 20
1927-28
Turun Sanomat – Newspaper Building & Offices, Kauppiaskatu 5, central Turku
1928-29
Key Alvar Aalto building which features in many architectural history books
Rovaniemi Buildings
Korkalovaara Housing Area, Korkalovaara
1956-60
Koskikatu Residential & Commercial Building, Koskikatu 18
1958-59
Koskikatu Residential & Commercial Building, Koskikatu 20
1960-62
Jaakonkatu Residential & Commercial Building, Jaakonkatu 3
1962-63
Rovaniemi Adminitsrative & Cultural Centre
1961-87
Rovaniemi Library , Jorma Eton tie 6
1961-66
Rovaniemi Town Hall, Hallituskatu 7
1963-88
Open Mon-Fri 8-16
Lappia Hall, Jorma Eton tie 8 A
1969-76
Visits by appointment
Seinäjoki Buildings
Defence Corps Building / Museum, Kauppakatu 17
1924-26
Opening Times + Admission varies
Seinäjoki Administrative & Cultural Centre
1951-88
The Cross of the Plains Church, Koulukatu 24
1951-60
Open May – Aug
Seinäjoki Parish Centre, Koulukatu 24
1951-66
Open Mon-Fri 9-15
Seinäjoki Town Hall, Kirkkokatu 6
1958-60
Open Mon-Fri 9-15
Seinäjoki Library, Koulukatu 21
1960-65
Open generally Mon-Fri 10-19, Sat 11-15
Seinäjoki Office Building, Kirkkokatu 8
1964-68
Open Mon-Fri 8-16
Seinäjoki City Theatre, Alvar Aallon katu 12
1961-87
Visits by appointment
Espoo Buildings
Helsinki University of Technology, Otaniemi, Otakaari 1
1949-76
Main building; Library; Shopping Centre; Water tower
Tapiola Apartment Buildings, Harjuviita, Tapiola
Exterior visible, grounds and public spaces accessible
Directions: Located southwest of University of Technology. From Otaniemi walk west from library along Vuorimiehentie to Tekniikantie, then southwest (left) to Tapiola across underpass. Take first left on Itäranta, walk south ten minutes to Harjuviita.
Imatra Buildings
Church of the Three Crosses – Vuoksenniska Church, Ruokolahdentie 27
1956-58
Järvenpää Buildings
Villa Kokkonen, Tuulimyllyntie 5
1967-69
Admission fee
Enquiries : Järvenpää Town Tourist Services
Kauttua Building
Kauttua Terrace House
1937-44
Kotka Building
Sunila Pulp Mill, Sunila
1936-38, 1951-54
Järvenpää Building
Sunila Housing Area, Sunila
1937-38; 1947; 1953
Enquiries / guided tours: Kotka Tourist Service
Lahti Building
Church of the Cross
1969-79
Kirkkokatu 4
Noormarkku Building
Villa Mairea
1937-39
Admission fee
Visits by appointment – [email protected]
Paimio Building
Paimio Sanatorium & Housing
1929-33
Interior by appointment – Guided tours: Jun – Aug
Alvar Aalto – Winner of RIBA Gold Medal 1957
Location: Finland, northeast Europe
Further Information on this Major Finnish Architect
FRANCE
Maison Carré, Bazoches-sur-Guyonne
1956-59



photograph © Collection Maison Louis Carré
Maison Carré
Author: I was lucky to visit many of the above buildings on an architecture scholarship in 1990, starting in Helsinki and travelling clockwise via Espoo, Otaniemi and then out to Turku, Pori, Tampere, Jyväskylä, Kajaani, Seinäjoki, and back. My tip would be from Jyväskylä go straight on to Imatra skipping the long route up to Kajaani via Kuopio. Tampere is worth pausing at due to the work of other architects most notably the Finnish National Romantic Movement. Please note one of Alvar Aalto's greatest buildings is in Russia at Vyborg and this is not far over the border from Imatra.
The highlight of my Finnish Architecture Tour was definitely seeing Villa Mairea near Pori on the west coast. Other highlights were also up north, at Jyväskylä and Muuratsalo, the brilliant town hall and Aalto's house in the woods. The latter was completely untouristified and combined the beauty of Finland's lakes and woods with some great architecture.
An architectural highlight that wasn't designed by Alvar Aalto was Hvitträsk, strongly recommended, a subtle but intelligent house well-documented in various architecture world histories. Villa Hvitträsk is by Saarinen, Gesellius, & Lindgren and located out at Kirkkonummi, dating from around 1902. [Adrian Welch, Architect]
Maison Louis Carré, Bazoches-sur-Guyonne, Yvelines department, north-central France: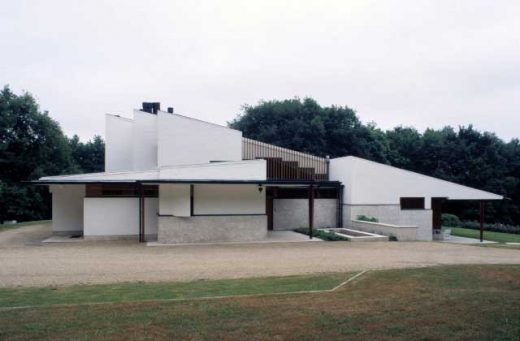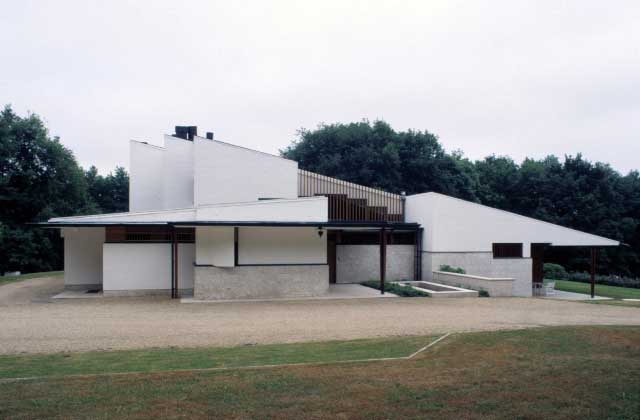 photograph © Martti Karpanen, Alvar Aalto Museum
Photos and information for Alvar Aalto Buildings are welcome please.
Finnish Architecture
Comments / photos for the Alvar Aalto Architecture page welcome
Website: www.alvaraalto.fi