Matchbox Amsterdam North Photos, Architect, Netherlands Architecture, Dutch Design, Image
Matchbox Amsterdam Building
Mixed Use Building in Holland design by Allard Architecture
3 Mar 2009
Matchbox Building Amsterdam
Matchbox Approved by Amsterdam Aesthetics Committee
The Matchbox is an blend of artistic, creative and commercial spaces. The building is shaped specifically as a result of the accommodation of companies and zoning regulations. The Matchbox houses 22 corporate units, a rooftop restaurant and semi-underground parking in the artistic hub of Amsterdam North.
The building lends its playful façade that sticks out cantilevers up to 5 meters, to each unit being individually angled and stacked on top of another to give every company its own space and identity. Bridges constructed above a central atrium garden act as catalyst for the networking between companies while distributing sunlight through the building.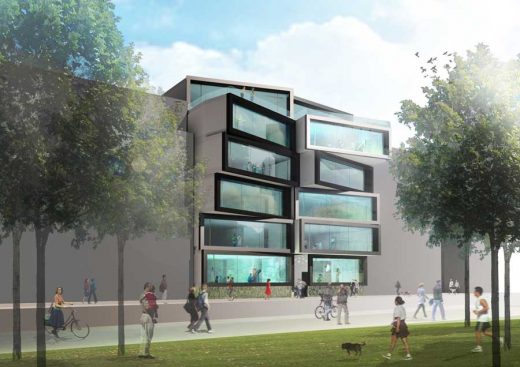 image from architecture studio
Especially well-suited to start-up businesses, themed rent is an ideal way of promoting networks and building strong links within a wider industry. Originating in the arts sector, themed rent is now spreading to meet demand from elsewhere. The rotated nature of the units of the Matchbox merge with its simple large windows framed in black borders recalling a strip of film negatives.
The Matchbox building will be made of prefabricated concrete. The bent faces of the cantilevering boxes are constructed in prefabricated concrete walls. The hang not on a structural core but on the structural shear walls.
This effect completes shape of the stacked boxes. Use of steel in this building structure is minimised. Except the internal light non-structural walls have a galvanized steel finish. In their interior this enabling tenants to use the wall to pin up their work using magnets. The black frames around the boxes are constructed in folded aluminium elements glued on stiff insulation. Frames are shoved over the edges of the concrete floor. All the other grey coloured exterior surfaces are sealed with a seamless Poly-Urethane finish, spray on.
Matchbox Building Amsterdam – Credits
Everything in this process is kept within its limits also the advisors' team, all to keep on going and realize this extraordinary project in Amsterdam. Dutch companies as Van Rossum is on structural engineering, DGMR and LaRotonda are responsible for building regulations. The Allard Architecture office is based in Amsterdam. Allard's co-workers in the architectural team are Jurriën Boon, Daniël Bakker and Cruz Garcia Santiago.
Matchbox Amsterdam – Building Information
Project name: Matchbox
Location: Amsterdam, The Netherlands
Use: Offices and commercial spaces for the creative industries
Client: Pand Noord 3 b.v.
Site Area: Amsterdam North
Bldg. Area: 1,125 m²
Gross Floor Area: 6,400 m²
Gross Floor Ratio:
Programme: 22 business units between 80 m² and 250 m² Rooftop restaurant with rooftop terrace.
Building Cost Estimate: €7.040.000
Design Team : Allard Meine Jansen- bna- architect director
Jurriën Boon-project Architect
Daniël Baker-technical manager
Cruz Garcia Santiago, Jennifer Gauthier, Roderick van der Weiden,
Jeroen Linnenbank, Jan Nauta
Design Office: Allard Architecture b.v.
Structure: Van Rosssum Raadgevende Ingenieurs
Max.Height: 24m
Landscape Area:
Parking lots: Parking garage 1,150 m² (40 parking spaces)
Exterior Finish: Seamless Sprayed Polyurethane
Completion period: Dec 2010
Previously:
Matchbox Building
Matchbox Building Amsterdam
Matchbox is a 40 unit commercial building with 4.500m2 leasable space. The building will connect to and share facilities with an existing building in Amsterdam North.
Conceived of as pre-fabricated units that are stacked one on top of the other. A central atrium garden carves open a space for natural light to filter in, thus allowing maximum use of the site, whereby units can also face inward.
A greenhouse roof enclosure eliminates the need for covered bridges spanning the atrium garden and provides a 365 day per year dry balcony space for its tenants. This central atrium space becomes a lush garden of draped greenery, acting as the lungs of the entire building.
Matchbox Amsterdam images / information from Allard Architecture
Location: Amsterdam North, The Netherlands, western Europe
Amsterdam Architecture
Amsterdam Architecture – contemporary building information
Amsterdam Buildings – historic building information
First new-build commission by Allard Meine Jansen, a multi-occupancy building in Amsterdam North. The design entitled 'Matchbox', is a stacking of commercial units that are rotated and shifted with respect to one another – a strategy designed to liberate them from their claustrophobic situation between two bigger buildings and to underscore the individuality of the users." A10 Nov/Dec 2007
Matchbox Building, Liverpool
Dutch Architect Office : Allard Architecture, Netherlands – contact details
Comments / photos for the Matchbox Amsterdam design by Allard Architecture page welcome