Jenan City Design Concept, Building, Project, Photo, News, NORR Design, Image
Jenan City Design, Saudi Arabia
Al Khobar Buildings, KSA, Middle East – design by NORR, architects
24 Jan 2011
Jenan City Design Concept
Ingenium's NORR division reveals design for the largest privately owned mixed use development in Al Khobar, Kingdom of Saudi Arabia
TORONTO, Ontario – January 24, 2011 –Together with Jenan Real Estate Company, experts in real estate and community development in the Kingdom's Eastern Province, NORR Group Consultants International Ltd. (NORR), a member of the Ingenium Group of companies, has unveiled the design concept for Jenan City.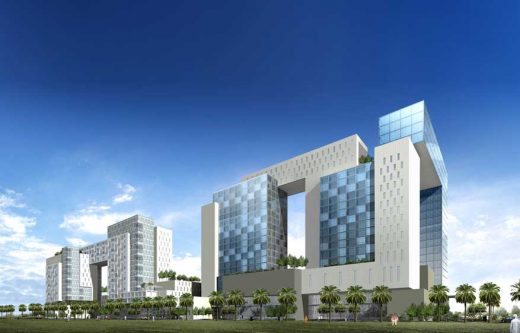 "We are delighted to have been selected as consultants for this landmark development in Saudi Arabia," said Victor Smith, President and CEO, the Ingenium Group. "This project is one of three NORR is currently designing in Al Khobar. As a result of these successes, we are registering our group in Saudi Arabia and expect to have our office operational in Al Khobar by April of this year."
At 290,000 square meters of construction area, Jenan City is the largest privately-owned project currently under development in Saudi Arabia. The architecture and engineering design commission for this project was awarded to NORR in 2009.
Jenan Real Estate, the owner of the project and a leading real estate developer based in Al Khobar, has ambitious plans to offer innovative solutions for the Saudi commercial and residential markets.
Al Khobar is located in the Eastern Province of Saudi Arabia, the heart of the Kingdom's petro-chemical industry. Al Khobar is experiencing growing demand for commercial, residential and hospitality property.
With its mix of office, hotel, retail and residential uses, Jenan City's diversity and complexity is a microcosm of the city itself. In order to respond to the context, NORR's design team researched Saudi economic and cultural requirements. NORR then produced a detailed project brief and a unique design that responds to the needs of the community.
NORR's solution celebrates the richness and layering found in a traditional Middle Eastern city, providing open spaces, courts, and gardens for shared and private use.
In order to address the requirement for density, the design combines horizontally massed low-rise buildings punctuated by towers, varying in height from 12 to 37 floors.
Yahya Jan, NORR Vice President and Design Director, explained that the project's massing responds to the site's environmental challenges. Jan said, "We used the results from computational fluid dynamic studies and physical wind tunnel models in order to locate buildings and openings to create outdoor spaces that respond to the region's desert environment.
The massing of the project, with the highest buildings in the west and openings in buildings along the north edge of the site, is intended to make the most of the prevailing winds."
Office and hotel towers anchor the master plan and are designed to establish Jenan City as a landmark for Al Khobar and the region.
Jenan City Components
Component ; Description ; Gross Area ; % of Total
Office ; Class A ; 20,000 sqm ; 7%
Hotel & Service Apts. (Hilton) ; 200 Keys +98 apts. ; 40,000 sqm ; 14%
Residential Vertical Compound ; 60 apts. ; 13,000 sqm ; 5%
Retail ; 16,000 sqm GLA ; 22,000 sqm ; 8%
Residential (freehold) ; 385 apts. ; 96,000 sqm ; 33%
Parking + Services ; 2,000 cars ; 97,000 sqm ; 33%
Total Gross Area ; – ; 288,000 sqm ; 100%
The Jenan City project is slated to commence construction this summer with completion targeted for the end of 2013. NORR`s expansion into Saudi Arabia is consistent with the firm`s track record of success in the region. The company celebrated its 20th Anniversary in the Middle East in 2010. Despite the recent global economic downturn, NORR has built a diverse portfolio and reputation that has sustained its international reputation over the last two decades.
NORR's current expansion in the Middle East and India is in line with the Ingenium Group's corporate strategy of focused and measured expansion around the globe.
In late 2010, Ingenium acquired the majority of the UK business and assets from the administrators of Archial Group PLC, Archial Holdings Ltd, Archial Architects Ltd, Archial Resources Ltd and Alsop Sparch Ltd. The newly acquired organisation operates under the names of Archial and Alsop Sparch. Around the same time, Ingenium also acquired Chicago`s DM Design Group, a firm with a strong portfolio of international hospitality projects and which now operates as NORR.
NORR
Founded in Canada in 1938, NORR has offices in Dubai, Abu Dhabi, New Delhi, Calgary, Vancouver, Toronto, Ottawa, Kingston, Chicago, Detroit, Sacramento and Tampa.
A member of the Ingenium Group of companies, NORR offers full-service architecture, engineering, planning and interior design, providing truly integrated solutions for a wide range of transportation, commercial, institutional and lifestyle projects. The NORR brand provides a well-honed balance of design, technology and management skills. For more information: www.NORR.com
Ingenium Group Inc.
Delivering global building solutions, the 900 employees of the privately held Ingenium Group of companies offer an extensive range of architectural, engineering, land use and development planning, interior design, project management, construction, design-build and partnership services through 30 offices in the Middle East, Canada, the United Kingdom, the United States, and Asia. It has a broad and diverse portfolio of completed work within the commercial, government, transportation and lifestyle sectors, comprising some of the largest building projects in the world.
The Ingenium Group member company brands include NORR, Archial, Alsop Sparch, Giffels, Westpro and CION. For more information: www.theingeniumgroup.com
Jenan City Design Concept images / information from Ingenium
Location: Saudi Arabia
Architecture in KSA
Contemporary KSA Architecture
Saudi Arabia Architecture Designs – chronological list
Saudi Arabia Architecture News
KSA Building Developments – Selection
King Abdulaziz Library : Snøhetta
Arabsat headquarters : heneghan.peng.architects
Al Faisaliah Complex Riyadh : Foster + Partners
Saudi Arabian Tower Riyadh : Perkins+Will
Alrriyadh Ritz Carlton Tower Building
Comments / photos for the Jenan City Design Concept Saudi Arabia Architecture page welcome