Orange Show Center for Visionary Art Houston, Texas architecture design images, US public art campus
Orange Show Center for Visionary Art in Houston
November 20, 2021
The Orange Show Center for Visionary Art Announces Major 8 Acre Expansion by Rogers Partners
Design: Rogers Partners
The 40-year-old Houston organization will build an expansive public art campus that celebrates the artist in everyone, becoming a world-class center dedicated to exploring and presenting visionary art.
Rendering of the Art Car Experience: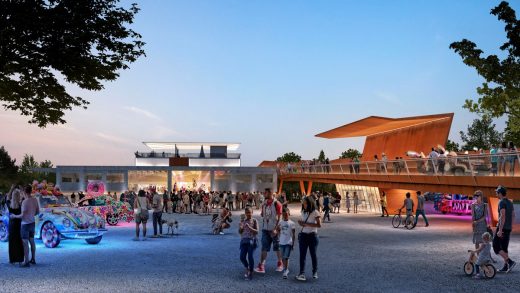 Renderings of The Orange Show Center for Visionary Art. Courtesy of Rogers Partners.
Orange Show Center for Visionary Art, Houston, Texas
(November 18, 2021 – Houston, TX) – The Orange Show Center for Visionary Art (OSCVA), one of the country's leading organizations dedicated to preserving, promoting, and documenting visionary art environments, is pleased to announce a major expansion by architectural firm Rogers Partners after a year-long campus planning process, including a national design competition, supported by Houston Endowment. Following the 2017 acquisition of a 5.7-acre property with a 31,000 square foot, 1950s-era, solid concrete building, OSCVA will expand its services and become a major artistic and cultural destination, and a year-round home to experience the magic and wonder of Art Cars and the artists who make them.
Rendering of the aerial view of the Orange Show Center for Visionary Art Campus and Fonde Park extension: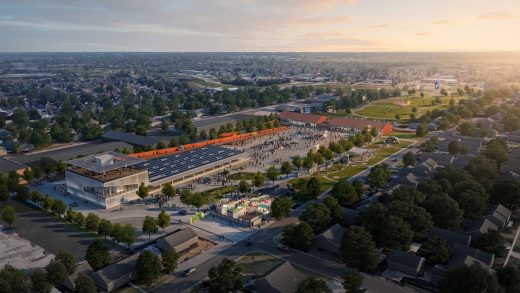 The new property is adjacent to The Orange Show Monument, a historic visionary art environment, and Smither Park, a growing public mosaic project, giving rise to the enormous potential for the organization's future. Now totaling 8 acres, the expansion will transform the campus into an arena of individual creation and community collaboration, featuring year-round interdisciplinary programs and exhibitions of leading self-taught and outsider art. Along with the expansion, the campus integrates into Houston's Fonde Park, adding an additional 9 acres of greenspace and bringing the visitor experience to 17 acres.
Rendering of the Grand Entrance and Ramp: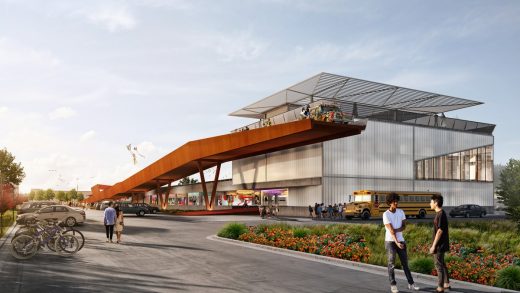 Executive Director Tommy Ralph Pace, who recently joined the Orange Show last December after serving as the Deputy Director of the ICA Miami, comments: "We preserve and promote three of our city's largest cultural monuments, and have helped put Houston on the map as one of the world's most important creative cities. With this expansion, we'll be able to bring the community together in an entirely new way. We want to encourage visitors not only to see the art, but to participate, make, and engage with it; this experiential environment differentiates the Orange Show from other museums or gallery spaces."
Rendering of the Orange Show Monument: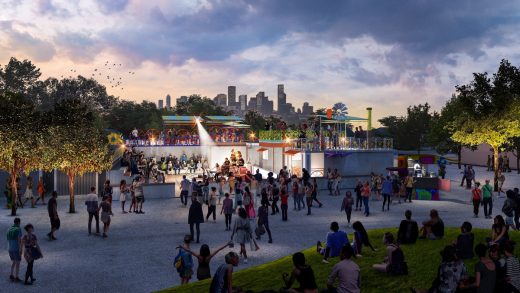 THE HISTORY:
The Orange Show Center for Visionary Art takes its name from The Orange Show Monument––a monumental work of handmade architecture located in Houston's East End. Built single-handedly from 1956 until its completion in 1979 by the late Jefferson Davis McKissack, a Houston postal worker, the iconic folk-art environment was added to the National Register of Historic Places in 2006. Following McKissack's death in 1980, Houston's leading arts patrons and renowned collector of contemporary, outsider, self-taught and visionary art, Marilyn Oshman formed a foundation to preserve the visionary art site; the founding donors represent a diverse cross-section of Houston, including art collector Dominique de Menil, Houston arts patron Nina Cullinan, and Billy Gibbons of legendary Texas rock band ZZ Top. The programming and preservation of The Orange Show Monument laid the foundation for OSCVA's mission: to activate the community to identify and honor the artist that exists in everyone.
Orange Show Monument, Houston, Texas, USA: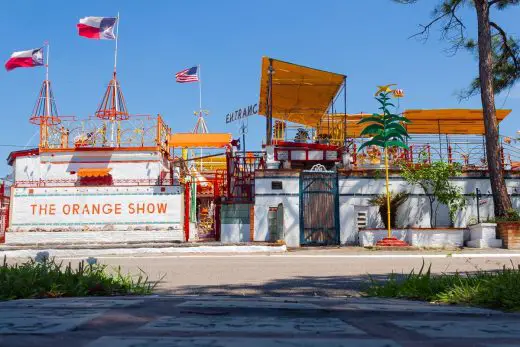 Now a 40-year-old non-profit, OSCVA has grown to own and operate additional visionary environments, including The Beer Can House, created by local John Milkovisch in 1968, who over a 20-year period transformed his home and yard into a unique work of art by covering it with over 50,000 beer cans; and Smither Park, a collaboratively created mosaic park with more than 300 local and regional artists and volunteers. In addition to the preservation of these sites, OSCVA proudly produces the world-renowned Houston Art Car Parade, the city's largest free cultural event that features 250 art cars from all over North America. Enjoyed by an audience of over a quarter of a million people annually and created by the general public as well as renowned artists, the parade entries include anything on wheels, from decorated cars, bicycles and unicycles to lawnmowers, and go-carts that have been transformed into kinetic sculptures.
The Beer Can House, Houston, Texas, USA: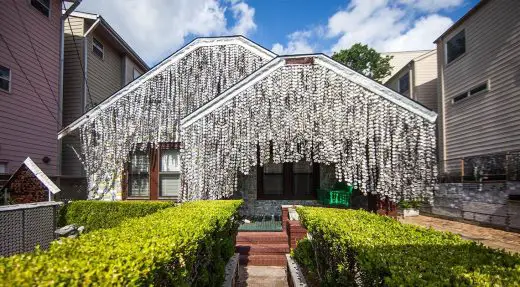 Curator Pete Gershon comments: "From the beginning, the Orange Show has been a place for people to savor the shared experience and enjoy what makes Houston different from every other city in the world. The art cars are only one example of the incredible individualism and imagination we celebrate. We're interested in ecstatic expressions of the human spirit by voices that are often marginalized, and using this art to build community. As we grow and expand, we look forward to exploring along with our visitors a space where innovative and interactive contemporary art and the work of self-trained visionary environment-builders intersect."
Rendering of an Interactive Exhibition in the Warehouse: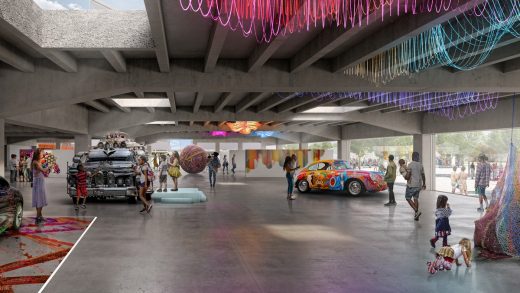 Tommy Ralph Pace continues: "The energy of the expansion is focused on activating community involvement with the creative process. We believe in the power of radical self-expression, and want to reimagine the way visitors approach contemporary art by stepping away from the traditional museum spaces and challenge and redefine our ideas about what constitutes fine art, and who it can come from."
John Milkovisch in front of his home, The Beer Can House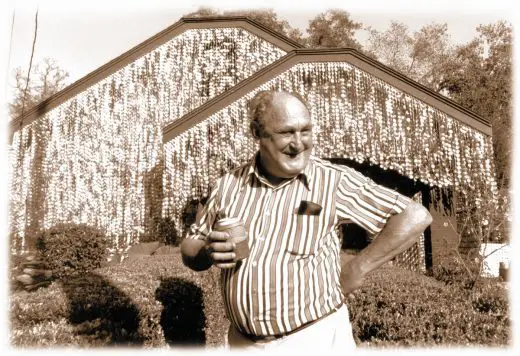 photo : Janice Rubin. Courtesy of the Orange Show Center for Visionary Art
THE EXPANSION:
Adjacent to the existing campus comprising the Orange Show Monument and Smither Park, OSCVA will transform a former industrial palette warehouse into a world-class, flexible performance and exhibition space which will offer extensive possibilities for exhibitions, programs, and offices as well as a comprehensive visionary art library and archive, and spaces for education and events. Historic and otherwise notable Art Cars—previously seen only during the parade—will now have a year-round home where they can be activated and interpreted.
The Fruitmobile at the Art Car Parade: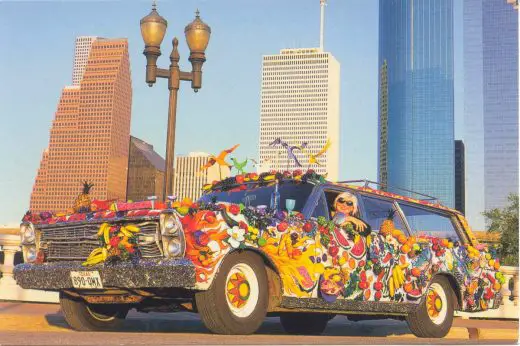 One of the most significant architectural features is an 800-foot-long ramp that will run through the entire campus, providing new ways to engage with the buildings and art cars while offering a destination for a promenade for visitors. The ramp will be activated by guests and add additional exhibition space for Art Cars while also providing infrastructure to support events such as restrooms, service counters, and shaded viewing areas. Acting as a central spine, the ramp creates a link to the open workshop powered by solar energy where visitors will become creators. Visitors will have the opportunity to engage directly with the various public, open-air programs OSCVA will offer.
Orange Show Monument, Houston, TX: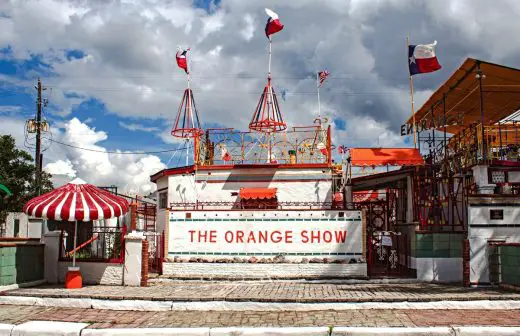 Smither Park will be expanded with a new Mosaic Alley running alongside its perimeter, nearly doubling the amount of public artwork found in the park, where artists and community members alike are encouraged to participate in the evolving visionary environment. The contributions will honor OSCVA's commitment to sustainability and recycling by inviting the public to engage with and explore the reuse and repurposing of materials like broken ceramic, bottle caps, tiles, and seashells.
An Art Car at the Art Car Parade: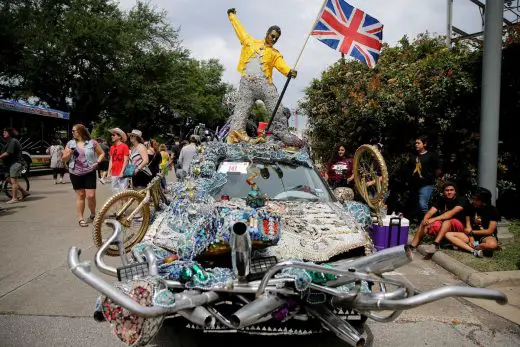 The flexible landscape of the expansion will include the manipulation of the ground plane to create a natural elevated viewing platform that increases the audience capacity of the Orange Show Monument, which creator Jeff McKissack always intended to be a site activated by the community, featuring two stages and a 200 tractor-seat "amphitheater." Over the past 40 years, it has become a memorable venue for some of Houston's best and most eclectic cultural performances. Each year, OSCVA presents a Fall & Spring Performance Series and draws a diverse group of art supporters looking for innovative entertainment opportunities. Notable past performances have included Daniel Johnston, Dirty Projectors, Devendra Banhart, Bonnie "Prince" Billy, and Joanna Newsom.
John Milkovisch and his wife, Mary Milkovisch, in front of their home, The Beer Can House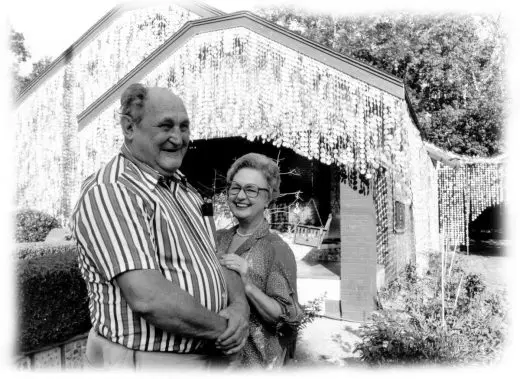 photo : Janice Rubin. Courtesy of the Orange Show Center for Visionary Art
The expansion integrates into the adjacent Fonde Park, allowing OSCVA to capitalize on the 9 acres of green space and connect to The Bayou Greenways trail for bicyclists. OSCVA will revitalize the park with community-driven programming, featuring a 70-foot-tall sculpture by Bob "Daddy-O" Wade, a legendary Texas artist that sits firmly between contemporary, folk, and self-taught art.
Architect Rob Rogers comments, "The expansion, once completed, will simultaneously advance OSCVA's accessibility and mission to the public and honor the traditions and history of the organization. At the heart of the various expansion lies a commitment to sustainability, accessibility, and civic engagement. The future of the OSCVA encourages exploration and innovation; it serves the community through art by providing a programmed built environment that ignites the artist in everyone."
Rendering of the expanded Mosaic Alley: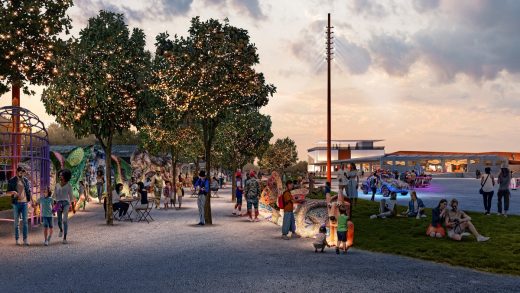 ABOUT THE ORANGE SHOW CENTER FOR VISIONARY ART
The Orange Show Center for Visionary Art preserves, promotes, and documents visionary art environments, provides opportunities for the expression of personal artistic vision, and creates a community where that expression is valued. We produce year-long programming that fulfills our mission and provides opportunities for the exploration and education of local folk and visionary art.
Portrait of Tommy Ralph Pace: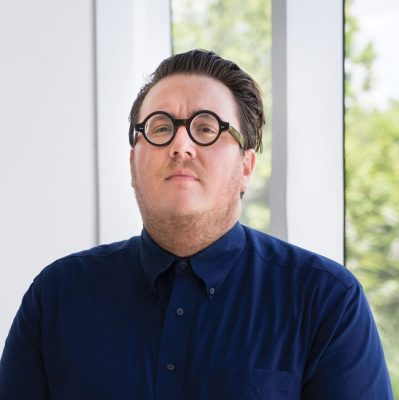 photo : Xavier Lujan
The Orange Show Center for Visionary Art is a publicly funded non-profit 501(c)3 organization. Funding is provided in part by grants from The City of Houston through the Houston Arts Alliance, Texas Commission on the Arts, The Brown Foundation, Houston Endowment, Wortham Foundation, Silver Eagle Distributors, as well as private contributions, in-kind support, and volunteer assistance.
www.orangeshow.org
Rendering of the Workshop, an exploratory space equipped to host workshops, classes, makerspace, and learning events: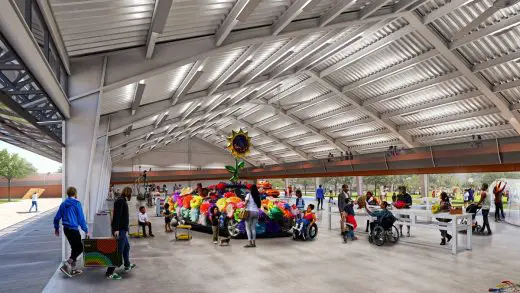 ABOUT ROGERS PARTNERS
ROGERS PARTNERS Architects+Urban Designers is a studio of forty architects, urban designers, and landscape architects. Rogers Partners engages the world of design with the creativity and rigor for which Founding Partner, Rob Rogers, FAIA, and his teams have been recognized, and explores broader architectural concerns in the public realm.
We believe that great design engages all disciplines and that the spaces we create are as important as its buildings and forms. We embrace the impact of small things, understand that much of what we do you don't see and make big things happen by careful attention.
Our clients across the country and abroad include academic, cultural, and civic institutions and agencies, developers, economic development entities, planning, and housing authorities, and private businesses. Our projects have won more than 85 design and industry awards from peer and client groups and have been included in exhibitions and publications internationally.
www.rogersarchitects.com
Orange Show Center for Visionary Art, Houston images / information received 191121
Location: Houston, Texas, USA
Houston Architecture
New Houston Architectural Designs
Houston Buildings



image from the video © AERIAL FUTURES
Houston Endowment International Design Competition News
Houston Endowment International Design Competition News
Museum of Fine Arts Houston Expansion
Architects Shortlist – Steven Holl Architects win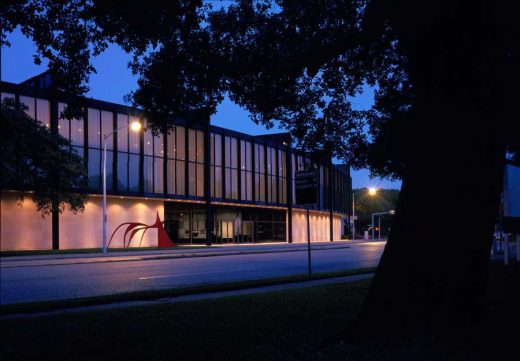 photo © MFAH
Museum of Fine Arts Houston Expansion
Houston Ballet
Design: Gensler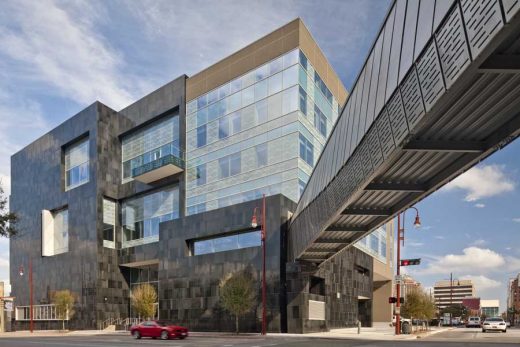 image : Nic Lehoux
Houston Ballet Building
Rice University Dormitories – North College redevelopment
Design: Hopkins Architects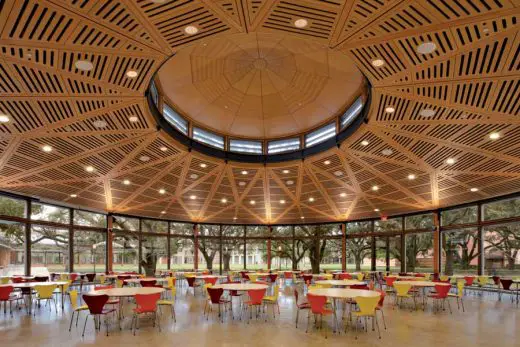 photo © Robert Benson
North College Rice University
Contemporary Texas Architectural Designs
Comments / photos for the Orange Show Center for Visionary Art, Houston, Texas page welcome