McNay Art Museum, San Antonio Building, Texas Museum of Modern Art, Architecture, Architect
McNay Art Museum, San Antonio : Museum of Modern Art Texas
McNay Art Museum Building, TX, USA, design by Jean-Paul Viguier Architect
Jun 20, 2011
McNay Art Museum San Antonio
First Museum of Modern Art in Texas
Jane and Arthur Stieren Center for Exhibitions
Date built: 2008
Design: Jean-Paul Viguier
McNay Art Museum
Dates built:1920s / 1954 opening
Design: Marion Koogler McNay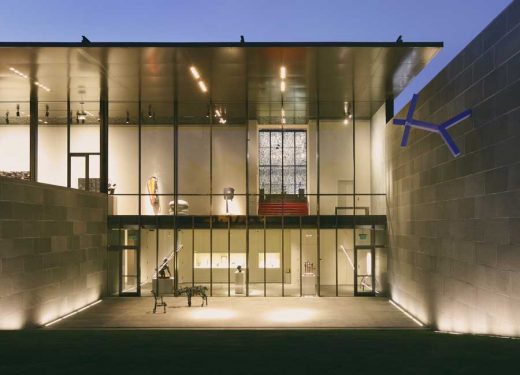 photo : Jeff Goldberg / ESTO
McNay Art Museum Event
A Mad Men Night with George Nelson
Even if your hourglass waist deserted you long ago and you've never smoked, you'll want to join the festivities at the McNay Art Museum's Mad Men Night with George Nelson on Wednesday, June 22, from 6:00 to 9:00 pm. Billed as Lecture and Libation, this first public event for the exhibition George Nelson: Architect, Writer, Designer, Teacher revisits the heyday of American modernism and celebrates the work of an American design legend.
Jane and Arthur Stieren Center for Exhibitions design by Jean-Paul Viguier:
So, gentlemen, scare up a slender tie or a fedora hat. Ladies, drag out a chartreuse scarf. You'll feel right at home among the clocks, Bubble lamps, Coconut chair, and Marshmallow sofa in this extraordinary showing of Nelson's designs, many of which he created as design director for the Herman Miller furniture company in Zeeland, Michigan.
The evening begins with a talk by Robert Cox, Workplace Strategist for Herman Miller. He shares audiotapes of Nelson from the Herman Miller archives and explores Nelson's impact on designers and architects. Following the lecture, enjoy a selection of cocktails and hors d'oeuvres prepared by Mike Bomberg's Spice of Life Catering. You might even snag a cigarette (candy) to enjoy with your martini.
This Lecture and Libation carries an added benefit for architects and designers who can receive continuing professional education (CEU) credit for attending. Educators also can receive one hour of CPE credit.
The cost for advance tickets to A Mad Men Night with George Nelson is $15 for McNay, AIA, ASID, and IIDA members; $20 for nonmembers. Tickets at the door are $25 each. Advance ticket deadline is Friday, June 17. Proceeds from this event benefit the McNay Art Museum. To reserve advance tickets, please have your credit card ready when you call 210.805.1768 or email [email protected].
Jane and Arthur Stieren Center for Exhibitions design by Jean-Paul Viguier:
ABOUT THE EXHIBITION
Next time you settle down in your family room, remember to thank George Nelson (1908-1986). When Nelson coauthored the book Tomorrow's House in 1945, he described both the now familiar family gathering spot, and the "storagewall," solving specific design challenges for a more informal way of living. George Nelson: Architect, Writer, Designer, Teacher celebrates this iconic American designer whose ideas yielded numerous classics in American furniture and interior design.
Organized by the Vitra Design Museum in Germany, this first comprehensive retrospective of Nelson's work incorporates over 120 three dimensional objects, including benches, cabinets, chairs, clocks, desks, and lamps, as well as historical drawings, photographs, architectural models, and films.
One of the most influential figures in mid to late 20th-century American design, Yale-educated Nelson was a widely respected writer and publicist, lecturer, exhibition curator, and a passionate photographer. After D. J. DePree, president of furniture manufacturer Herman Miller, read Tomorrow's House in 1945, he hired George Nelson first to create a line of furniture and eventually as the company's design director.
Nelson's own New York firm, opened in 1947, produced furnishings and interior designs that became modern classics, including the Coconut Chair (1956), the Marshmallow Sofa (1956), the Ball Clock (1947) and the Bubble Lamps (1952 onwards).
At Herman Miller, Nelson greatly influenced the product line and public image of the company for over two decades, revolutionizing American design and collaborating with modernist luminaries such as Harry Bertoia, Ray and Charles Eames, and Isamu Noguchi, to produce the most enduring pieces of the late 1940s and 1950s.
In addition, Nelson set standards for all of Herman Miller's activities, pioneering the areas of business communication and corporate image management. Characterized by classic simplicity and functionality, these designs remain deservedly popular today.
An exhibition of the Vitra Design Museum, Weil am Rhein, Germany. This exhibition has been generously sponsored by Herman Miller
Lead funding at the McNay is most generously given by Jane and Bill Lacy.
Additional funding is provided by Ford Powell & Carson Architects and Planners, the Paratus Group, The Whiting-Turner Contracting Company, the Director's Circle, and the Host Committee.
Additional support is provided by Jean-Paul Viguier & Associates architects Paris.
Information regarding the latest building on the site:
Extension of the McNay Art Museum
San Antonio, Texas, USA
2008
Address:
6000 North New Braunfels
P.O. Box 6069
San Antonio, Texas 78209-0069
This extension to the McNay Museum comprises construction of a new 4 800 m2 wing destined to temporary exhibitions.
The new wing has two levels and by its lightness creates synergy between interior space and the sloping external garden. Mobile screens are used inside to structure space in the prolongation of the garden.
Walls outside delimit terraces and ponds for artwork installations, with plantations of trees and a sculpture garden.
The new wing features a flat glass roof that filters daylight into interior spaces, controlling the intensity of light, which is always variable in San Antonio.
The roof extends in a wide cantilever over terraces and garden, providing shade and keeping sunlight from falling directly onto the façade.
Materials include bronze-coloured aluminium, grey-green slate, clear glass and, inside, a parquet floor in redwood. A new parking lot laid out at the bottom of the site, near the road, enhances the approach itinerary for visitors.
Existing facilities are renovated to facilitate display of large objects and provide spaces suitable for contemporary art installations. The idea is to open the Museum to new exhibition processes and fill out the existing galleries.
In October 2010 this project won the Design Award of Merit by the Society of American Registered Architects.
McNay Art Museum Extension – Building Information
Program : Extension of the existing museum with the construction of a new wing and an auditorium
Net Usable Floorspace : 4,800 m2
Cost of works : 22 M euros excluding tax
Scope of works : Full mission
Client : McNay Art Museum
Client representative : par.a.tus group
Start of works : 2002
Delivery of completed works : 2008
Competition : Winner in 2002
Architect : JEAN-PAUL VIGUIER et Associés – Blin VOSE-TRINCAL (Project Manager), Giovanna CHIMERI, Céline LEMERCIER, Pierre-Henri CAZES, Claire MAGUIN, Cédric NIESER, Kari SILLOWAY
Architects of record : FORD, POWELL & CARSON, INC
Technical studies : Pape-Dawson Engineers
Fluids : ALTIERI, SEBOR, WIEBER, LLC
Lighting : ARUPLIGHTING | CSTB
Structural engineers : Robert Silman Associates | Arcora
Facade : FRONT
Landscapers : TBG Partners
3D-Imaging : Atelier CONNOLY CLEARY
The McNay
Built by artist and educator Marion Koogler McNay in the 1920s, the Spanish Colonial Revival-style residence opened as Texas's first museum of modern art in 1954. Today more than 100,000 visitors a year enjoy works by modern masters including Paul Gauguin, Vincent van Gogh, Edward Hopper, Georgia O'Keeffe, Pablo Picasso, Jackson Pollock, and Pierre-Auguste Renoir. In June 2008, the museum opened the 45,000-square-foot Jane and Arthur Stieren Center for Exhibitions designed by internationally renowned French architect Jean-Paul Viguier. Nearly doubling the McNay's exhibition space, the Stieren Center includes three separate outdoor sculpture galleries.
Tue-Fri 10am – 4pm
Thu 10am – 9pm
Sat 10am – 5pm
Sun noon – 5pm
The McNay is closed on Mondays, New Year's Day, Independence Day, Thanksgiving, and Christmas.
General Admission
This exhibition is included in the general admission ticket price.
McNay members, free; Children 12 and under, free; Adults, $8; Students 12 and under, $5;
Seniors (65+), $5; Active Military, $5.
An extra admission charge of $5 applies during special exhibitions. There is no charge for general admission on Thursday nights and on the first Sunday of the month. At these times, the extra admission charge applies only for entrance to the special exhibition.
McNay Art Museum architect : Jean-Paul Viguier – Jane and Arthur Stieren Center for Exhibitions
Location: McNay Art Museum, 6000 N New Braunfels Ave, San Antonio, Texas, USA
New Architecture in San Antonio
Contemporary Architecture in San Antonio, TX
House 334 in San Antonio
Design: Craig McMahon Architects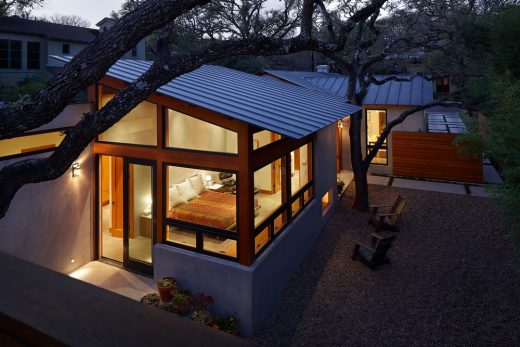 photo : Dror Baldinger
New House in San Antonio
Tesoro World Headquarters
Design: Gensler, Architects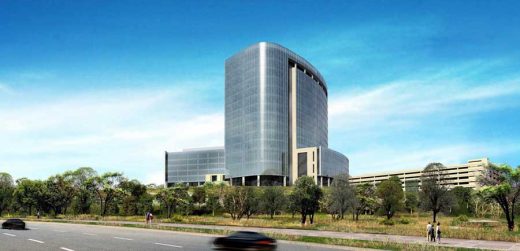 image : Gensler
Tesoro World Headquarters San Antonio Building
Ruby City, A New Contemporary Art Center
Design: Adjaye Associates / Alamo Architects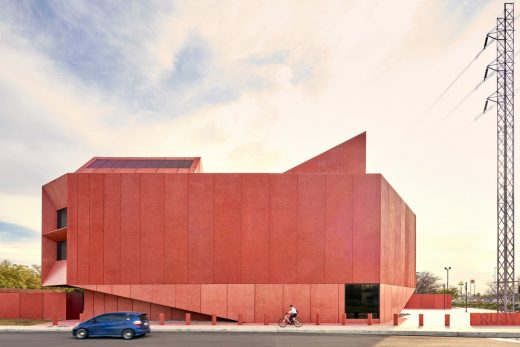 photo © Dror Baldinger. Courtesy of Ruby City and Adjaye Associates
Ruby City Contemporary Art Center in San Antonio
Texas Architecture – Selection
Dallas Center for Performing Arts – The Dee and Charles Wyly Theatre
Joshua Prince-Ramus / Rem Koolhaas
Wyly Theatre – AT&T Performing Arts Center
Houston Ballet
Marshall Strabala, Gensler
Houston Ballet
Margaret Hunt Hill Bridge, Dallas
Santiago Calatrava
Margaret Hunt Hill Bridge
Perot Museum of Nature & Science, Dallas
Morphosis
Perot Museum of Nature & Science
Winspear Opera House, Dallas
Foster + Partners
Texan Opera House
San Antonio Building:
Tesoro World Headquarters
Marshall Strabala of Gensler
Tesoro World Headquarters
Website: San Antonio, Texas
Comments / photos for the McNay Art Museum Texas page welcome
Website: www.mcnayart.org