World's Most Impressive Media Facades Designs, Art and Architecture Developments Images, Architects
World's Most Impressive Media Facades
Art and Architecture Developments across the Globe: Images + Links
1 Aug 2013
World's Best Media Facades
Media Facades: Multi-faceted 21st-century communicators
Hamburg, Germany, July 30, 2013 – Media facades have become a firm feature of the 21st century metropolis, increasingly bathing gray cities in an imposing play of light and color. What once began with lurid neon advertising hoardings in New York's Times Square has grown beyond its initial purpose as a pure advertising medium to present itself today as a conveyor of artistic and social messages, transforming buildings into giant screens. There are now even architecture practices specializing in "mediatecture".
Allianz Arena – Munich Stadium, Munich, Germany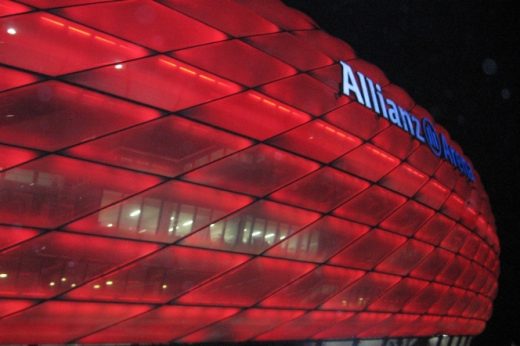 photo : Jeffrey Herschel
Centro de Creatión Contemporánea en Córdoba, Spain



photo : Robert Halbe
Grand Lisboa Hotel and Casino, Macau, China



photo : Michiel van Dijk
A list of the world's most impressive media facades has now been compiled by Emporis (www.emporis.com), the international provider of building data. The selection ranges from large-scale installations, to programmable facades, to the luminescent outer skin of enormous soccer stadiums.
One of the leading developers of media facades is the Berlin, Germany-based architect and artist collective realities:united. For ILUMA, an entertainment center in Singapore, the practice collaborated with WOHA Architects to develop the Crystal Mesh facade. By day, this 5,000 square meter facade wraps the building in a glittering cloak of large, sparkling crystals, while transforming the complex at night into a giant light sculpture on which video animations can be watched.
ILUMA, Singapore



photo : realities:united
Kunsthaus Graz, Austria



photo : Landesmuseum Joanneum
National Library of Belarus, Minsk



photo : Jonathan Wolfson
The magic of the facades even extends to them being able to react to external influences. The Toyo Ito-designed Tower of Winds, for instance, provides a kind of reflection of the atmosphere: the tower reacts to weather conditions by translating climatic data such as light, wind and temperature into a play of colors made up of LED dots.
Port Authority Bus Terminal, New York City, NY, USA



photo : Hudconja
Post Tower, Germany



photo : Deutsche Post AG
Tower of Winds, Japan


photo : Wiiii
That an imposing lighting installation does not necessarily lead to soaring electricity costs, is demonstrated by the GreenPix project, the world's largest color LED display, which according to its architects is fully self-sustaining. Solar energy collected from photovoltaic cells during the day is used to light up the LED screen at night.
Xicui Entertainment Complex, Beijing, China



photo : Zhou Ruogu Architecture Photography
YAS Hotel, Abu Dhabi, UAE



photo : Deutsche Post AG
Today, media facades are a whole lot more than outsized screens on building walls. Pioneers such as Jan Edler of realities:united, are convinced that the new "mediatectures" will play ever more of a role in the future: "Interest in 'media facades' appears to be on the increase. We view media surfaces as forerunners of buildings that can actively change and adapt themselves. In this respect, the future potential of such developments is not to be underestimated."
World's Most Impressive Media Facades information / images received from Emporis GmbH
Emporis – external link
World Skyscrapers
World Skyscrapers



photo © Tom Ravenscroft
World Buildings



picture : MIR
Media Facades
La Vitrine Culturelle, Montreal, Canada
Design: Moment Factory



photograph : Moment Factory
N Building, Tokyo, Japan
Design: TERADADESIGN ARCHITECTS



photo : Yuki OMORI
Major World Buildings
World's Tallest Hotel Building : Burj al Arab tower



image from architect
World's Fastest Elevators – Skyscraper Buildings News



photo : Daniel Shih
Skyscraper images from across the world welcome
Comments / photos for the World's Most Impressive Media Facades page welcome