Venice Architecture Biennale Turkey Pavilion 2020, Exhibition in Italy, Design
Venice Biennale Turkey Pavilion 2020
Turkish Architecture Exhibition in Italy – Curators, Dates, News
21 Sep 2019
La Biennale di Venezia Pavilion of Turkey 2020
Pavilion of Turkey at the 17th International Architecture Exhibition
The Pavilion Of Turkey Announces The Project To Be Exhibited At The Biennale Architettura 2020
One of the world's leading architecture events, the 17th International Architecture Exhibition,
La Biennale di Venezia will take place on 23 May–29 November 2020. Following an open-call and a two-stage evaluation, the Selection Committee has determined the project that will be exhibited at the Pavilion of Turkey, under the coordination of the Istanbul Foundation for Culture and Arts (İKSV).
Venice Biennale Turkey Pavilion 2020 curator Neyran Turan: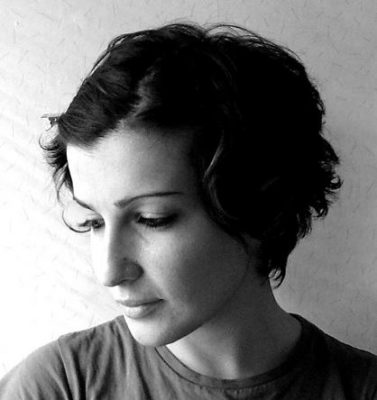 photo courtesy of İKSV
Architecture as Measure, curated by Neyran Turan, will be presented at the Pavilion of Turkey in the 17th International Architecture Exhibition, La Biennale di Venezia.
Betsy Clifton, E. Ece Emanetoğlu, Ian Erickson, Samet Mor and Melis Uğurlu are taking part as curatorial assistants in the project.
E. Ece Emanetoğlu: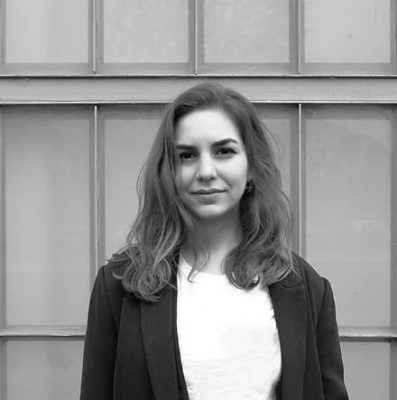 Melis Uğurlu: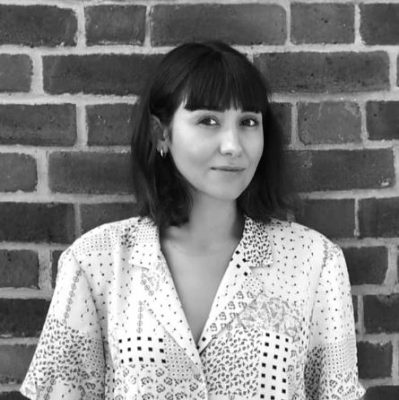 Betsy Clifton: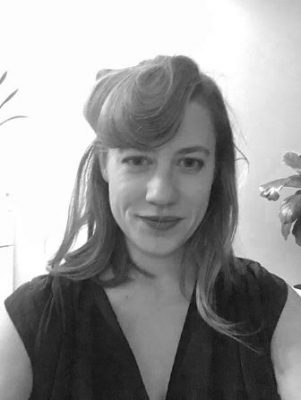 Ian Erickson: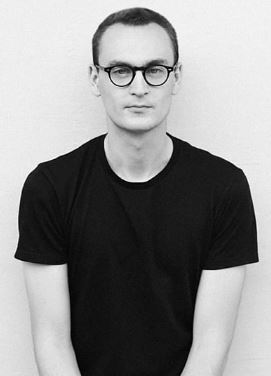 Samet Mo: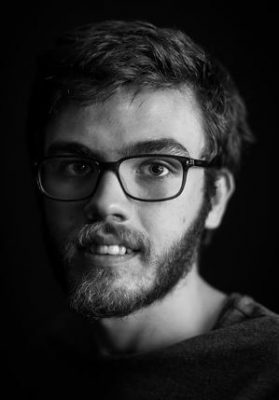 Architecture as Measure seeks to elaborate on what architecture could contribute towards a new imagination of our environment beyond environmentalism and technological determinism in light of the current political crisis around climate change. Rather than limiting the role of climate change for design as a problem to solve, the project questions whether we can speculate on architecture as a measure through which the environment might be imagined.
By providing an alternative perspective on the seemingly mundane and quotidian practices that surround and support architectural construction in Turkey, the project proposes another kind of architectural environmental imagination.
The Selection Committee chose Architecture as Measure among the applications made in response to an open-call, after a series of evaluation meetings. The Committee's members are Aslı Çiçek, Ippolito Pestellini Laparelli, Prof. Dr. Ayşen Savaş, Han Tümertekin and Ertuğ Uçar.
The application process ended on 14 August, leaving 44 eligible projects to Committee's evaluation. Architecture as Measure was chosen among the 5 projects that made their way to the final round.
The five projects that passed to the second stage of the selection process all had different and unique positive qualities. For representing Turkey at the Biennnale Architettura 2020, the Committee selected Architecture as Measure, a project by Neyran Turan and her team due to its fresh proposals for the relationship between climate change and architecture, its original structure, and for its approach to contemporary discussions from an architectural perspective.
Details regarding the Pavilion of Turkey at the 17th International Architecture Exhibition, La Biennale di Venezia and Architecture as Measure project will be announced in 2020.
Pavilion of Turkey at the 17th International Architecture Exhibition, La Biennale di Venezia
The Pavilion of Turkey exhibition is coordinated by İKSV. The Pavilion of Turkey opened at the 14th International Architecture Exhibition, La Biennale di Venezia in 2014 for the first time, upon a 20-year allotment of the Arsenale with İKSV's initiation and the contribution of 21 supporters.
For detailed information: https://www.iksv.org/en
Neyran Turan, curator
Neyran Turan is an Assistant Professor at the University of California-Berkeley and a partner at NEMESTUDIO, an architectural office that has been recognized with several awards, most recently the 2016 Architectural League New York Prize for Young Architects, multiple citations at the 2016, 2017 and 2018 The Architects' Newspaper Best of Design Awards, a Notable Award at the 2017 Core 77 Design Awards, the 2019 ACSA Faculty Design Award, and multiple Graham Foundation for Advanced Studies in the Fine Arts Awards.
NEMESTUDIO's work, ranging from installations to buildings and landscapes, has been widely published and exhibited internationally at the Seoul Biennale for Architecture and Urbanism, Storefront Art and Architecture Gallery, Architecture and Design Museum in Los Angeles, Yerba Buena Center for the Arts in San Francisco, Druker Design Gallery of Harvard University Graduate School of Design, Parsons New School of Design Gallery in New York, Pratt Manhattan Gallery in New York, Yale School of Architecture Gallery, Wurster Gallery in Berkeley, Chicago Architecture Biennial, SALT in Istanbul, and the 3rd Istanbul Design Biennial "Are We Human," among other venues.
Turan's work focuses on alternative forms of environmental imagination within architecture and urbanism and their capacity to prompt new aesthetic and political trajectories for the design disciplines. Turan is the founding chief-editor of the Harvard University Graduate School of Design journal New Geographies and was the editor-in-chief of the first two volumes of the journal.
Some of her recent writings were included in Perspecta (MIT Press), AD Magazine: Re-imagining the Avantgarde, Are We Human?, and Climates: Architecture and the Planetary Imaginary. Her new book titled Architecture as Measure (2019), which has been awarded by the Graham Foundation, will be released by ACTAR Publishers in Fall 2019.
Ece Emanetoğlu, curatorial assistant
Ece Emanetoğlu is an architectural designer and researcher based in New York. She recently received her Post-Professional Master of Architecture degree from Princeton University, where she was a recipient of the Princeton University Fellowship. Prior to her studies in the United States, she received her Bachelor of Architecture from Istanbul Bilgi University in 2016, graduating with High Honors. She was one of the co-curators for the 2019 Princeton exhibition "Too Fast Too Slow: 11 Architectural Moves."

While at Princeton, she also co-founded AWP (Agency for Work and Play), a collective research collaboration. She participated in the installation and design for the 2018 Liquid La Habana Exhibition curated by Beatriz Colomina, Ivan L. Munuera, and Bart-Jan Polman. At the 16th Venice Biennale, her undergraduate group project "Carapace" pavilion was selected to be exhibited by Istanbul Bilgi University. Ece has worked with Hiroshi Nakamura and NAP Architects on projects at various scales from a tree-house to a modern art museum in Japan.
Melis Uğurlu, curatorial assistant
Melis Uğurlu is an architectural designer, writer, editor, and researcher. She is currently based in London and runs her own architecture and design studio. Melis received her Bachelor of Architecture degree from Rice University and has previously worked as an architectural designer in New York, Houston, and Istanbul. She was an editor at the New York based architectural journal CLOG and an editor-in-chief at PLAT Journal. Her work and writings have been published in XXI Magazine, PLAT, and Architizer among others. Melis is originally from Istanbul, Turkey.
Betsy Clifton, curatorial assistant
Betsy Clifton is an architectural and graphic designer working in New York and Berlin. She holds a Master of Architecture from the University of California, Berkeley and a Bachelor in Fine Arts from the School of Visual Arts, New York. She has recently collaborated with Sam Chermayeff Office, James Wines of SITE architects, and Norman Kelley (Chicago/New York) on international exhibitions and housing projects.
In 2018, together with architect Sam Chermayeff and artist Jean-Pascal Flavien, she received a grant to found "A Weak Office"– a subversive architectural office focused on leveraging the contingencies of architectural practice through a series of designed meetings. Betsy has designed over twenty published books for clients in architecture, theory, art, and music. She has been an invited architectural critic at Columbia University GSAPP, University of Pennsylvania, Pratt, and UC Berkeley.
Ian Erickson, curatorial assistant
Ian Erickson is a San Francisco based architectural designer and researcher who has collaborated with NEMESTUDIO, modem, and The Open Workshop. He is co-editor of the forthcoming Waterbodies and his writing has been published in outlets such as Cambridge's Scroope, Rice University's PLAT, UCLA's POOL, and Vestoj: The Platform for Critical Thinking on Fashion. His co-authored research on smart cities, which will be exhibited at the 2019 Shenzhen Biennale of Urbanism and Architecture and he has presented solo research internationally at conferences organized by the UCLA and the Bartlett UCL. He received a Bachelor of Architecture and a Certificate in New Media from University of California Berkeley where he was awarded the Departmental Citation in Architecture.
Samet Mor, curatorial assistant
Same Mor is an architect and also instructor at Istanbul Bilgi University. He received his Bachelor of Architecture degree at the Middle East Technical University in Ankara and his Master of Architecture from Istanbul Bilgi University. Upon his graduation, he was granted awards in national architectural competitions, including Archiprix Turkey. Moreover, some of these awards were adjudged by the Chamber of Architects for promoting the politically negotiable topics on architecture; like A.O.Çiftiliği and the Saraçoğlu neighborhood transformation.
Throughout his master education, his research focused on Post-war art and architecture, especially on memorials and monuments. His writings are published on various architectural and non-architectural academic journals, magazines and books. During his education and afterwards, he worked in multiple architectural firms. Today, in addition to being a practicing architect, he continues his research studies as a Ph.D. Candidate in Istanbul Technical University with the thesis titled 'Dionysiac Place and (Counter) Monuments'.
25 May 2018
La Biennale di Venezia Pavilion of Turkey 2018
Pavilion of Turkey at the 16th International Architecture Exhibition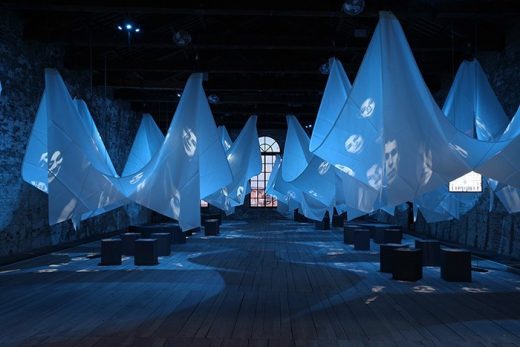 photo courtesy of İKSV
Venice Biennale Turkey Pavilion 2018
Photos : Emre Dorter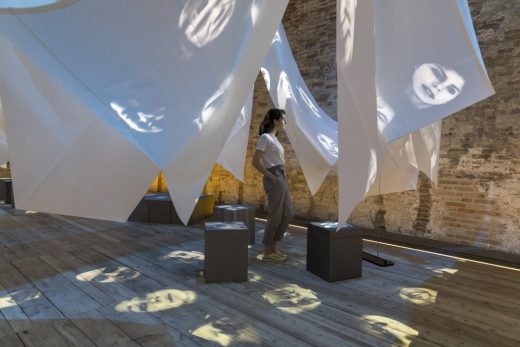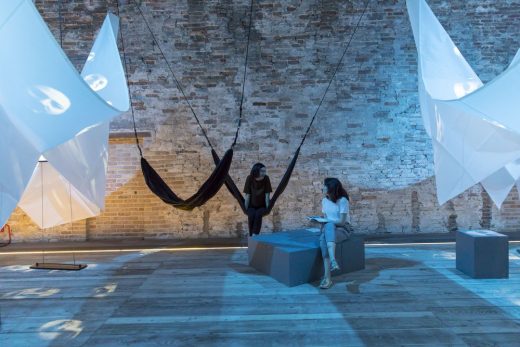 Pavilion of Turkey at Venice Biennale 2016
Location: Giardini della Biennale, Castello 1260, 30122 Venezia, Italia
Venice Architecture
Venice Architecture Designs – chronological list
Venice Architecture Tours by e-architect
Vatican Pavilion at the Venice Architecture Biennale
Architects: Foster + Partners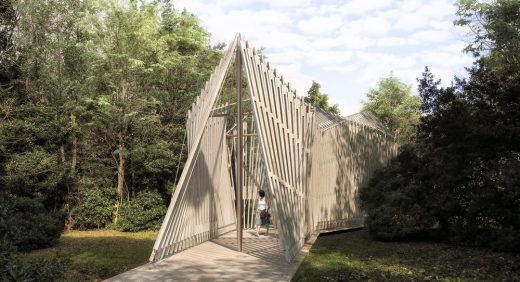 image courtesy of architects
Vatican Pavilion at the Venice Architecture Biennale
Venice Biennale Korean Pavilion 2018 by KECC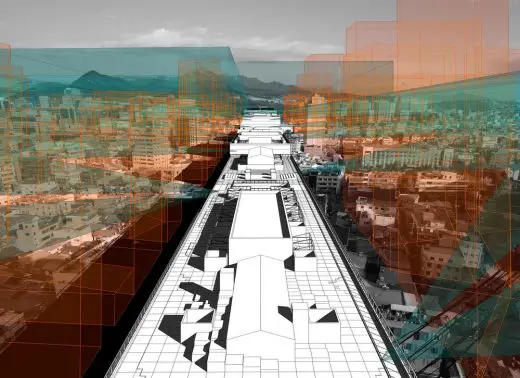 image © N.E.E.D. Architecture, Sungwoo Kim (N.E.E.D. Architecture)
Venice Biennale Korean Pavilion 2018
Venice Biennale Irish Pavilion 2018
Venice Biennale Irish Pavilion 2018
Pavilion of the Holy See at Venice Biennial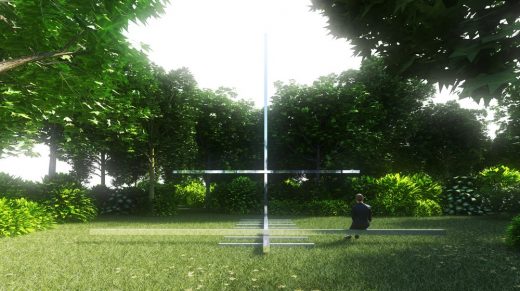 image courtesy of architects
Pavilion of the Holy See at Venice Biennial
British Pavilion at the 16th International Architecture Exhibition La Biennale di Venezia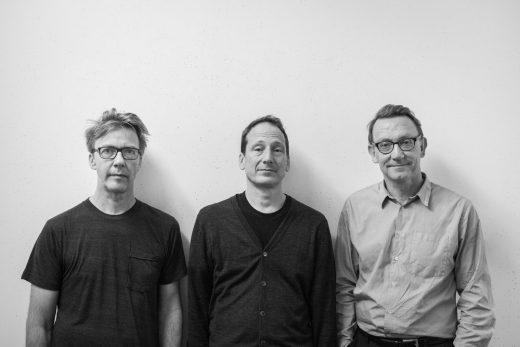 image courtesy of architects
British Pavilion Venice Biennale 2018 – Caruso St John Architects and artist Marcus Taylor
Venice Architecture Biennale – Review + Images
Website: La Biennale di Venezia
Comments / photos for the Venice Biennale 2020 Turkey Pavilion page welcome