Space Lab, University of Tokyo, Tokyo Building, Project, Photo, Japanese Design, Image
University of Tokyo Pavilion Design, Japan
Space Lab @ the University of Tokyo – design by Kohki Hiranuma Architect & Associates
18 Mar 2010
Space Lab the University of Tokyo
Design: Kohki Hiranuma Architect & Associates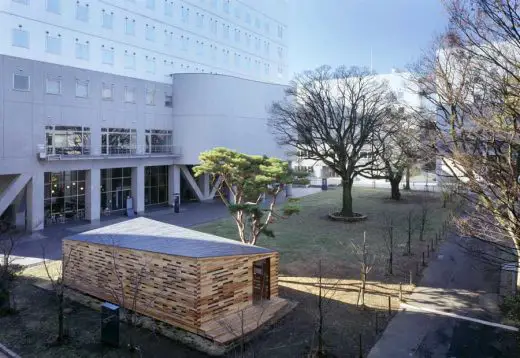 Thinned materials from forests are, now, an environmental issue as the result that human beings destroyed the balance of nature. Our trial realizes pavilion architecture only by using wasted thinned materials in experimental small scale. This "azumaya" (arbor or folly in English) architecture of today, consist of minimum required function and experimental space, shows the active and effective usage of the wasted thinned materials in forests that they are regarded as unsuitable materials for building because they are thin or bended.
Space Lab @ the University of Tokyo:





photos © Satoshi Shigeta
We use two types of cedar wood in sectional size, 38mm by 89mm and 51mm by 89mm, and two of each type is bolted in L shape to have a strength and quality. These two L shaped materials are accumulated having 13mm gap on each, forms the module of 89mm by 178mm sectional size and 300mm length. Accumulating with gaps and tightened by tie rod, body of the building is integrally assembled from the wall to the roof. The gap in the wall takes light as well as insulates the air when glass is inserted. This space created by novel construction system has sufficient strength by utilizing the light property of wood, and gaps on the homogeneous wall provide random lighting to the space. We believe that this novel acquired wooden space provides a variety of lighting expression in time to time and season to season.
This construction system is an embodiment of the result of four years study and experiment on strength such as internal shear stress and external bending stress. The system has a potential to be able to construct buildings in narrow space in the urban area without machinery, as well as to popularize a view of coming wooden structure.
The project is implemented at Tokyo university Komaba campus where is organized widely open for regional community. So that this "azumaya" architecture of today is planned to be used by students in various purpose as well as used as exhibition place to announce promotion of forestry operations. The place should not wear an image of a part of governed school, but be a park that exists naturally in the area with a less image of order or ruling of architecture. This is our aim to accomplish Space Architecture.
"A tree makes surroundings livery and bright." This is a differential character of the material. We utilized the character as much as possible. This "azumaya" architecture of today does not separate inside and outside, and is expected to be variably used for a promotion of domestic materials to just a resting space. And finally this architecture, which utilizes domestic thinned materials, shows one way of regeneration the balance of nature we have destroyed.
( Kohki Hiranuma )
"Space Lab" the University of Tokyo
Summary:
This project is called "Space Lab, the University of Tokyo". The building of this project is constructed by new method of construction using only wood, situated at The University (Komaba research campus)in Meguro, Tokyo. The project is implemented by the collaboration of Koshihara Institute, who is an associate professor of Institute of Industrial Science, the University of Tokyo, and Kohki Hiranuma, who is an architect.
And the building is constructed by Fujiki Koumuten that the company has been worked on many Japanese traditional wooden construction buildings. The project has given the material that is called "kishu-zai" from Wakayama prefecture. The size of the timber is 38mm by 89mm and 51mm by 89mm. They are accumulated to form the basic module. Reinforced concrete is not applied for the foundation of the building, but applied a continuous footing by wood blocks on consolidated crushed stones by rammer to help the earth breathing.
University of Tokyo Space Lab – Building Information
Place: KOMABA(ii) Research Campus, Institute of Industrial Science, the University of Tokyo, Universal Plaza, 4-6-1 KOMABA MEGURO-KU, TOKYO 153-8505, JAPAN
Main use: Laboratory, Exhibition, Rest house
Structure: Wooden construction (new method of wood block accumulation)
Foundation: continuous footing by wood block on consolidated crush stone
Storey: Single
The highest height: 3.32 m
High-spiritedness: 2.70 m
Total floor area: 47.39m2
Building area: 50.07m2
Process:
Design competition Period: Oct 2005 – Feb 2006
Research and development of construction period: Apr 2006 – Mar 2007
Basic design period: Oct 2006 – Mar 2007
Construction documentation peroid: Sep 2007 – Feb 2008
Construction peiod: Sep – Nov 2008
Planning: The University of Tokyo, Wakayama prefecture, Japan Housing and Wood Technology Center
Supporter: Forestry Agency, Ministry of Land, Infrastructure, Transport and Tourism
Construction: Fujiki koumuten
Co-supporter: Panasonic Corporation, Sanko Metal Industrial Company Ltd, Tamtec
Architect: Kohki Hiranuma / Kohki Hiranuma Architect & Associates
Joint research (Structure) : Mikio Koshihara / Institute of Industrial Science, the University of Tokyo Koshihara Laboratory
Kohki Hiranuma


photo © Nacasa & Partners Inc.
Space Lab @ the University of Tokyo images / information from Kohki Hiranuma Architect & Associates
Location: Institute of Industrial Science, the University of Tokyo, Universal Plaza, 4-6-1 KOMABA MEGURO-KU, TOKYO 153-8505
Tokyo Architecture
Tokyo Architecture Selection
Tokyo Architecture Designs – chronological list
Tokyo Building Designs – Selection
Leaf Chapel, Yamanashi, nr Tokyo
klein dytham architecture
Leaf Chapel Japan
Prada Store
Herzog and de Meuron
Prada Tokyo
Crystal brick house – housing
Atelier Tekuto
Tokyo housing
Japanese architect : Tadao Ando
Comments / photos for the Space Lab, University of Tokyo Architecture page welcome
Space Lab University of Tokyo Building