New Istropolis Bratislava Trnavské mýto, KCAP CITYFÖRSTER Building, Architecture Images
New Istropolis Bratislava
29 Apr 2021 + 26 May 2020
New Istropolis Bratislava Cultural District
Design: KCAP and CITYFÖRSTER
Location: Bratislava, Slovakia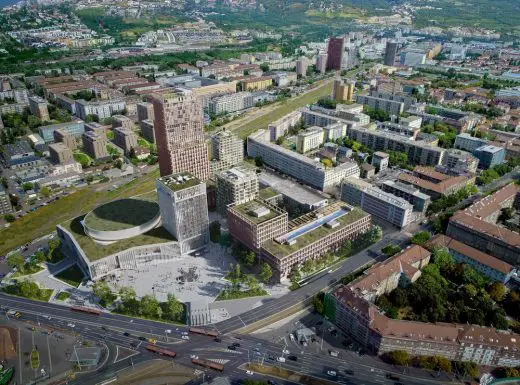 Rotterdam, April 29th, 2021 – After the public project, New Istropolis Bratislava, presentation earlier this month, KCAP and CITYFÖRSTER enter a new phase of designing the new cultural district for Bratislava, Slovakia with particular attention to a new creative identity. The quarter will be transformed into a contemporary car-free neighbourhood featuring a state-of-the-art concert and congress venue, a series of green and public spaces alongside places for living and working. It becomes a new centrality in Bratislava's urban system.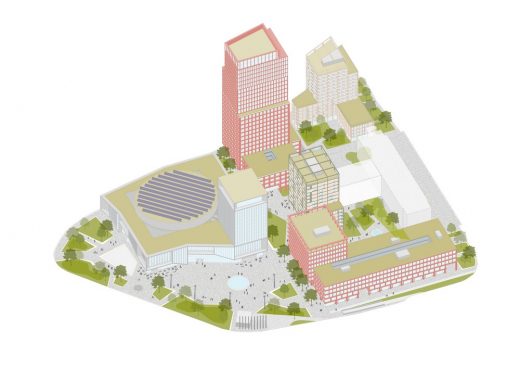 The Trnavské Mýto quarter in Bratislava is expected to undergo a fundamental change in the coming years. As winners of the international architectural competition held by site developer Immocap in 2019, the two architectural firms from Rotterdam, KCAP and CITYFÖRSTER elaborate the masterplan, architecture, and landscape design to enhance the quarter's original function as a cultural and social hub. Envisioned is a district where art, culture, and creativity will define a unique identity and form an integral part of everyday life. 'The project wants to create an inspiring meeting place of different art forms and styles, strengthened by outstanding installations that create a festive atmosphere for this new urban living room, where culture and daily life come together,' says Jeroen Dirckx, partner at KCAP.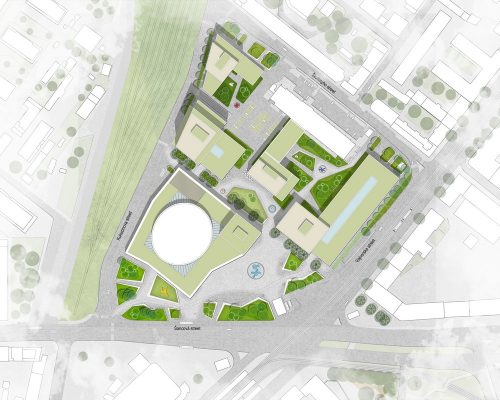 The 97.000 m² development connects culture, working, and living in an integrated ensemble, with the new multifunctional venue for concerts and conferences as the district's heart. Transforming the former location with a landmark building that opens to the city, New Istropolis is a highly adaptable cultural centre that can host a large variety of events, from rock concerts to classical music, sports or conferences. The ambitious architectural project was developed with renowned theatre and concert hall experts Charcoalblue for a perfect acoustic response, technical requirements, and cutting-edge innovations.
The planners conceived New Istropolis as a seamless extension of the city, an open 'living room' for all citizens of Bratislava, well connected to the neighbourhood. The rich collection of art, materials, and craftsmanship of the former Istropolis complex will be preserved and will find a second lease of life in the new building. That means the re-use of original artworks as well as the circular use of materials, such as the marble facade of the existing hall and the tropical timber paneling, which makes for a more sustainable building and has materiality rooted in its location. The ambition is to receive the new Slovakian energy standard A0 and LEED Certificate for the office buildings.
Underlining the mixed-use strategy for Trnavské Mýto, a 100 m high-rise office tower will host several possibilities for contemporary working environments. Different floor plan sizes (larger than 2.000 m2 in the low-rise and 1.000 m2 in the tower), atria, and outdoor terraces will guarantee flexibility for both concentrated and communicative work.
The office buildings will be complemented with high-quality urban residences. The generous floorplates will offer a mix of apartments from studios to 4-room family apartments and penthouses. Plenty of daylight, direct views to the Karpaty Mountains and the Bratislava Castle, and high-quality finish materials of the architecture will establish the residences of the Trnavské Mýto as a unique living environment in the city. A mixed program of cafes, daycare, and shops on the buildings' ground floor will contribute to a holistically developed and socially sustainable neighborhood.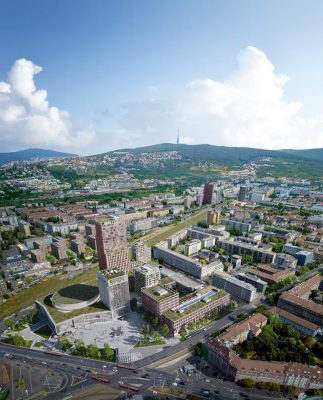 'The urban design of the new district addresses the current fragmentation and traffic congestion of the site, paving the way for the Bratislava of tomorrow. By creating a high density neighborhood next to the existing crucial tram and bus station and the planned redevelopment of the former railway station Filiálka, New Istropolis will become a vital hub and nodal point for Bratislava,' says Martin Sobota, partner at CITYFÖRSTER.
The plan fosters the concept of a car-free creative quarter with special attention to cyclists, including bike-storage The project draws on the scale and urban block structure of Trnavské Mýto, reinforcing the quality of the boulevards and quiet residential spaces that are a signature of the surrounding neighbourhoods. Three new public spaces offer several sub-identities all connected by exceptional artworks. The Event Square becomes a natural extension of the multifunctional hall that can host collateral outdoor performances, the Urban Square offers a platform for rotating art installations, amenities and cafés. The more quiet Courtyard with its playground is the ideal place to relax in the green.
With the long-term vision for New Istropolis, Immocap is setting the agenda, together with the team KCAP and CITYFÖRSTER, the local architects PANTOGRAPH and Siebert+Talaš, and the theatre and concert hall experts Charcoalblue, for an ambitious urban renewal based on a unique combination of history, culture, mixed-use, and public space to create a lively and sustainable environment.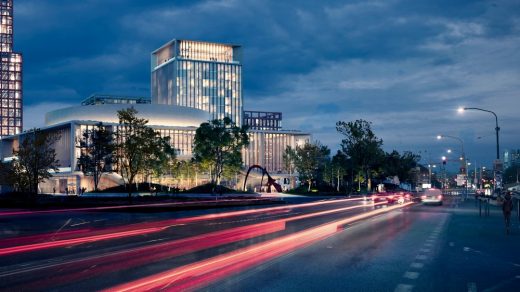 KCAP and CITYFÖRSTER design new cultural building and district for Bratislava, Slovakia
Rotterdam, July 16th, 2020 – KCAP and CITYFÖRSTER design a new cultural district for Bratislava, Slovakia. Trnavské mýto will house a state-of-the-art concert and congress venue and the area will be transformed into a modern open neighbourhood including a series of green and public areas.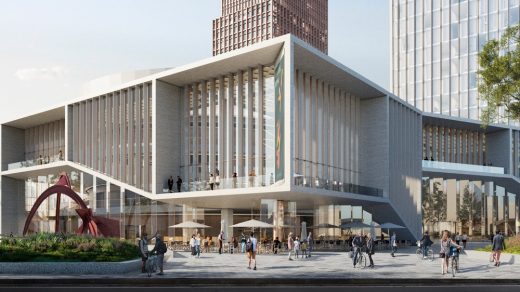 Immocap, the owner of Istropolis and the adjacent land, has presented its vision of New Istropolis, developed in cooperation with the international architectural office KCAP and partner studio CITYFÖRSTER. The project aims to bring Bratislava a world-class multifunctional cultural and social centre with top-level architecture, creating a long deserved cultural landmark for the Slovakian capital.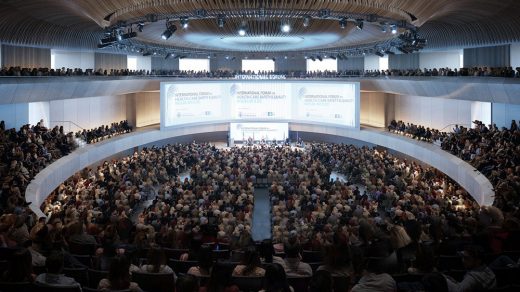 "We have worked on the New Istropolis vision for 2.5 years, and we're proud to present a project that will improve Bratislava residents' quality of life in many ways. Our vision turns the dysfunctional zone in Trnavské mýto into a lively district full fo culture, greenery and public spaces," said Martin Šramko, CEO of Immocap.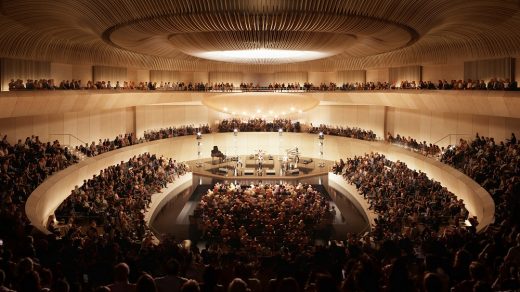 Immocap committed itself to retaining the cultural and social function of Istropolis following its acquisition in 2017. The current vision was developed following an analysis and detailed consultations with promoters of cultural and social events, verification studies and audits, and visits to reference projects abroad. An international architectural competition involved seven studios – all urbanism and architecture studios with extensive experience in transforming under-performing urban zones into thriving new landmarks.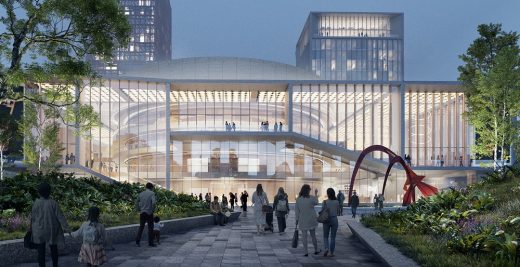 Bratislava deserves a magnificent cultural landmark
The new multifunctional hall enables Istropolis to meet Bratislava's real needs and leverage the potential of Trnavské mýto, and will foster cultural and congress tourism. New Istropolis offers the capacity to host various events simultaneously, such as acoustic, rock, jazz, pop concerts, numerous events and cultural events, and conferences and congresses of all sizes.
The hall will be able to hold three different events simultaneously and have a maximum capacity of 3000 seats and 5000 combined seats for sitting and standing. The unique in-the-round seating configuration brings the audience close to the stage, creating a sense of intimacy and connection with the performers.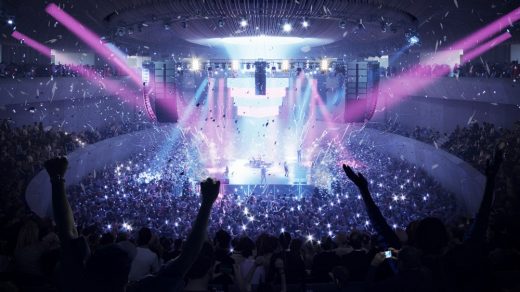 In addition to renowned architects, the developer also invited to the project a world leader in the consulting and design of concert and congress halls. Charcoalblue studio's involvement is a guarantee that New Istropolis will provide the best technical conditions for performers, and outstanding cultural experiences for visitors.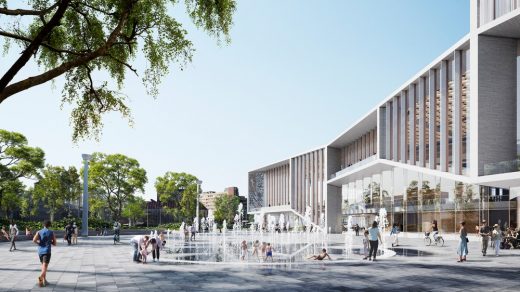 "It is an honour to design such an important public venue for the city, especially as it becomes the landmark for a whole new creative district with an attractive public space and bespoke architecture. We hope that New Istropolis will host memorable events for a broad audience, that it will become a much-loved destination where people meet and that inspires. It should become a cultural catalyst," explains Jeroen Dirckx, partner at KCAP.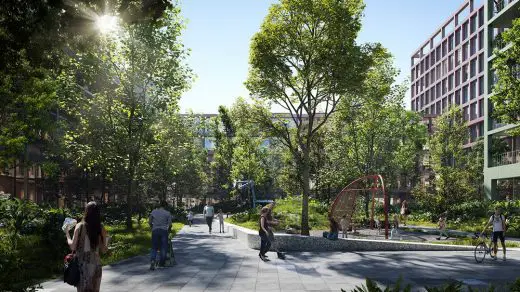 Istropolis – more than a performance hall
Trnavské mýto is a key location in Bratislava in terms of pedestrian movement, traffic, and potential contribution to urban development. The project aims to bring new life to this important part of the city that has been neglected too long. Besides the world-class cultural venue, there will be a park with promenade, fountains, and cycle paths. Public areas will be accessible to visitors throughout the day, while the square will support and develop community activities such as seasonal markets.
"We are also proud to contribute to a future-proof, more livable Bratislava. Not only on the level of the project – where pedestrians, cyclists and green spaces take pride of place – but also on a larger scale. The location is extremely well connected within the city, a true transport hub, and it is very sustainable to add this wide array of functions to such an accessible place", says Martin Sobota, partner at CITYFÖRSTER.
The New Istropolis project will radically change Trnavské mýto, which has the opportunity to become an important new city centre and natural centre for the local community. It will attract visitors from the city, across Slovakia, visitors, and international tourists.
Visuals: KCAP/CITYFÖRSTER, © Playtime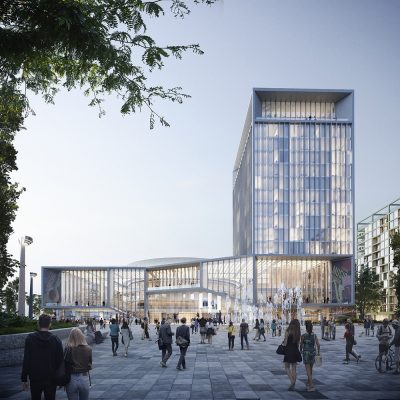 New Istropolis Bratislava Trnavské mýto – Team
About KCAP
KCAP is a leading international design firm specialised in architecture, urbanism and landscape design. KCAP was founded in 1989 by Kees Christiaanse and is led today by eight partners: Xavier Blaringhem, Kees Christiaanse, Jeroen Dirckx, Ruurd Gietema, Anouk Kuitenbrouwer, Irma van Oort, Ute Schneider and Edward Schuurmans. KCAP holds offices in Rotterdam (NL), Zurich (CH) and Shanghai (CN) and works with a staff of more than 100 talented international professionals on a wide range of projects throughout Europe and Asia.
About CITYFÖRSTER
CITYFÖRSTER is an international and interdisciplinary partnership of architects, engineers and urban planners. Their team is led by eight partners, with offices in Berlin, Hamburg, Hanover Tirana and Rotterdam. With their cooperation partners throughout Europe, they operate as a cross-border expertise network.
CITYFÖRSTER regards the city as a system. The office is specialized in strategic planning, international development and sustainable and circular construction. They are two times winner of the EUROPAN, have won the German Innovation Award 'Land der Ideen' 2013 and the BDA Young Talent Award 2017, and are nominated for the DAM Preis and the Aga Khan Award.
Past projects include urban densification projects like the 'An der Urania' Skyscraper Ensemble in Berlin, innovative educational buildings like the Neue Schule in Wolfsburg, urban housing plans like Pelikan MIX4 in Hannover, and public spaces like the waterfront redevelopment of Cape Square Durres in Tirana, Albania.
www.cityfoerster.net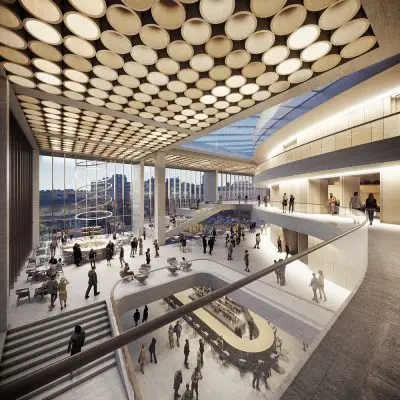 About Immocap
Property developer Immocap has been operational on the market for over 20 years – it's delivered several major projects, including the development of the capital city Bratislava. The company's first development activities included the construction of three business centres in the Prievozská/Plynárenská administrative zone – the 60,000 m2 Bratislava Business Center BBC III, IV and V.
Key projects are connected to the Trnavské mýto revitalization. Over seven years, the company rejuvenated the former Centrál spa with the first green multifunctional complex in Slovakia with LEED environmental certificate and Developer of the Year award at the prestigious CIJ Awards Slovakia. The CENTRAL project delivered a 39,000 m2 shopping centre, 20,000 m2 of office space, and 222-room LINDNER hotel. A related nearby project was the long-awaited renovation of Trnavské mýto subway, which was implemented in partnership with the Bratislava city authority.
Immocap has three development projects in its current portfolio: LAKESIDE PARK 2 is under construction and will provide 14,370 m2 of LEED GOLD-certified office space on 12 floors. THE MILL administrative building will be located on Mlynské Nivy in Bratislava's CBD. And NEW ISTROPOLIS is described above.
The company has received prestigious professional awards domestically and internationally including Best overall development, Construction of the Year, Visio 2020 (Eurostav Magazine Award), and Retail estate 2013 (Best Retail Project & Best Europa Property Project of the Year).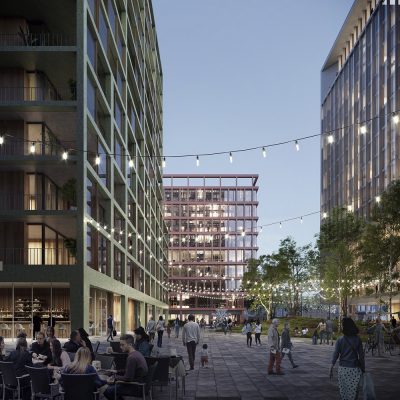 About Charcoalblue
Charcoalblue is the world's leading theatre, acoustic and digital consulting company. With six offices across the UK, US and Australia, it delivers projects across the world. In cooperation with architects and engineering teams, they specialize in design services for a wide range of cultural and creative spaces.
Their portfolio includes world-famous performance halls such as the Royal Shakespeare Theatre in the UK, the English National Theatre in London, the Shakespeare Theater in Chicago, Queen Elisabeth Hall in Antwerp, the New Concert Hall in London, the Barack Obama Presidential Center and Foundation in Chicago, and the new Performing Arts Center in New York on the site of the former World Trade Center.
They cooperate with St. Paul's Cathedral, High Museum of Art in Atlanta, Georgia, and their digital designers work with immersive technology for cinema, broadcast and event venues with companies such as Google, Facebook and the British Academy of Film and Television Arts.
New Istropolis Bratislava: Trnavské mýto images / information received 160720 from KCAP Architects&Planners
Location: Bratislava, Slovakia
Slovakian Buildings
Slovakia Architecture
Slovakian Architecture Designs – chronological list
Bratislava Architecture Tours by e-architect
Sky Park, Bratislava
Design: Zaha Hadid Architects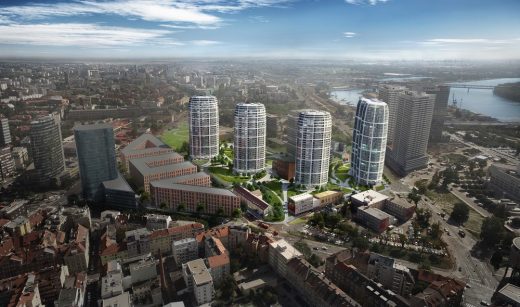 image © Penta Investments
Sky Park Bratislava
Villa Inga, Bratislava
Design: Architekti Šebo Lichý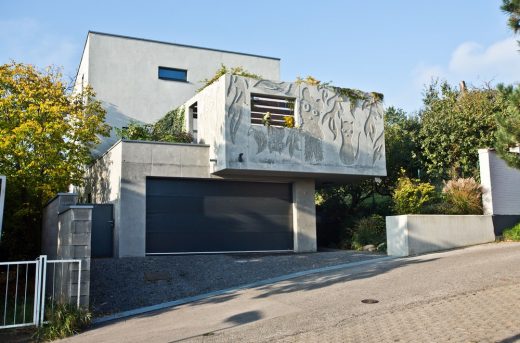 photos : Vlado Vavrek, Pekné bývanie
Villa Inga Bratislava
Business Garden Štefánikova – building on the boulevard, Bratislava
Design: Architekti Šebo Lichý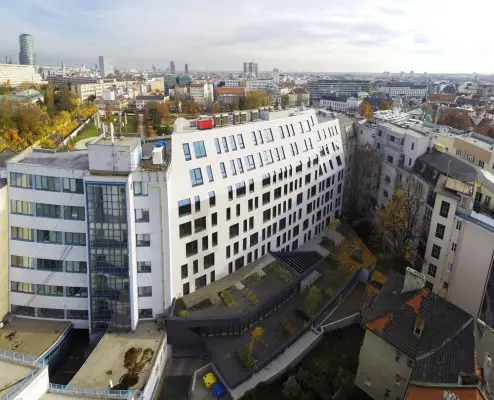 photo : Manina Tomáš
Business Garden Stefanikova in Bratislava
Comments / photos for the New Istropolis Bratislava: Trnavské mýto page welcome