New Science Centre Jurong Lake Gardens, Singapore Development Design, Architecture Images
New Science Centre at Jurong Lake Gardens, Singapore
New Building Development – design by Architects 61 in collaboration with Zaha Hadid Architects
Updated 7 Dec 2022 + 1 July 2019
New Science Centre at Jurong Lake Gardens in Singapore
Design: Architects 61 / Zaha Hadid Architects (ZHA)
Location: Jurong Lake District – JLD Singapore
Singapore's new Science Centre design unveiled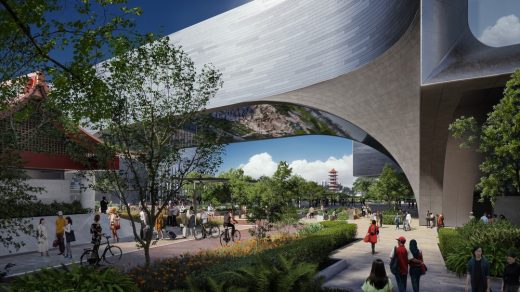 image © Negativ
Singapore's Science Centre Board has unveiled the design of the new Science Centre which will provide unique facilities and programmes as a destination for all Singaporeans to access science, technology, engineering and mathematics (STEM) education and experiences. The new Science Centre will continue the institution's mission since its founding in 1977 to spark curiosity and innovation in generations of young school children and plans to leverage the new location and facilities to expand its outreach enabling Singaporeans of all ages to encounter and appreciate the importance of science and technology in their lives.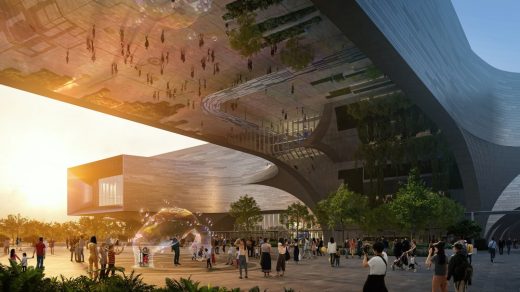 image © Negativ
Informed by the natural landscape of Singapore's Jurong Lake Gardens, the new Science Centre looks to the future and maximises opportunities for visitors to interact with the surrounding gardens and lake. Designed by Zaha Hadid Architects (ZHA) in collaboration with Architects 61, the centre is composed as five interlocking rectangular volumes housing a variety of exhibition galleries, interactive labs and event spaces in addition to ancillary facilities for visitors, administrative offices, archives and service areas.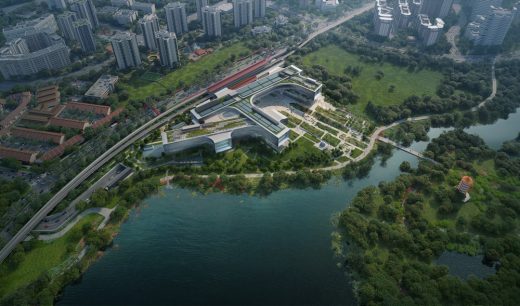 image © Negativ
Incorporating large windows serving as 'monocles' offering strategic views of the lake, each of the new Science Centre's five volumes is uniquely orientated to enhance the relationships between the centre's indoor and outdoor spaces. Appearing to float above the surrounding parkland, the design defines a series of courtyards and gardens leading from the adjacent MRT station towards the pagoda within the Chinese Garden. Together with diverse indoor, outdoor and rooftop spaces for learning, the new Science Centre will be an exciting destination to encounter science and nature as well as offering many opportunities for community events.
The new Science Centre will feature a Children's Gallery that is more than twice the size of the existing gallery and include its own interactive outdoor waterplay area, discovery trails in the secondary forest as well as a sensory trail on the roof garden. Older students can look forward to entering specialised labs and workshops that encourage hands-on learning of scientific concepts. For instance, the new Eco-Lab will support students in scientific investigations, where they can retrieve and analyse samples taken directly from the Eco-Garden and continue to monitor the data collected from the samples with Internet of Things (IoT) equipment using their personal learning devices in school or at home, extending their learning experiences beyond their visit. Through its programmes and exhibitions, the centre will also educate visitors on sustainability practices such as vertical farming systems.
The new Science Centre will feature a new Observatory for budding astronomers to learn about the universe, as well as a Digital Fabrication Lab with incubator programmes to nurture entrepreneurial aspirations and a Makerspace for young inventors to bring their imagination to life. A new outdoor Activity Plaza will be a focal point of the centre and offer STEM programmes and community activities.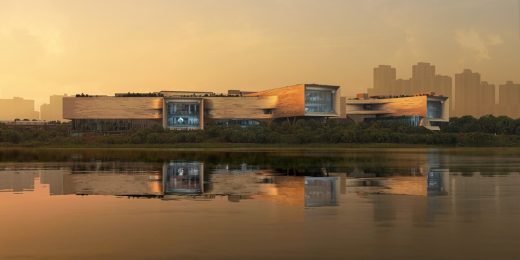 image © Negativ
In line with the Singapore Green Plan 2030, the new Science Centre incorporates sustainable design principles and energy performance strategies to reduce net carbon emissions. Working with Atelier Ten, ZHA and Architects 61 have designed the centre with a target to attain the BCA Green Mark Platinum Super Low Energy certification with outdoor zones shaded from the sun yet exposed to the prevailing winds. Natural ventilation and controlled daylight will reduce energy usage while enhancing visitors' experience and wellbeing. Photovoltaics and insulating roof gardens will contribute towards renewable energy goals. High efficiency space conditioning with an intelligent building management system will aim to reduce energy consumption by over 40% while holistic water management and landscaping are planned to conserve and restore native plant communities.
Located next to Chinese Garden MRT station, the new Science Centre is targeted to open its doors around 2027, which also marks the 50th anniversary of the institution. Associate Professor Lim Tit Meng, Chief Executive of Science Centre Board, said, "Our ambition for the new Science Centre is to be a truly rewarding destination for all ages and abilities. The universal design principles of the new building will facilitate equal opportunities for all visitors, regardless of demographic or learning abilities. We have also been experimenting with new programmes and exhibition formats at the current site, taking note of the best practices we can apply to provide enhanced experiences to our audiences. Top of the list is to seek community partnerships to ensure we co-create a place that individuals will not only want to visit, but also leave feeling more curious about science."
Ms Tan Yen Yen, Chairman of Science Centre Board, said, "We have great confidence in the new Science Centre's potential to drive growth in STEM education and exploration across the region, as STEM industries play a key role in shaping our post-pandemic future. I'd like to express my appreciation to the Ministry of Education and all our partners for their belief in the Centre's ability to inspire generations, and their unwavering support in helping to deepen the impact of our work."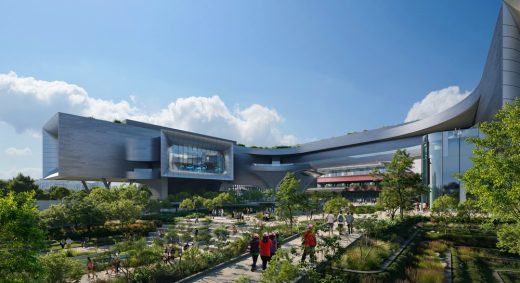 image © Negativ
The New Science Centre at Jurong Lake Gardens – Building Information
Architect: Zaha Hadid Architects (ZHA) – https://www.zaha-hadid.com/
Design: Patrik Schumacher
ZHA Project Directors: Michele Pasca Di Magliano, Maurizio Meossi
ZHA Project Associate: Cristina Capanna
ZHA Project Team (Design Development Stage): Benedetta Cavaliere, Damir Alispahic, Didem Sahin, Flavia Santos, Gabriele De Giovanni, Gizem Mutharoğlu, Juan Pablo Londono, Lara Zakhem, Lorena Espaillat Bencosme, Luciana Maia Teodozio, Mauro Sabiu, Sara Criscenti, Shi Qi Tu, Valeria Perco
ZHA Project Team (Concept and Schematic Design Stages): Jakub Klaska, Cristina Capanna, Bogdan Zaha, Millicent Anderson, Sara Criscenti, Chantal Matar, Arian Hakimi, Stefano Iacopini, Serra Pakalin, Stefano Paiocchi, Martina Rosati, Harry Spraiter, Maria Touloupou, Sven Torres, Shi Qi Tu, Alessandro Cascone, Zsuzsanna Barát
ZHA Competition Project Directors: Michele Pasca Di Magliano, Maurizio Meossi
ZHA Competition Associate: Jakub Klaska
ZHA Competition Project Architects: Cristina Capanna, Mario Mattia
ZHA Competition Project Lead Designer: Bogdan Zaha
ZHA Competition Team: Saman Dadgostar, Arya Safavi, Sven Torres, Michela Falcone, Natasha Marks, Serra Pakalin, Billy Webb, Michael On, Neil Rigden, Alex Turner, Damiano Rizzini, Christina Christodoulidou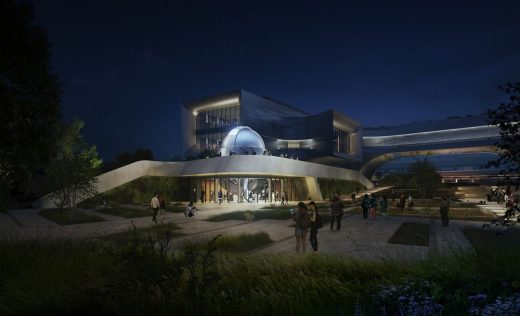 image © Negativ
Consultants
Lead Architect: Architects 61 Pte – https://a61.com.sg/
Local Architect: Architects 61 Pte
Structural Engineering: WEB Structures
Quantity Surveyor: Rider Levett Bucknall LLP
Cost Consultants: Rider Levett Bucknall LLP
Environmental Consultant: Atelier Ten
Façade Engineering: Koltay Facades
MEP: Beca Carter Holling & Wilke Pte Ltd
Transport Consultant: Vertix Asia-Pacific Pte Ltd
Landscape Consultant: Grant Associates Singapore Pte Ltd
Lighting Design: Nipek Pte Ltd
Acoustic Consultant: Shen Milsom & Wilke
Design for Safety Consultant: PH Consulting Pte Ltd
Security and Blast: Beth-El (Asia Pacific) Pte Ltd
Signage & Way Finding Consultant: Radical Design Partnership Pte Ltd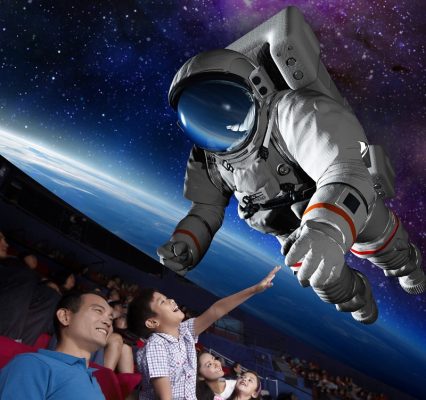 image © Science Centre Singapore
The multidisciplinary team led by Architects 61 in collaboration with Zaha Hadid Architects have begun design development workshops for the New Science Centre in Singapore.
Science Centre Singapore opened in 1977 and now welcomes more than a million visitors every year. Supporting educational institutions in building one of the world's most science-literate nations, the centre makes science accessible and engaging with immersive exhibitions demonstrating the principles and powers of science in everyday life.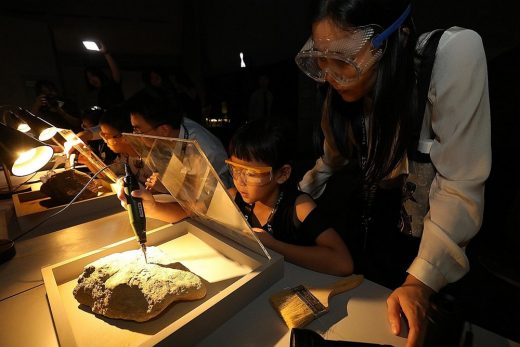 photo : Lianhe Zaobao
To inspire future generations in the rapidly advancing world of science and technology, in May this year Mr Ong Ye Kung, Singapore's Minister for Education announced the Science Centre Board has awarded the multidisciplinary consultancy tender for the design of the new Science Centre to the team led by Architects 61 in collaboration with Zaha Hadid Architects.
"The New Science Centre promises to bring even more excitement… As we wind down the focus on examinations in schools, we are ramping up inquiry-based and applied learning. The New Science Centre will be the biggest applied learning classroom for all our students, and we have worked this into the conceptual design of the new centre," explained Mr Ong.
To be located next to the Chinese Garden station of Singapore's MRT metro system, the new building is envisaged as a ground-breaking institution in the Lakeside precinct of the Jurong Lake District.
Continuing the centre's mission to bring science to life, the new building will weave creative storytelling and innovative technologies to create enriching and immersive learning experiences, as well as explore new and unique ways to inspire and enlighten visitors in Science, Technology, Engineering and Mathematics (STEM).
Targeted for completion around 2025, the new science center building will have improved educational facilities such as specialised laboratories to complement learning in schools. With its setting in a garden by the lake, there will also be opportunities to offer outdoor programmes and activities.
Associate Professor Lim Tit Meng, Chief Executive of Science Centre Singapore, said, "The award of tender comes after months of in-depth discussions with each of the shortlisted firms. Together with our appointed team of consultants and in partnership with the community and our stakeholders, we look forward to reimagining how a trip to the new Science Centre will continue to inspire lifelong appreciation of the importance and impact of STEM, where Science can befriend and transform the minds of millions."
The Science Centre Board adopted an open 2-stage Quality-Fee Method (QFM), in accordance with the Government tendering procedures in this consultancy tender. A notice for Expression of Interest (EOI) exercise was published on 20 September 2018. On the closing date of 11 October 2018, 24 consultant multi-disciplinary teams (MDTs) had responded.
In accordance with the QFM Framework, a pre-qualification exercise was conducted to shortlist five MDTs based on criteria such as the firm's track record, productivity and project approach write-up. The five shortlisted MDTs were then invited to submit concept designs and fee proposals at the second stage of the open 2-stage QFM.
On the tender closing, all of them had submitted proposals with overall development concepts that responded appropriately to the site context.
After a rigorous evaluation process, the Tender Evaluation Committee assessed that Architects 61 in collaboration with Zaha Hadid Architects submitted the best proposal which reflected the boldness of scientific endeavour and future-focused STEM aspirations that the Science Centre has always strived towards.
Jurong Lake District Singapore – masterplan design: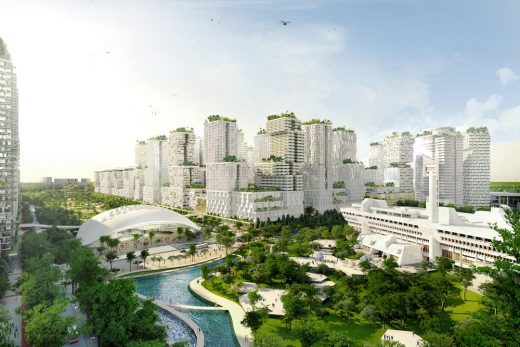 visuals © KCAP/SAA/Arup/S333/Lekker
Capitalising on the waterfront location and garden setting, the design preserves visual and physical porosity to the surrounding lush natural landscape and Jurong Lake. The unique and distinctive proposal creates a strong sense of arrival for visitors from the Chinese Garden MRT station.
It is also planned to be integrated with Jurong Lake Gardens and the future neighbouring tourism development, bolstering Jurong Lake District's array of unique attractions for both Singaporeans and tourists.
Under the agreement, Architects 61 will act as the Principal Consultant and lead the consultant team to render multi-disciplinary consultancy services.
Over the next few years, stakeholders such as schools, community and industry partners will also be engaged on their views for potential exhibitions and programmes. This includes exploring partnerships with home-grown and international companies to develop exhibitions that showcase STEM applications in different fields both locally and globally, and provide more mentorship and research opportunities.
Zaha Hadid Architects News on e-architect
Science Centre Singapore by Zaha Hadid Architects
New Science Centre at Jurong Lake Gardens, Singapore information / images received 010719 from Zaha Hadid Architects
Location: Jurong Lake District, Singapore
Architecture in Singapore
Singapore Architectural Projects
Singapore Architecture Designs – chronological list
Jurong Lake District Singapore
Masterplan for Jurong Lake District Singapore
Design: KCAP Architects&Planners ; SAA Architects ; Arup ; S333 ; Lekker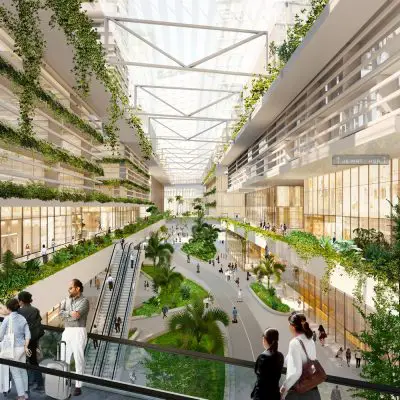 visuals © KCAP/SAA/Arup/S333/Lekker
Jurong Lake District Masterplan in Singapore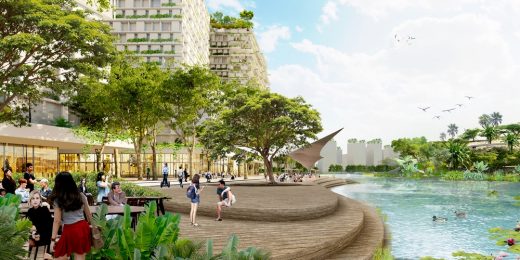 visuals © KCAP/SAA/Arup/S333/Lekker
A flythrough video of Singapore's next CBD:

KCAP Architects&Planners / SAA Architects / Arup / S333
Zaha Hadid Architecture Designs
Amari Johor Bahru Hotel
Design: FBEYE International Architects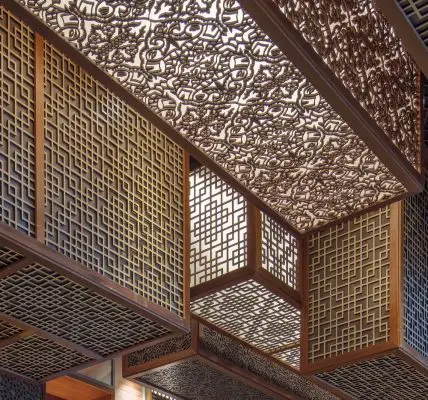 image courtesy of architects
Amari Johor Bahru Hotel Building
Raffles Place Singapore: 88 Market Street Development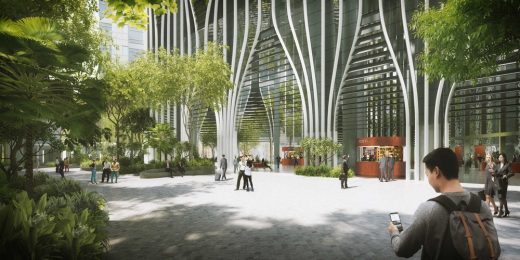 images courtesy of architects
Raffles Place Singapore: 88 Market Street Development
Comments / photos for the New Science Centre at Jurong Lake Gardens, Singapore page welcome
Website: Singapore