Singapore Helix Bridge, Architect, Images, Architecture Design Competition, Building
Helix Bridge Singapore
Visual and performing arts building & water crossing design by Cox Rayner Architects
10 Aug 2010
Category: Transport
Location: Singapore, Republic of
Architects: Cox Rayner Architects, Brisbane, Australia
Architects: 61, Singapore, Republic of
WAF Entry: 2010
Award: World Architecture Festival 2010 – Shortlisted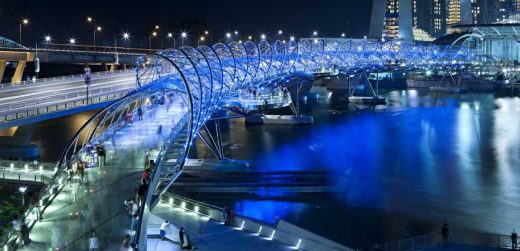 photograph : Christopher Frederick Jones
Helix Bridge, Singapore
Helix Bridge
The Helix Bridge is one of the few, if any, bridges in the world to be named after its structure. In addition to its uniqueness of structure and form, it was designed to respond to its particular setting at the opening of the Singapore River to Marina Bay, a large inner harbour on which much of the city is now focussed.
The concept derived initially from the desire to curve the plan of the bridge so that it sweeps down onto promenades either side. This 'arc' was also means of curving the pedestrian bridge away from an adjoining new vehicular bridge, also designed by the same team, while enabling the two to connect at a mid-point.
The brief required the Helix Bridge to be canopied for shade and shelter in the tropical climate. The notion of a tubular cross-section, which allowed the canopy and deck to be integrated, evolved from this requirement. The team found that a double spiral structure would utilise up to five times less steel than a conventional box girder bridge, and equally became excited about the prospect of such a structure making an iconic statement about Singapore as a 'green', walking city.
Having selected the design in a 36 entry international design competition, Singapore's Urban Redevelopment Authority decided that it should be constructed entirely in stainless steel. This decision enabled the tubes, struts and ties to be finely crafted, the multiple connection joints being designed to appear organic. These details, and the helix form overall, led to the bridge being popularly compared to the DNA molecule, with its connotations of 'life-giving' and 'sustainability'.





photographs : Christopher Frederick Jones
The great intrigue of the structure is derived from its ability to curve in plan and section while maintaining continuity of its dual spiral over the 280 metre length. This achievement was the result of a process of highly sophisticated 3D computer modelling, through which the proportions and connections were progressively refined. To accentuate the ribbons of structure, LED lighting is incorporated along both spirals, and in ground lighting embedded to highlight the combination of glazed and perforated steel canopy segments.
The final pieces of the design are a series of ovular-shaped cantilevered viewing 'pods', each with a capacity of 100 or so people, that extend out on the bay side to create 'ring side' viewing for water events. These decks reinforce the design intent of the bridge to optimize pedestrian experience of the bridge as new urban place as well as of its role as a vital connector between Singapore's major existing and emerging urban precincts.
Location: Singapore
Singapore Architecture
Contemporary Singapore Architectural Projects
Singapore Architectural Designs – chronological list
Another bridge design by Cox Rayner:
Kurilpa Bridge, Australia
Marina Bay Sands – Hotel & Casino
Moshe Safdie and Associates with Aedas Architects
Marina Bay Sands
Singapore Arts Center – now called Esplanade Theatres on the Bay
Michael Wilford & Partners with DP Architects
Singapore Arts Center
Beach Road – New mixed-use district
Foster + Partners
Beach Road Singapore : International Design Competition win
Scotts Tower – Residential tower building
Rem Koolhaas Architect / OMA
Singapore Tower : iconic architecture proposal
Helix Bridge Singapore design : Cox architect
Comments for the Helix Bridge Singapore design by Cox Rayner Architects page welcome