Funan Tree of Life Singapore Shopping Mall, CapitaLand Mall Trust, CMT Development
Funan Tree of Life Singapore
CapitaLand Mall Trust Building Development, North Bridge Road, Southeast Asia
25 June 2019
Funan Tree of Life 28 June Opening
Location: 109 North Bridge Road, Civic District, Singapore
Funan achieves 95% retail leasing ahead of 28 June opening
Three more days to its opening on 28 June, Funan has achieved 95% committed occupancy for its retail component. This brings its total number of brands, which are clustered around six passion themes Tech, Craft, Play, Fit, Chic and Taste, to more than 190.
Mr Tony Tan, CEO of CapitaLand Mall Trust Management Limited, said: "Funan's unique lifestyle proposition for the digitally savvy consumer in an experience economy has received positive response from retailers. We are pleased that Funan's retail component is 95% pre-leased. This points to the continued market demand for centrally-located and well-designed retail spaces that enjoy inherent shopper traffic as part of a quality integrated development."
Funan Uncovered! tours will introduce shoppers to Funan's unique features such as its design centrepiece Tree of Life, facilities at the Bicycle Hub and the edible greenery at the rooftop Urban Farm (pictured) and Food Garden: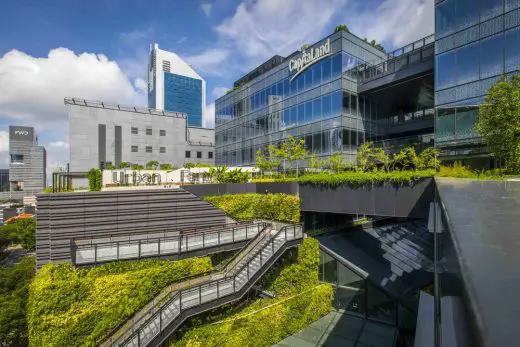 image courtesy of CapitaLand
Newly signed tenants include Taobao's new concept in Singapore, which will provide consumers with an integrated online-and-offline Taobao shopping experience. Operated by Virmall, the store will offer a wide range of products available from Taobao that are specially curated for Singapore shoppers, covering categories including furniture, household items, textiles, fashion and more.
Adding a boost to Funan's cluster of photography equipment shops, Nikon will launch its first standalone outlet and flagship Experience Hub in Singapore at the mall. The concept encompasses the Nikon School, a workshop space for photography tutorials by professionals.
Soon to become the latest food haunt in Singapore's Civic District, Funan will house more than 80 food and beverage establishments, occupying 25% of its retail space. Ramen fans will delight in the cluster of ramen restaurants comprising Afuri Ramen, Kara-men Ajisen and Tsuta, while bubble tea lovers can get their cuppa from Gong Cha, LiHo, Milksha and Nayuki Tea.
Supporters of local hawker fare can find familiar favourites at Liao Fan Hawker Chan's first outlet in a Singapore mall, as well as HawkerMan, a collection of well-loved local street food. Steak lovers should not miss Bizen Okayama Wagyu Steakhouse by Astons, while vegetarian diners can check out Flavours by Sauté.
Funan's opening parade will take place on 28 June from 7pm to 8pm. When the clock strikes 7.15pm, six LED lions will 'roar' into the mall from Funan's North Bridge Road entrance and head towards the Centre Stage, where special performances by Funan's tenants will be held: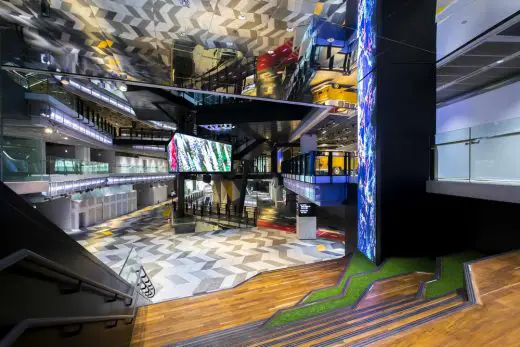 image courtesy of CapitaLand
Mr Chris Chong, Managing Director, Retail, CapitaLand Singapore, said: "We envision Funan flourishing into a social retail space embraced by communities, where they can find meaningful merchandising and enriching exchanges as well as social connections beyond the transactional. In line with this vision, we will be rolling out unique programming throughout the year that supports Funan's community building focus.
As part of Funan's opening programming, shoppers can sign up for guided tours and receive recommendations from roving concierge on activities they can take part in. We hope that these arrangements will create a welcoming environment that encourages visitors to discover, learn and shop at the new Funan."
Interview with Love, Bonito co-founder Rachel Lim on her journey from online retailer to opening their largest retail store at Funan, complete with an exclusive click-and-collect service:

video courtesy of CapitaLand
Previously on e-architect:
21 May 2019
Funan Tree of Life in Singapore
Location: 109 North Bridge Road, Civic District, Singapore
First look at Funan's Tree of Life and other design highlights
Singapore, 21 May 2019 – Behind Funan's copper-brass coloured façade along North Bridge Road, a giant "tree" has taken root in the centre of the mall, ready to support retailers in their storytelling and shelter shoppers taking a break from their exploration.
Extending from Basement 2 to Level 4, the 25-metre tall majestic Tree of Life is the design centrepiece of Funan. Visually, it is the first thing that visitors see when they step into the mall; symbolically, it functions as the source of life to enliven Funan through fostering creativity and curiosity.
Predominantly made of steel, the 25-metre-tall Tree of Life offers spaces for brands to showcase their products and crafts, and for entrepreneurs and design ateliers to conduct classes and workshops: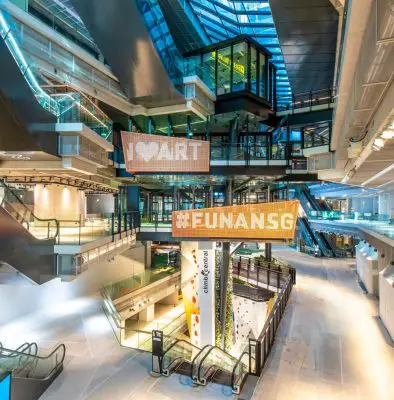 images courtesy of CapitaLand Mall Trust
Predominantly made of steel, the Tree of Life houses 20 retail pods for brands to showcase their products and crafts, and for entrepreneurs and design ateliers to conduct classes and workshops. Representing Funan's commitment to offer differentiated experiences for shoppers, it supports coretailing by providing a platform for brands – both emerging and established – to stage their brand moments with limited period pop-up concepts.
Funan's Tree of Life is complemented by a variety of creative retailing formats and experiential offerings to keep consumers engaged throughout the day, every day. These include W!ld Rice theatre, Golden Village cineplex, TFX fitness centre, Climb Central indoor rock climbing, The Ark futsal facility, ABC Cooking Studio and farm-to-table dining at Japanese restaurant Noka in collaboration with Edible Garden City.
Funan's Tree of Life – The skylight above mimics the growth conditions of a tree in Mother Nature. In a way, the display symbolises the growth and flourishing of retail talents from the creative centre of Funan towards the rest of the city: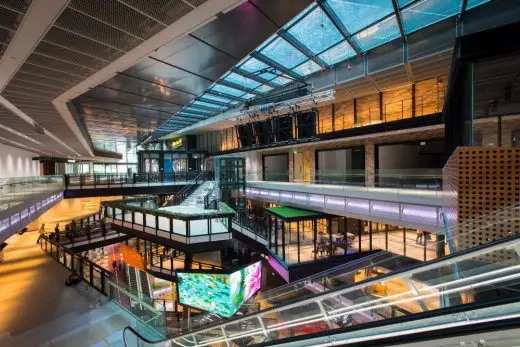 Mr Chris Chong, Managing Director, Retail, CapitaLand Singapore, said: "As the retail landscape undergoes disruptions, the formula for a successful mall has to evolve as well. While a decade ago a mall can succeed largely on the merit of its tenant brands, today it must be able to anchor its own community of supporters and followers.
Consumers of today don't just buy products or services, they invest their time and effort in understanding brands and supporting relevant causes. Against this backdrop, Funan is CapitaLand's interpretation of the mall as a platform for meaningful and enriching exchanges beyond the transactional. Its passion-led retail model, as embodied in the Tree of Life, aims to build interactive communities clustered around passion themes covering Chic, Craft, Fit, Play, Taste and Tech."
"Funan's vision for retail reimagined is woven into its architecture. Designed as an open and inviting space, Funan welcomes consumers from all walks of life looking to expand their perspectives and engage in new activities. It brings together a wide range of passion-led experiences at a scale not seen before in Singapore's Civic District.
By incorporating spaces for performance, connection, collaboration and experimentation, Funan creates an exciting environment for shoppers to explore and provides retailers with a dynamic environment to innovate within. Funan also features plenty of green spaces, rest areas and interactive corners to encourage visitors to discover and experience."
Funan's Level 7 is home to a 18,000 sq ft Food Garden, where shoppers can experience a variety of edible plants through smell, touch and sight. The heart of the Food Garden is the 5,000 sq ft Urban Farm operated by Edible Garden City. One of the few urban farms in Singapore open to the public, it is designed as a production and functional space where visitors can learn how vegetables are produced and harvested: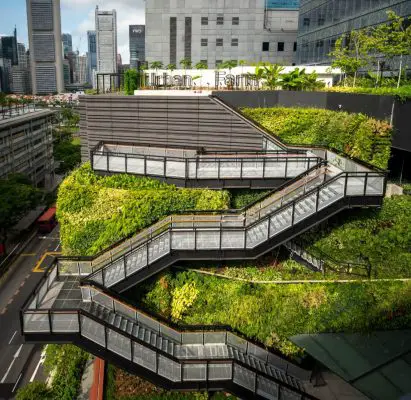 A total of 250 tonnes of composite steel – equivalent to the weight of three massive mature rain trees – were used in the construction of the Tree of Life. The structure deploys long cantilevers, which provide a clear space underneath the beam without any supporting columns or bracing.
This allows visitors to see through the structure, thereby creating a sense of spaciousness. The Tree of Life is supported by three main columns, from which some intermediate supports branched out. As the floor plan differs at every level, the structure needs to be adjusted and catered to connect with every floor. This makes the planning and construction of the Tree of Life especially challenging.
Funan's adopts "industrial chic" in its design theme. The exterior is covered in perforated aluminum panels, which are folded to create added texture. These copper-brass coloured panels are coated with a dichroic finish, which gives off subtle hues of varying tones from different angles: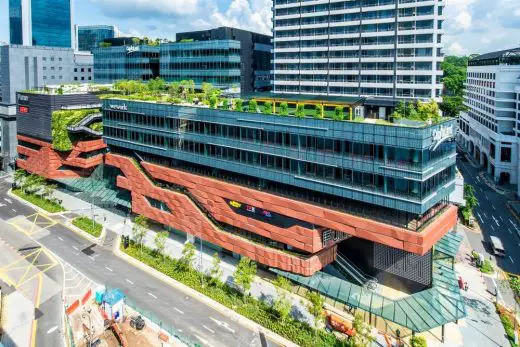 #CapitaLandxFunan
3 Oct 2018
Funan Singapore O&O Shopping Mall
Funan set to open Singapore's first O&O shopping mall ahead of schedule in 2Q 2019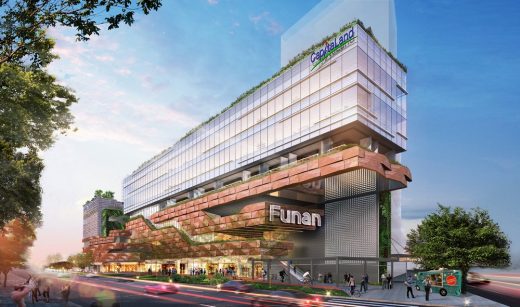 image : CapitaLand
Funan Singapore O&O Shopping Mall
Strong leasing momentum for CapitaLand's first innovation-focused integrated development with two thirds of retail and office space pre-leased.
Location: 109 North Bridge Road, Singapore 179097
Singapore Buildings
Southeast Asia Architecture
Marina One Singapore
Design: Ingenhoven Architects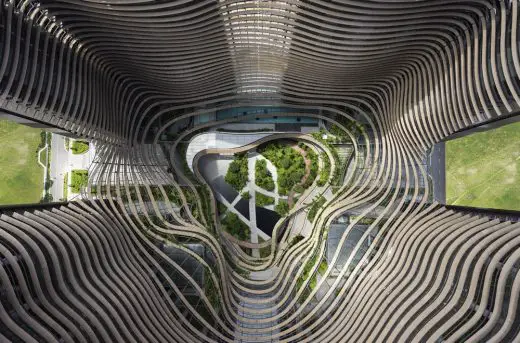 image © ingenhoven architects / photo : HGEsch
Marina One Singapore
Early Learning Village
Design: Bogle Architects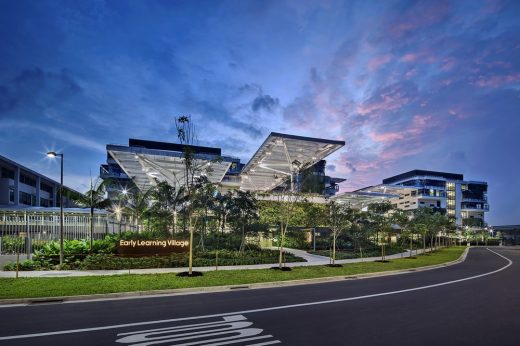 photo © Bogle Architects-Infinitude
Early Years Village Singapore Building
Changi Airport Interior
Design: Moment Factory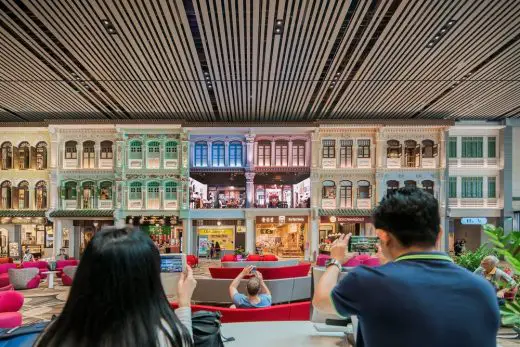 image courtesy of architecture office
Changi Airport Building
Website: Funan Singapore Shopping Mall
Singapore Architecture Designs – chronological list
Singapore Architecture Designs
Singapore Architecture Walking Tours
Singapore Architects Offices : Practice Listings
Website: Funan Singapore
Comments / photos for the Funan Tree of Life Singapore Shopping Mall Development – Southeast Asian Retail Architecture page welcome