EP Yaying Store Shanghai Interior, Chinese Retail Building, Franklin Azzi Serge Ruffieux Architecture Design Photos
EP Yaying Store Shanghai
27 Oct 2021
Design: Franklin Azzi and Serge Ruffieux
Location: Shanghai, People's Republic of China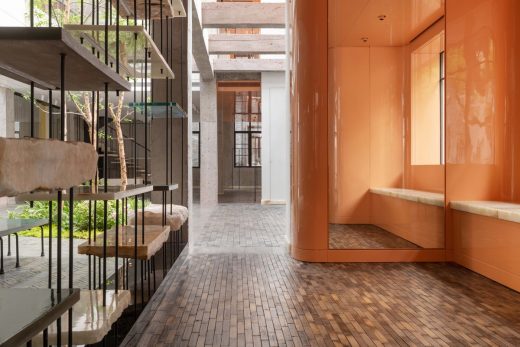 Photos @ Matjas Tančič
EP Yaying Shanghai Store Interior
Franklin Azzi's Latest Project : The Ep Yaying Store In Shanghai
Franklin Azzi's Latest Project : The Boutique Of The Chinese Label
EP Yaying In Shanghai.
Franklin Azzi has United His Vision With That Of Creative Director Serge Ruffieux To Establish A New Architectural Concept For Chinese Ready-to-wear Label.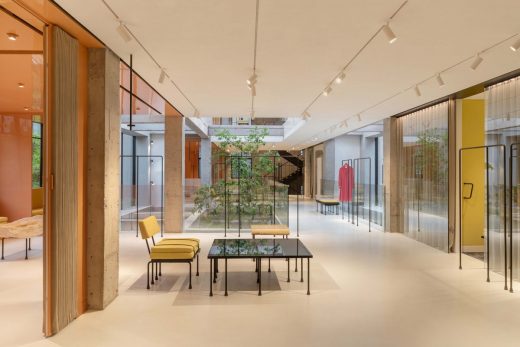 Reflecting the approach of the iconic brand in the revival of luxury goods and Chinese heritage, the two Parisian creatives appropriated oriental cultural references and skills to define a new contemporary aesthetic.
About the EP YAYING project by Franklin Azzi and Serge Ruffieux
Faithful to his passion for creative encounters and collaborations, Franklin Azzi has united his vision with that of creative director Serge Ruffieux to establish a new architectural concept for Chinese ready-to-wear label EP YAYING.
Reflecting the approach of the iconic label in the revival of luxury goods and Chinese heritage – the name EP YAYING means 'pledge of quality' – the two Parisian creatives appropriated Oriental cultural references and skills to define a new contemporary aesthetic.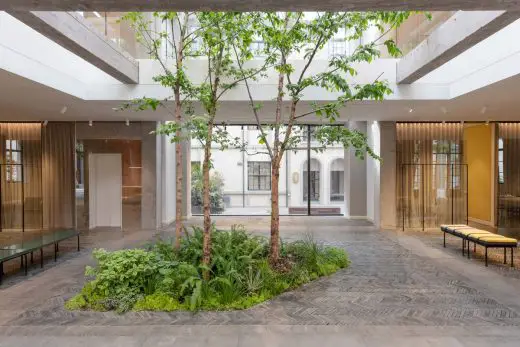 Their creative tandem has given rise to a program of spaces dedicated to experiencing and strolling, which, from Shanghai to New York, cultivates oxymoron in every detail. The raw beauty of the materials, such as jade and concrete, combines with the elegance of lacquer work and embroidery.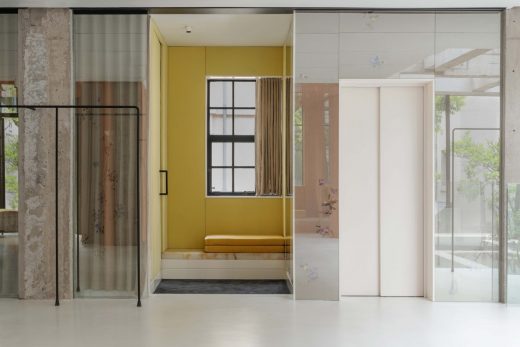 Between the association of rough and smooth surfaces, matte and gloss colours, the traditional mixing of materials of Chinese craftsmanship, the boutiques reveal their singularity in a play of contrasts between stark simplicity and maximalism. The collections of fashion and accessories are displayed around a graphic grid structure of gold metal tubes, in which slabs of rough stones of different shapes and colours are suspended or held up, like an interior landscape reinforcing the impression of poetic antithesis between the different elements.
The architecture of the boutiques, whether within a new building or an existing one, such as the old colonial house entirely renovated in Shanghai, favours transparency, opening to the outside, and integrating nature. The fashion label's spaces merge with public space in a principle of fluid sophistication.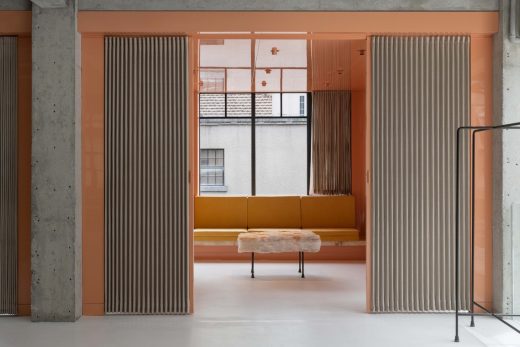 From floor to ceiling, via the furniture and changing rooms designed as transition and exhibition spaces in dialogue with the overall scheme, Franklin Azzi and Serge Ruffieuxhave designed an unusual voyage, composed of aesthetic and sensorial resonances.
A means for architect and fashion designer to bring modernity and craftsmanship into dialogue in an original approach that sees each new EP YAYING boutique as venue in its own right.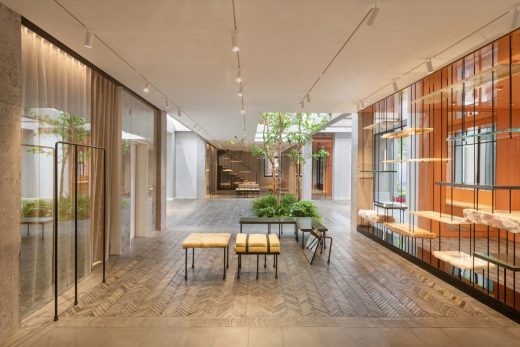 About Franklin Azzi
Franklin Azzi and his practice, founded in 2006, develop a transversal approach stimulated by the intertwining of different views and disciplines. In constantly working on architecture, interior architecture, design and contemporary art, he develops a way of designing and building that is applicable to all scales and typologies of space.
From urban micro-architecture such as embodied by the Eiffel Kiosque and its prefabricated structure, to towers in Dubai and Paris, via conversions of existing buildings such as the Alstom market buildings in Nantes, his interventions are based on a quest for sustainability to meet the needs of all users. Far from any formal style, Franklin Azzidevelops architecture that is minimalist in its aesthetic, maximalist in its multi-fold functionality and environmental quality, taking a stand for the return of 'common sense'.
Franklin Azzi places his commitment as designer–builder at every level of creation, from large scale to the smallest detail of fabrication, whether for public or private commission, in France or elsewhere. In doing so, he breathes new life into built heritage, inventing living and work spaces for tomorrow (The Bureau, Be In for LVMH), rethinks urban development with respect for what is already there (Beaupassage for Emerige) and develops demountable and mobile structures (the rooftop pavilion on Galeries Lafayette). Places that outline a new horizon of possibilities, in an approach that is sustainable and contemporary, to the benefit of the end users.
@franklinazzi
Photographs @ Matjas Tančič
EP Yaying Store Shanghai Design
Presentation of the architectural concept
Floor 1: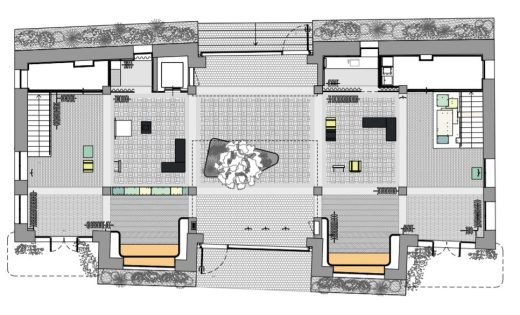 Floor 2: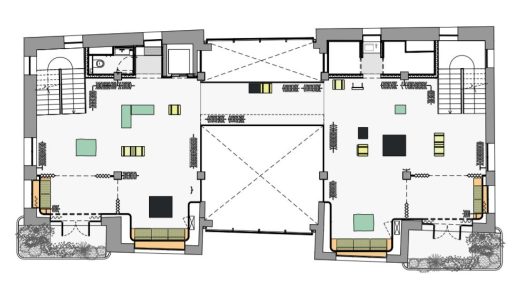 Floor 3: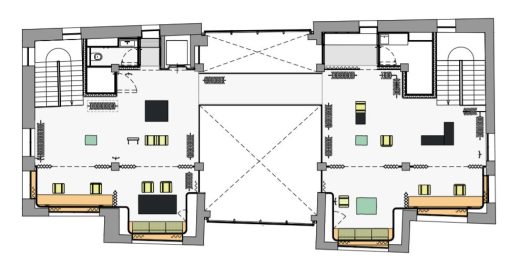 Franklin Azzi and Serge Ruffieux, Paris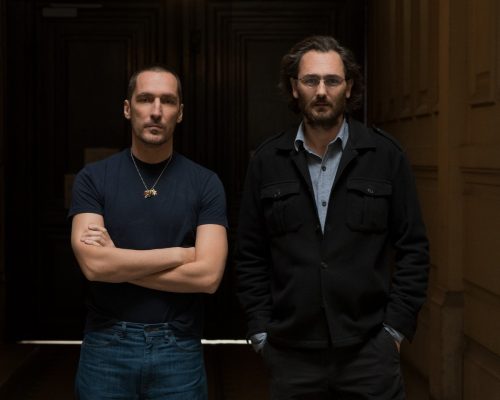 Joint interview with architect Franklin Azzi and creative director Serge Ruffieux, the
creative duo behind the new architectural concept for Chinese ready-to-wear label EP
YAYING
Franklin Azzi and Serge Ruffieux, how did you come to work together on the architectural
concept for EP YAYING?
Serge Ruffieux : I was working with EP YAYING, which means 'pledge of quality' in
Chinese, on rethinking the architectural concept of its boutiques worldwide. The company's
founders, who are collectors with a keen eye for art and architecture, wanted to roll out the label
internationally. As a creative director, I have always had a taste for design and architecture. For
this project I wanted to work in tandem with a strong personality in contemporary architecture.
During a trip to Los Angeles, I discovered the boutique that Franklin Azzi had designed for
Isabel Marant. The feel of the place made an impression on me. I immediately felt that it had a
powerful resonance with my creative approach.
Franklin Azzi : When Serge Ruffieux proposed this collaboration, I immediately felt that it
was a fantastic opportunity to continue the dialogue begun with several other figures from the
world of fashion, such as Christophe Lemaire, Bali Barret and Isabel Marant. Fashion is a world
that has always inspired me. I love the idea of generational creative association, with sampling
as the shared culture. I see Serge Ruffieux as part of the new generation of creative directors.
Generally speaking, in my work as an architect I cultivate the idea of collaborative creation, fed
by different visions and skills. This project was written as a duet. Serge brought his talent as a
fashion designer to our architectural skills at the meeting point of creative disciplines.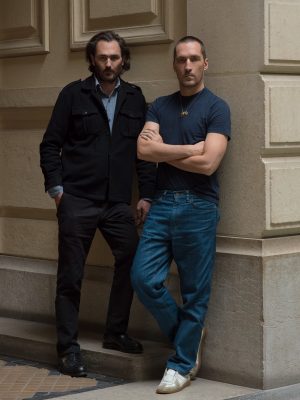 What are the main ideas that you wanted to express through this new concept of
boutiques?
Serge Ruffieux : At the heart of our project is an idea of contrasts and counterpoints. We
wanted to create powerful visual and experiential rhythms in the space. Solids and voids
combine, colour alternates with whiteness, raw materials such as concrete contrast with the
refinement of fabric and embroidery. These choices form constructive oppositions that resonate
with the space, bringing it alive and giving it its singularity.
Franklin Azzi : Indeed, according to level or space, we juxtaposed maximalist with minimalist.
The cross-fertilisation of these two worlds creates an unusual vision, a sort of duality that
characterizes the spaces. We also worked contextually on the spatial sequencing in order to
make each boutique a unique venue. In Shanghai, we restored an old house and integrated the
garden at the centre of the building so as to create an unusual place, with no defined destination,
like an extension to the city's public space. We consciously distanced ourselves from the
traditional idea of the boutique, giving the site a real identity.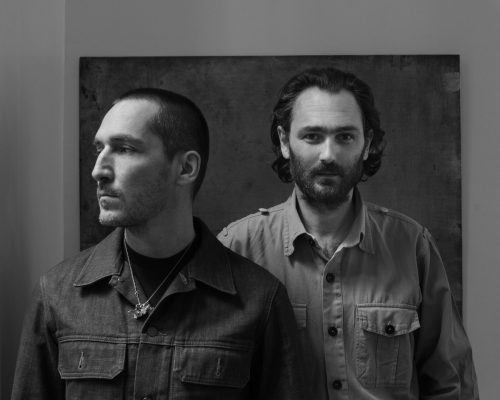 What elements of Asian culture did you appropriate for the project?
Serge Ruffieux : We endeavoured to use Chinese materials, techniques and skills,
reinterpreting them in our own language of Western designers. So jade is used as a base for
displaying accessories. The gloss of lacquer is projected onto matte plaster walls. Traditional
embroidery, in which EP YAYING is skillful, decorates the curtains of changing rooms, which
can in turn be used as exhibition spaces. We combined our European aesthetic with certain
timeless Asian traditions to tease out a new style, suitable for the label's international roll-out.
You finalised this project during the year 2020 without being able to go to China. Did
working remotely change your design process?
Franklin Azzi : Thanks to technical facilities, we were able to complete the project, from Paris,
without our vision being altered. We were supported by the quality and rapidity of the Chinese
teams, who executed our drawings on site. Over the last 10 years China has undertaken a
process of reviving traditional skills. This project is proof of that process.
EP Yaying Store Shanghai, images / information received 261021
Location: Shanghai, People's Republic of China
New Buildings in Shanghai
Contemporary Shanghai Architecture
Shanghai Architecture Designs – chronological list
Shanghai Architecture Tours by e-architect
Kailong Jiajie Plaza Transformation, Hongkou District
Architects: AIM Architecture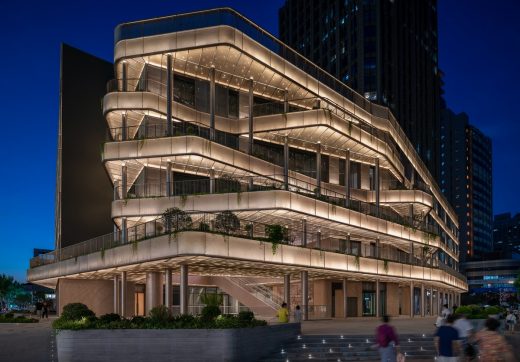 photo : Dirk Weiblen
Kailong Jiajie Plaza Transformation
Harmay Fang
Architects: AIM Architecture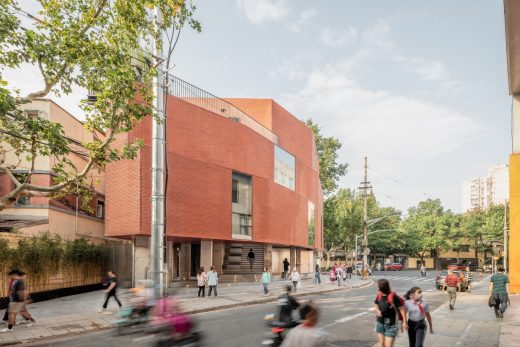 photograph : Dirk Weiblen
Harmay Fang Store in Shanghai
BAN Villa, Jijiadun, near Shanghai, Jiangsu province
Architects: B.L.U.E. Architecture Studio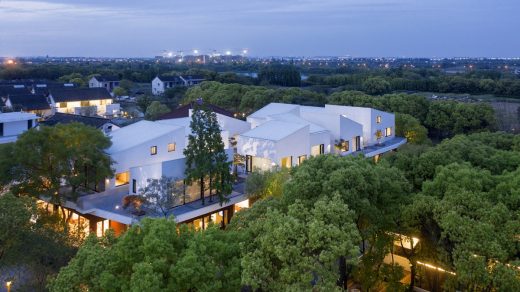 photo courtesy of architects office
BAN Villa in Jiangsu
Qiantan Center – Emporis Skyscraper Award
Design: Kohn Pedersen Fox Associates; Tongji Architectural Design (Group) Co., Ltd.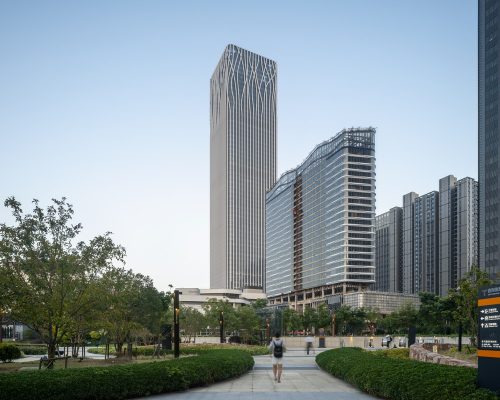 photo © Rex Zou
Shanghai Architect – architectural firm listings on e-architect
Comments / photos for the EP Yaying Store Shanghai by Franklin Azzi and Serge Ruffieux, Paris, page welcome