Rosslyn Chapel, Scottish Building Photos, Project Design, Da Vinci Code News, Midlothian Property Images
Rosslyn Chapel, Scotland
3D Digital Images of Historic Scottish Building: Category A listed Midlothian Structure
26 Jan 2010
Rosslyn Chapel Scotland
Rosslyn Chapel in 3D
Culture Minister, Fiona Hyslop has released cutting edge, 3D digital images of historical Rosslyn Chapel.
Rosslyn Chapel Building
Perspective from southwest: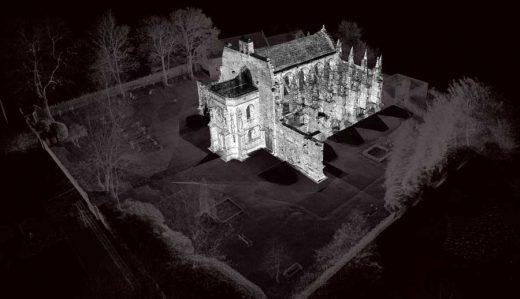 Rosslyn Chapel, a Category A listed building dating back to 1446, gained worldwide fame from the publication of Dan Brown's book the Da Vinci Code in 2004 followed by the film in 2006.
upwards view ; section looking south ; column




The laser scanning captures Rosslyn Chapel from all angles. The four shots attached include:
– a full elevation view of the Chapel revealing both the vault and the entire building
– a plan view, where we can see Rosslyn through the entire building from roof to floor
– aerial view showing the Chapel and its grounds
– interior shot
The images revealed are from a project developed by Historic Scotland and Digital Design Studio at the Glasgow School of Art, to survey and interpret heritage structures, creating the definiteive 3D record of the architecture down to the millimetre.
Terrestrial laser scanning, in combination with other digital technologies, is an extremely effective method of precisely documenting an object, building or landscape.
Over a three day period, a combined team from Historic Scotland and the Digital Design Studio at the Glasgow School of Art thoroughly laser scanned and digitally photographed the interior and exterior of the Chapel. Three highly advanced 3D terrestrial laser scanners were used on the project, each scanner capable of capturing 50,000 plus dimension points a second.
Within three days over 4.5 billion points were acquired. The information not only provides an accurate record of the Chapel's current condition, but has also provided critical dimensional information in the ongoing restoration process. This process would normally take a surveyor over a year to complete.
The laser technology has already been used on New Lanark and Stirling Castle.
Fiona Hyslop, Minister for Cultural and External Affairs said: "This leading edge technology will help digitally preserve Scotland's heritage for generations to come.
"The amount of detail in the digital images of Rosslyn Chapel is truly astonishing. This technology has already been used to give us exceptionally accurate 3D visual documentation and is currently being used at Stirling Castle. The technology provides a lasting, digital record of the country's most important buildings. It also offers a new method for researching and conserving Scotland's built environment.'
Colin Glynn Percy, Director of Rosslyn Chapel said: 'This has been a fascinating exercise for us which has real practical benefits in being able to record minute details for posterity as well as assist the conservation of Rosslyn Chapel for future generations to enjoy."
Historic Scotland and Digital Design Studio at the Glasgow School of Art announced a partnership in July to digitally document the country's five World Heritage Sites, and five international heritage sites – the first being Mount Rushmore – creating what will be known as the Scottish 10.
New Lanark is one of five World Heritage Sites in Scotland along with The Antonine Wall, St Kilda, Heart of Neolithic Orkney and the Old and New Towns of Edinburgh.
Professor Seona Reid, Director of the Glasgow School of Art said: "The work The Glasgow School of Art's Digital Design Studio and Historic Scotland are doing is truly world-leading and clearly shows how developing new technologies can help us better understand and appreciate great works of the past. This is just the beginning of a partnership that is set to leave a digital legacy for us all to enjoy."
Rosslyn Chapel digital images information from the Scottish Government
Rosslyn Chapel Scotland : further information
Rosslyn Chapel Building architect for Phase 2 : Simpson & Brown
Rosslyn Chapel Building
Rosslyn Chapel Building – Background
Rosslyn Chapel is undergoing a £13 million conservation and site improvement project.
Building timeline:
– 1630 St William Sinclair of Rosslyn was granted the charters from the Masons of Scotland confirming the St Clairs as traditional Grand Masters of the Masons of Scotland
– 1650 Oliver Cromwell used this Midlothian chapel for stabling his troops' horses.
– 1842 Queen Victoria visits the chapel.
– 1950s chapel building conservation work is undertaken.
– 2007 Rosslyn Chapel is awarded £7m in funding from Historic Scotland and HLF
Historic Scotland is an executive agency of the Scottish Government charged with safeguarding the nation's historic environment. The agency is fully accountable to Scottish Ministers and through them to the Scottish Parliament.
Glasgow School of Art is one of the United Kingdom's most successful higher education institutions specialising in architecture, design and fine art. It has an established reputation world-wide for high quality education and search which is demonstrated by the outstanding successes of its students and graduates and the professional standing of its staff. It is home to an international community of 1700 undergraduate and postgraduate students studying in the schools of Architecture, Design and Fine Art, or at the Digital Design Studio.
Location: Rosslyn, Midlothian, Scotland
Architecture in Scotland
Scottish Architecture Designs – chronological list
Major Historic Architects in Scotland
Traquair, Scottish Borders
Traquair House
Stirling Tolbooth
Stirling Tolbooth
Comments / photos for the Rosslyn Chapel – Historic Scottish Architecture page welcome