Clydeside Architecture Glasgow, River Clyde Plan, Strathclyde Built Environment
Architecture Debate : River Clyde Buildings
Discussions on Current Architectural Topics – Riverside Public Realm
15 Aug 2005
River Clyde Architecture
21st Century Glasgow – River Clyde Architecture
by Adrian Welch
Is Glasgow selling the Clyde down the river? Architect Adrian Welch analyses the buildings, and the spaces between them.
Glasgow's entire regeneration of the Clyde has been called into question. Leading architects, in town for the international design event, Archiprix, criticised the council for having 'no vision'. In the past, at an architecture conference on the Clyde in 2004, there was also stinging criticism and a call for a single authority to overview the river's urban revitalisation.
The area in question includes buildings on both banks, from the city centre downstream to the old dockyards. It is split up by the Council into different zones, such as 'Partick/Govan' and 'Tradeston – Broomielaw'. Each zone has a 'vision' and most have serious amounts of new building going on. There is a healthy mix of architects, from the international jet set to local designers, and much of the design is boldly contemporary and quite innovative. The building boom is providing much-needed urban housing and masses of jobs. So what's the problem?
Part of the problem is that any redevelopment of such a colossal size will unleash criticism, especially from designers and architectural journalists. In Edinburgh the Leith/Granton waterfront areas are undergoing a similar transformation and have also been criticised. The points raised by critics of both redevelopments range from issues of quality to infrastructure. Although there are landmark buildings it is felt that too many of the designs fall below par. Furthermore, there are worries that more car journeys will be created with not enough new public transport links, and concerns that schools, clinics, etc. will become overloaded.
Some are also critical of the masterplanning, feeling that development has materialised in an ad hoc way. This is probably true of any citywide redevelopment but the Council must address the gaps and links between different masterplans, the landscaping around and between projects. Unkempt weeds line parts of the river, for example below the parapet walls along Clyde Street. These areas of wilderness aid the city's biodiversity but look more forgotten rather than planned.
Are these various accusations justified? The easy answer would be 'hard to say' given that much of the area is a building site but let's try and reach some conclusions.
The vision by the Council is outlined on their website. The fact that each area has a masterplan and wedge of text suggests that there is an overall vision: whether it is a good one and developers adhering to it is a vaild question. The Council's recent track record with architecture seems blighted. A city that allows great works such as Alexander 'Greek' Thomson's Caledonia Road Church and St Vincent St Church to wither and decay appears to lack the credentials to carry through a major piece of contemporary masterplanning. Former Council leader Charlie Gordon is quoted as saying at Archiprix that architects should be humble in Glasgow due to their track record, pointing to buildings such as Queen Elizabeth Gardens (Basil Spence) in the Gorbals as being mistakes. Fair point, architects in the sixties probably did get a little lost, but it was the Council that gave the go ahead for the huge housing estates and the roads that ruptured communities. In the last month the M74 extension go-ahead has reopened these old debates. All parties need a balance of humility and courage to create a new future for the Clyde.
One of the criticisms of planning in the sixties was that it adhered to the principle of zoning, in which residential, industrial, and other types of activity were kept separate. Bearing in mind Gordon's criticisms, the Council and the architects collectively ought to have learnt from past mistakes: residents should not, for example, be marooned far from services such as shops or bars. But a cursory glance through the various Clydeside developments reveals scant evidence of mixed-use neighbourhoods. It looks suspiciously as though the developers are running the show – luxury apartments make a better return than shop units which may take years to let — and the Council will often kow-tow to them as the benefits to the city are so great, namely houses and jobs. But why the rush? One wonders whether the regenerators have looked at, and visited, best practice in other cities with a largely successful waterfront such as Copenhagen or Stockholm.
What about the new buildings themselves: are they considered to be of good quality? There are definitely some strong contemporary buildings along the riverfront and over time they will start to form an interesting cityscape. I suspect Glasgow is hoping to emulate Bilbao and Sydney with their iconic waterfront setpieces and certainly the 'Armadillo' seems designed for its silhouette. There's nothing wrong with wanting to create a dynamic skyline as long as the buildings are solid – like the Sydney Opera House – rather than paper-thin and shoddily built like Bilbao's Guggenheim. Buildings like the Armadillo are hollow one-liners, fun and memorable from a distance, but harshly simplistic close up. Instant icons can do more harm than good to a city's reputation long-term.
The key new buildings on the Clyde tend to be designed by international 'starchitects': BBC Scotland by David Chipperfield, Transport Museum by Zaha Hadid, Glasgow Bridge by Richard Rogers and the SECC Arena by Foster & Partners who previously designed the 'Armadillo'. Most of the recent work is residential apartments by respected Glasgow architects such as RMJM, Cooper Cromar, gm+ad architects and Elder & Cannon. Glasgow has mostly evaded the 'magic roundabout' of masterplanners witnessed at Edinburgh waterfront, and this should aid quality.
But even the landmark buildings have their downsides. Despite the BBC's intriguing section, on viewing the river frontage recently with a range of clients and architects, the definite consensus was 'oh dear'. The view was that the plain facades had reduced what should be a potent new building – think of the BBC's London HQ on Regent St – to a banal box. And existing buildings, such as the brazen Moat House Hotel, will take supreme efforts to integrate into an effective high quality vision.
Previous regeneration in areas such as Crown Street in the Gorbals, and along Buchanan Street, is now sending tentacles down to the Clyde. The former area's regeneration has spread into Tradeston with architects such as CZWG, best known for their London buildings using brightly-coloured glazed brick facades. Meanwhile, Buchanan Street currently ends in the disaster that is St Enoch Square but this is set to change with the approval of RMJM's massive Custom House Quay project. The Square itself is exactly the kind of public space that needs radical improvement. On a similar scale GH2 (Glasgow Harbour 2) by gm+ad architects, on the west of the regeneration zone, also locates large residential blocks fairly hard up against the river. The density of these two schemes has shocked some observers but the city is simply growing up.
In recent years I've spent a few days walking around Copenhagen's dockyards, which are also all being redeveloped. The quality of materials and design was marginally better than in Glasgow, but that is to be expected as the city – and country as a whole — is wealthier. There are plenty of dull sections – commercially barren or simply not yet redeveloped – cheek-by-jowl with beautiful new buildings. A key difference in Copenhagen is that most of the buildings are offices rather than apartment blocks. But the key *3quality*2 difference is the landscaping between and around buildings: this is generally of a very high standard, interesting and aesthetically enriching. From what I've seen so far in Glasgow, landscaping is a major weakness of the Clyde regeneration. Talented landscapers, such as Scottish studio Gross.Max, should be integral to realisation of Glasgow's vision.
I do hope this issue will change by the time the majority of properties are complete, and improve with maturity of planting. In fact, there needs to be a huge increase in the number of trees planted; they soften the landscape and provide much-needed colour and shade never mind their air cleansing properties. Thankfully much of the surface car parking, such as at the SECC, is due to be built over: there's just no place for bare expanses of tarmac in such an urban setting.
In terms of infrastructure one of the key issues is transport. With the subway due to extend into some of the former dock areas and additional bridges this is a key strength of the Council's vision. Frequent river crossings are really important for creatin pedestrian/cycle connections. But too much of recent development has relied on the car, a typically British tradition that is a bad habit. In Copenhagen around a third of commuters cycle to work and Glasgow City Council should try everything in their powers to encourage people out of their cars.
Whatever happens in the next few years there will continue to be gripes. Before the regeneration can be fully deemed a success we have to allow a few years to see how residents settle in and whether strong communities emerge. Charlie Gordon may aspire to 'middle class communities' but most importantly – for a whole host of reasons such as crime and lifestyle – the communities have to first and foremost be successful neighbourhoods, integrated into a strong city infrastructure.
Adrian Welch's website www.glasgowarchitecture.co.uk offers news and wide-ranging surveys of contemporary architecture in the city.
Adrian Welch – e-architect Editor
Location: River Clyde, Scotland
Architecture in Scotland
Scottish Architecture Designs – chronological list
Hawkhead Centre, Paisley, Southwest Scotland
Design: Page \ Park Architects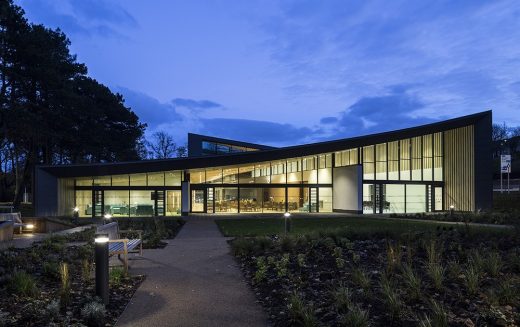 photo : Keith Hunter
Hawkhead Centre in Paisley
Comments for the River Clyde Architecture page welcome