Maxim Office Park, Motherwell Development, Scotland Building, Project, Photo, Design, Property
Maxim Office Park : Motherwell Building
Development in central Scotland, UK – design by Keppie
5 Feb 2013
Maxim Office Park Fit-out
Architects: Keppie Design
Contractiors have now started work on the fit-out for SEPA at Maxim Office Park
Maxim Office Park has announced that the fit-out of The Scottish Environment Protection Agency's (SEPA) new office and laboratory facility has begun with the appointment of Bowmer & Kirkland as principal contractors.
Bowmer & Kirkland, one of the UK's most successful privately owned construction, engineering and development groups, recently started work on site and will be overseeing the project through to completion.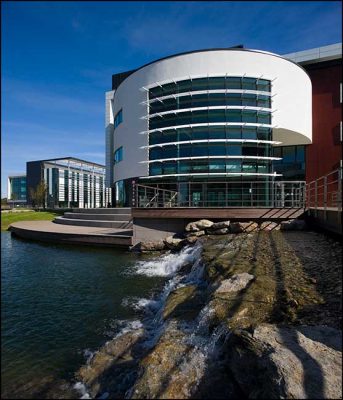 photo © Neale Smith
Glasgow-based Keppie Design Ltd has designed the new SEPA premises, set to be a combination of laboratory and office space to house scientific, advisory, regulatory and support staff.
SEPA announced last year that it was taking the 60,000 sq ft 'Maxim 6' building on a 20 year lease. All staff from SEPA's East Kilbride office will be based in the new facility and will be joined by some staff from its other offices in Edinburgh, Stirling and Perth. The facility will bring a number of SEPA's operations under one roof and will incorporate a first class laboratory to complement its sister laboratory in Aberdeen which was also designed by Keppie.
Using similar themes and materials to the Aberdeen operation, the new premises at Maxim will house at least 400 members of SEPA staff across four floors with interesting design features such as a communal hub in the atrium to link the labs and office space and 'thinking pods' for employees to utilise.
Craig Ritchie, on behalf of Arisaig Property Partners, asset managers of Maxim Office Park, said: "SEPA bringing a significant portion of its central Scotland operation to Maxim is a fantastic boost for the area and it's great to see the development of the building moving forward with the appointment of Bowmer & Kirkland and Keppie Design Ltd. Part of the laboratory will be glass-fronted and viewable by passers by, which I'm sure will be very impressive. We're looking forward to seeing the finished product and welcoming SEPA to its new premises."
John Ford, Director of Finance and Corporate Services at the Scottish Environment Protection Agency (SEPA) said: "We are pleased to announce the appointment of Bowmer & Kirkland as the principal contractor for our new premises at Maxim Office Park as the fit out process gets underway. The building will provide an operational base for many of our regulatory teams in Central Scotland, an excellent working environment for several related national functions, and a brand new, first class laboratory facility."
16 Sep 2009
Maxim Office Park Motherwell
2010
Architects: Keppie Design


photo © Neale Smith
Maxim Office Park Scotland : Architecture Information
Maxim offce park is the largest speculatively built office park scheme in the UK
Summary: Ten buildings totalling over 756,000 sq ft. built in a single phase
Location: adjacent to the M8 East-West corridor in Central Scotland
Programme: Development due for completion in Mar 2010
Maxim is Ready for Business
16 Sep 2009
First Minister Joins Olympic Hero to Open UK's Largest Speculative Office Development
First Minister Alex Salmond joined Olympic medal hero Sir Chris Hoy in officially declaring the Maxim office park in Lanarkshire "open for business" last Thursday evening, (10 September).
In less than two years, Maxim has risen from the remnants of the Chunghwa Picture Tubes site to become the UK's largest speculative office development, with the potential to attract 8,000 jobs.
With the site nearing completion, Mr Salmond joined more than 400 guests in celebrating its swift progress and heralding an exciting future for the site.
The £330 million development now provides 10 international class office buildings with more than 756,000 sq ft of grade A office space enclosed in a landscaped environment offering a range of amenities and leisure facilities – including a PGA accredited nine-hole putting green.
During the last few months, Maxim has attracted a wide range of high-profile lettings deals, allowing the park to now provide a wide range of fully operational and high quality amenities prior to occupiers moving on site.
First Minister Alex Salmond said: "This ambitious £330 million, world class office park has the potential to attract more than 8,000 jobs to North Lanarkshire and to serve as a focal point for the growth and development of the local and wider economy.
"The major development, which is the largest speculative build project of its kind in the UK, demonstrates great confidence in both the Scottish economy and North Lanarkshire's highly skilled, versatile workforce. This substantial 756,000 sq feet office park has the capacity to serve as a hub for enterprise in North Lanarkshire, providing opportunities for new and developing businesses to prosper at its prime location at Eurocentral.
"The Scottish Government is doing all it can to counter the recession, maximise employment and to secure a strong recovery from the economic downturn. New facilities such as Maxim Office Park play a key role in supporting the economic recovery through providing quality, modern facilities for enterprises, attracting investment and promoting Scotland as a great place to live, work and do business."
The Maxim development is entirely privately funded by a partnership bringing together Tritax group and the Bank of Scotland.
The initial three office buildings are now complete, offering a best-in-class office park environment, as well as Grade A office accommodation and a wide range of shops and leisure facilities which are now in place. Amenities include a PGA-accredited putting facility which is supported by leading Scots golfer Alistair Forsyth.
For Maxim, the opening shows that the park is now ready for business. Chief executive, Karen Campbell, said: "In just less than two years Maxim has risen from the ground on a scale unprecedented in Scotland, and indeed the UK. We are justifiably proud of what we have created here in Lanarkshire, offering businesses the opportunity for an unparalleled working lifestyle.
"Our ambitious vision is now a reality. We have completed, well ahead of schedule, the first stage of what we set out to do. Maxim is no longer an intangible concept – a promise, a design master-plan or an artist's impression – it's real, it's happening and it's here.
"We can see the change in prospective tenants as they visit Maxim. They can now visualise exactly what it would be like to work here, and see and feel the quality of the environment which we now provide.
"There is now a real confidence in the market that Maxim has got it right. Our pipeline of interest offers a promising long-term forecast of economic investment in Scotland, and I look forward to making more positive news announcements in the coming months."
Christian Van Dee, associate at architecture practice Keppie, who designed the park said:
"We are extremely proud of our team's achievements at Maxim Office Park. The park is leading edge in terms of workplace design and the understated class of the building designs will ensure its longevity. To achieve an Œexcellent¹ environment rating for Scotland's largest speculative office building within a very tight budget and short timescale has been a real achievement. We're looking forward to the park opening so that we can see the environment come to life."
Maxim Office Park – Project Team
Architect: Keppie Design
Main Contractor: Bowmer & Kirkland
M&E Consultant: Hulley & Kirkwood
Civil & Structural Engineer: Struer
More information re Maxim Office Park online soon
Location: Maxim Office Park, Motherwell, Scotland
Architecture in Scotland
Contemporary Scottish Architecture
Scottish Architecture Designs – chronological list
Scottish Architect Studios
Comments / photos for the Maxim Office Park Scotland page welcome
Website: www.maximpark.co.uk