Inverness Midmills Buildings Images, Highlands Creative Academy, Architect, Scottish News
Inverness Creative Academy
New Architecture in Victorian School, Northern Scotland design by LDN Architects
13 Dec 2018
Wasps Inverness Creative Academy Building
Location: Midmills Building, Crown Avenue, Inverness IV2 3NG, UK
Creative Hub Offers Artists a New Home in the Highlands
Design: LDN Architects
Wasps Arts Hub Building, Northern Scotland, UK
LDN Architects' and Robertson Northern regeneration of Inverness Victorian school buildings will boost economy and retain talent
December 2018 – The first major arts hub in the Highlands is now open – providing urgently needed studios for everyone from photographers and textile designers to an artist who knits glass.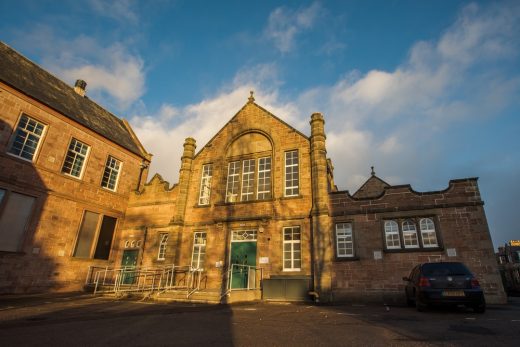 LDN Architects are at the heart of the two-phase Inverness Creative Academy project which aims to boost the economy by bringing together artists, makers and creative companies in a high-profile centre with the facilities they need to flourish.
Creative hubs are popular across Europe. They have been successfully pioneered in Scotland by Wasps Artists' Studios – which is behind the Inverness development – whose centres include South Block in Glasgow.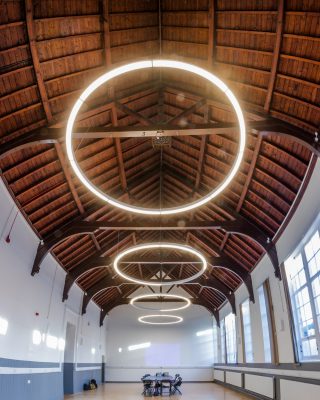 There is an acute shortage of studio space in the Highlands, which hampers the prospects of locally based artists and makers and means some have to leave the area.
The £2.2 million Phase 1 has seen the restoration and transformation of one of the empty B Listed Midmills buildings, near the centre of Inverness, to create 39 high quality, affordable studio spaces and an exhibition area. Phase 2 will give a new future to the second building.
Many people have fond memories of the Midmills buildings, which were part of the Inverness Royal Academy and later Inverness College.
Ian Phillips, Operations Director of main contractor Robertson Northern, said: "Working on a Grade B listed building and restoring it to its full capacity and function was challenging but one that the team approached with an acute level of attention to detail and sensitivity towards the building itself.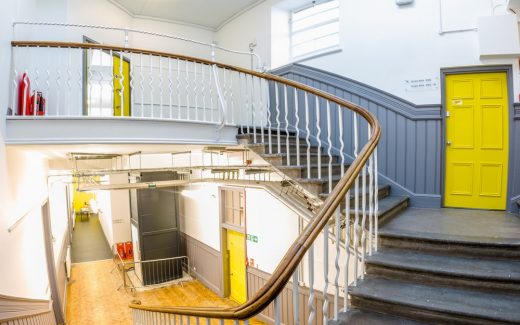 "The Inverness Creative Academy has been a great project to work on and we are delighted by the results – especially as it has brought an iconic and historic building in the heart of Inverness back into use."
Audrey Carlin, Wasps Chief Executive Officer, added: "The opening of the Inverness Creative Academy is something to celebrate. It provides excellent artists and makers with a new home in the heart of Inverness.
"The Highlands is aregion of huge talent and creativity, but many people have been held back or forced to leave because there is too little studio space. The opening of the creative academy is an important first step towards reversing this trend and helping to build the strongest and most vibrant possible creative economy.
"We have worked closely with LDN throughout the process of getting Phase 1 up and running. They have done a superb job in conserving and enhancing the historic character of the building while adapting it to the complex and varied needs of 21stcentury artists and makers."
Stuart MacKellar, Partner at LDN, said:'It has been a pleasure to have had a lead role in the transformation of the former Inverness Royal Academy for use by Wasps. The buildings presented challenges that demanded creative and hardworking responses from Wasps and the design team, the result of which, we hope, is something befitting of the attitude and quality of the original architecture.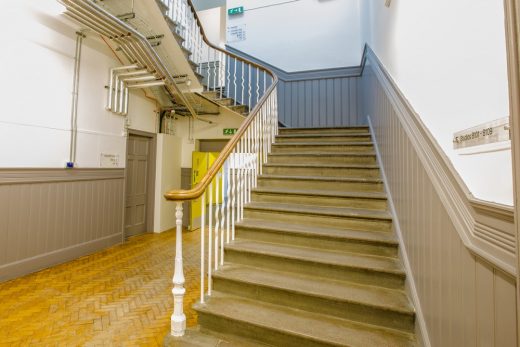 "With the buildings now in use, the sense of community that Wasps is nurturing at Midmills is tangible and it is clear that its reach will stretch far beyond the site boundary. We are looking forward to the second phase."
The project is already showing its worth by providing high-quality, affordable workspace to locally based people who want to live and work in the Highlands but could not find studios.
Among them isabstract artistHaywood John, from Inverness, who said: "I have been working in half of my garage until now – this is just brilliant. It makes an amazing difference to have a studio like this. It's great for artists and great for Inverness."
There is also the award-winning Evija Laivina.She said: "I have actually studied in the Midmills buildings. It was an amazing place and they were some of the happiest days of my life. Rescuing the building and turning it into studios like this is a wonderful thing for Inverness (see case study).
"I make a lot of props for my work and it is very challenging to do this without proper studio space. I am also really looking forward to being in an environment with other artists – it's inspirational and it opens up all sorts of collaborative possibilities."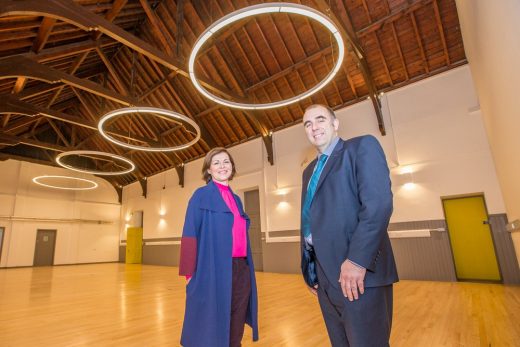 The Inverness Creative Academy is also attracting fresh talent to the area including Catherine Carr, who knits and crochets glass, who moved to Inverness from England especially for the studio space (see case study).
The completion of Phase 1 involved a £1.2 million investment that has restored one of the B Listed Victorian Midmills buildings to create 39 studios and an exhibition space. Phase 2 will give a new future to the second building.
Wasps is Scotland's largest creative community and provides studios, workshops, offices and other facilities for 1,000 creative people in centres from The Borders to Shetland. In recent years it has created new facilities in the Highlands and Islands with projects on Skye, Orkney and in Nairn.
Fundraising is underway for the second phase of the wider £5.7 million Inverness Creative Academy scheme which will include offices for creative companies, a public café, performance and events space plus workshop areas.
One of the strongest supporters of the academy scheme is the University of the Highlands and Islands which hopes that it will enable more of its graduates to build careers in the region.
Pete Honeyman, Subject Network Leader for Cultural and Creative Industries at the University of the Highlands and Islands, said:"This is a hugely welcome addition to the creative and cultural environment of Inverness, not just for the city but for the wider Highlands and Islands.
"Artists and makers can be transformational to cities and these facilities and the creative community they will nurture will improve and enrich quality of life. The creative academy will greatly enhance our graduates' opportunities to work and stay in the Highlands and help further the region's already burgeoning reputation as a place of artistic excellence."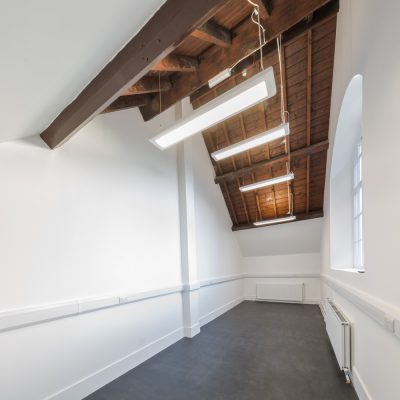 The project is supported by The Highland Council, HIE, the Scottish Government, Inverness City Heritage Trust and McCarthy and Stone Retirement Lifestyles Limited.
It represents a significant contribution to HIE's Creative Industries Strategy which aimed to attract inward investment and make the Highlands an attractive location for creative individuals and enterprises.
James Gibbs, area manager at HIE's Inner Moray Firth team, said:"Wasps have built a strong sustainable model for supporting creative communities in Scotland and we are delighted to have assisted them with a £420,000 grant towards this first phase of the Creative Academy development.
"The hub will offer shared work spaces for a variety of creative and cultural businesses and will attract young people to the area as well as create jobs for local people. At the same time, the project will bring a significant building back to life to support the rich creative community in the Inner Moray Firth area."
The creative academy scheme is set within a wider set of initiatives to enhance cultural business and tourism, including finding new uses for Inverness Castle.
Margaret Davidson, Leader of The Highland Council said:"The proposed Inverness Castle and associated developments represent the biggest culture led regeneration opportunity in the area for decades. The opening of WASPS today strengthens the cultural scene for creative people working in the area and I look forward to many practical linkages with the Castle development as it progresses."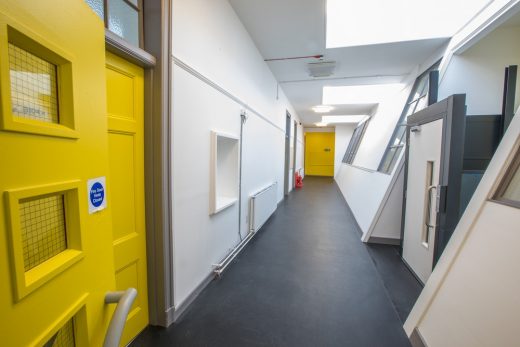 Highland Council believes the academy will bring opportunities for artists and makers and help build the local economy – and could inspire other creative enterprises to set up in Inverness.
Ian Murray, Chief Executive of High Life Highland said:"Artist development will be greatly supported by the opportunities for training and learning at WASPS, encouraging the retention of young creative talent and attracting new creative industries to base themselves in the Highlands."
Wasps Inverness Creative Academy
The Creative Academy project in brief:
The facilities that will be provided include:
• 39 studios for artists and makers 

• 54 workspaces for creative industries and cultural social
enterprises 

• Public café within the restored former assembly hall 

• Public exhibition, events and workshop spaces 

Benefits to Inverness and the Highlands: 

• Two significant listed buildings, in the centre of Inverness saved and reused 

• Provision of the only creative hub in the Highlands 

• Economic activity to the city centre 

• Support for, and retention of, creative talent in the Highlands 

• Opportunities for collaborative working, skills sharing and networking 

• Public access to historic buildings and community creative activity programmes 

• Improved appearance of local area. 

The Phase 1 work was carried out by Elgin-based Robertson Northern.
About Wasps
• Wasps stands for Workshop and Artists' Studio Provision Scotland Ltd. It was established in 1977.
• The ethos behind Wasps is that while art can enrich communities and society by inspiring, educating, entertaining and transforming people's lives, many artists and arts organisations with the talent and ability to achieve this often struggle to work and fulfil their potential because their low incomes make workplace rents prohibitive. Wasps was therefore set up to provide good quality, affordable studio space to enable artists and creative bodies to carry out their work.
• Wasps studios are all across Scotland – and as far apart as Shetland and Kirkcudbright. The sites are: Aberdeen (Langstane Place Studios and Shore Lane Studios), Dundee (Meadow Mill Studios), Edinburgh (Albion Road Studios in Leith, Patriothall in Stockbridge and West Park Place in Dalry), Glasgow (Dovehill in Gallowgate, Hanson Street in Dennistoun, South Block and The Briggait, (both in The Merchant City), Irvine (The Courtyard), Kirkcudbright (Canonwalls and Claverhouse), Nairn (Links Studios), Newburgh (The Steeple), Selkirk (St Mary's Mill), Skye (The Admiral's House) and Shetland (The Booth in Scalloway).
• In recent years the Scotland-wide organisation has been transformed from a small charity into one of the most successful bodies of its type in Britain. In 2014 it was named Scottish Social Enterprise of the Year. It is highly unusual because it is self-financing in its day-to-day operations, normally only seeking loans or grants for capital projects.
• For more see www.waspsstudios.org.uk/
Address: Midmills Bldg, Crown Ave, Inverness IV2 3NG, Scotland, UK
Phone: +44 141 553 5890
Inverness Building Developments
Inverness Architecture : main page with key projects + current news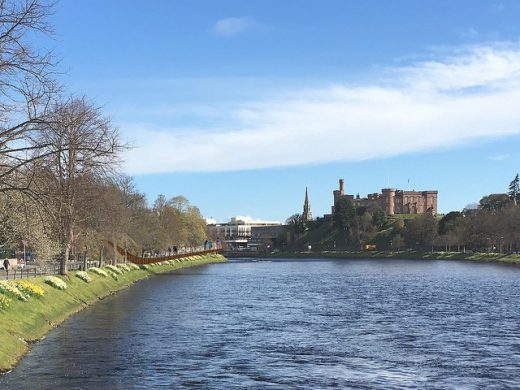 The Gathering Place on River Ness, image from architects
Inverness Justice Centre Building News
Design: Reiach and Hall, Architects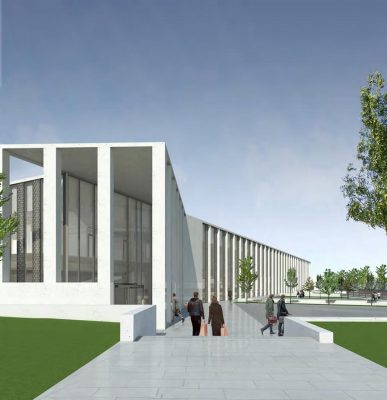 image courtesy of architects
Inverness Justice Centre Building News
Centre for Health Science
Architects: Keppie Design / Bennetts Associates
Centre Health Science Inverness
Scotland's Housing Expo – new Inverness Housing
Cadell2 – Masterplan Architects ; various architects
Highland Housing Fair
Scottish Natural Heritage HQ Building
Keppie Design
Inverness Architecture
Website: Wasps Inverness Creative Academy
Scottish Architecture News
Scottish Architecture Designs – chronological list
Website: Visiting Inverness
Comments / photos for the Inverness Creative Academy Arts Hub Design News page welcome