Calderwood Housing, East Calder Homes, Architecture, Architect, New Community, Designs
Calderwood Housing : East Calder Housing
Scottish Design Competition – West Lothian Homes, Scotland, UK
Calderwood Homes
Calderwood Design Competition – Winners announced 17 Jul 2009:
New House Typology:
Winner:
Craig Amy Architect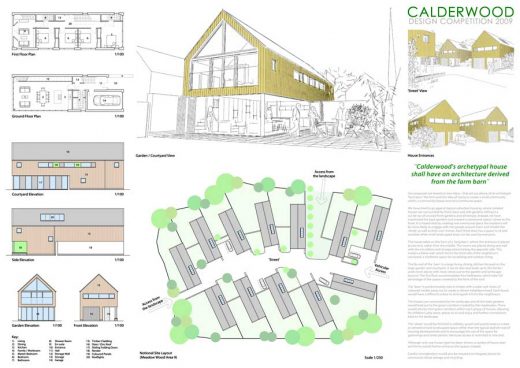 Runner-up:
City Architecture Office


Runner-up:
City Architecture Office ; Amin Taha (London)


Multi- Purpose Community Building:
Winner:
Laurence Wood


Also Shortlisted:
Davide Macullo Architect (Italy)
ZM Architecture
Keppie Design Ltd
Anna Gibb & Claire Bonnar (Robert Gordon University)
Hien HT Nguyen
Kok-Loong Wong
Gras
Organic Architects (Gareth Roberts)
Experimental Design Studio
Calderwood Competition : Winner – Information from Craig Amy Architect


photo by Stirling Developments
Calderwood Competition : Runner Up – Information from City Architecture Office:
City Architecture Office are runners up in the international housing competition by Stirling Developments for Calderwood, in West Lothian.
The City Architecture Office entry for Meadow Wood builds on their expertise in low-carbon buildings using the opportunity of a greenfield site to demonstrate volume housing with a permaculture.
Each house has a simple form as a template, with a flexible layout and cladding options. The building construction is timber framed and super-insulated to achieve level 6 of the Code for sustainable homes.
Wood burning units provide heat for each group of houses with rain water & sewage being locally treated to supply the 'egg' allotment spaces. This approach to place making creates a distinct community that can live close to nature on the stunning site in West Lothian, near Edinburgh.
"We're pleased at this recognition for City Architecture Office, we understand how to create energy efficient homes but also wanted to demonstrate another approach to place making for a volume housebuilder that shows what could be achieved in this setting with good urban design & low-tech infrastructure."
Moray Royles, Director: City Architecture Office
Calderwood Design Competition 2009 – Exclusive Launch by e-architect
Design housing and/or a mixed-use community building for the first phase of a new development at Calderwood, West Lothian, central Scotland
£1000 prize for winner of each category
Winners & runners up will be interviewed for a position with Stirling Developments





images by Stirling Developments
Cash prizes, invitations to work with internationally acclaimed Architects and an employment opportunity to work with Scotland's most exciting development company.
Stirling Developments would like to invite you to participate in a competition to design house types or a mixed-use community building for the first phase of our 'Calderwood' new village development near Edinburgh. Calderwood aims to be one of Scotland's best new developments.
Competition A : Brief for a New House Typology
Can you design an appropriate house type for Calderwood's 1st phase neighbourhood, "Meadow Wood"?
Consider the neighbourhood's context, within both existing landscape & the proposed masterplan to design a detached house type for a specific target market (100m2 min- 300m2 max floor area). Designs should be hugely desirable while representing great value for money to the discerning house buyer.
Competition B : Brief for Multi- Purpose Community Building
Can you design the multi- purpose community building for the new "Meadow Wood" neighbourhood?
This will be built at an early stage of the development to provide new residents with a meeting place and some essential facilities which will help foster a connected, friendly community.
The building has to be hard working, cost effective and should maximise a range of potential uses. Facilities should include: cafe/pub, convenience shop & community rooms for hire with a total floor area of circa 150m2. Entrants should also consider how the buildings' outdoor spaces can be successfully utilised.
Contestants can work individually or in groups and enter for either or both competitions.




images by Stirling Developments
Previously:
Various architects were asked to submit designs, incl. Graeme Massie Architects and Sutherland Hussey Architects
Proposal by Sutherland Hussey Architects – images:



Intention: "an inspiring, sustainable community, with identity, character and a friendly community spirit."
Status: draft master plan
Developer: Stirling Developments
Scope: approx. 2,800 homes + a primary and academy schools
Location: adj. village of East Calder, near Livingston, West Lothian, Scotland
The Calderwood project included in West Lothian's Finalised Local Plan, May 2005
Location: East Calder, West Lothian, central Scotland, UK
Architecture in Scotland
Contemporary Architecture in Scotland
Scottish Architecture Designs – chronological list
Comments for the Calderwood Housing Architecture page welcome
Website: http://www.stirlingdevelopments.co.uk/calderwood-dev-principlesl