Ben Wyvis Primary, New Scottish School, Building Membranes Scotland, Architect, DuPont AirGuard Reflective
Ben Wyvis Primary School, Scotland
New Scottish Education Building design by Highland Council Architects
4 Sep 2012
Location: northern Scotland
Advanced building membranes from DuPont are a study in energy-efficiency and reliable protection at Ben Wyvis Primary school
Site view of Ben Wyvis Primary School in Scotland, which benefits from advanced building membranes from DuPont to both protect the structure and enhance its energy performance: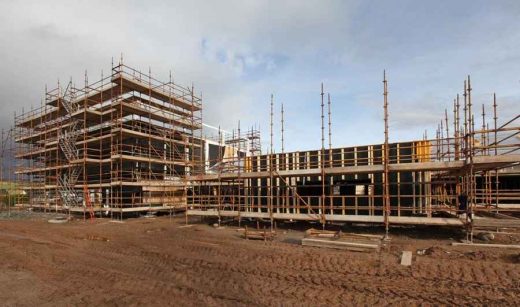 photo : Simon Price for DuPont, all right reserved
Ben Wyvis Primary School
DuPont™ AirGuard® Reflective in the interior of Ben Wyvis Primary School, a high performance air and vapour control layer improves airtightness, thermal efficiency and interior comfort:



photo : Simon Price for DuPont, all right reserved
August 2012 – The construction of the new Ben Wyvis primary school in Scotland has been undertaken by Barr Construction on behalf of the Highland Council with the objective of meeting the highest standards of teaching accommodation, site facilities and sustainability. As part of the build, close attention has been paid to the envelope structure and to issues such as insulation, air-tightness, greater energy-efficiency and optimum comfort.
DuPont™ Tyvek® Supro installed to the walls of Ben Wyvis primary school building:



photo : Simon Price for DuPont, all right reserved
DuPont™ Tyvek® UV Façade, a special breather membrane with superior UV resistance developed for open jointed façade design, installed behind the timber cladding of the new sports hall at Ben Wyvis school:


photo : Simon Price for DuPont, all right reserved
Several high tech membranes from DuPont have been specified for a variety of applications, from ceilings and walls to roofs and facades. These include the advanced breather membrane DuPont™ Tyvek® Supro Plus as a protective roof underlay and also a wall 'wrap' in certain locations, DuPont™ AirGuard® Reflective air & vapour control layer to interior walls and DuPont™ Tyvek® UV Façade behind the rain screen cladding on the sports hall.
This ten-classroom primary school will have the classrooms arranged in two wings perpendicular to the main wing of the building, creating the external courtyard and playground spaces. The main wing acts as part of the secure barrier to the playgrounds and the rest of the school. Contained within this wing are the nursery, library, admin, community, dining, kitchen and sports facilities.
The corridors and class rooms have maximised glazing to enhance the views in and out of the building as well as external breakout spaces which open to the secure playground and courtyard areas, allowing interaction between internal and external environments. The building has been orientated to allow the playground and courtyard spaces to take advantage of the inspirational outlook and to ensure the teaching spaces make good use of the sun paths throughout the day.
It was also crucial that this building be conscious of public resources and energy use, while also protecting the structural investment and ensuring occupant well-being by carefully considering interior comfort and thermal performance.
Richard Jack, Chartered Architectural Technologist for the Highland Council, comments, "It was imperative that the renovation observed the highest standards of sustainable building practice and a holistic and reliable membrane solution in the envelope was a key part of this overall ethos. However, it was also important that as well as being energy efficient, the interior climatic environment remains comfortable for the children and staff, to enhance well-being and productivity. This combination of DuPont membranes offered the optimum solution."
About DuPont™ Tyvek®: DuPont™ Tyvek® advanced breather membranes for building offer proven long-term durability and resistance (as demonstrated by independent test results) and are distinctive in several key ways that make them ideal for today's construction projects. Unique because of the high-quality single layer construction, DuPont™ Tyvek® is naturally vapour open but also water-tight. This is due to its composition of millions of micro fibres that are bonded together to make a "maze" that's impermeable to moisture and yet allows water vapour to pass through the natural pores in its structure. Robust, yet lightweight and easy to install, DuPont™ Tyvek® breather membranes can enhance both the energy-efficiency and the interior comfort of a structure.
About DuPont™ Tyvek® UV Façade: DuPont™ Tyvek® UV Facade was developed using the same unique technology that has made DuPont™ Tyvek® the market leading breather membrane and this innovative solution allows for greater freedom and confidence when designing open-jointed facades. The membrane reliably protects against wind, water, interstitial condensation and air-leakage, while being designed especially to resist UV damage. DuPont™ Tyvek® UV Facade bears the CE mark in accordance with EN 13859-2 and rigorous testing has shown it to be able to withstand UV exposure for a very significant length of time.
About DuPont™ AirGuard® Reflective is a metallised AVCL which is 100% airtight and protects against moisture penetration from the interior into the building envelope. With high reflectivity and very low emissivity DuPont™ AirGuard® Reflective also helps to prevent radiant heat loss. DuPont™ AirGuard® Reflective works together with other membranes such as DuPont™ Tyvek® and special tapes to create an air-tight building envelope, minimising internal thermal losses and helping to create a more comfortable interior environment, while offering energy savings of up to 15%.
Although sophisticated in terms of technology, both DuPont™ Tyvek® and DuPont™ AirGuard® are lightweight and simple to install and come with the technical support and backing of a globally renowned and trusted manufacturer.
About DuPont Building Innovations – DuPont™ Tyvek® and DuPont™ AirGuard® are products of DuPont Building Innovations. From innovative energy-saving systems to beautiful and long-lasting surfacing solutions, the extensive offering of DuPont Building Innovations delivers safety, durability, beauty and energy efficiency, providing a major contribution to the modern built environment – across the spectrum of building and architecture, roads, bridges and other infrastructure and also to landscaping and gardens, as well as to the preservation or the renovation of contemporary and historical constructions.
The main products and brands managed by DuPont Building Innovations are DuPont™ Corian® (www.corian.co.uk), DuPont™ Tyvek® and DuPont™ AirGuard® (www.tyvek.co.uk), DuPont™ Energain® (www.energain.co.uk), DuPont™ Typar® (www.typargeo.com) and DuPont™ Plantex® (www.plantexpro.dupont.com).
About DuPont – DuPont (NYSE: DD) has been bringing world-class science and engineering to the global marketplace in the form of innovative products, materials, and services since 1802. The company believes that by collaborating with customers, governments, non-governmental organizations, and thought leaders we can help find solutions to such global challenges as providing enough healthy food for people everywhere, decreasing dependence on fossil fuels, and protecting life and the environment. For additional information about DuPont and its commitment to inclusive innovation, please visit www.dupont.com
For more information about DuPont™ AirGuard® and the DuPont™ Tyvek® family of membranes please visit: www. tyvek.co.uk or call 01275 879 770
Ben Wyvis Primary School images / information received 040912
Address: Ben Wyvis Primary School, Leanaig Road, Conon Bridge, IV7 8BE
Contact Ben Wyvis Primary School: 01349 861867
Location: Leanaig Road, Conon Bridge, IV7 8BE, ScotlandScotland, UK
Architecture in Scotland
Contemporary Architecture in Scotland
A recent building in the area on e-architect:
Bogbain Mill
rural design Architects
Bogbain Mill
Comments / photos for the Ben Wyvis School page welcome