Walt Disney Museum, San Francisco Building, Project, Photo, American Design, Image
Walt Disney Museum San Francisco
WD Building in California design by Rockwell Group, USA
Feb 26, 2010
Walt Disney Museum in San Francisco
Design: Rockwell Group with Page & Turnbull
Walt Disney Family Museum in San Francisco, California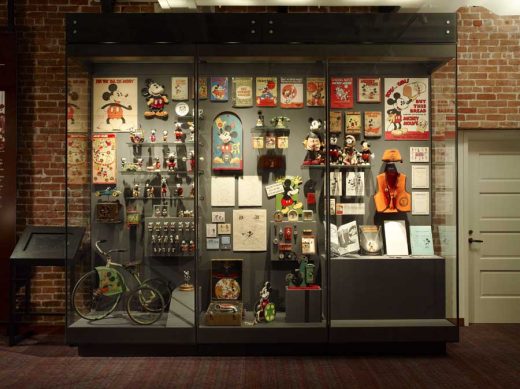 picture from architects
Walt Disney Family Museum Building in detail
Entrance/Reception Area:
– Display of 239 awards that Walt Disney received in his lifetime.
– Each pair of cases has an interactive element, so that visitors can find out more about each award, browse through the hundreds that he received, and make a connection between the visitor's interests and WD.
– Behind reception desk is a recreation of Walt's secret apartment at Disneyland.
Gallery 1:
History:
– WD's early life, history and background
– Experience during World War I.
– When WD returned from War, he worked as a cartoonist for a newspaper.
– Then starts his own animation business with his friends.
Exhibits:
– Early drawings
– A real ambulance, like the one that WD drove during World War I
– Violin that WD's father played
– High school yearbook with WD's drawings inside.
– Examples of some of the half dozen animation films he makes before going bankrupt.
Elevator:
History:
– WD's journey from Kansas to Hollywood
Exhibits:
– Elevator themed to look like train from that era (e.g. wood paneling, etc.)
Technology:
– 13 second audio clip with Walt's voice narrating as visitors travel from the first to the second floor.
Gallery 2:
History:
– WD arrives in Hollywood, and tries to get a job.
– He creates 1 cartoon every 3 weeks for about 2 years ' around 70 cartoons.
– He and his brother Roy get married.
– He begins with the Oswald cartoon, but his boss steals his idea, so he secretly begins to work on Mickey Mouse.
– Sound debuts in Hollywood movies.
– WD creates one of first synchronized soundtracks to actions in cartoons.
Exhibits:
– Birth of Mickey Mouse: earliest known drawing of Mickey.
– Cases of hundreds of Mickey merchandise.
Technology:
– 6 monitors that play back some of the 56 animations he created in under four years.
– 400 drawings and monitors of Steamboat Willy (showcasing how many frames it takes to make one animation – need 400 frames for only 17 seconds).
– Table with touch-sensitive bronze instruments (ratchet, wood block, snare drum, lip pop, bass drum, boxing bell, xylophone, cat scream, and cymbal) that visitors use like Rock Band or Guitar Hero, to try to match each instrument with its cue in the cartoon that is playing. It is a group activity. (Roto Studio, Dublin, Ohio.)
Gallery 3:
History:
– Galleries 3 through 6 showcase the evolution of WD's studio from 1930-1945.
– WD experimenting with different techniques.
– WD creates his -Silly Symphonies.-
– WD got an exclusive contract with Technicolor.
Exhibits:
– 3 kiosks showcasing the 3 technological innovations that helped WD move forward.
– COLOR: Color pots, paint brushes, and other artifacts.
– DEPTH: Showcasing multi-plane technology, where WD used many glass frames to create the illusion of the cartoon moving through space.
– PERSONALITY: WD began to give personality/drama to his characters instead of just using slapstick.
Gallery 4:
History:
– 1936-1937
– WD risks everything to make -Snow White,- the first feature-length cartoon of this quality and magnitude.
– (The Oscar WD received for -Snow White- is in the entrance with the other awards.)
– Used all of his innovations to make this movie.
– Growth of WD's Hyperion studio.
– WD invests in an art school department for his animators.
Exhibits:
– Interactive clips and interviews to show the creative culture of WD's office, and the excitement in the studio at the time.
– Art/merchandise for -Snow White-
Technology:
– Four separate interactive music stands: the touch-screen monitor leads visitors though a series of multiple-choice questions that test their knowledge about how music can convey mood or character in a movie. (Second Story, Portland, Oregon).
– Toy Moviola (Roto Studio, Ohio): Visitors can crank the Moviola to roll the reel and examine the details of a scene from Snow White, frame by frame.
– Interactive exploration of the culture of the Hyperion studio by Second Story (Portland, Oregon): Sit-down touch-screen experience where visitors can explore multiple facets of the studio culture in a non-linear way. Includes video clips, still photos, interviews and factoids.
– An abstracted, cartoon-ized Moviola (small machine used for playing back reels, more convenient than watching them in a screening room). Roto Studio sequenced a collection of pencil drawings to a dial, allowing the visitor to crank through the frames manually. This gives them a way to both study the beauty of each drawing and see how they come together to create the illusion of movement. (Collaborated with Roto Studio, Dublin, Ohio.)
Gallery 5:
History:
– WD builds his Burbank studio.
– Creation of 3 major movies: -Bambi,- -Pinnocchio,- and -Fantasia-
Exhibits:
– Original art and maquettes for these 3 films.
– Display of an original desk from the Burbank studio – WD designed all the furniture in his studio.
Technology:
– The sound for -Fantasia,- a movie based on live orchestration, predates the widespread use of stereo sound by nearly 20 years.
– RG scanned every page of the -Schultheis notebook,- a detailed notebook that one of WD's studio artists kept on the production of -Fantasia.- Second Story (Portland, Oregon) brought the book to life by putting these scans together so that visitors can browse through the journal, zoom in, activate pages to play back a scene.
– 10 foot projection screen with -Fantasia- playing
– Hole in floor reveals a real multi-plane camera.
– There is also a miniature version of the multi-plane camera for visitors to play with.
Gallery 6:
History:
– World War II
– WD's parents die.
– Worker's strike of 1941 – big moment in unionization of animators
– WD and many of his studio members travel to South America as Good Will ambassadors.
– WD created 3 films during wartime, including -Dumbo,- before he was forced to stop production.
– Then WD worked for the government making morale-boosting videos
– WD and his animators also made hundreds of insignias for war planes.
Exhibits:
– Documents for and against the worker's strike: fliers, home movies, strike signs, full transcript of WD's testimony.
– Wall of color taken from the hues WD's artists took from their journey in South America.
Gallery 7:
History:
– WD had to rebuild the company from 1945 on, after the War was over.
– WD began to experiment with live action movies, and more animated features.
– WD travels to Europe.
Exhibits:
– Art, maquettes, etc.
– Family story.
Technology:
– Video ribbon of everything WD did from 1945-1950: both live action films and animated features
– RG and Second Story (Portland, Oregon) created 4 booths where families could gather to see an interactive, visual database about everything WD did in the period after World War Two. 5 foot wide touch-activated table lets visitors browse a constellation of stories, images and videos, using a train of thought approach to reveal the narrative. Visitors dive into the museum's visual database, connecting the dots according to their own interests.
Gallery 8:
History:
– Walt Disney was one of the first people to make full length nature documentaries.
Exhibits:
– Page & Turnbull created a curtain wall here with a view to the Golden Gate Bridge.
– Rockwell Group installed video monitors within the ribbon wall in this 60 foot corridor showcasing scenes from animation features such as -Cinderella,- -Peter Pan- and -Alice in Wonderland- along with the live-action films from the UK, commercials and package films.
Gallery 9 (RAMP):
History:
– Last years of Walt Disney's life between 1946-1966.
– WD is fascinated by miniature trains.
– WD signs a deal with ABC for -Disney Land TV,- which helps fund the park. Each segment is a sneak peak of WD's plans for the evolution of the Disney Land theme park.
– WD builds Disney Land in one year, 1950.
Exhibit/Technology:
– 164 foot spiral ramp (highlights from top or ramp to bottom):
Original narrow-gauge Lilly Belle train WD built for his Hollywood home – WD is fascinated by miniature trains.
Along ramp are monitors showing Disney Land under construction.
20 foot diameter model of Disney Land (model made by Kerner Optical) – visitors can look down onto the model from over the ledge of the ramp.
At the mezzanine level of the ramp is a prototype car, illustrating WD's fascination with transportation technology.
Off the mezzanine level of the ramp is a wave of 20 TVs: each one shows different pieces of media WD was working on at the time. There is seating in front so visitors can tale a break half way down the ramp to watch this footage.
At the base of the ramp is a video in the ramp rail featuring clips of the Tower of Nations, the Opening Ceremony, and interviews from when Disney helped design the Olympics in Squaw Valley in 1960.
Gallery 9 (off the ramp)
History:
– Off the ramp are showcases of the four pavilions WD designed for the 1960 World's Fair, all the exhibits of which WD brought back to Disney Land.
– -Mary Poppins- in 1965
Exhibits:
– Pepsi/Unicef: -It's a Small World-
– Ford: -Magic Skyway:- debut of the Ford Mustang, the miniature of which was used for the ride.
– -Carousel of Progress:- Time travel, showcasing of a better life through electricity, actual fusion explosion.
– EPCOT: concept and promotion of the utopian world of EPCOT (Experimental Prototype Community of Tomorrow)
– Small standing theater for -Mary Poppins-
Technology:
– Illinois Pavilion: Great moments of President Lincoln for 1960 World's Fair, where WD exhibited the first Audio-Animatronic, a full size robot of Lincoln, WD's boyhood hero, that moves and speaks with 48 body actions and 15 facial expressions.
– Video Globe suspended above the ramp with projections of scenes from the ramp evolution – implemented by Effect Design (San Rafael, California).
– Display of an Optical Printer, which Disney Company invented to combine live action and animated film together. Technifex (Los Angeles) filmed Dick Van Dyke, and projected a miniature likeness of him that darts around the Optical Printer to explain how it works.
Gallery 10A
History:
– WD dies from pneumonia in 1966.
Exhibits:
– TV console from the period playing back actual broadcast from the day WD died.
– Recollections from friends and family.
– Wall of editorial cartoons from that day.
Gallery 10B
Exhibits:
– 2 curved glass walls with 30 giant monitors collaging all of WD's projects and successes.
Museum Store
Café
Basement
– Feature stair down to basement with an abstract terrazzo pattern on the stair floor, and in the classrooms.
– 113 seat auditorium: custom carpet, infinitely configurable ceiling lighting, images of -Fantasia- sorcerers' apprentices on the circular ceiling lighting, which turns into a starry effect when the lights dim.
– 2 classrooms with similar colorful terrazzo floor pattern as beneath the feature stair.
Other general technological facts about the museum:
– Acoustically-engineered exhibits for all AV, with discreet insulation to control reverberation, and use of the -Haas effect- to limit sound bleed (most of the sound comes from above or behind your head, but a little speaker up front causes you to think the sound it coming from the front).
– Centralized server racks playing AV to 200 monitors.
– RFID sensors to detect activation of closed-captioning. Also used for docents, who can turn on and off the AV in a gallery by passing their RFID card near a sensor (useful for giving tours, when you want to stop the audio).
Walt Disney Family Museum : main page on this building
Walt Disney Family Museum San Francisco images / information from Rockwell Group
Location: Walt Disney Family Museum, San Francisco, North California, USA
New Architecture in San Francisco
Contemporary San Francisco Architecture
San Francisco Architectural Designs – chronological list
San Francisco Architecture Walking Tours by e-architect
San Francisco Architect – architecture firm listings on e-architect
San Francisco Architecture – Selection
Contemporary Jewish Museum, Mission St
Studio Libeskind
Contemporary Jewish Museum San Francisco
San Francisco Museum of Modern Art
Mario Botta / HOK
San Francisco Museum of Modern Art
Big Ranch Road Retreat in the Napa Valley
Design: WDA (William Duff Architects)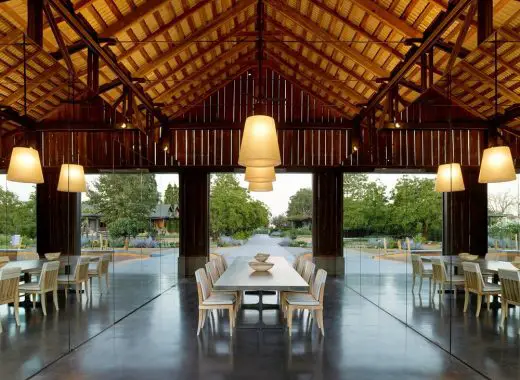 photograph © Matthew Millman Photography
Napa Valley Barn Renewal
University of California
Design: Rafael Vinoly Architects
Helen Diller Family Cancer Research Building
Comments / photos for the Walt Disney Museum San Francisco Architecture page welcome
Website: Walt Disney Family Museum in San Francisco, CA, USA