Green River, Rotterdam, Building, Project News, Design, Property, Image
Green River Rotterdam : Architecture
Green River Development, Rotterdam, The Netherlands – design by Monolab, Architects
8 Sep 2010
Green River Rotterdam
A 'GREEN RIVER' for Rotterdam
English text (scroll down for Dutch text)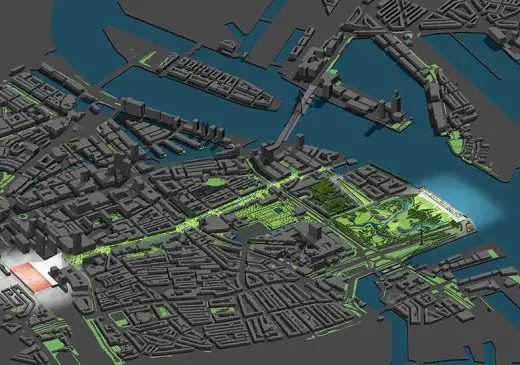 Rotterdam stays behind on two issues compared to other cities. First, Rotterdam has little functional green public space. Second, Rotterdam ignores a positive use for citizens and tourists of its 94-KM waterfront along the Maas River. Rotterdam based design practice MONOLAB architects has taken initiative to take up these issues through the 'GREEN RIVER' project.
GREEN RIVER consists of two elements.
1. A Monolab upgrade of the Westersingel, the green axis running parallel with the Coolsingel main boulevard. It connects all fragmented tiny green plots, it makes the city centre more healthy and human and it improves its absorption of rainwater.
Green River also connects two dedicated public buildings on both sides. In the North the renewed CENTRAL STATION and in the South the 'ROTTERDAM GREEN BUILDING', a cultural hotspot designed by Monolab.
2. In the urban window of this building a site originates where the city is connected to the river at last. The Euromast Park is linked a new, permanent BEACH to the Maas River.
Jan Willem van Kuilenburg, principal of Monolab Architects:…'Through GREEN RIVER we have united city and river again. Rotterdam has a dramatic lack of useable green space within its downtown district. The few city parks, like the Zuiderpark and Kralingse Bos, are too remote.
The city center only has the hidden Euromast Park and the Westersingel green axis. In our proposal we made a quantum leap by introducing a green shared space for pedestrians, cyclists and vehicles. The new green and deliberately vulnerable surface has a larger buffer capacity for rain water and certain existing buildings along will have green facades and roofs.
We also planned the multifunctional and embedded 'GREEN ROTTERDAM BUILDING' on the Westerkade quay, connecting Green River with the Maas River through a permanent BEACH. This initiative contributes to the transformation of Rotterdam, the city that lost its westward moving world harbour, the city that never really was connected with its Maas River except for pure logistic reasons but owns 94-km waterfront within its Ring.
Many cities already realised their waterfronts, it's about time for Rotterdam to take action. Green River is our proposal in that direction for its citizens as well as tourists. The tourist industry is the largest in the world and will double in the next twenty years. I expect that Rotterdam will regret if it would miss this huge opportunity.
The city cannot simply attract tourism through 'hit and run' events all the time. The city also has a responsibility to realise a structural quality within its public space. We make this first move by linking the inner city to the river through this project that serves both its citizens and the market'…
Information: MONOLAB Architects
J.W. van Kuilenburg, principal, tel. 0031-10-2130188
Images copyright of MONOLAB Architects : GREEN RIVER project – Monolab Architects
Dutch text:
Een 'GREEN RIVER' voor Rotterdam
Rotterdam blijft op twee punten achter bij vergelijkbare steden. Ten eerste heeft Rotterdam zeer weinig functioneel groen in de openbare ruimte. Ten tweede heeft Rotterdam een enorm waterfront aan de rivier dat nauwelijks wordt ingezet voor haar inwoners en het toerisme. Met het 'GREEN RIVER' project heeft het Rotterdamse bureau MONOLAB Architects het initiatief voor een inhaalslag genomen om de ontwikkeling op te starten.
GREEN RIVER bestaat uit twee onderdelen.
1. De door Monolab voorgestelde verdere verbetering van de Westersingel, die parallel loopt aan de Coolsingel, koppelt de groene snippers van de binnenstad.
GREEN RIVER maakt zo de binnenstad gezonder en menselijker, zorgt voor een grotere waterberging en verbindt bovendien twee bijzondere openbare gebouwen: noordelijk het CENTRAAL STATION als vernieuwde entree van de stad en zuidelijk aan de Maas het 'ROTTERDAM GREEN BUILDING', een door Monolab ontworpen culturele hotspot.
2. In de beschutting van het Rotterdam Green Building ontstaat een plek waar de stad eindelijk met de rivier kan worden verbonden. Het Euromast Park wordt hier verlengd met een nieuw permanent STRAND aan de Maaskade.
Jan Willem van Kuilenburg, directeur MONOLAB Architects:…'Met GREEN RIVER hebben we de stad weer met de rivier verbonden. Rotterdam heeft een dramatisch gebrek aan bruikbare, groene openbare ruimte in de binnenstad. Er zijn ver weg een paar stadsparken, zoals het Zuiderpark en het Kralingse Bos, maar dan hebben we het wel gehad.
Het centrumgebied van Rotterdam heeft slechts het moeilijk vindbare Euromast Park. Er bestaat wel een door verkeer onderbroken groene as, de Westersingel. In ons voorstel is daarin een kwantumsprong gemaakt door voetgangers, fietsers en voertuigen een gezamenlijke groene ruimte, een 'green shared space' te geven. Het vernieuwde en doelbewust kwetsbare, groene maaiveld heeft meer buffercapaciteit voor water en een aantal bestaande gebouwen hebben groene gevels en daken gekregen.
We hebben ook een groen multifunctioneel gebouw opgenomen aan de rivier op de Westerkade, het ROTTERDAM GREEN BUILDING, dat de verbinding maakt tussen Green River en de Maas met een permanent STRAND. Dit initiatief draagt bij aan de transformatie van Rotterdam, de stad die haar westwaarts bewegende wereldhaven verloor, de stad die -buiten het puur logistieke- nooit echt verbonden was met de Maas maar wel 94 strekkende kilometer waterfront binnen de Ruit bezit.
Veel steden hebben hun waterfront reeds ontwikkeld, het wordt tijd dat Rotterdam dat ook gaat doen. Green River is ons voorstel in die richting voor zowel Rotterdammers als toeristen. De toeristenindustrie is de grootste ter wereld en verdubbelt de komende twintig jaar. Ik denk dat Rotterdam een enorme kans misloopt als daar niet tijdig op wordt ingespeeld.
De stad moet niet alleen met evenementen toerisme aantrekken, dat is slechts 'hit and run'. De stad dient zich ook structureel in te zetten met een goede verblijfkwaliteit. Wij doen een voorzet door de binnenstad te koppelen aan de rivier met een project dat zowel haar inwoners als de markt bedient'…
Informatie: MONOLAB Architects
J.W. van Kuilenburg, directeur, tel. 010-2130188
De bijgeleverde beelden vallen onder copyright van MONOLAB Architects en zijn vrij van kosten te gebruiken op voorwaarde van een proactieve overeenkomst met Monolab en toepassing van het bijschrift:: GREEN RIVER project – Monolab Architects
Green River Rotterdam images / information from Monolab
Location: Rotterdam, The Netherlands
Architecture in Rotterdam
Rotterdam Architecture Designs – chronological list
Rotterdam Architecture Walking Tours
Dutch Architect Office : MONOLAB urbanism-architecture, Rotterdam, Netherlands
Fenix Warehouse Panoramic Viewpoint
Design: MAD Architects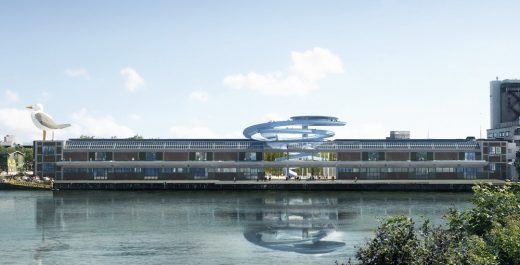 image courtesy of architects
Panoramic Viewpoint for the Fenix Warehouse
New Erasmus MC Building
Design: EGM architects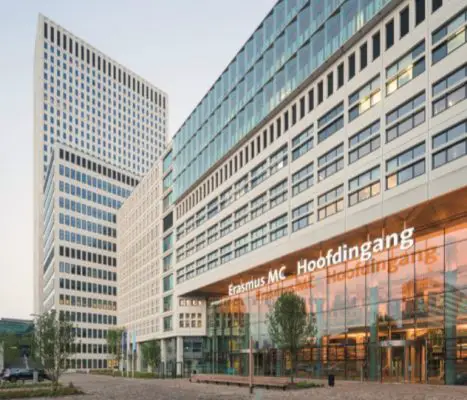 photo © Rob van Esch
New Erasmus MC Building
Buildings / photos for the Green River Rotterdam Architecture page welcome