The Safety Letterbox Company, SLBC Wales, Mailroom Products Images, Mail Components, Architect Development
The Safety Letterbox Company
Safety Letterboxes, South Wales: SLBC Sales Tel 01639 63525 – Gates & Mailroom Components
16 Jun 2011
Sky's the limit for Safety Letterbox Company at the Burj Khalifa
Safety Letterbox Company at Dubai's Burj Khalifa
At more than 828 metres high, the Burj Khalifa in Dubai is the world's tallest building. The Safety Letterbox Company (SLBC) rose to the demanding design challenge of supplying a unique mailbox solution for exclusive apartments within this impressive skyscraper.
Mailboxes at the Burj Khalifa by The Safety Letterbox Company + the tower itself: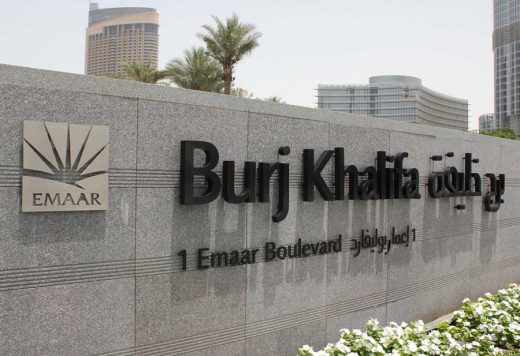 South Wales-based SLBC, the UK's leading manufacturer of secure mailing systems, worked closely with Skidmore, Owings & Merrill architects to produce the bespoke arrangement of 28 banks of 50 mailboxes for three purpose-designed mailrooms.
These mailrooms serve the multi-million pound luxury Armani Residences, personally designed by fashion legend Giorgio Armani. The one and two-bedroom apartments are located on floors nine to 16 of the elegant 160-storey tower, built by Emaar Properties.
Recessed snugly behind oak-panelled facades, each bank of mailboxes has a fully opening lockable front panel to allow for secure A4 size mail delivery by the postal authority. This eliminates any unauthorised third party deliveries, ensuring complete privacy for recipients.
All the lockable individual boxes are clearly marked inside with a detailed postal address. Mail retrieval is via the front flap and individual doors featuring both European and Arabic numerals.
The Safety Letterbox Company UK
Established in 1986, The Safety Letterbox Company Limited is the only UK manufacturer and supplier of mailboxes and mailing systems, working with architects, developers and the construction industry throughout the world.

The company has over 25 years' experience of the manufacture and direct supply of mailboxes and accessories, and produces over 120 models of mailboxes to suit virtually any application. All products follow a detailed process of planning and production, conforming to ISO 9001:2000 standards. The company is also accredited with the Investors In People standard. The company's technical team can provide free advice, and accompany all non-obligation quotes with AutoCAD drawings.
There are three main groups of products:
Budget range: for affordable housing, housing associations, student accommodation and low-budget projects.
Standard range: for private apartments or housing developments, and government buildings.
High-specification/bespoke range: for design-led projects, iconic developments and challenging locations.
Designs include on the wall, in the wall, through the wall, freestanding, chuted and purpose-made. A fire rated range of models also available.
The Safety Letterbox Company – Background
With more than 25 years' experience and expertise in delivering tailor-made mail solutions for global clients, The Safety Letterbox Company was an obvious choice for this world-class structure. Mailbox security, design and individual requirements were discussed in detail from the outset, with client liaison overseen by the company's international contracts manager.
SLBC has the flexible manufacturing capability to adapt any standard mailbox from its range of over 120 models to suit any site profile, location and budget to meet exact client requirements in diverse markets across the world.
The prestigious Burj Khalifa project amply demonstrates how SLBC can realise the architects' vision with a secure, aesthetically-appealing multi-unit mailbox solution for the most discerning end-users.
For more information, contact The Safety Letterbox Company on 01639 633525 or visit the website – www.safetyletterbox.com.
Fire Rated Mailboxes
Product Description:
The Safety Letterbox Company and the Fire Research Laboratory worked together to create a range of 1 hour fire rated (integrity only) mailboxes.
Particularly suitable when mailboxes can only be positioned within a designated fire escape route or banked in a post room which must be fire rated.
The products in this section were required to satisfy the integrity criteria given in BS476 Part 22 1987 Clause 8 for a period of 60 minutes.
In addition to the above, the mailboxes can be further enhanced by applying a finish which would conform to London Underground surface spread of flame requirement BS476 Part 6 & 7
The company manufactures the following Fire Rated mailboxes:
• FR1 Fire Rated Vertical A4
• FR2 Fire Rated Horizontal A4
• FR3 Fire Rated Rear Retrieval
The mailboxes are manufactured from zintec steel then polyester powder coated to a depth of 75/100 microns. (Sample tested to 1,200 hours salt-water spray). The assemblies satisfy the integrity criterion given in BS476: Part 22: 1987, Clause 8, for a period of 60 minutes. Fitted with inward sprung letter plate incorporating intumescent linings to flap aperture.
Catalogue download link
stainless steel mailboxes


wall-mounted and free-standing mailboxes


in front out front horizontal range of mailboxes


bespoke mailbox design with timber cladding


curved stainless steel arrangement


through the wall mailboxes


Excelsior Building, Swansea – stainless steel 2 mailboxes

Northern Triangle, Arsenal – mailboxes


Email: [email protected]
Address:
The Safety Letterbox Company,
Unit 1B, Milland Industrial Estate,
Milland Road,
Neath,
Wales
SA11 1NJ
UK
Architectural Design
Relevant Links
Burj Khalifa tower : information from the building opening
Burj Khalifa Skyscraper : information from Adrian Smith + Gordon Gill Architects
Comments for the The Safety Letterbox Company page welcome