House in Leiria, Architect, Portuguese Architecture, Pousos Home Design Photos
House in Leiria, Portugal
Portuguese Residential Building design by ARX Portugal, architects
21 Sep 2011
House in Pousos, Leiria, Portugal
2011
Design: ARX Portugal, Architects
English text (scroll down for Portuguese):





photos : FG + SG – Fotografia de Arquitectura
Pousos House
The house is located in a "typical" peripheric urbanization of Pousos, a parish of the municipality of Leiria. Situated east of the city and at high ground, it works as a sort of panoramic belvedere over Leiria.
So as to assure for more space and complete access to the faraway view, the owners also bought the three lots ahead, over the "cliff", that were later gathered in a single lot. Although each lot allowed for the construction of a basement and two more storeys, usually compacted and isolated in the centre of the lot, this assemblage allowed the possibility of having a lower house, which "embraced" flatter portions, with garden space.





photos : FG + SG – Fotografia de Arquitectura
When we went to the place the first time, the streets surrounding the lot had already been made and, because of the earth displacement necessary for the street making, the land rose suddenly, starting from the sidewalk, like a suggestive construction of a topographic nature. On the surroundings, all the neighbour houses were already built and "circled" the lot in an "L" shape.





photos : FG + SG – Fotografia de Arquitectura
The conception of the house emerges directly from the way we observed this reality. Dealing with a single-family house of large dimensions for local standards, we chose to divide the construction volume in two parts. Half of the construction is buried, like a negative of the land, and assumed as being a part of it. Over that half-land, a second volume is placed, long and flattened, in apparent white concrete. In the inferior volume are located the technical areas, the less used areas or those of support. In the upper volume the socials areas gather around a main courtyard, and the bedrooms around a private second one.





photos : FG + SG – Fotografia de Arquitectura
After all, the main characteristic of this house is the way its dialectical feature comes about: the underground, "natural" half of the building, its upper half, floating and "artificial", and the life flowing between the two. One face, introverted, intimate, of shadow or reflected light; another, open, glowing, transparent, from where it is possible to enjoy the distant horizon.
In the end, all that matters, as always in this kind of project, is to understand the life and personality of those who come to us in need of a house design, and try to give them a new meaning for everyday life.
Portuguese text:
Casa em Pousos, Leiria
A casa localiza-se numa "tipica" urbanização da periferia, na Freguesia de Pousos, situada num ponto alto a Este lugar da cidade, configura uma espécie de miradouro, com uma vista panorâmica sobre Leiria.De forma a garantir um maior desafogo e acesso à vista longínqua, os donos da casa compraram os 3 lotes na linha da frente, sobre a "falésia", que foram emparcelados num único terreno. Embora cada lote permitisse a construção de cave mais dois pisos, normalmente compactas e isoladas no meio do terreno, abria-se com este agrupamento a possibilidade de construir uma casa mais baixa, que "abraçasse" porções mais rasantes, de espaço de jardim.



photos : FG + SG – Fotografia de Arquitectura
Quando fomos ao local pela primeira vez, já tinham sido executados os arruamentos envolventes ao lote. Devido aos desaterros executados para construir as ruas, o terreno erguia-se subitamente a partir do limite do passeio, como uma sugestiva construção de carácter topográfico. Na envolvente, as moradias dos vizinhos já estavam todas construídas e "abraçavam" o terreno em "L".
A concepção da casa surge de uma forma directa da forma como observámos essa realidade. Tratando-se de uma casa privada de grande dimensão para os padrões locais, optámos por dividir o volume de construção em duas partes. Metade da construção é enterrada, como um negativo no terreno, assumida como dele fazendo parte. Sobre essa metade-terreno, é pousado um segundo volume, longo e achatado, de betão branco aparente.





photos : FG + SG – Fotografia de Arquitectura
No volume inferior estão integradas as áreas técnicas, de apoio ou de utilização mais occasional. No volume superior, as áreas sociais agrupam-se em torno do pátio principal, e os quartos de um segundo pátio privado.Afinal de contas, a principal particularidade desta casa passa-se ao nível dessa dialética entre a metade subterrâna e "natural" da casa, a metade superior, flutuante e "artificial", e a vida que flui entre uma e outra.
Entre a face introvertida, intimista, de penumbra ou de luz reflectida, e a sua face aberta, permeável e luminosa, onde se torna possível o olhar para o horizonte longínquo. Para lá disso, tudo se trata, como sempre nestes projectos, de entender a vida e o temperamento de quem nos procurou para desenhar uma casa, e de tentar conferir-lhes um novo significado para o dia-a-dia.
House in Leiria – Building Information
Location: Quinta da Barreta, Pousos, Leiria, Portugal
Project: 2006-07
Construction: 2008-11
Arquitectura/Architecture: ARX Portugal – José Mateus e Nuno Mateus c/ Sofia Raposo, Bruno Gonçalves, Pedro Jesus
Gross Construction Surface: 1,010 m2
Especialidades/Engineerings: SAFRE, Projectos e Estudos de Engenharia, Lda.
Construtor/Contractor: Manuel Mateus Frazão
Photography: ARX
FG + SG – Fotografia de Arquitectura
Fotografia : Fernando Guerra | Produção Fotográfica : Sérgio Guerra ® copyright




photos : FG + SG – Fotografia de Arquitectura
House in Leiria images / information from ARX
Location: Pousos, Leiria, Portugal
New Portuguese Architecture
Contemporary Portuguese Architecture
Portuguese Architecture Designs – chronological list
Lisbon Architecture Tours by e-architect
A recent Portuguese house design by ARX Portugal on e-architect:
Casa Possanco, near Lisbon
ARX Portugal
Casa Possanco
Portuguese Property
New Portuguese Properties – Selection
FdP house, Alto Alentejo, eastern Portugal
Design: Architect Gonçalo Bonniz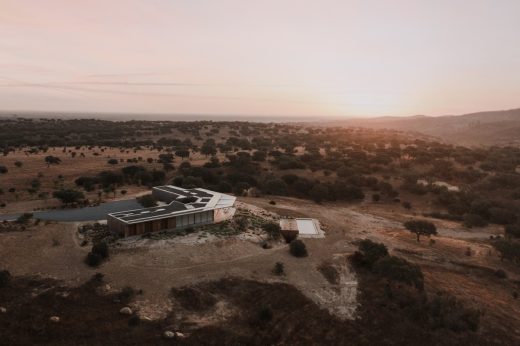 photo : Woodtarget
FdP house in Alto Alentejo
Calçada House, Vila de Paraíso, north of Portugal
Architects: Ren Ito Arq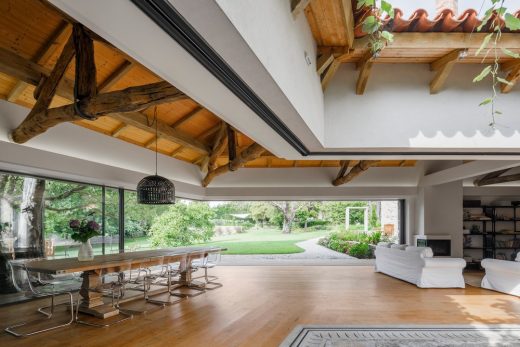 photography : Ivo Tavares Studio
Calçada House, Porto
House in Melides, Grândola, southern Portugal
Pedro Reis
House in Melides
Cork House, Esposende
Arquitectos Anónimos
Cork House Portugal
House Dr. Reginaldo Spenciere, Labruge – Vila do Conde
AUZprojekt
Home Dr. Reginaldo Spenciere
Portuguese Building Designs : H-Z
Comments / photos for House in Leiria Portugal page welcome