Oeiras House Photos, Residence Portugal, New Portuguese Property
DT House, Portugal : New Oeiras Property
Contemporary Portuguese Home design by Jorge Graça Costa Architect
24 Aug 2012
DT House
Location: Oeiras, Portugal
Design: Jorge Graça Costa
A Sustainable Small House in Oeiras
English text (scroll down for Portuguese):
DT House is an example of applied energy-efficient principles in architecture. It's a simple, compact object that integrates accessible construction technologies with innovative and smart design solutions. It demonstrates that energy effectiveness results not of the exhibition of means – technological or material – but of its capacity in answering rationally to the many requirements of human living.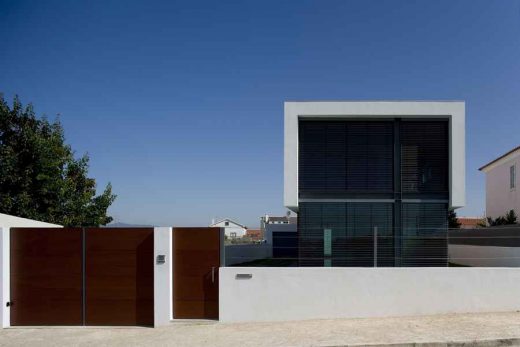 photograph : Fernando Guerra, FG + SG
It was built in Oeiras (Portugal) on top of a hill, benefiting from open views over the surrounding landscape. DT House composition explores the contrast between social areas of the lower level and private areas located on the upper floor. These result in distinctive volumes that are enhanced by the visibility of its structure and the different materials applied as external texture.

photograph : Fernando Guerra, FG + SG
The design reflects the requirements of rational energy use, integrating solutions of passive heating and cooling as an alternative to more active, energy-dependent technologies. Natural lighting is also enhanced to better serve the lower level, where the social, collective functions, are located. To improve passive cooling profiting from sea breezes, it was strategic build a pool near the façade; pool water doesn't use chemicals to be reused in the garden.
From the architectural design to the adequate definition of particular solutions, DT House shows that it's possible to integrate contemporary technologies and sustainable design solutions – good design as the support to good human comfort. I believe the result is remarkable for its simplicity, sense of adequacy and economy, respecting the greater values of environmental sustainability that served as inspiration.




photographs : Fernando Guerra, FG + SG
Portuguese text:
A Casa DT é um exemplo de aplicação os princípios de eficiência energética na arquitectura. É um objecto simples, compacto, que integra tecnologias de construção acessíveis com soluções de design inteligente com soluções de desenho adequadas ao enquadramento local, às suas características de exposição e clima.
A casa está implantada num topo de colina com vistas desafogadas sobre a paisagem, o que permite explorar a relação de vistas e o contraste entre espaços sociais (nível inferior) e espaços privados (nível superior) – conjugados em dois volumes que se destacam e servem de motivo à composição. Tomando por base a configuração regular do lote, o edifício acaba por definir-se como objecto simples e compacto, sobressaindo a expressão da estrutura visível e a diferenciação de materiais utilizados.
O projecto reflecte as exigências do racional da água e consumo de energia, integrando soluções de aquecimento e arrefecimento passivo como uma alternativa a mais activa tecnologias energeticamente dependente.





photographs : Fernando Guerra, FG + SG
A iluminação natural é potenciada pelas aberturas mais generosas que servem o piso térreo em conjunto com a luz reflectida da piscina, onde se localizam as zonas de maior permanência.
Para além do cenário dramático a colocação estratégica da piscina junto à fachada Sul, permite o arrefecimento do interior graças ao fenómeno de arrefecimento evaporativo em conjunto com as brisas marítimas que fazem sentir naquele local.
O objectivo principal foi o de usar a água da piscina como um elemento regulador térmico na arquitectura, utilizando a água como um elemento artístico plástico construído, enquadrado em uma estratégia de eficiência energética, com uma abordagem sustentável e ecológica.
A água da piscina, não usar tratamentos químicos para que possa ser reutilizada para regar o jardim.v Dos traços de concepção da arquitectura à definição adequada de soluções complementares mais específicas, a Casa DT demonstra que é possível conjugar as particularidades locais a materiais e tecnologias contemporâneas, garantindo a coesão entre bom desenho e bom conforto humano. O resultado é notável pela simplicidade, sentido de economia e racionalidade na gestão de recursos, em respeito pelos valores maiores da sustentabilidade ambiental que a motivam.



photographs : Fernando Guerra, FG + SG
House in Oeiras – Building Information
Name of the owner: Duarte Cabete
Location: Oeiras; Portugal
Site Area: 480.00 Square meters
House Area: 200.00 Square meters (House)
Clients brief: Primary residence for a couple regarding eco-concerns
Design features: A+ (A plus) classified house by the National Energy Agency
Materials: Ecofriendly materials including building recycled materials Architecture: Jorge Graça Costa, Arquitecto
Engineering: Ecoprojecto
Photos: Fernando Guerra, FG + SG
House in Oeiras images / information from Jorge Graça Costa
Location: Oeiras, Portugal
New Portuguese Architecture
Contemporary Portuguese Architecture
Portuguese Architecture Designs – chronological list
Lisbon Architecture Tours by e-architect
Portuguese Houses – Recent Selection
DJ House, Carcavelos, near Lisbon, western Portugal
Design: [i]da Arquitectos
House in Carcavelos
Xieira House, Leiria, central Portugal
Design: A2+ ARQUITECTOS
House in Leiria
Casa Mexilhoeira-Grande, The Algarve, southwest Portugal
Design: Marco Arraiolos
Casa Mexilhoeira-Grande
Casa Possanco, near Lisbon
Design: ARX Portugal Arquitectos
Casa Possanco
House II in Aroeira, Plot 180, Aroeira Golf, Caparica
Design: ARX Portugal Arquitectos
House II in Aroeira
Comments / photos for DT House – Oeiras Property page welcome