Dance School Aurélie Dupont Building, Architect, Paris Opera Ballet Project, Image
Dance School Aurélie Dupont
Joinville-le-Pont Building in Paris design by Lankry Architectes, France
11 Aug 2019
Design: Lankry Architectes
New Dance School Aurélie Dupont at L'Ecole Municipale des Arts
Location: Espace Danse Aurélie Dupont, L'Ecole Municipale des Arts, Joinville-le-Pont, Southeast Paris, France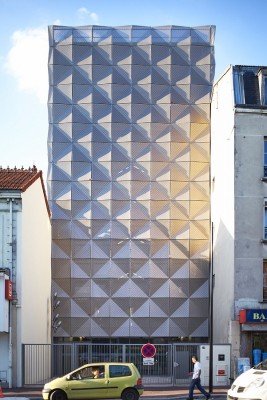 English text (scroll down for French):
Dance School Aurélie Dupont in Paris
This school is named after the French ballerina Aurélie Dupont, who retired in 2015 after 32 years at the Paris Opera. The building hosts a range of ballet, classical and jazz classes.
It is located in Joinville-le-Pont, a suburb in the southeast of the city.
The folded tiles of perforated metal create a pattern of triangular facets. This faceted façade reminds me of the Paris Citreon building on the Champs Elysses.
This building squeezes into a narrow slot between a supermarket and a four-storey apartment building.
Photographs: Julien Lanoo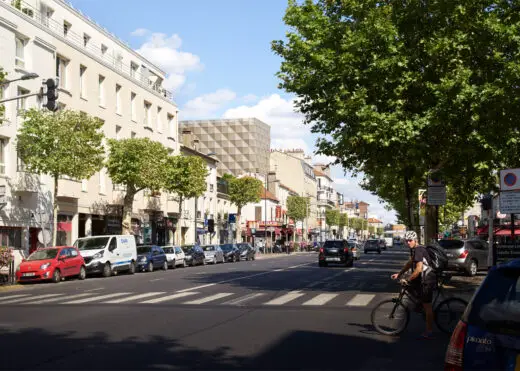 The dance school is set back slightly back from the street, breaking the continuous facade and creating a small forecourt in front of the building.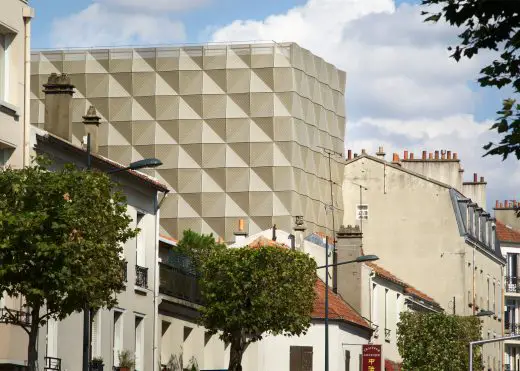 Each of the square aluminium panels is folded on the diagonal to create the three-dimension pattern across each of the building's four walls.
X-shaped perforations in the golden-toned cladding allow light to filter into the dance studios while restricting views from the street. The architects describe the form as a "monumental Minimalist sculpture". "The dance school is inserted as an unusual object, capable of arousing perplexity and curiosity of the passersby," say the architects.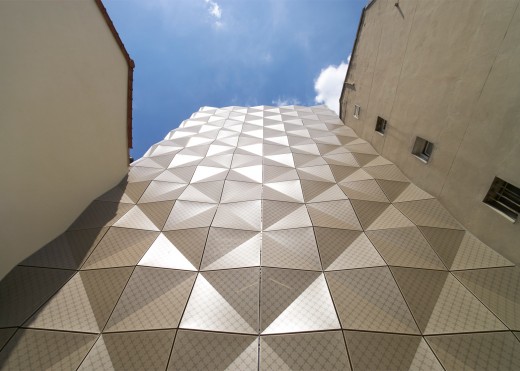 "Consisting of a perforated metal veil forming a regular diamond pattern, the envelope is designed as delicate lace, a goldsmith's work…It functions as a filter, rather like a mashrabiya that filters light without altering views."
The 895-sqm school cost €2.4 m (£1.76 m) to complete.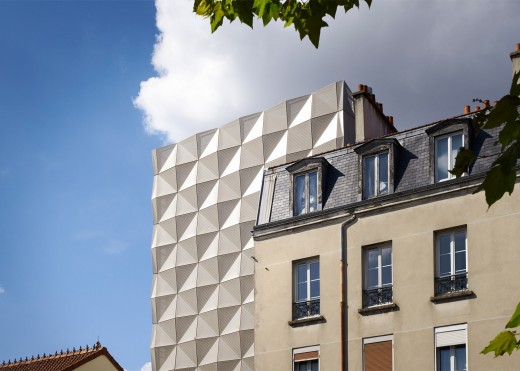 Hallways and staircases are positioned in the southern part of the building, freeing up the north side for spacious and naturally lit dance studios.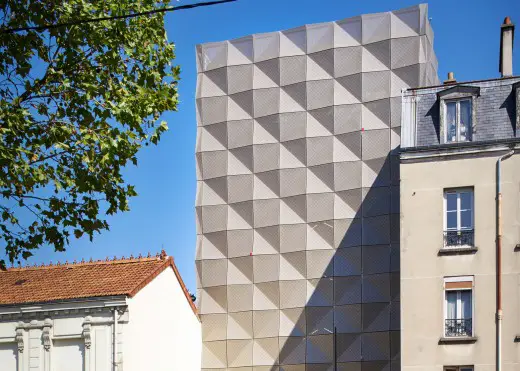 "By strictly dividing the program between circulation on the avenue side, and the functional spaces and the garden areas on the interior, the school on the one hand optimises the flow and circulation and on the other hand the solar orientations. Minimalist interiors and raw materials such as varnished concrete, metal, contrasts with the precision of the outer shell of the building," said the architects.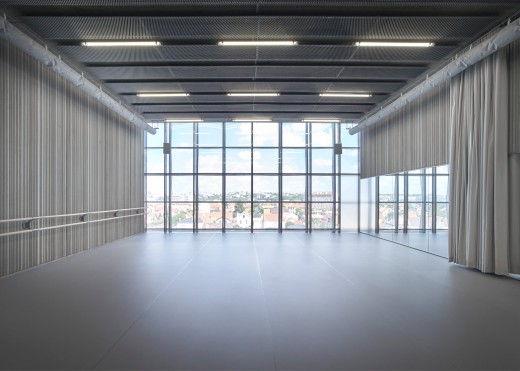 Bright yellow and orange doors add accents of colour. Mirror-covered walls create an illusion of space, while drapes help to soften the glossed concrete walls and metal fittings.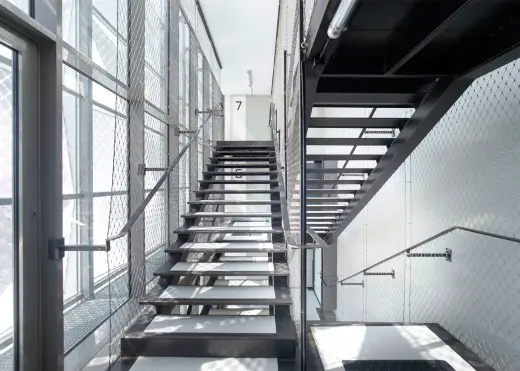 Photography: Julien Lanoo
Project credits:
Architect: Lankry Architectes
Contractor: City of Joinville-le-Pont
Engineer consultant: MTC ingénierie, Alternative ingénierie acoustique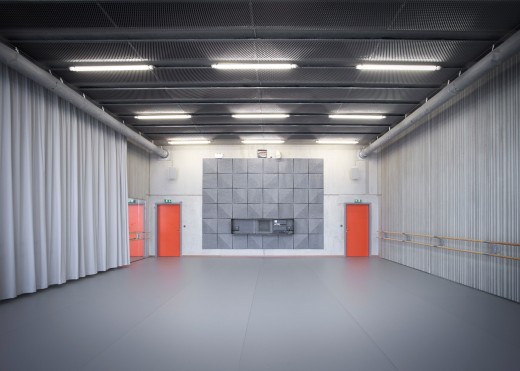 French text:
École de danse Aurélie Dupont
L'école de danse s'inscrit dans le programme de requalification de l'activité culturelle du quartier Gallieni du Bas Joinville. Implanté au cœur d'un tissu résidentiel et commerçant, il s'ouvre sur l'axe routier très emprunté de l'avenue Gallieni. Seul équipement public du quartier, l'enjeu est de créer un événement architectural véhiculant une image forte, un signal dans la ville.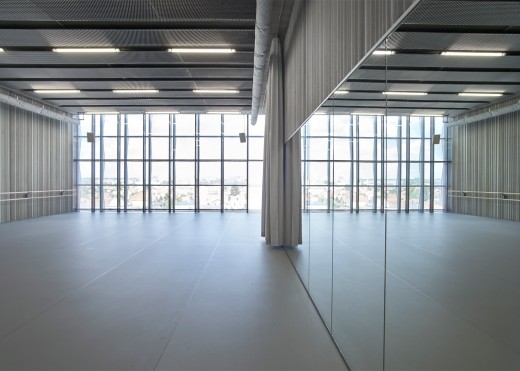 Tel un écrin à bijoux, notre bâtiment est habillé d'une peau métallique post formée jouant avec la lumière et les reflets. Cette peau habille toutes les façades de l'édifice, effaçant ainsi tout effet de pignon. En fonction de la lumière du jour et de l'éclairage intérieur du bâtiment cette peau change, se révèle, scintille ou disparaît. Aussi, elle joue le rôle de brises soleil au sud et de rideau délicat au nord.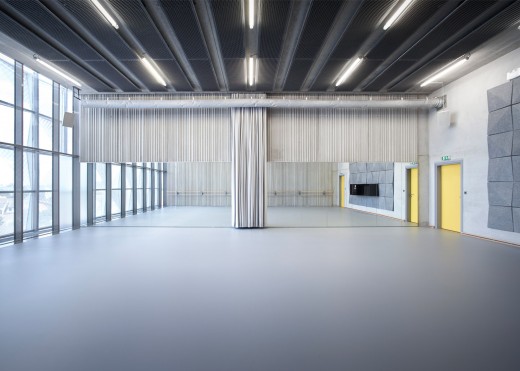 L'école accueille 3 salles de danse et leurs différentes annexes. La recherche de fluidité et de clarté trouve un écho dans le minimalisme des aménagements intérieurs et dans le choix des matériaux. Le béton est laissé brut, juste verni, le cloisonnement intérieur est réduit au strict minimum pour profiter au mieux des vues et de la lumière naturelle.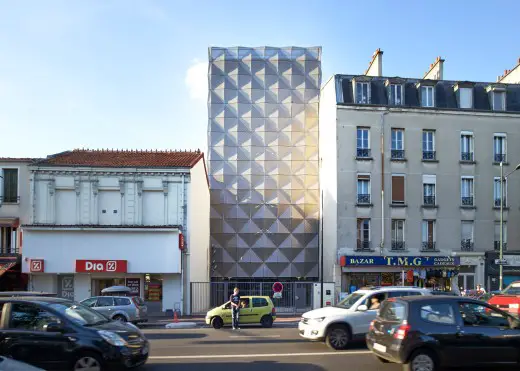 ECOLE MUNICIPALE DE DANSE
Joinville-le-Pont
DÉMARCHE HQE
CHANTIER EN COURS
PROGRAMME : ECOLE MUNICIPALE DE DANSE
MAÎTRISE D'OUVRAGE : VILLE DE JOINVILLE-LE-PONT
MAÎTRISE D'OEUVRE : LANKRY ARCHITECTES ; MTC INGENIERIE, ALTERNATIVE INGENIERIE ACOUSTIQUE
SURFACE : 895 M² SP
BUDGET PREVISIONNEL : 2,4 M€HT
Website: https://lankry-architectes.fr/
Website: L'Ecole Municipale des Arts, Joinville-le-Pont
La Gaîté lyrique, Paris, by Manuelle Gautrand: La Gaîté lyrique Paris
Paris Opera Dance school by Atelier d'architecture Christian de Portzamparc – text ref only:
1983-87 Paris Opera Dance school | Nanterre, France | CLIENTS Ministry of Culture
Location: Espace Danse Aurélie Dupont, L'Ecole Municipale des Arts, Joinville-le-Pont, Paris, France
Parisian Architecture
Paris Architecture Walking Tours
UNIC Residential Paris, Clichy-Batignolles, 17th arrondissement
Design: MAD Architects with Biecher Architectes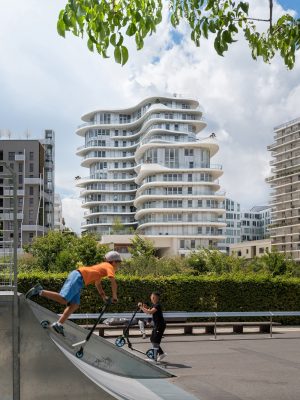 photo : Jared Chulski
UNIC Residential Paris
Paris Architecture – Selection
C42 – Citroën display building Paris
C42 Citroen
Wanderlust, Cité de la mode et du design
Design: Jakob+MacFarlane
Wanderlust Paris
La Ville Intelligente, Parc de la Villette
Design: Jakob+MacFarlane
La Ville Intelligente
Herold Apartments
Design: Jakob+MacFarlane
Herold Apartments Paris
Key Paris building : Louvre Pyramid Building
Comments / photos for the Dance School Aurélie Dupont Architecture – L'Ecole Municipale des Arts, Joinville-le-Pont, page welcome