Laucala Resort Fiji, Taveuni Building, Melanesia Architecture Images
Laucala Resort Villa
Villa Development in Fiji, Pacific Islands design by Lynne Hunt London / Scape Design Associates
27 Sep 2013
Laucala Island Resort, Fiji
Resort Design: WATG were the lead architects
Villa design: Lynne Hunt London and Scape Design Associates
Laucala Island Resort, Fiji, Melanesia
Lynne Hunt London
Location: island of Taveuni, Fiji, Melanesia, South Pacific Ocean
Design statement (Part 2)
Positioned on its own peninsula in the one of the more hidden parts of the island, the one-bedroom Peninsula Villa offers the ultimate in exclusivity. Graced with a private pool and its own beach which is accessed by a unique, 84-step timber staircase, separate living and bedroom areas nestled into the cliff sides are designed in passionate shades of red and coral.
Magi Magi chandelier: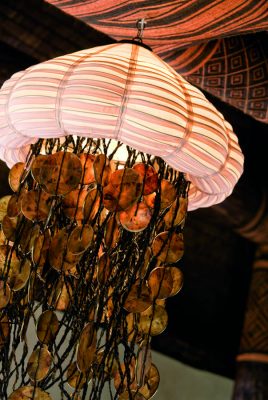 photo from architects
The Hilltop Villa is Mr. Mateschitz's home when he is in residence and is located in the same spot where Mr. Forbes lived when he owned the island. The most exclusive and private of all the villas, it has three individual residences, two of which have private pools, designed in rich burgundy, espresso and ivory tones.
These, alongside multiple alfresco dining terraces, are part of the generous 11,000 m2 footprint which stretches over the gentle hillside. With a 360° vantage point, the Hilltop Villa affords views of the entire island as well as a panoramic vista of the neighbouring isles.
Laucala Island Resort Fiji interior design: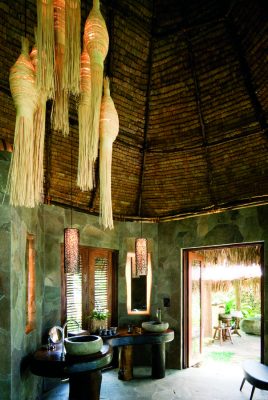 photo from architects
All the restaurants and bars on the island have been designed by LHL to ensure there are new discoveries and cuisines that will delight guests throughout their stay. The Plantation House Restaurant is a traditional and formal fine dining establishment replicating the architectural style of Malcolm Forbes' original Plantation House, which was located on this same inland site overlooking the coconut plantation.
Stunning black and white images of tattooed Oceanic islanders photographed by Gian Paolo Barbieri provided the inspiration for the natural sepia tones and textures in the venue's design, softened by the red and yellow hibiscus patterns of the sofa cushions. The motifs of these tattoos also adorn the table top crockery custom-created by Lynne. At the Seagrass Restaurant, seafood and Asian specialities, including a teppanyaki grill at a private table, are served in an alfresco setting along the craggy terrain of the shoreline.
Those looking for something more casual may indulge in barbequed fare or fresh seafood at the Beach Bar. The Rock Lounge is chill-out central, perfect for sipping Laucala's signature Sundowner Cocktails under a thatched canopy pergola overlooking the ocean. Flickering candlelight casts nuanced shadows amongst the lush jungle of foliage that mingles amongst the tree root cocktail tables and low wicker lounge chairs whose internal lighting adds to the surreal drama.
Spa Treatment Room: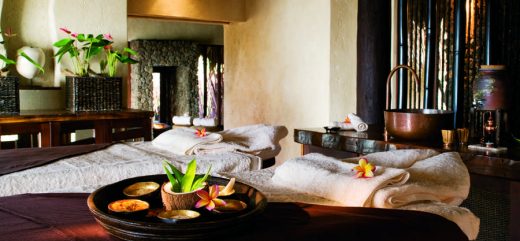 photo from architects
A highlight of Laucala is its spectacular Pool and Pool Bar area. "Clamshell" pavilions provide shade for the seating groups nestled under the thatched roofs. Sun loungers and umbrella tables dot the winding terraces along the perimeter of an expansive, waterfall pool which surrounds a second, extraordinary glass-walled pool. Located next to the island's 18-hole championship-standard golf course is a thatched-roof clubhouse designed in a contemporary, casual style with tribal carvings in the timber beams above the bar, a curved sofa with cool cotton cushions, and reclined wicker chairs in which to relax after a hot day on the greens.
The culture and leisure centre has been designed as a place for guests to enjoy local Fijian performances of "meke", the ritual, rhythmic combination of chanting, singing and drumming used to pass important tales and legends from one generation to another. Dances and music are presented outdoors, and under the double-story, thatched roof pavilion is a relaxation area with groovy rattan chairs where guests can play cards and board games.
The space also includes a fitness centre, changing rooms and a library with books about Fiji and the Pacific islands, including one created by Lynne about the making of Laucala entitled "A Dream Realised". Here, guests are also given the opportunity to learn about local art forms such as magi magi and tapa cloth, and even practice making these crafts themselves.
Plateau Villa Bedroom: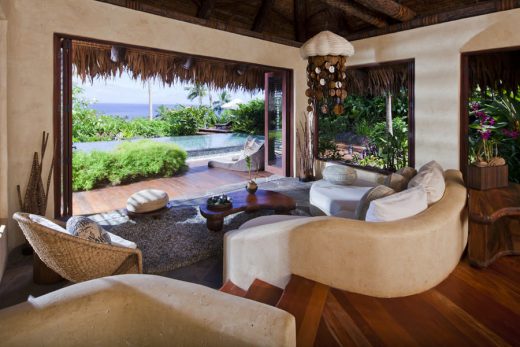 photo from architects
As an idyllic romantic destination, Laucala has it all – even a tiny white chapel for weddings. Inside, beautiful, solid timber pews with custom designed carvings seat a handful of guests in the cosy and intimate setting.
Overwater Villa Bathroom: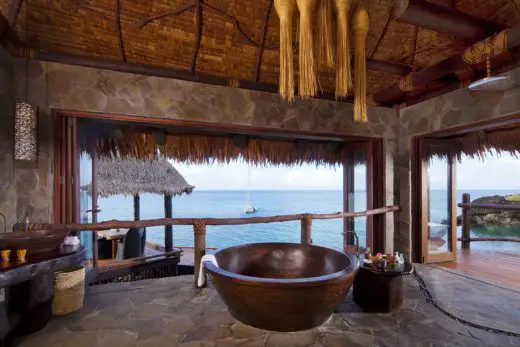 photo from architects
The spa's décor is resplendent with authentic, nature-based luxuries and products. In the reception area, a custom curved wooden sofa is adorned with soft unbleached canvas seat cushions and with throw pillows covered in a bespoke Florence Broadhurst fabric.
On each side, floor lamps formed from resin shades wrapped in supple bamboo frames emulate wild sea creatures with their organic shape. A hefty slab of richly polished rain tree timber sits atop a base which is clad in sandy hued coconut palm strips to create the welcome desk. The focal point of the adjacent villa, where guests await their treatments, is the magnificent set of chairs and a coffee table individually hewn from grand tree trunks sourced in Bali. The irregular forms and clefts of the timber have been retained for their inherent natural beauty.
Plantation Villa: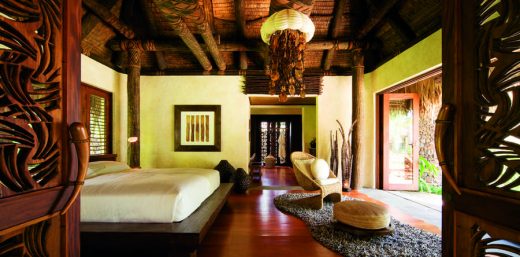 photo from architects
Therapists prepare healing potions, scented oils and candles derived from flowers, seeds, herbs and fruits indigenous to the island. These are used for aromatherapies provided in the beauty salon, manicure / pedicure area, and four large individual treatment pavilions composed of a sequence of spaces offering different experiences.
While every spa villa has a private, internal area with two massage tables for couples, one of the versions also includes Vichy shower beds for guests to enjoy. Interior relaxation rooms have antique Balinese beds alongside "fire bowls" carved out of lava rock as well as "foot ritual bowls" where reflexology therapies promote deeper levels of calm. Outdoor bathing areas overlooking the Pacific Ocean have tubs and washbasins carved from solid slabs of Indonesian slate.
The artwork and artefacts on the island are original and have been inspired by Fijian culture. LHL commissioned hand-painted, contemporary textured paper works interpreting turtles; water colours; native tapa designs; beautiful seashells in shadow boxes; and paper butterflies in timber frames. Original and antique sculptures were also sourced from around the globe.
Lynne Hunt London has poured years of labour and love into Laucala Island. Throughout the resort, guests are engaged with intriguing textures, scintillating colours and whimsical organic materials which flawlessly express the imaginative craft legacy of Oceania. The result is an authentic, unforgettable and utterly luxurious immersion into the sheer beauty and mystique of Laucala.
Laucala Island Resort Fiji : Landscape Design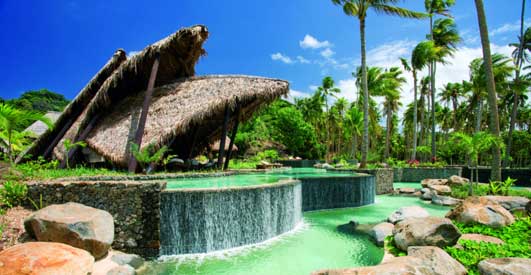 photo from architects
About Lynne Hunt London
Lynne Hunt London creates a kind of luxury that is contemporary, fresh and full of unexpected twists. The design is audacious, not ostentatious, drawing inspiration from local environments and cultures to create interiors that range from the chic and urban to the organic and whimsical.
From their Chelsea studio, a small team of designers work with Lynne on projects for hotels, resorts, restaurants and bars, both in the UK and much further afield. Lynne's experience encompasses newbuild and refurbishment interiors for some of the world's leading destinations and hoteliers, from London to the South Pacific via the Mediterranean and the Middle East.
Lynne Hunt London works on residential projects too, freshening period properties and working closely with architects to shape and style new homes. The diversity of the projects is an inspiration in itself. The studio has designed entire resorts and family tabletops – there isn't an element of interiors that the team hasn't loved imagining and interpreting in their own way. www.lynnehunt.co.uk
Additional current and recent projects include: Jumeirah Lowdnes Hotel, London; three luxury mansions at St. George's Hill, Surrey; high-end residence on Amwaj Island, Bahrain; El Greco resort, Rethymnon, Crete; Ayla Marina Island Apartments in Aqaba, Jordan; Mont Chalet residence, Verbier, Switzerland; InterContinental Mar Menor, Spain; Jumeirah Carlton Tower, London; Hyatt Regency London – The Churchill; luxury residence at The Lancasters Hyde Park; Brompton Bar & Grill, London; Bolshoye Zavidovo Golf Club House, Russia; Creta Palace, Rethymnon, Crete; and London Hilton on Park Lane.
Laucala Island Resort (Part 1)
Laucala Island Resort Fiji images / information received 260913
Website: Laucala Island Resort in Fiji by WATG
Location: Laucala Island, Taveuni, Fiji
Pacific Islands Developments
Oceania Architectural Projects
Comments / photos for the Laucala Island Resort Fiji Architecture page welcome
Website: Laucala Island