Laucala Island Resort Fiji, Taveuni Buildings, Melanesia Landscape Architecture, Photos
Laucala Island Resort : Landscape
Getaway in Fiji, South Pacific Ocean – design by Lynne Hunt London / Scape Design Associates
27 Sep 2013
Laucala Island Resort Landscape, Fiji
Design: Lynne Hunt London and Scape Design Associates
Laucala Island Resort, Fiji
Scape Design Associates
Location: island of Taveuni, Fiji, Melanesia, South Pacific Ocean
Landscape Design Statement
Resort Planning
The fundamental success of the Laucala Island resort can be traced back to the highly detailed approach to the planning of the site at the outset of the project. Working closely with the lead architect, Scape Design Associates meticulously located all the architecture and resort facilities to maximise drama and the overall guest experience, the result being, for example, the dramatic settings of the key F&B facilities and the three special villas.
Pool Bar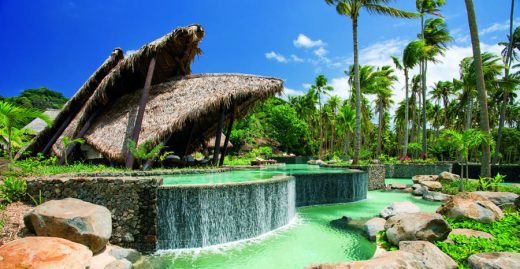 photo from architects
Each of the 25 deluxe villas, divided between two beaches and a prominent hillside ridge, were designed as a cluster of pods. These can be individually twisted to provide stunning views from key windows, beds and sofa locations, even giving the bathrooms prime views of distant islands. In this way specific trees and landscape features could be retained and even integrated sculpturally into the design.
The 5000 sqm naturalistic saltwater lagoon, the largest of its type in the whole of Asia, with its walk-in beaches, secret coves and tropical sun decks was laid out across the centre of the resort in order to unite the key public areas – cultural village, gymnasium, guest lounge and main feature pools which had all been elegantly been placed around a picturesque mountain spur – to the sea.
Aesthetics and style
It was Scape's challenge to capture the essence and beauty of the island within our work. Drawing on lessons learnt from the local culture and vernacular, the aesthetics and style of the resort were conceived.
The resort buildings are unconventional, and were approached with inventive imagination. However, the key to their success is the blurring of the boundaries between architecture, interiors and landscape. For example, the villas have been designed to fully open up to the elements with interior spaces flowing into and uniting with the surrounding landscape. Internal and external bathrooms have been provided as well as internal and external lounges through the provision of an array of sun decks and covered shade structures, all set within lush but naturalistic garden settings.
Each villa is then provided with its own unique and luxurious freeform infinity edged pool, complete with pool side fire bowl, in-pool seating and shade pavilions, whilst the exquisite main resort pool is a joy to behold, with weirs and cascades, and a glassed fronted lap pool which stretches out to meet the sea. Not forgetting the mighty salt water lagoon. It is here that the very concept of luxury is redefined through a sense of tactility and tranquillity, exclusivity and sensuality.
Beach Bar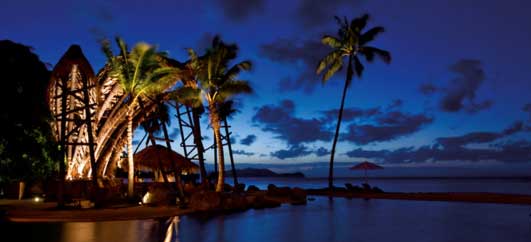 photo from architects
The Challenges
The island was covered by approximately one third coconut plantation and two thirds in a variety of habitats including lowland rainforest, coastal communities and mangroves and swamps. This unique biodiversity is home to some of the rarest creatures in the South Pacific. Many birds, reptiles and amphibians inhabit the island which is seen as a haven for many rare species in Fiji. The preservation and retention of this unique biodiversity was a major goal of the client. Therefore Scape's role was to review and challenge the placement of every single piece of architecture, every road and every pool in order to satisfy the overriding environmental constraints of the brief and to guarantee the long term sustainability of the island. As a result, the buildings were located in such a way as to be sensitive to the local terrain, whilst also aiming to provide extensive view corridors to distant islands or island features. Existing vegetation was used to frame views whilst providing both privacy and intimacy for the guests.
The planting design for the project was the biggest challenge for Scape as landscape designers. This required an extensive search for native plant species throughout Fiji. Also many species observed on the island were transplanted and reproduced in the island's own nursery. The objective of the planting design was to provide the guest with a unique, tropical Fijian experience that is a pleasure to the senses and yet integrates as much as possible into the existing environment. Design emphasis was on fragrance, texture and colour whilst the shrub and groundcover mixes were set out as variations on a theme throughout the entire site to provide continuity of atmosphere and sense of place.
SCAPE DESIGN ASSOCIATES ‐ SUSTAINABILITY CHARTER
The global challenge for the 21st Century is one of environmental sustainability. There is now an overwhelming body of scientific evidence showing that climate change is a serious and urgent issue. In this environmentally conscious era, there is a growing need for creating developments that are designed and constructed in a sustainable manner, and that when operational, maintain a selfsupporting ecological footprint. The following sustainable objectives form the proposed sustainability charter to which Scape Design Associates always aspires when creating its resorts across the world.
1.1 Creating a Legacy – to create a sustainable resort community with a lasting environmental legacy that the host country and client team may be proud of.
1.2 Preserving the Unique Environment – to develop a world-class resort that inherently fosters a strong relationship between the guests, the local community and the unique environment of the region. This will be achieved through a development that identifies, protects, preserves and maintains the area's rich natural habitats and the diversity of fauna and flora that they so vitally support.
1.3 Water: an arid country's greatest asset – although zero water run-off maybe extremely desirable we understand that this may not always be practical, However we aim to mitigate water loss wherever possible, counteracting any potential environmental impacts from nutrient input, organic and inorganic contaminants and sediment. Whilst groundwater exploration programmes may establish sufficient re-charge rates of water for a development, increasing demands from local and regional developments may greatly limit this prediction in the future. Therefore at Scape we recommend that each development aims to recycle all of its discharged water through chemical and biological treatment of foul and grey waters, rainwater collectors and detention ponds.
1.4 Greenways for Healthy Living – to establish a series of interconnected greenways which will link existing and proposed large and small open spaces, providing valuable wildlife corridors for indigenous fauna. These greenways will be located conveniently along resort pathways and places of leisure to encourage walkable and cycleable routes as part of a sports & wellness agenda as well as helping to reduce transport emissions.
1.5 Enhance Local Biodiversity – to establish an on-site nursery and botanical centre, which will develop, monitor and manage healthy, vigorous and site-adapted plant stock direct from seed. This will enhance local biodiversity and aid establishment of local hardy species.
1.6 A Sustainability Rating System – We recommend that each project be linked to an established sustainability rating system. The client and design team will then be responsible for producing an Environmental Management Plan and ensuring that all building construction and components conform to the proposals that are adopted from that document.
Laucala Island Resort, Fiji : Design Statement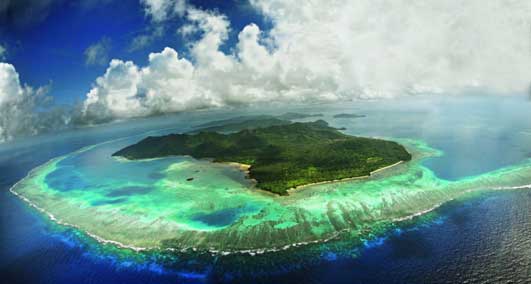 photo from architects
About Scape Design Associates
Scape Design Associates is a world-leading landscape architectural practice specialising in the design and detailing of international high-end landscape projects for the hospitality industry. Over the last decade, Scape has master planned and designed some of the finest landmark projects in the global hospitality, residential and commercial markets. The company's founder, Phil Jaffa, leads an international team which transforms outline concepts into award-winning, sustainable schemes – often in collaboration with leading architects, interior designers and artists from all around the world.
Current/recent projects include: Burj Rafal, Riyadh, Saudi Arabia including a Kempinski Hotel; Ritz- Carlton Reserve Tamuda Bay, Morocco; Navarino Dunes, Costa Navarino, Greece (including The Romanos, a Luxury Collection Resort and The Westin); Four Seasons Resort, Tagazhout, Morocco; Ritz-Carlton Rabat, Morocco; JW Marriott Absheron Baku, Azerbaijan; Mandarin Oriental resort, Bodrum, Turkey; Banyan Tree Resort, Bahrain; Fairmont Hotel, Amman, Jordan; Cotonou Marriott beach hotel, Benin; Baku White City Hotel, Baku, Azerbaijan; El Greco Hotel and Caramel Beach Resort, both Rethymnon, Crete; 39 Conduit Road, Hong Kong; Park Hyatt, Pinheirinho, Portugal; Hilton Al Houara resort, Tangiers, Morocco; as well as current private residential projects in Bahrain, Baku, Egypt and Hong Kong. Additional information can also be found at www.scapeda.co.uk.
Laucala Island Resort Fiji images / information received 260913
Location:Laucala, Taveuni, Fiji
Pacific Islands Developments
Oceania Architectural Projects
Comments / photos for the Laucala Island Resort Fiji – Melanesia Landscape Architecture page welcome
Laucala Island Resort Fiji Building
Website: Laucala Island