Oslo Opera House Building, Norway Architecture, Norwegian Building News, Photo, Design
Opera House Oslo Architecture
Arts Building Development in Norway design by Snøhetta AS
16 Apr 2008
Opera House Oslo
The Norwegian Opera & Ballet, Oslo, Norway
Architect: Snøhetta
Norwegian Opera & Ballet on site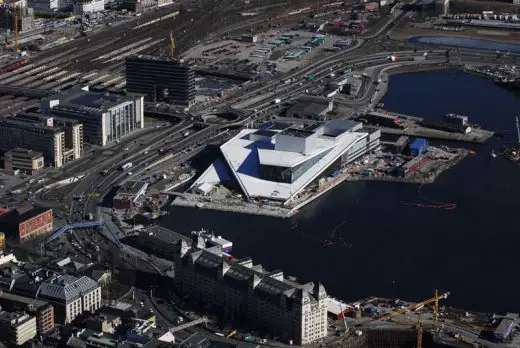 picture : Statsbygg
Norwegian Opera & Ballet, Oslo – Building Information
Gross area: 38 500 m2
Public areas: 11 200 m2
Stage areas: 8 300 m2
Rehearsal rooms, workshops, admin.: 19 100 m2
Footprint: 15 590 m2
Length, incl. plaza: 242 m
Width: 110 m
Seats in Main auditorium 1: 360
Seats in Second Auditorium: 400
Gross stage height: 54 m
Depth of sub-stage below water level: 16 m
Project cost, today's price: ca. 500 mill. Euro
Open day at the Norwegian Opera & Ballet, Aug 2007



photograph : Snøhetta
Oslo Opera House Building – Architect
Architect: Snøhetta AS, Oslo
Landscape Architect: Snøhetta AS
Interior Architect: Snøhetta AS
Oslo Opera House Building – Architectural competition phase
Project Architects:
Craig Dykers, Tarald Lundevall, Kjetil Trædal Thorsen
Architects:
Martin Dietrichson, Ibrahim El Hayawan, Chandani Ratnawira, Harriet Rikheim, Marianne Sætre
Landscape architects:
Snøhetta AS, Ragnhild Momrak
Advisors
Inger Buresund, Axel Hellstenius, Henrik Hellstenius, Peder Istad, Jorunn Sannes
Theatre Consultants:
Theatre Projects Consultants Ltd.

Oslo Opera House Building – Planning and building phase
Project manager:
Tarald Lundevall
Assistant management:
Sigrun Aunan, Craig Dykers, Simon Ewings
Designleader:
Kjetil Trædal Thorsen
Groupleaders:
Rune Grasdal, Tom Holtmann, Elaine Molinar, Kari Stensrød, Øystein Tveter
Team architects:
Anne-Cecilie Haug, Ibrahim El Hayawan, Tine Hegli, Jette Hopp, Zenul Khan, Frank Kristiansen, Cecilia Landmark, Camilla Moneta, Aase Kari Mortensen, Frank Nodland, Andreas Nygaard, Michael Pedersen, Harriet Rikheim, Margit Tidemann Ruud, Marianne Sætre, Knut Tronstad, Tae Young Yoon.
Team landscape architects:
Ragnhild Momrak, Andreas Nypan
Team interior architects:
Bjørg Aabø, Christina Sletner
Artists, integrated artwork:
A number of art projects have been carried out under the direction of a specially formed group. In some of the art-projects the artists have worked in close collaboration with Snøhetta:
Integrated art on the stone clad surfaces, with artists Kristian Blystad, Kalle Grude and Jorunn Sannes.
Integrated art on the metal clad facades with artists Astrid Løvaas og Kirsten Wagle.
Consultant engineers:
Structure: Reinertsen Engineering ANS
Geological engineer: NGI
Electrical engineer: Ingeniør Per Rasmussen AS
Heating, ventilation: Erichsen & Horgen AS
Acoustics: Brekke Strand Akustikk, Arup Acoustic
Theatre Planning: Theatre Project Consultants
Stage technical services: Theatre Project Consultants
Sub stage technical services: Rambøll Sverige
Oslo Opera House Building – Suppliers and Contractors – 55 contracts in total – Main contracts:
Ground works and foundations: Johs. Syltern AS
Structure: Veidekke Entreprenør AS
External walls and roofs: Veidekke Entreprenør AS
Internal walls & ceilings: AF Ragnar Evensen AS
Secondary steelwork: Sias AS
Masonry walls and stone flooring: AF Ragnar Evensen AS
Painting and flooring: Kaasa AS
Glass facades and interiors: Skandinaviska Glassystem AB
Carpentry & furniture : Bosvik AS, Djupevåg Båtbyggeri AS
Theatre seats: Poltrona Frau S.P.A.
Acoustic elements: Frapont S.A.
Chandelier main auditorium: Hadeland Glassverk
Marble supply: Campolonghi Italia SRL
Stone works: Naturstein AS
Plumbing works: Oras AS
Ventilation systems: Randem&Hûbert AS / Haaland Klima AS
Electrical systems: Siemens AS
Lighting: Elpag
Cooling systems: Novema Kulde AS
Telefoni and system control: Profitek Industri og Offshore AS
Sound and image systems: YIT Building Systems AS
Text system theatre seats.: Radio Marconi SRL
Elevators: Reber Schindler Heis AS
Mechanical constructions, stage: Bosch Rexroth AS
Landscaping: Agro AS
Signage: Eurosign AS
Kitchen equipment: AE Storhushold AS
Door supply: Ragnar Evensen AS
Gates & special doors: Magmo AS
Ironmongery: Trioving AS
Opera House Oslo : main page with photos
Norwegian Opera House images / information from Snøhetta
Location: Oslo, Norway, northern Europe
Norwegian Architecture
Norwegian Architecture Designs – chronological list
Oslo Architecture Walking Tours
Norwegian Architecture Designs – chronological list
Oslo Opera House – More Information & Images
Norwegian Buildings by Snøhetta – Selection
Hotel Brosundet, Ålesund, west Norway
Design: Snøhetta
Hotel Brosundet
Buildings in Oslo
Comments / photos for the Oslo Operahouse Architecture page welcome