Auckland Architecture Awards, NZIA 2010, Photos, New Zealand Buildings, Architects
Auckland Architecture Awards 2010
NZIA 2010, New Zealand : Citations Part 3 – Winners
19 Oct 2010
Auckland Architecture Awards 2010 – Judges Citations : Part 3
Small Project Architecture
Harbour View
Stephenson & Turner NZ Ltd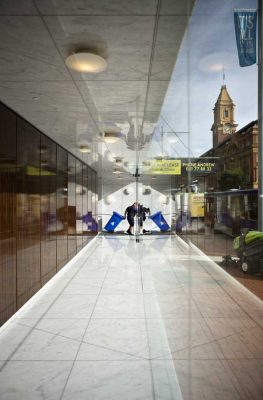 With a modest budget, this project has transformed an ordinary existing exterior elevation and entry lobby into a crafted, slightly surreal gift to the public. An empty space is slipped between the street front glazing and a timber wall that conceals car parking behind. An overall theatrical quality is heightened by the glowing lights and marbled flooring of the lobby. The balconies on successive floors are embellished with inventive use of moulded fibreglass, giving a beautiful drive-by effect.
Parakete Ora
SGA Ltd – Strachan Group Architects




This project uses ordinary materials in ways that make them seem special. The result is a high quality everyday facility for small children. A transparent garage door opens up the main play space and large screens cover the storage walls at the back. These mechanisms are childproofed and the whole is oriented and designed for the distracted and mobile nature of play. The programme includes Plunket and a playgroup and the social benefits of the conjunction were evident in exchanges between parents. The colours of the architecture are cheerful and rich without being childish in their combinations.
Reynolds Studio
Malcolm Walker Architects Limited





This studio, cleverly positioned at the back of a suburban section, allows the artist to leave home without leaving home. Connections between house and studio are suppressed and the interior enclosure is strong with smooth plywood surfaces and an anchoring 'fairface' concrete wall. The studio is ordinary in the chameleon-like, slightly clunky, language of everyday New Zealand architecture and will be receptive to the interventions of the artist.
Waitangi Toilet Block
HB Architecture





By separating the toilets from the main facilities, the architect successfully introduces the concept of journey. The siting is sensitive and the use of primal architectural form appropriate to the bush setting. Materiality and manipulation of space give the facility a lightness of touch.
Urban Design
Beachcroft Bridge
Jasmax Limited





This bridge is an elegant and quietly dramatic structure over a busy motorway. By inclining the principle pylon, the architects have given the structure clarity and a satisfying tension. A change of colour is cleverly used to separate the supporting and supported elements.
Central Connector
Architecture Brewer Davidson Limited with Leo Jew Consultants Limited and BECA in association





This is a thoughtful and successful response to Auckland's need for more balance between the demands of through-transit, local accessibility, and liveable streetscape. Simple interventions such as the removal of free left turns shifts the priority back to the pedestrian. It also offers opportunity for creating quality of place through new planting, shelter structures and changes of rhythm.
Auckland Architecture Awards 2010 – Part 1
Auckland Architecture Awards 2010 – Part 2
Auckland Architecture Awards 2010 – Part 3 (this page)
Auckland Architecture Awards photos : Ideas Shop's photostream
Nelson Marlborough Architecture Awards – 2010


picture from NZIA
Auckland Architecture Awards – main page re winners, 19 Oct 2010



picture from NZIA
Nelson Marlborough Architecture Awards
Location: Auckland, New Zealand
New Zealand Architecture
Contemporary New Zealand Buildings
New Zealand Architecture Designs – chronological list
New Zealand Architecture Awards
Buildings / photos for Auckland NZIA Awards page welcome