Newcastle City Library Building, Project, Photo, News, Architecture, Property
Newcastle City Library : Building
Civic Architecture in north east England – design by Ryder Architecture
28 May 2009
Newcastle Library
Design: Ryder Architecture
NEWCASTLE TO UNVEIL NEW CITY LIBRARY THIS JUNE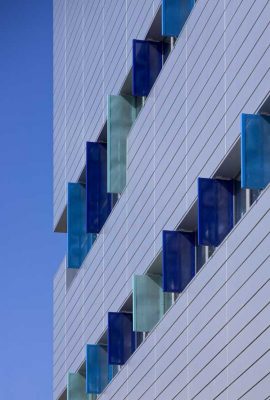 Newcastle's new City Library opens its doors to the public on 7 June 2009. One of the largest public libraries in the UK, the £24m building designed by Ryder Architecture, will offer 21st century facilities combined with inspirational places for reading, learning, researching, relaxing, meeting and working.
Photos: Tim Crocker
Ryder's vision, and that of Newcastle City Council, has been to deliver an inviting, accessible and open library to inspire local, civic and regional pride. Whereas the previous library was an internalised structure, Ryder's transparent design reveals the building's internal activities. The glass façade allows people to see in to the marble floored atrium space, encouraging them to enter the library and explore further. An observation deck on the top floor, sponsored by Ryder, gives visitors spectacular views out over the city.
In addition to the impressive collection of more than 200,000 books (over 100,000 of these are new, highlighting the city's commitment to encouraging reading), the six storey building boasts state-of-the-art facilities. Valuable items from the Tomlinson Library, the historic Newcastle Collection and a superb collection of original 18th century woodcuts and artefacts by the Northumbrian artist Thomas Bewick will be on display in reduced humidity display cases. The library will also provide a reference research area and a dedicated exhibition and performance space.
Peter Buchan, Chief Executive of Ryder Architecture explains: "The new library will be many things to many people. We have designed this building as a destination venue, a cultural gathering place and also as a sanctuary.
"It was essential to work collaboratively with Newcastle City Council, Kajima Partnerships and Tolent Construction in order to achieve what we hope is a new landmark building and a thoroughly practical library – a living room for the city."
Tony Durcan, Head of Culture, Libraries and Life Long Learning at Newcastle City Council says: "Our vision was to create an inviting, accessible and open library to inspire local, civic and regional pride. This remarkable building will support and enhance the city's regional identity, encouraging the local community to re-engage with the wider region."
Craig Smailes, Development Manger at Kajima added: "Newcastle City Library is an exceptional building that maintains the Kajima philosophy of quality design, and we are delighted to have led the development alongside our consortium partners. City centre libraries are buildings for the whole community in which to relax, work, study, play, read, learn, and socialise."
John Luke, Contracts Manager from Tolent Construction said: "This has been an extremely challenging but rewarding project. Working with the other partners, we have transformed this restricted inner city site into a new landmark for the city of Newcastle. The project was a complex logistical exercise requiring great technical skill and we are delighted to have helped to deliver this wonderful new civic building on time and within budget."
The library features a spectacular glazed steel frame grid which forms the entire east (John Dobson Street) elevation. This glazed elevation has huge impact, enhanced by the work of artist Kathryn Hodgkinson who has created a vast, screen-printed design covering the façade entitled 'Four Questions.' Based on interviews with over 1,000 Newcastle residents focusing on their fears, hopes and dreams for the city, this reflects the collective thoughts of Newcastle's people at the start of the 21st century.
The images change subtly depending on lighting conditions throughout the day. Viewed from the inside and illuminated by sunlight, the images cast filtered light onto the stairs. At night the images come alive as the elevation transforms into a giant 'light box'.
Art features prominently throughout the City Library. A new digital clock designed by Ryder will be projected on to one of the main entrance foyer walls. A new striking textile work which features a leaf design by Ali Rhind, sponsored by Ryder on behalf of the Tyne and Wear Community Foundation, hangs on the first floor. This proggy (rag) mat is a traditional textile form originally made by miners' wives from cheap offcuts of material.
Materials have been chosen to reinforce the building's civic stature. The plinth and stair cores have been constructed from black polished masonry block solidly grounding the building. A sense of continuity with the previous library on the site has been maintained by using slate flooring from the Basil Spence library to line the walls of the area housing the Newcastle Collection.
Ryder's environmentally conscious solutions throughout the design embrace sustainability, whilst working within the budget and tight city centre site. The library has been designed to achieve BREEAM Very Good rating. The orientation and design of the extensive glazing is optimised to benefit the building and achieve transparency. For the east elevation the glazing (1,050 sq m) is unprotected so morning sun preheats the space. For the south elevation glazing (550 sq m) is protected by horizontal aluminium louvres (brises soleils) allowing sunlight to penetrate without overheating. For the west elevation facing Princess Square Ryder has specified a combination of curtain walling and metal rain-screen cladding providing a contemporary appearance. On this façade, smaller windows are protected by vertical blades to prevent overheating.
Further measures to maximise efficiency include:
o high performance construction materials and methods
o high efficiency chilled beam technology, free cooling using dry air coolers and indirect evaporative cooling of fresh air supplies
o variable speed motor drives which respond to demand
o heat recovery systems
o high efficiency plant including condensing boilers
o rainwater recovery for flushing toilets
o solar panels to preheat hot water
o low energy lighting
o presence and daylight detection
New hard landscaping has transformed Princess Square, which was the main entrance to the previous library, creating a new sheltered external space in the heart of the city. This attractive terraced area now allows outdoor café service in good weather and is visible through full height glazing from the café.
Ryder has worked with the project partners to make best use of latest technologies in order to improve the visitor experience and provide access to digital skills and services. Technical innovations at City Library include:
o 24 hour book and audio-visual vending machine – a UK first
o bespoke 'download stations' – a UK first in libraries
o Vocera libraries staff WIFI communications system – a UK first in libraries
City Library will be officially opened later in the year.
Newcastle City Library – Design Team:
PFI Consortium: Kajima Newcastle Libraries
Developer: Kajima Partnerships Limited
Architect: Ryder
Main contractor: Tolent Construction
Mechanical & electrical contractor: SES Limited
Structures: Mott MacDonald
Landscape: Robinson Limited
Mechanical & electrical consultant: White Young Green
Cost consultant: Turner & Townsend
Fire consultant: Jeremy Gardiner Associates
Access Consultants: All Clear Design
The new library is located on the site of the old Central Library, built in the 1960s and designed by renowned architect Sir Basil Spence. Prior to this the Free Library, dating from the 1850s, was located virtually on the same site.
The total floor area is 8,300 sqm (89,308 sqft).
Ryder has provided a total FFE (furniture, fixtures and equipment) solution including graphics, way-finding and signage, which have been considered with simplicity and openness in mind.
The interiors and way-finding follow a clear and user-friendly colour coded system for example, fiction – green, children – yellow.
The City Library is part of a network of 18 libraries across Newcastle ranging from Library Extra, Community Library, Library Express, 24 hour library, a home library service and a mobile library.
Newcastle City Library images / information received 280509
Newcastle City Library – Building Update
Poet Laureate Andrew Motion guest of honour at hand over ceremony
Building to reopen to the public in June 2009

London, 9 March, 2009 – The new Newcastle City Library, by Ryder Architecture and construction partners Kajima and Tolent, was handed over to the Newcastle Libraries at an official celebration on 3 March at which poet laureate Andrew Motion was guest of honour.
The new £24M building, one of the biggest public libraries in the country, will reopen to the public in June this year. Built on the site of the former library on Princess Square, it includes a 180-seat performance space, a crèche, a café and meeting rooms for community groups organised around a four storey atrium.
Peter Buchan, Chief Executive of Ryder said: "We are very proud of the new building and the interior design. Our brief was to create a building that would 'delight and inspire' as well as being a model for 21st century library facilities. So far the feedback has been very good!"
Craig Smailes, Development Manager for Kajima Partnerships, added: "Newcastle City Library reflects the continuing Kajima tradition of award-winning PFI design. Kajima Partnerships is proud to contribute to such an outstanding civic building which will prove to be a great asset to the City of Newcastle and a centre for the local community for many years to come."
Andrew Motion attended the ceremony in his capacity as chairman of the Museums, Libraries and Archives Council. He said: "It's a wonderful building, combining excellent opportunities for pleasure, learning and discovery. A beacon, in fact, and a magnificent reminder of everything that libraries can offer their communities."
Newcastle City Library image / information received 090309
Location: John Dobson Street, Newcastle upon Tyne, Northeast England, UK
Newcastle Architecture
Contemporary Newcastle Buildings
Newcastle Architecture Designs – chronological list
Also by Ryder Architecture in Newcastle : 55 Degrees North
Verde Student Accommodation
Architects: SimpsonHaugh and Partners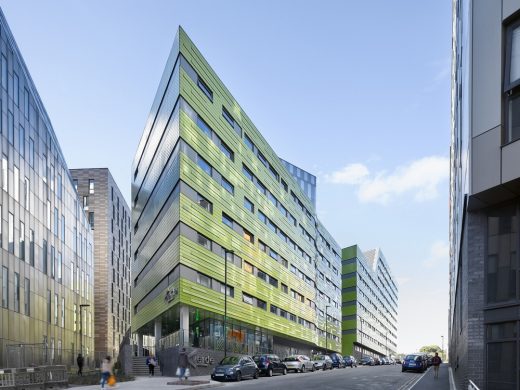 photo © Daniel Hopkinson
Verde Student Accommodation
Buildings / photos for the Newcastle City Library Architecture page welcome