Kielder Water Shelter, Design, Seating, News, Building, Image, England, Project
Kielder Water & Forest Park Shelter : Architecture
Rural Seating in Northumberland, UK – designs by various architects studios
12 May 2009
Kielder Water Forest Park
SITTING UNDER NATURE'S SKY
Kielder Water & Forest Park is eager to unleash the next exciting stage of its award-winning art and architecture programme; after the international success of last year's Kielder Observatory project.
The latest instalment of the Kielder Water & Forest Park experience comes in the form of an imaginative seating programme where a host of Europe's most inventive minds have come up with a series of six outdoor retreats.
The ambitious 'shelter' commissions will enable visitors to stop and have a well-earned breather, as they enjoy exploring the newly developed Lakeside Way – a 26-mile custom-made multi-user track that snakes around the idyllic Kielder Water. The individual shelters with their specially designed contemporary surroundings, will allow people to sit back and absorb the dramatic scenic environment.
The various seating projects situated in the heart of rural Northumberland, will be officially launched to the public in late June 2009 (pictured above – a section of The Lakeside Way in Kielder Water & Forest Park).
Here's a list of the five featured internationally renowned creative practitioners who've been chosen to deliver the bespoke shelter seating programme (in alphabetical order / shelter title):
Adjaye Associates – Specere
Ryder Architecture – Janus Chairs
SIMPARCH – Silvas Capitalis (forest head)
Sixteen*(makers) – 55/02
Studio Weave – Freya and Robin
Definition of the word 'shelter': (Source – www.thefreedictionary.com)
a. Something that proves cover or protection, as from the weather.
b. A refuge; a haven.
c. The state of being covered or protected
Kielder Water & Forest Park (KW&FP) is one of Europe's most versatile leisure terrains and holidaying locations, which is visited annually by 230,000 people. Its breath-taking environment is perfectly equipped to offer people a host of exhilarating activities from mountain biking to running and from walking to water sports.
The Lakeside Way creates another adventurous and exploratative element to KW&FP, which is home to northern Europe's largest man-made lake and England's largest forest.
The art and architecture programme is second to none – attracting submissions by some of the world's leading artists, architects and creative practitioners with spellbinding notions of how to best aesthetically compliment its stunning landscape.
The varied collection of themed shelters will blend in like public art chameleons to Kielder's impressive setting by adapting to the tranquil and serene locations of the Lakeside Way and Deadwater mountain bike route; offering a relaxing and welcomed break for users of the track.
Meet the shelter designers / creators: The five organisations (four architecture practices and one artist's collective) were given the priceless commodity of creative freedom to develop and evolve their ideas to meet the unique natural specifications of each location. Each shelter imaginatively fulfils the project brief by using cutting edge design methods along with introducing practical materials best suited for the ever changing outdoor environment of Kielder Water & Forest Park.
The enchanting seating commissions fuse together the practical and creative fabrics of aesthetics, structure, storytelling, folklore, fantasy, protection and the built environment to produce a fascinating collection of modern countryside retreats.
"The shelter project is the perfect canvas to create a collective picture representing all of the positive elements that make Kielder Water & Forest Park such a unique place to visit, live and work," said Peter Sharpe, curator of Kielder Water & Forest Park's art and architecture programme.
Peter adds: "It has a magical combination of the great outdoors, cutting edge contemporary design and imagination, all of which surface to create a winning addition to our award-winning art and architecture programme that will be enjoyed by residents and tourists visiting the region for years to come."
The new seating commissions have been funded by One NorthEast through the Northumberland Strategic Partnership and developed with the support of Partnership members and Arts Council England.
Further project information: A detailed press pack will be issued to all media after the installation of each shelter; to coincide with the public launch of the seating programme. The press packs will include full colour in situ photography and profiles of each commissioned organisation (the press packs should be available for distribution towards the end of June).
Kielder Water Shelters
As a special taster please find below a brief summary of each shelter with information about individual project teams.
Adjaye Associates – 'Shelter' project title: Specere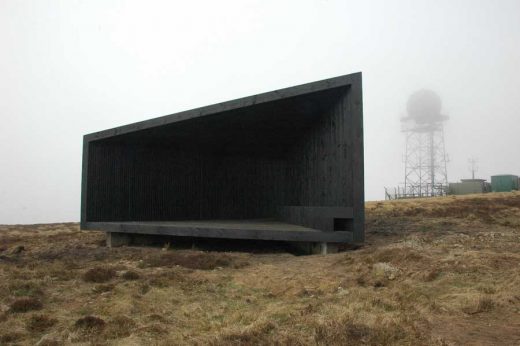 photo : Peter Sharpe
Company Description: Adjaye Associates is a London-based architecture practice lead by world-renowned architect David Adjaye – described as having "an artist's clarity of concept". Adjaye initially built a reputation through the design of cafés, bars and private homes, and since 2000, in the form of Adjaye Associates, has expanded his practice with offices in London, Berlin and New York, creating libraries, schools, commercial buildings, arts centres and residential developments around the world.
Specere will be a timber shelter, triangular in form, for mountain bikers located on top of Deadwater Fell – a very exposed high point overlooking Kielder Water & Forest Park. From this point, mountain bikers will begin their descent down one of the Park's new single-track trails back to their starting point at Kielder Castle Visitor Centre.
The shelter is made up of one solid wall, one perforated and one open. The solid roof protects visitors from the rain and the solid wall shields visitors from the strong prevailing westerly winds while the perforated wall creates fragmented views to the east. To the front, the open side offers clear views to the south, framing a view of Kielder Water and the expanse of Kielder Forest in the distance (location – Deadwater Fell). The main contractors for Specere are Martin Childs Limited
Ryder Architecture – 'Shelter' project title: Janus Chairs


picture : Ryder Architecture
Company Description: Ryder Architecture is an architectural practice with offices in Newcastle, Glasgow, London and Liverpool. The company has an impressively diverse portfolio of builds from the education, healthcare, interior & urban design, residential, retail and leisure sectors.
Janus Chairs are three large rotating seats that offer seating, shelter and a view of the open expanse of Kielder Water. Based on the idea of flower petals in different stages of unfolding, the seats will be arranged in a social group, and can be arranged to face each other, face the sun or the desired view, or turn their backs to inclement weather (location – Plashetts, Kielder Water). The main fabricators Janus Chairs are Norbuild Timber Fabrication and Fine Carpentry.
SIMPARCH – 'Shelter' project title: Silvas Capitalis (forest head)

Company Description: SIMPARCH is an artist collective from the United States based in Chicago and Cincinnati whose founder members Steve Badgett and Matt Lynch look to create structures that fall somewhere between "architecture" and "not-architecture". The collective explore links between popular culture and the built environment by using a wide range of materials and construction techniques.
Silvas Capitalis will be a large iconic head, sited within the forest and large enough to walk inside and climb upstairs to a second level. Visitors will be able to look out of the 'eyes' across the woodland and through the ears be observant of the diverse sounds of the working forest – imagining they are experiencing for a short time what the 'head' hears and sees.
The concept has taken some of its inspiration from stories of Northumberland's mythical folklore heritage (location – Needs Hill).
Sixteen*(makers) – 'Shelter' project title: 55/02


picture : Sixteen*(makers)
Company Description: Sixteen*(makers) is a multidisciplinary practice in architecture and research bridging thresholds between the IDEAL and the REAL. They collaborate out of a shared ambition towards sustaining an experimental approach in the practice and development of architecture, best described by the term 'Design through Making'. In this manner, '55/02′ is the result of an innovative and creative partnership between architects and manufacturers and is designed in collaboration with steel manufacturers Stahlbogen GmbH, led by one of sixteen*(makers) founding partners.
Sixteen*(makers) has executed a number of projects in the field of responsive constructs and environments where sites are central to the development of each project, and questions are asked about architecture and its users. In this regard, '55/02′ responds to its surroundings with 'manufactured architecture in a manufactured setting' and contributes to the already blurred distinction between the natural and the artificial of Kielder Water.
Thus '55/02′ has evolved as a design from the specific environment in which it is situated. The building consists of a pair of steel 'shelters' linked by a moveable screen. This allows visitors to adapt its overall configuration depending on weather conditions and create an open series of seats and windbreaks, or a smaller more protective weatherproof pod. The name '55/02′ refers to the latitude and longitude of its location at Cock Stoor (55° 11.30 N, 02° 29.23 W) as a way to address the visitor towards the unique qualities of this place.
55/02, Kielder Shelter
sixteen*(makers) at The Bartlett UCL



photo © UCL
Studio Weave – 'Shelter' project title: Freya and Robin
Company Description: Studio Weave create places through playing into and exploring the narratives of spaces. They are fascinated by the powerful role that stories play in creating a sense of place, and their work explores how writing stories stemming from the history, geography, and eccentricities of a place can create engaging and distinctive design proposals.
With Freya's Cabin and Robin's Hut, Studio Weave have embraced the man-made nature of Kielder Water and Forest, thinking of it as a stage set against which a story can be told. Their two structures have been imagined within a fairytale the designers wrote specifically for Kielder, inspired by their two sites, mythology, and folklore. Freya's Cabin and Robin's Hut are designed and built by the characters within the story and the real structures offer visitors evidence of these characters and their adventures.
Robin's Hut:



image : Studio Weave
Robin's Hut is on the North bank, on the edge of the woodland amongst fir trees and rocks. Robin built himself a simple wooden structure that he covered in timber shingles on this site surrounded by water that he felt gave it a remote, island-like feel. The main contractor for Robin's Hut is Gavin Tremble (of the Tyne Valley).
Freya's Cabin:



image : Studio Weave
Freya, who admired Robin from her favorite place on the opposite bank, built him a cabin in the image of his woodland home. She modeled it on her flower press, arranging carefully collected branches to make an enchanted forest. She put Foxgloves at the entrance to invite the fairies in, and then pressed everything tight together so the cabin would be strong and crisp and last forever. She balanced the cabin up high on the tallest straightest stems she could find and wrapped it in her tears of gold. The main contractors for Freya's Cabin are Millimetre
Kielder Water Sculpture



Belvedere image : softroom architecture
The Kielder Partnership is a public, voluntary and private sector collaboration working to develop Kielder Water & Forest Park as an inspirational place for leisure, exploration and fun.
Partners are Calvert Trust Kielder, Environment Agency, Forestry Commission, Northumberland County Council, Northumbrian Water plus representation from community groups.
The shelter seating programme will be the latest addition to Kielder Water & Forest Park's art and architecture programme that already boasts the following pieces of work: Skyspace (by James Turrell); Kielder Observatory (by Charles Barclay Architects); Kielder Belvedere (by Softroom); Minotaur maze (by Nick Coombe and Shona Kitchen); Mapping (by Wolfgang Weileder); and Mirage (by Kisa Kawakami).
Location: Kielder Water & Forest Park, Northumberland, Northeast England, UK
Newcastle Architecture
Contemporary Newcastle Buildings
Newcastle Architecture Designs – chronological list
City Pool and Turkish Baths
Design: Napper Architects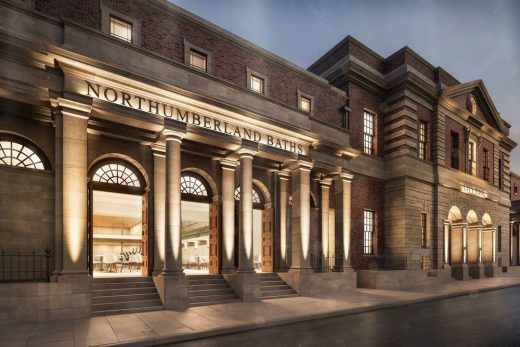 image from architects
City Pool and Turkish Baths in Newcastle
Comments / photos for the Kielder Forest Park Building page welcome
Kielder Water & Forest Park Website: www.visitkielder.com