Holy Tabernacle Building, Jewish New York Project, Manhattan Design Proposal
Holy Tabernacle New York
T'rumah Building NYC design by Hollwich Kushner (HWKN), architects, USA
Oct 1, 2013
T'rumah Building
Location: New York, USA
Design: Hollwich Kushner (HWKN) Architects
Holy Tabernacle in New York City
HOLLWICH KUSHNER DESIGNS HOLY TABERNACLE IN MANHATTAN
Hollwich Kushner (HWKN) makes one minor tweak to "T'rumah," the detailed plans laid out in the Bible for the Holy Tabernacle. Turning it vertical is the only way to squeeze the Tabernacle into the world's second biggest Jewish city.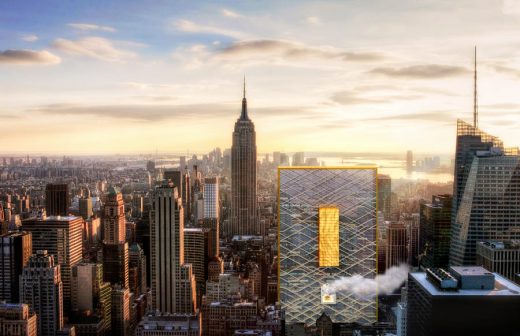 image : Hollwich Kushner (HWKN)
New York, NY – Hollwich Kushner (HWKN) was commissioned to reinterpret a section of Exodus, for "UNSCROLLED: 54 Writers and Artists Wrestle with the Torah" edited by Roger Bennett. The experiment at the heart of UNSCROLLED is to see what questions and ideas would emerge if 54 talented individuals including Damon Lindelof, Sloane Crosley and Sam Lipsyte each interpreted a single section of the Torah — the first five books of the Bible — and whether they could encourage others to similarly grapple with a text they may have strong feelings about without ever having read.
T'rumah ("Offering") is found in Exodus 25:1-27:19, and in it the Lord delivers very specific instructions for the building of a dazzling Tabernacle – a house of the Lord that will allow God to dwell among the Israelites. There was plenty of room for the Tabernacle in the desert, but finding a place for it in Manhattan would require a lot of real estate. With a simple adjustment, the Tabernacle is rotated ninety degrees to create a vertical wall, finding a new home amongst the skyscrapers of New York City.



images : Hollwich Kushner (HWKN)
"There is no Jewish architectural style. Every synagogue looks different all over the world, but when you go back and look at the Torah it's evident that God actually gave us a style," says Marc Kushner, Principal of Hollwich Kushner. "We took those instructions almost verbatim from the Bible, and we rotated the tabernacle 90 degrees to make it vertical. In the end it looks a lot like an International Style skyscraper. Maybe that was God telling us that we should be Modernists, not Classicists."
Architecturally, T'rumah adheres to the proportions and organization dictated in the Bible, but sheds some of the more obscure requirements like decorated cherubim and dolphin skins in favor of a logic more fitting for its modern context. The structure is criss-crossed by staircases that lead visitors from the ground floor to the Brazen Altar, and the Golden Altar above. Turning the structure vertical means that the Tabernacle is no longer walled on all sides, but accessible and transparent, creating a religious building that is very public in a way that most religious buildings today are not.
"Many of the authors grappled with their concept and POV," says Roger Bennett, Editor of UNSCROLLED. "Marc Kushner and HWKN knew from the very first minute what they wanted to do. They then went at it with a creative intensity and an eye for detail similar to the one demonstrated by Bezalel, the gent who originally constructed the Tabernacle for Moses back in the desert. Part of me hopes that in 2,000 years time, archaeologists find these architectural plans causing them to wonder both what they are, and what happened to the building that they depict."
Edited by Roger Bennett, a founder of Reboot, a network of young Jewish creatives and intellectuals, UNSCROLLED is a gathering of original, diverse voices that will speak to anyone interested in Jewish culture and identity. Each section begins with a synopsis of the original Torah portion, written by Bennett, followed by a reinterpretation in forms that range from a graphic novel and transcript, to stories, poems, memoirs, letters, plays, infographics, and monologues – each intended to give readers a fresh new take on some of the oldest, wisest, and occasionally weirdest stories in the world, and inspire new ideas about the Bible and its meaning, value, and place in our lives.
To purchase a copy of UNSCROLLED, visit http://www.unscrolled.org/buy-book/



images : Hollwich Kushner (HWKN)
ABOUT REBOOT
Reboot is a national network of young, creative Jews founded on the belief that every generation must grapple with the questions of identity, community, and meaning on its own terms. Reboot has created over 100 projects reaching an audience in the hundreds of thousands, including the National Day of Unplugging; the international architecture contest Sukkah City; and the Idelsohn Society for Musical Preservation, a record label and archive dedicated to tracking down lost Jewish music and the musicians who created it.
It was a Reboot meeting that inspired A. J. Jacobs to write his bestseller The Year of Living Biblically. The publication of UNSCROLLED launches a national campaign that Reboot will use to encourage Jews, either individually or as a part of a community, to create events around the book as a way to discuss their own interpretations of the Torah on Unscrolled.org.
Holy Tabernacle New York T'rumah Building NYC – Building Information
Title: T'rumah
Client: Reboot, for the UNSCROLLED book
Location: New York, NY, USA
Status: Unbuilt Proposal
Architect: Hollwich Kushner (HWKN)
HWKN Partner in Charge: Marc Kushner, AIA
HWKN Team: Matthias Hollwich, Robert May, Adam Hostetler, Valentina Mele, and Gregory Nakata
Holy Tabernacle New York City images / information from Hollwich Kushner (HWKN)
Location: New York City, USA
New York City Architecture
Contemporary New York Buildings
NYC Architecture Designs – chronological list
New York City Architectural Tours by e-architect
Guggenheim Museum Manhattan
Frank Lloyd Wright Architects
Museum of Contemporary Art New York
SANAA architects
Comments / photos for the Holy Tabernacle New York – T'rumah Building NYC Architecture page welcome